I've been slowly doing a mini makeover on my kitchen and now it's time for choosing fabric. The fun part! I will admit, I have been known to store lots of fabric for long periods of time. As part of my living with less, cleaning out clutter and getting organized, I was able to let go of a lot of fabric I wasn't going to use. I gave away some of it and sent the other to Goodwill.
So now I'm choosing fabric in order to recover my kitchen chairs. I also plan to stain the table top a darker shade so keep that in mind while looking at the room and the fabric options.
Here is where I started.
I have loved this room but it has been like this for 6 years! Yes, I actually left a room painted for 6 years. My husband will tell you, that's a miracle. In all honesty, I waited so long because of the super tall wall over the table. I paid a painter when we first moved in but I knew I would be doing this myself.
I've currently decided not to replace the window treatment I took down (I plan on selling it.) I am loving how the window looks without it because the view is so pretty. I had already covered these chairs once before so there was a different fabric underneath the black swirl. I just pulled it off using pliers. I lived with that fabric during the holidays while I thought about the look I was going for.
Choosing fabric is the next step in the makeover for my kitchen.
Here are a few fabrics I really like…I'm thinking of going more bold.
(Source: Online Fabric Store)
(Source: Online Fabric Store)
(Source: Online Fabric Store)
These are different for me but I'm wanting to add more color in the kitchen. Here is what the room looks like now. I've lightened the walls with Mindful Grey.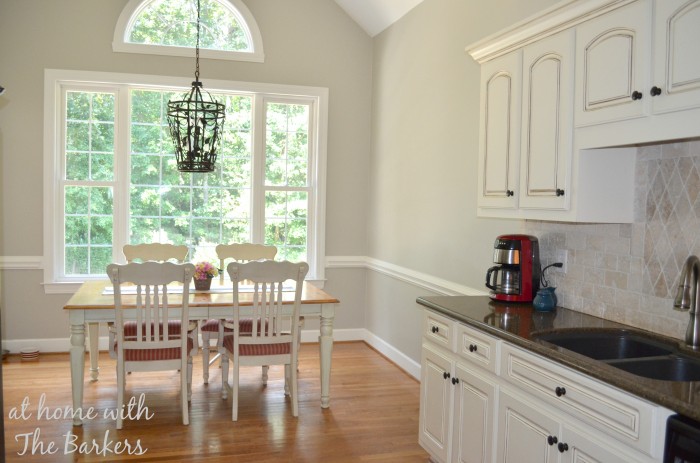 So, what do you think of the fabrics? Is there one fabric you like more than others?
I'd love to hear your thoughts, so please share your ideas.
POST UPDATE! I decided on a different fabric all together. We are allowed to change our mind right?
See the fabric I chose HERE and the tutorial for how easy it is to recover the seats.