Fashion Tips for Moms:
This post is for all the moms out there (myself included) who drive their kids to school in their comfy clothes…
AND for those moms who get a call from the office saying their child left their lunch box at home and they must head back to the school in those same comfy clothes…
AND for the moms who get a call from the school nurse that their child in projectile vomiting and they must be picked up immediately all while still wearing those comfy clothes!
THEN the end of day school bell rings AND you head to car line STILL wearing those comfy clothes!
Let's just go ahead and get this out of the way…COMFY CLOTHES = PAJAMAS!!
You know it's true!
Today I have an awesome friend who is going to help us! I met Cyndi last year at Haven Conference and I am a follower of her blog! She is a fashion blogger over at Walking in Grace & Beauty and you are going to love her as much as I do!
I asked Cyndi some questions that I thought would benefit us all, so here goes:
~Why is caring about what you wear important?

Obviously what we wear is not the most important thing in the world. But I do think how we dress says a lot about who we are. It's not about spending a lot of money, It's about feeling good about yourself. I love to help women find clothes that look good on their body type and make them feel beautiful.
~Best piece of advice to look great?
Add cute accessories like a necklace, earrings, bracelets, handbag, or a belt!! You can wear a white t-shirt with jeans and add a cute necklace and earrings and it changes your whole look.
~Is there one piece we should splurge on?
Yes! A good pair of jeans. Take the time and money and find a pair of jeans you adore. Jeans are a staple piece and can be dressed up or down. NO mommy jeans. I often get asked what are mommy jeans? Mommy jeans are high wasted and have a tapered leg. Wear boot cut, skinny, straight leg or trousers. Boot cut jeans are the most flattering for most body types.
~Best jeans?
Shop for mid rise jeans, no low rise! Some of my favorites are DKNY, Kut From The Cloth, Banana Republic, and INC.
Building Your Fall Wardrobe with Jeans
~Best pieces to save on?
Well first let me share with you the 8 basic pieces we need to have in our wardrobe and they need to be quality pieces that will last. These pieces may cost a little more but you'll be wearing them a lot.
The basic pieces are: A sophisticated white collared shirt and a long sleeve and short sleeve white t-shirt, a chambray shirt, a great pair of jeans, a slimming A-line skirt, a little black dress, a black blazer, and a pair of dress pants.
The pieces you want to save money on, are trendy pieces. They don't stay in style very long so you don't want to have invested a lot of money in these them.
~Favorite shoe brand?
Wow, that's a hard question. I love shoes and have all kinds of different brands but one brand I really like is BCBGeneration. They're trendy and comfortable. They also sell them at Marshall's so I can usually find them at a good price.
~Best fashion tip?
The best fashion tip I can give you is to remember that true beauty begins on the inside. Your beauty will shine through if you're a woman of integrity, and you're filled with kindness, love, joy, gentleness, peace, and patience (Galatians 5:22). That's beauty that will last!
Thanks so much Cyndi! What I have realized in thinking about how I dress and what Cyndi says about fashion is that true beauty comes from the inside…with that in mind I think that my outer appearance says a lot to the world about how my inside feels.
So, who is with me on this looking better journey?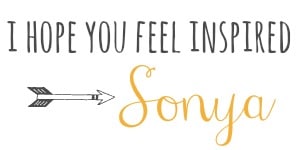 Linked up to Savvy Southern Style