How to glaze cabinets for the kitchen, bathroom or office. Step by step tutorial to help you get the look of aged furniture.
Painting kitchen cabinets is one of the best ways to turn a kitchen from drab to fab. One of the most asked questions I get here on the blog is always about painted cabinets but especially how to glaze cabinets?
Today I will go through all of my steps, tips and tricks for you. If this is a project you are willing to tackle yourself, your budget will thank you!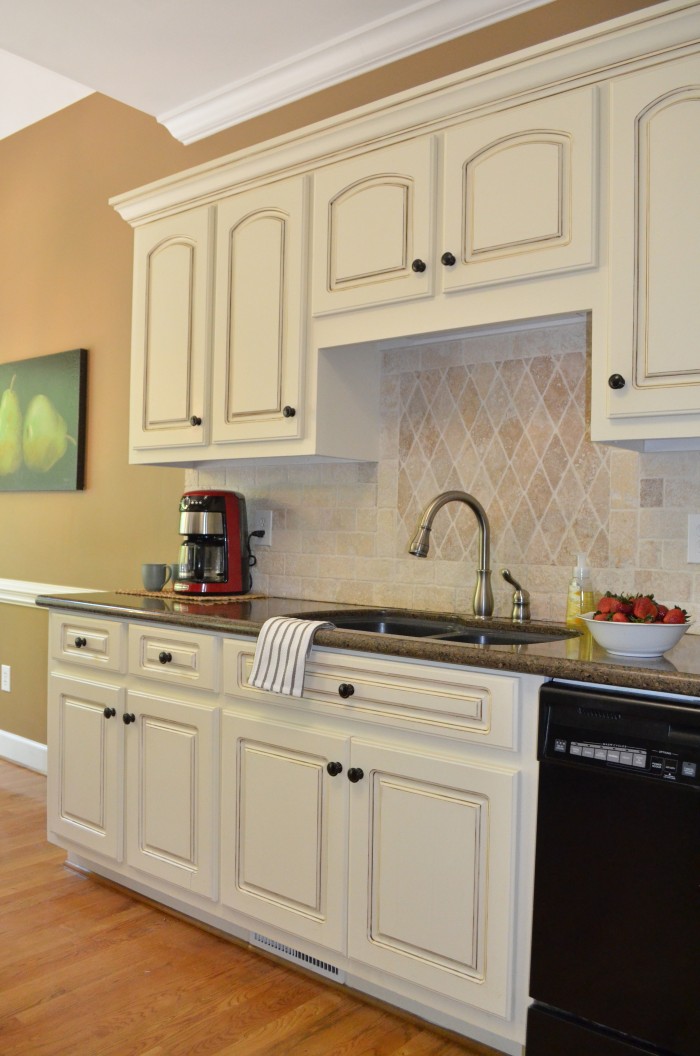 The glazing process will be the second step after you have finished painting the cabinets. Once the cabinets are completely dry and the paint is cured you can start the glaze process.
Looking for another way to update your kitchen with paint, try painting your backsplash.
Please note, I can only recommend glazing over latex based paint because that is where I have had the most experience. Should still work over oil based paints but not over chalk paint that is unsealed.
Also, the glaze works best on eggshell or satin finish. If you use flat paint the glaze will not be easily workable. It will stick more like stain and that is not good. If the paint too glossy the glaze will glide off too much.
The glazing technique is not for kitchen cabinets only. Looks great on bathrooms vanities and free standing furniture too.
This list of supplies is what I would recommend. My affiliate link is included but if you can find them at your local store feel free to grab there. I have a hard time finding the glaze in stores without driving all over the place.
HOW TO GLAZE CABINETS
Project supply list
Glaze (if you prefer to buy glaze already tinted)
Clear Glaze ( if you want to mix your own color as I do)
Latex paint in color of your choice if using clear glaze
Rags ( I usually cut up old white T-shirts)
Krud Kutter for cleaning cabinets.
What to expect during the process:
The reason I think many people can tackle glaze projects themselves is because of the slow dry time. This allows each person to get the look they are after. If you mess up or don't like it you can wipe it right off with a wet cloth. This also means that once you are done with a project it will need a little more time to cure than basic latex paint.
It should be completely ready by 24 hours but I always like to wait a week before I wipe down the cabinets with a cleaning spray, just to be safe.
Getting down a technique takes a little trial and error. Yes, error will occur but like I wrote above, it can be corrected with a wet cloth. Glazing an average size kitchen usually takes me around 8 hours. Start in a spot that is least seen when you walk into the room. This will be where you will be able to get the technique you love. This is also where you get to play artist. You can add as much or as little glaze to the details as you like.
As we know, all cabinets are not created equal. Some are real wood and some are not. I wrote a post about Glazing Real Wood Cabinets vs MDF that you should check out if you in fact have oak cabinets. The tutorial on this page is about how to apply the glaze. That post will let you see a kitchen I painted as an example.
Glaze steps
Clean cabinets very well and remove hardware.
If you purchased the clear glaze in order to custom mix your own color do that first. Clear glaze is mixed with latex paint. Black Fox and Urbane Bronze by Sherwin Williams are both good colors. Follow instructions on the Clear Glaze can for mixing.
Apply the glaze with a sponge brush. Paint it on liberally to all of the areas where you want it to fill in the details. It will look a mess, don't panic.
Paint the glaze on a few cabinet doors or drawers at a time. It is best to work in sections.
Go back with a damp (NOT wet) cloth and remove all of the excess glaze. If you are removing too much at once, allow it to sit a little longer, about 10 minutes.
Repeat the glazing steps on all of the cabinets.
DONE! No need to seal.
TIPS
Sometimes I use my finger like I am finger painting. Careful though, you can wind up with a very sore finger tip.
Step back and look from different angles in order to keep a consistency in your work.
Be proud of yourself! You just completed an awesome makeover!!
Glazed Cabinet Photos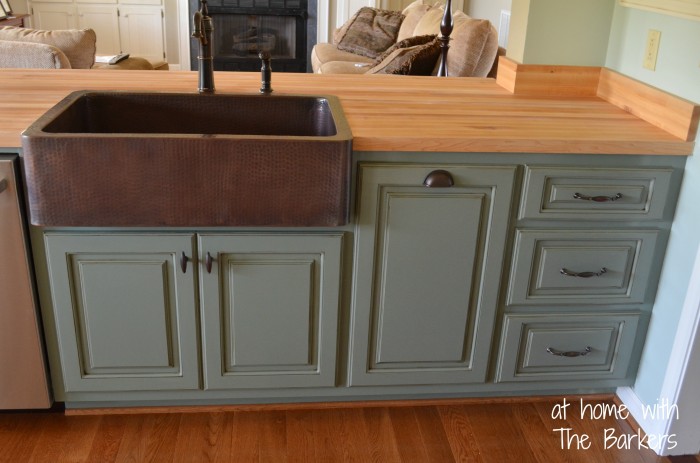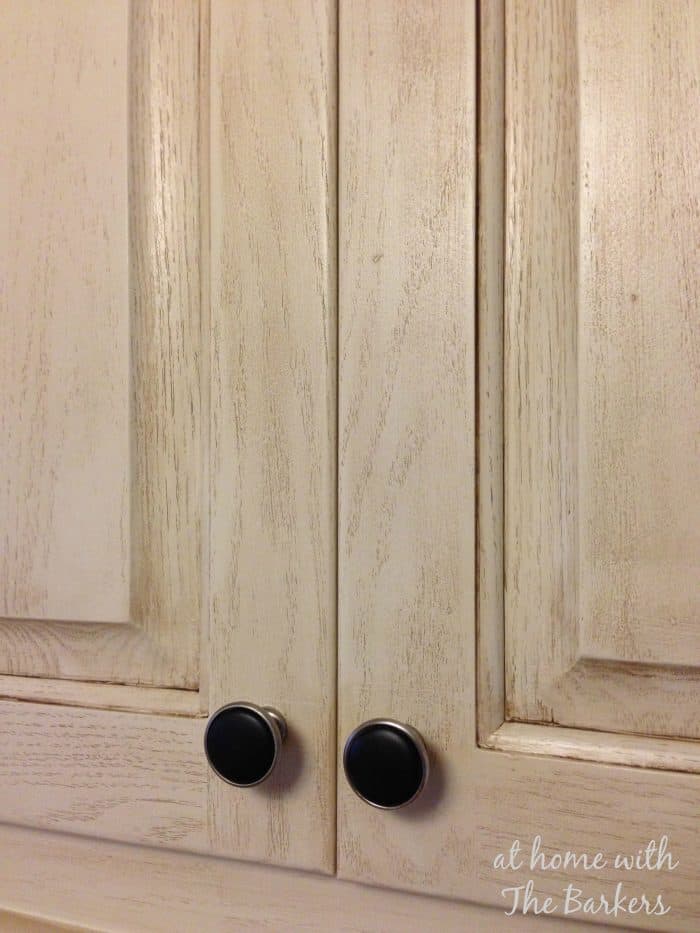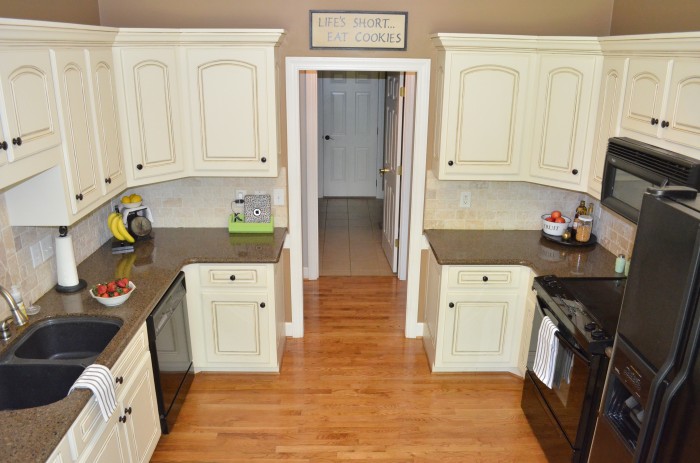 I hope this takes some of the guess work out of how to glaze cabinets for you? Please comment below if there is anything that seems unclear still and I will answer or add that info into the post.
Here is another post I wrote about glazing cabinets. It goes into detail about how to mix your own glaze if you need to. It's easy!