Budget Friendly Birthday Party Decorations
I love birthdays. I love celebrating other people, especially my children. To keep the stress level in check and the wallet in balance I always opt for budget friendly birthday party decorations. You can do so much with very inexpensive items and give your birthday girl or boy a grand event.
My daughter is a leap year baby. So when February 29th finally rolls around we have to make the most of it. She loves parties just as much as I do and has always wanted to plan her birthday party months in advance. Seriously, since she was a very little girl she has been my helper. I told her event planning is in her future.
This year was her sweet 16th birthday. I told her, I'm going to keep pretending she's 4.
We planned the party for here at our house. We have the outdoor shed now for hanging out and it makes the perfect gathering spot. We needed lots of party decorations for the deck, back yard and shed.
Budget Friendly Birthday Party Decorations:
We grabbed streamers, balloons, tissue party, foil party stars, white bags and a bag of sand. I pulled strands of white lights from my Christmas storage, tea light candles from my house and we were ready to go.
My sister came over to help. While I strung lights and streamer in the shed, she helped Sarah Beth with making the big tissue flowers. They created these by taking one sheet of tissue paper and pinching it together in the center like a bow tie. Wrapped a piece of tape around it to keep it secure. They did this with each of the colors of tissue then layered them all together.
Super easy, super cheap and super adorable.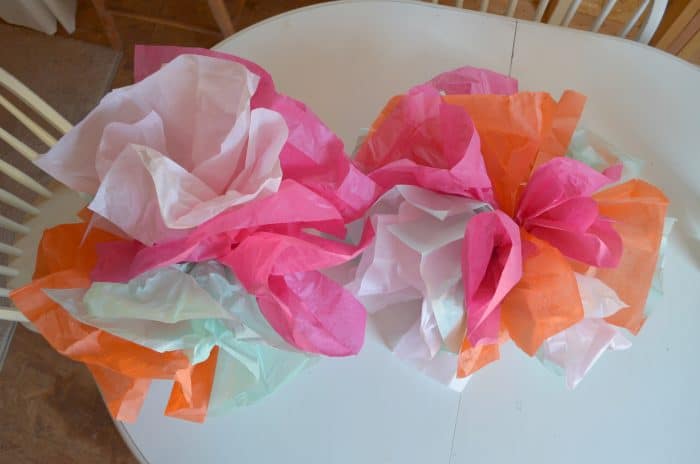 Sarah Beth made this adorable DIY tissue paper tassel garland she found from one of my favorite bloggers Michael of Inspired by Charm. You can see how to make it from his tutorial HERE. We hung it on my amazing $5 thrift store chalkboard. I love that all of her friends wrote notes to her. She made a second tassel garland for her backdrop for her photo booth.
My sister also made a monochromatic flower with white and gold tissue paper.
Fresh flowers are always perfect. This gorgeous bouquet was only $9.99 from the grocery store.
I cleared all of the patio furniture off the deck and we created a photo booth for lots and lots of pictures. I used a king size sheet and hung it with white duct tape. Then Sarah Beth and I taped the rest of the decorations on the top so it would dangle.
This was a BIG hit with the girls.
We filled the white bags with a little sand and tea light candles to spread around the patio and walk way. It made things look magical. It was a great night and my girl loved it!
I hope these budget friendly birthday party decorations were able to give you some ideas for your next party. Be sure to pin it so you will have the post handing when it's party time.
If you are like me and looking ahead to those warm evenings outside this S'mores Dessert Bar is perfect for a party or family time.