Interior Trim Paint Disaster
Learn how to tell the difference between latex and oil based paint, as well how to fix it.
This post was written from experience. This blog has always been a place to inspire you to tackle your own home projects. I believe it's just as important for you to learn from my mistakes as well.
When the house was getting all new carpet I decided to paint the trim first. The carpet was being installed in the master suite and entire second level of the house. This was a great time for me to paint all of the trim work. No need to take a chance with new carpet, right?
I decided to go with Olympic One Paint + Primer, interior latex paint semi gloss. It doesn't smell bad, it's affordable, and covers very well.
Learning to paint a room from top to bottom yourself is one of the best DIY skills to have. While I'm sharing this mess, I have painted 99% of the time with zero issues. AND I am still painting.
Now for the disaster part.
Latex vs Oil based paint disaster
Here are a few things I know
9 times out of 10 professional painters will paint all trim work with oil based paint.
You can't paint latex paint directly over oil based paint BUT you can use water based primer over oil based paint, so prime first
Here is what I was unsure about
Did we have oil based paint, since we didn't build this house I was unsure? (I had already painted the laundry room trim with latex paint a couple of years ago with no issue.)
Here is what I discovered
We in fact do have oil based paint.
Latex paint with primer will "sort of" stick to oil based paint.
Sort of doesn't cut it.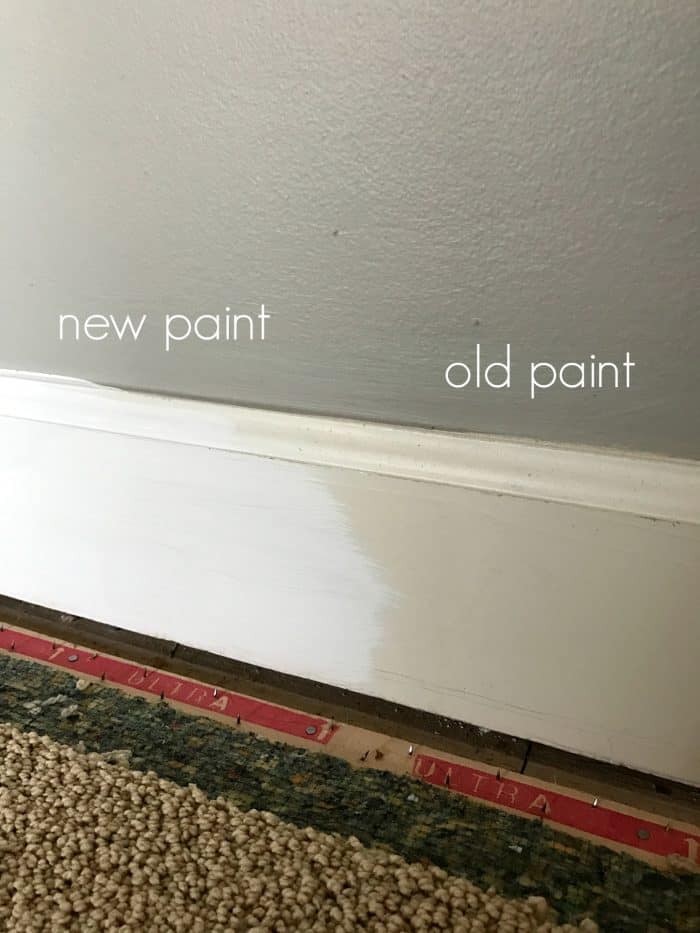 Y'all, when the installers put the carpet in my painting disaster nightmare happened. They were trying to be careful because I told them it was freshly painted. This was not their fault, I take all the blame.
Then this happened, the not sticking part…
And this, the sort of sticking part…
Handy tip: the alcohol test!
You can determine if you have oil based paint with this trick. Clean and dry a section of wall or trim. Take a cotton ball or square, wet with rubbing alcohol and wipe a small area. If the paint comes off you have latex paint.
Here is what I will do to fix it
Sand off the paint from the baseboards
Repaint with primer
Now paint with latex paint
Diligently protect our new carpet
I'm not going to lie, I was devastated. Seriously, overwhelmed. I left the house and went for a walk (threw in stadium stairs just to expend all of my anger.) I always talk with GOD when I walk and he always has a way of bringing me back to my place of joy. Once I was home, I admired our new carpet then really checked out all of the damage.
Thankfully the hall upstairs is getting new baseboards and our bonus room wasn't oil paint so it looks perfect. There are blessings even in our misfortunes.
My tip for you, use the alcohol test to determine if you have latex or oil based paint. I'm off to sand.
Frequently asked questions
Why latex paint instead of oil based?
Latex paint emits fewer orders, can be cleaned up with water and is not flammable. Latex also dries much faster than oil based paints. Oil based paint takes significantly longer to dry requiring you to keep anything from touching the paint.
PIN this photo so you never make the same mistake I did!