One Room Challenge Family Room Week Two
I mentioned in week one of the ORC that I was considering painting my mantel a darker color. After I received this comment from a sweet reader I was torn all over again. Now here we are for the One Room Challenge Family Room Week Two makeover update and I need your help!
Linda wrote, "I don't usually give my two cents worth, however, I really, really don't want you to paint the fireplace so I'm making an exception! lol I hope others agree. As I study it in the pictures, the white, in my opinion, pulls the white out of the tile and contrasts with the wall giving the fireplace definition."
Let me share the mantel as it currently is to refresh your memory…
Here it is before we completed the recent makeover…
This was painted Gauntlet Gray by Sherwin Williams. I loved it! I painted the new mantel white in hopes of brightening up the room. It hasn't seemed to help. The rich gray paint helped make a great architectural impact in the room.
You can see why I am torn. They really do both look pretty.
Mantel Inspiration:
Here are a few more inspiration photos I have saved to Pinterest. They are each a bit different but all three give you other ideas of what I like.
Source: HGTV
Source: Thrifty Decor Chick
Source: M.E. Beck Design, Inc.
If you saw the tutorial post for our DIY fireplace you may remember the sketch I drew for Ray. It's a good indication of what I originally had in mind.
*This post contains affiliate links for products I recommend to you.
So, what do you think? Leave me your thoughts in the comments. I really value your opinion.
The paint color for the fireplace hasn't been the only thing I worked on this week. I stripped the stain from the end table with plans of staining it a lighter, more gray color. I'll keep you posted on that though. For now I am still unsure how it will turn out because the wood is really orange. I'm going to do one more sanding to see if it helps.
A room makeover for me is a process. I find it hard to do a mood board and go from there. I tend to see things as I go and make up my mind from there. Not sure if that's my self taught abilities or my natural inclination but it works for me.
I wanted to share the BIG HOME sale at Overstock with you all! CLICK HERE to be directed to some amazing deals and sales. I ordered this chair for the family room makeover and I can't wait to see how it fits in the room, fingers crossed it's perfect!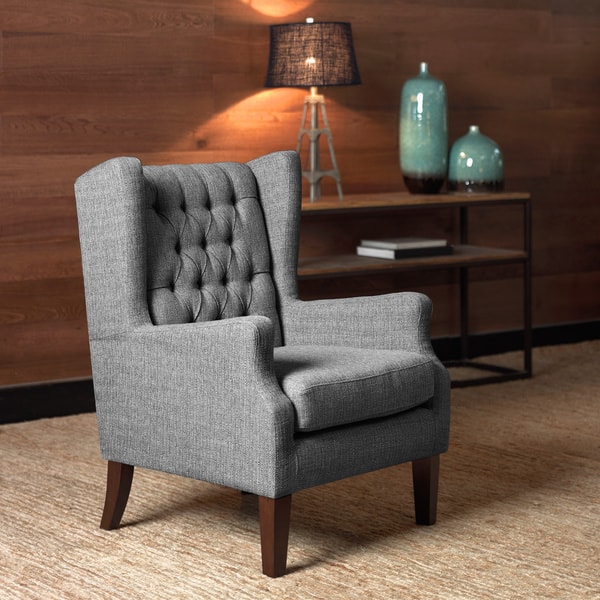 Don't forget to check out all of the other One Room Challenge guest participants posts linked up with Linda at Calling it Home.