Try this DIY fireplace makeover tutorial to give a dated fireplace and mantel a new look. Simple changes can make a room look completely new.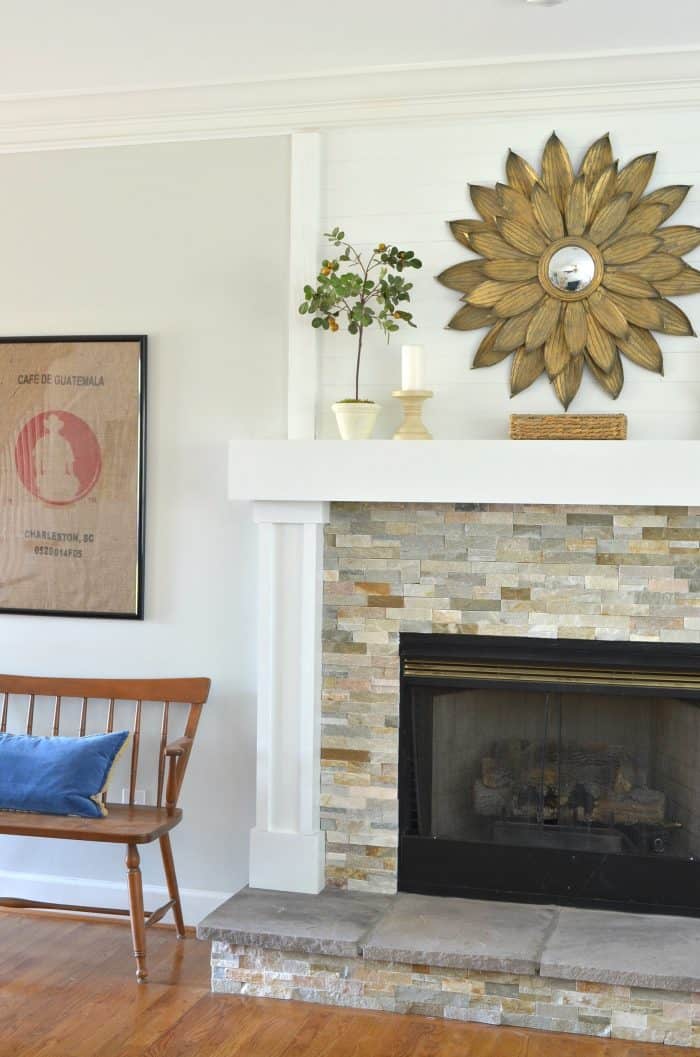 *This post contains affiliate links.
Our DIY fireplace makeover post has been in the works for months. As with lots of projects around our house we like to start them at the spur of the moment. Like during the holidays. When there are a million other things to do, know what I mean?
I would like to say, we did love my fireplace before. We had already completed a mini fireplace makeover on it by adding the wood plank above the mantel so I knew I wanted that to stay.
There was one problem though, we never actually used the fireplace to warm the house in the winter. It is a gas fire and it smelled bad every time we turned it on.
So bad that it was impossible to use.
I kept putting off replacing the insert because I knew we would have to redo the tile and I wasn't ready for such a messy project.
Two days after Thanksgiving we decided we didn't want to miss another winter with our fireplace not working.
There is one thing I know about my handy husband, he loves to demo things. Sometimes at the mere mention of a new project I turn around to a demo site. I made him promise me to stop doing that unless I was totally prepared to do my part.
I love home decor projects but I hate a messy house.
So I went to work drawing for him on paper what was in my head. I colored it in so he could have a more visual of what I was thinking. My original fireplace makeover ideas included possible stained wood so that is what is in the drawing. In the end I went the painted route.
Then it was demo time… YES we did the demo for the fireplace makeover before we bought any supplies.
BUT I had looked around online and had pretty much decided on the tile and stone. Ray brought the samples home for me to see in our house and I ended up choosing the exact one I thought I would.
Supplies to BUY:
Hearth Stone from Boral Brick
Problems to SOLVE:
Smelly gas. You won't believe this! The gas line was loose. Ray repaired that and no more smell. Still, there was no turning back at this point.

D

o away with the black tile on the floor.
The easiest solution was to add a hearth over it. To do this we had to raise the fire box insert by building a little platform for it to sit on. This caused everything to shift up a few inches requiring us to remove the bottom wood plank we had previously hung above the mantel.
Ray was very careful here not to damage any of the other boards. We also cut away the drywall that was under the black tile to give more room for the fire box to fit.
Handy TOOLS to have: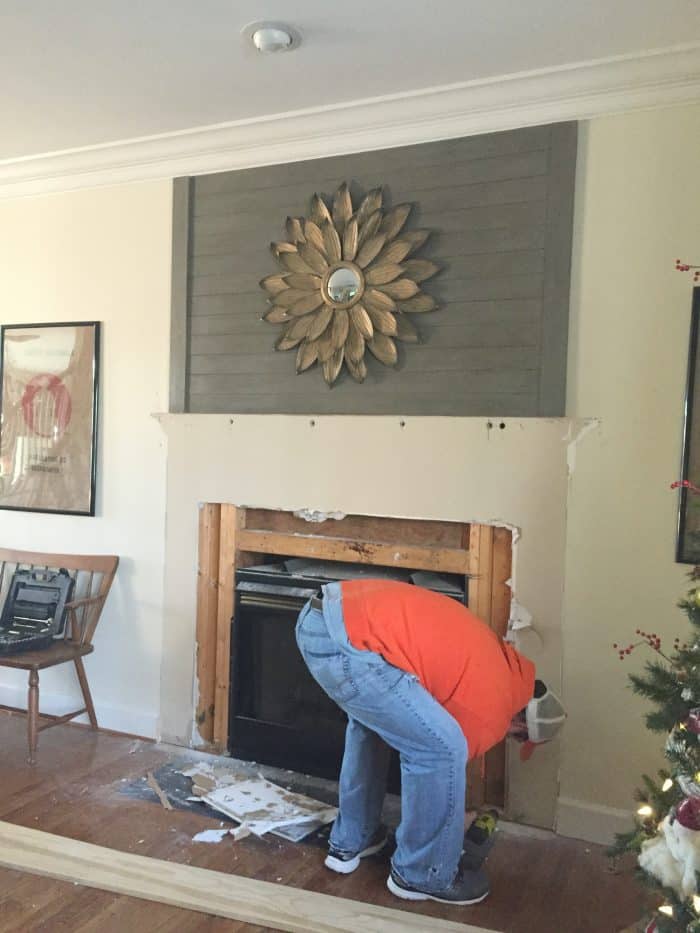 Time saving TIP:
When we were deciding how much to raise the fire box we took into consideration the tile size. We wanted to make sure we made the hearth the exact size to fit one 6 x 12 tile with out cutting the height, only the width at the ends.
Maybe one day I will share how to tile but that will be a post all on it's own. We have tiled floors and kitchen backsplashes and now a hearth. I will say this was the easiest one of them all. I hate to tile and grout. It's my least favorite DIY.
For the hearth build, we created a platform out of 2 x 6 boards. You will need to determine the length and width depending on your own needs. Since we knew we wanted to use the 12 x 6 tiles without having to cut them we chose the 2 x 6 boards. I do not have a photo of the box before the cement board went on. It looked the same as the raised box the fireplace insert will sit on.
While the interior box had one center board the hearth box had two boards evenly spaced. The hearth box was securely attached with screws to the fireplace box. Then we covered the hearth box with cement backer board. This is similar to sheetrock but made of cement. It is what you must use under tiles.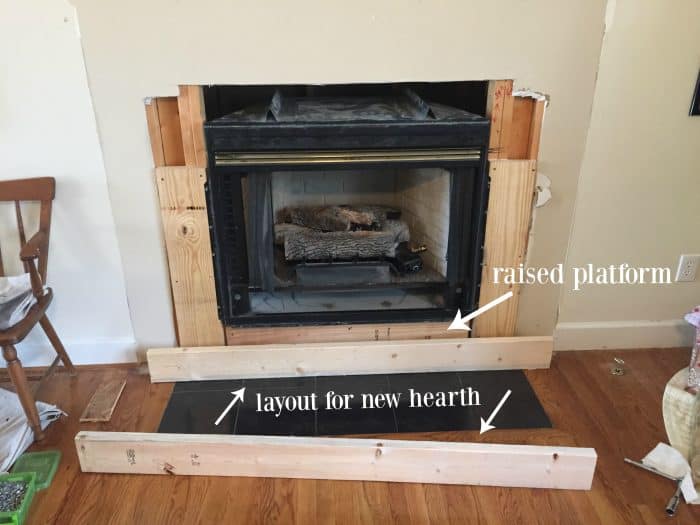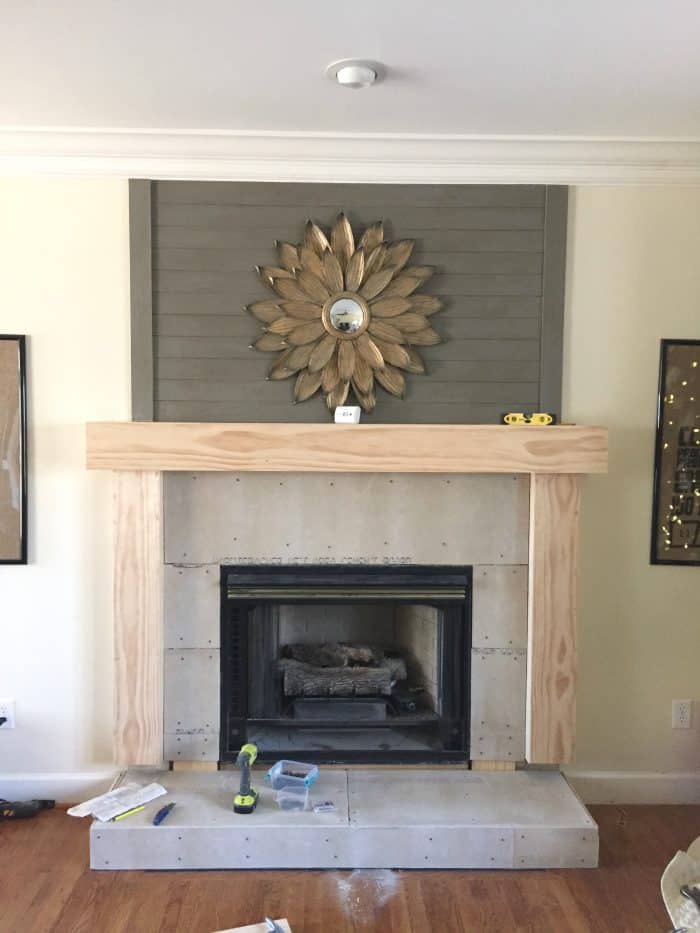 I am so happy with how this fireplace makeover turned out. Ray did a great job with his building and craftsmanships as always. I can't wait to show you the patio tables he is currently working on. He has such a demanding day job, I am thrilled anytime I can get him to build me something.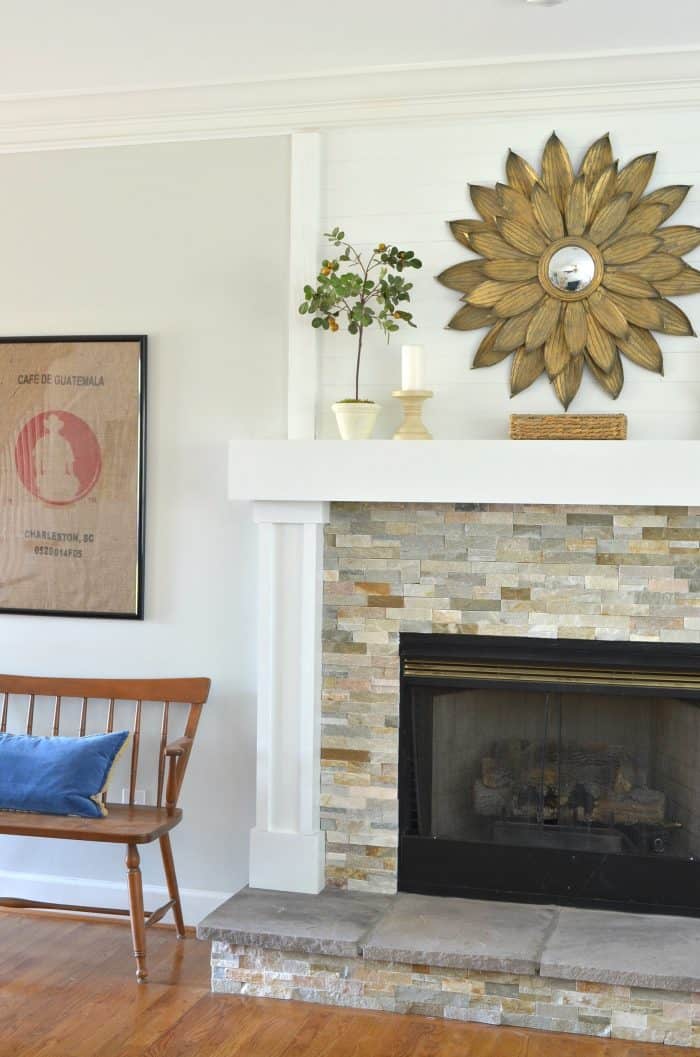 Now I am looking forward to decorating the mantel for fall. I'm working on gathering some of my blogging friends together to share with me.
**UPDATE: Family Room Makeover and new mantel paint color**
Here is a fun graphic to see the DIY Fireplace Makeover through our dreaming, doing and done!
Pin it for reference later.