Wood Plank Mantel Makeover
Have you ever wanted a mantel makeover but unsure it's possible with a small budget and little time? This tutorial shows how it's not only possible but will make a major impact to your fireplace.
I have been wanting to do a wood plank mantel makeover for a while. I have always felt it would really change the focal point in my living room. It was so easy, I should have done it sooner.
Whether to call this shiplap, faux shiplap, paneling, or wood planks was the hardest part of this project.
This mantle has been a in process over the years. The newest updates after this one include a new fireplace surround taupe paint color, then a DIY fireplace makeover, and now the mantel is painted black.
Start with the V-Groove Panel wood boards. They come 6 pieces to a pack and cost just under $15 each. I purchased 3 but only ended up needing 2 of them. Be sure to mark the studs above the mantel. This will make hanging the boards much faster once the nailing begins.
Once the studs were marked we headed out to workshop to cut the boards. We have an awesome "shed" that my husband built. It is really big and holds all of his woodworking tools. It could use some organizing but it is a great building. As soon as the weather stays warm we will be painting the outside of the shed.
Shed Update…You will not believe how it looks now!! It got a major makeover. Our work shed became our family shed.
Once all of the boards were cut my husband hung them with our favorite nail gun. They went up really easy and fast. This part of the project was completed in no time, it was the painting that took me a while! I changed my mind a couple of times.
If you do not have access to the mail gun these V-Groove boards are so thin you could nail them in with a hammer and small nails. We do lots of projects so we have the nail gun on hand.
The reason I ended up using only 2 packs of the wood planks was because I decided to add 1×4 on the ends for the trim instead of the V-Groove boards. It really helped give depth to the wood plank. These boards were very thin but they were exactly what I needed because my mantel is also thin from the side view.
As you can see, my shiplap mantel makeover turned out beautifully! I mean, seriously better than I had expected! I love it so much. To paint the faux wood planks I ended up making my own DIY chalk-like paint for this project. You can find that tutorial HERE. BUT that didn't last. Keep reading to see more color changes.
I didn't hang the canvas art just yet as I am trying to decide if it is what I want to keep up there. The colors do look really great, though.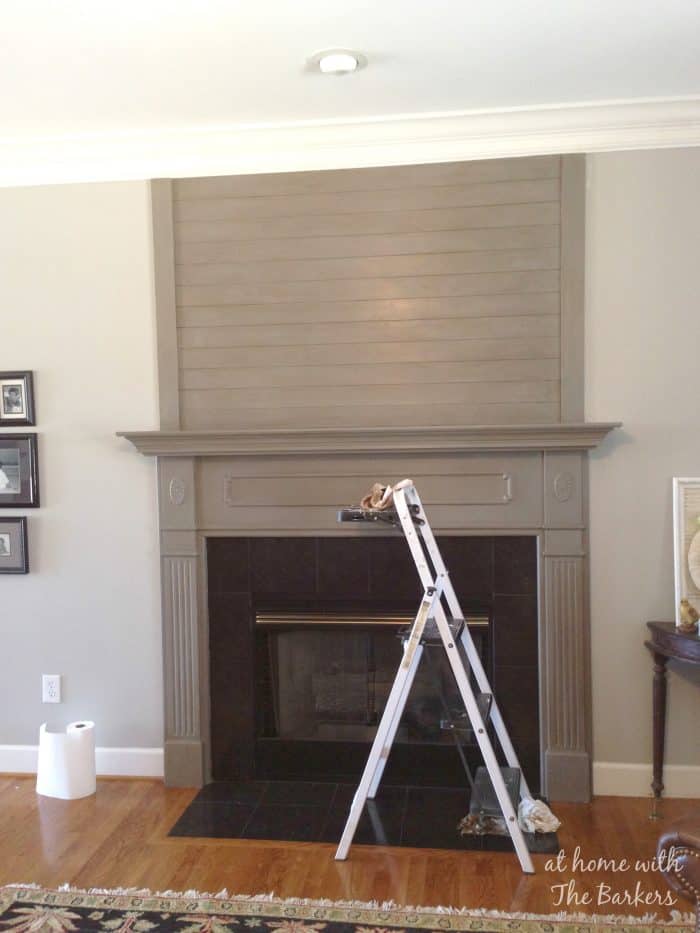 Since we hung the V-groove boards the mantel has gotten another huge makeover! We created a hearth this time as well. See that full tutorial HERE.
AND the new paint color HERE.