Dresser Storage Solutions
Dresser Storage Solutions
Dressers are one of the best pieces of furniture to use throughout any home, especially dresser storage solutions. They are so versatile and can be used in so many ways, not just the bedroom for storing clothes. Dressers are especially helpful in spaces where you may be limited on storage space.
Another great thing about this type of furniture is that you can pick them up from most any thrift store or yard sale, just like my sister and I did with the one in these pictures. It was $15 at a yard sale. This is actually a labor of love from my sister, then she gave it to me!! I know, awesome right!
We all have things that we need when we have a small birthday dinner or a full out party but we just don't need them all of the time. So storing them in a dresser is a great solution for keeping all the party supplies together yet not using up valuable cabinet space.
Items such as candles, paper products, dishes and tablecloths are all great to have all in one place for a quick an easy gathering.
So many times we end up cluttering our entryway floor or our counter tops because we don't have a set spot for those everyday items. Using baskets inside of the drawer will allow for neat organization of keys, pens, loose change, and some small tools.
Another option for your everyday drop zone dresser storage is to store those shoes that are always needed quickly such as sneakers for going on a run or dog walking.
The dresser is also a great option for storing seasonal items. Holidays that you only have a few decorations for or for those delicate one's that you want to protect.
If you need to make a small entryway but need somewhere to put all of those shoes, a dresser is perfect.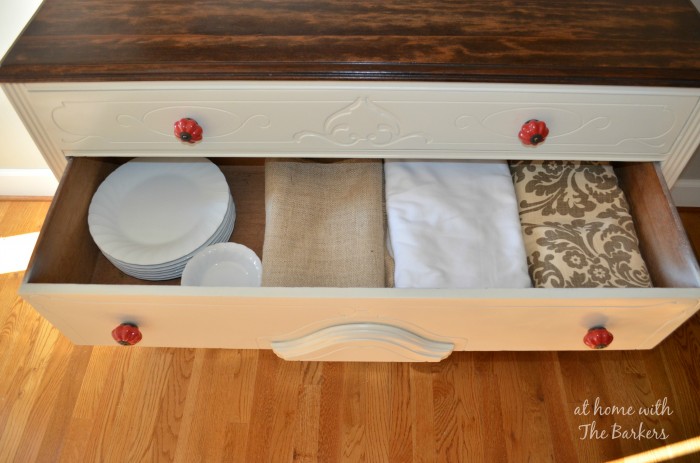 Next time you are looking for furniture keep the dresser in mind. They are so useful in small spaces and spaces that lack storage. There are so many options out there you are bound to find one that meets your decorating style.