One Room Challenge Shed Makeover Reveal
See how a messy tool shed turned into a great place to hang out. Whether it's for family or teens and their friends, this shed makeover reveal is totally worth the effort.
This post may contain affiliate links. See our disclosure for full details.
It's DONE!! I have never painted so much in my entire life. If this is your very first time stopping by my blog, Hey there! I am so glad you are here. It's One Room Challenge Shed Makeover Reveal day, so you picked a great day to visit.
To catch everyone up to speed let me do a little summary. Over the past 6 weeks we have been hard at work for one room makeover. Each week we have been updating on the room progress and today is the big reveal day.
I've been torn as to what to call the shed now that it is isn't really a traditional shed. The she shed is super trendy but my family said it's not just mine although I totally plan on using the new serving area as a desk to work on my blog! My son said it's still the shed but now it's THE Shed! I'm happy with that.
I know you stopped by to see the makeover so let's get to it! I am thrilled with the final results. How about a quick reminder of how it look before.
then the second before…
More project post for the Shed Makeover
and now…
I kept the dart board where it was because it was already in the best location for safety reasons but I added a small table I found on clearance at Ross. It had a wood top that I painted. I used the basket for the darts and some extra games.
Dart Board backer idea!
I used a large foam core poster board and covered it with black felt. Buy spray adhesive to attach the felt to the board. Leave enough felt to wrap around the back so that the edges are covered. This dart board backer will keep catch all of the darts that miss the board. Works perfectly.
The convertible futon sofas are perfect for hanging out. They lay flat for sleepovers, prop up chaise style for TV watching, and work perfectly for a crowd.
The bench we added around the table is so awesome now. If we need more space we can always pull the table out for more seating. If you notice behind the bench (and the serving area) we added wood planking. We did it the same as we did in our kitchen for last years one room challenge makeover.
Before…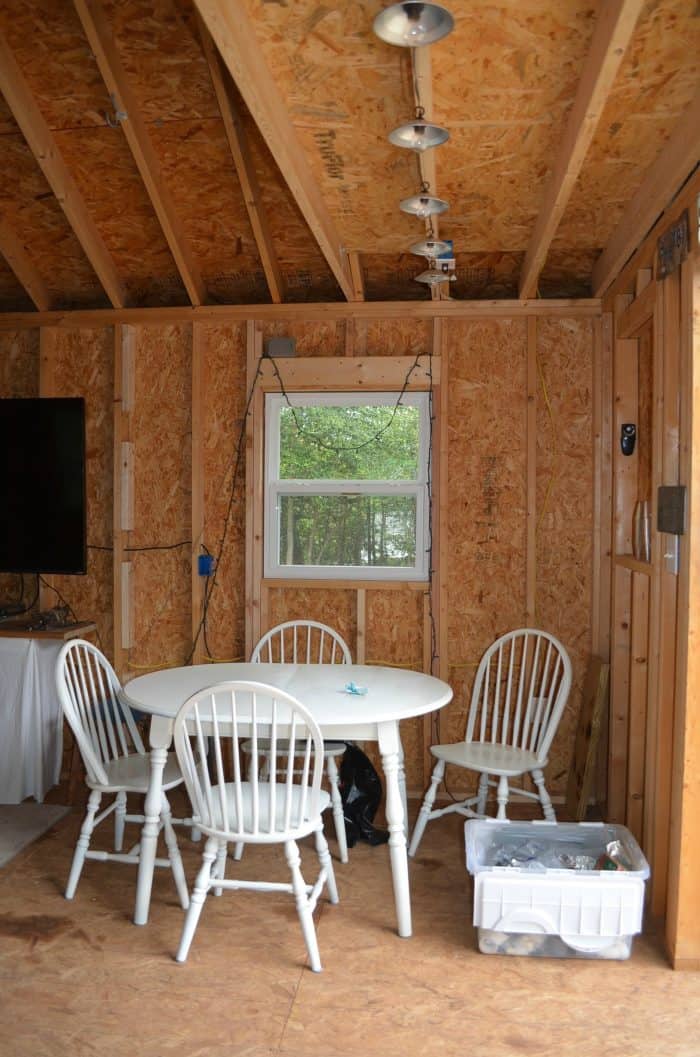 After…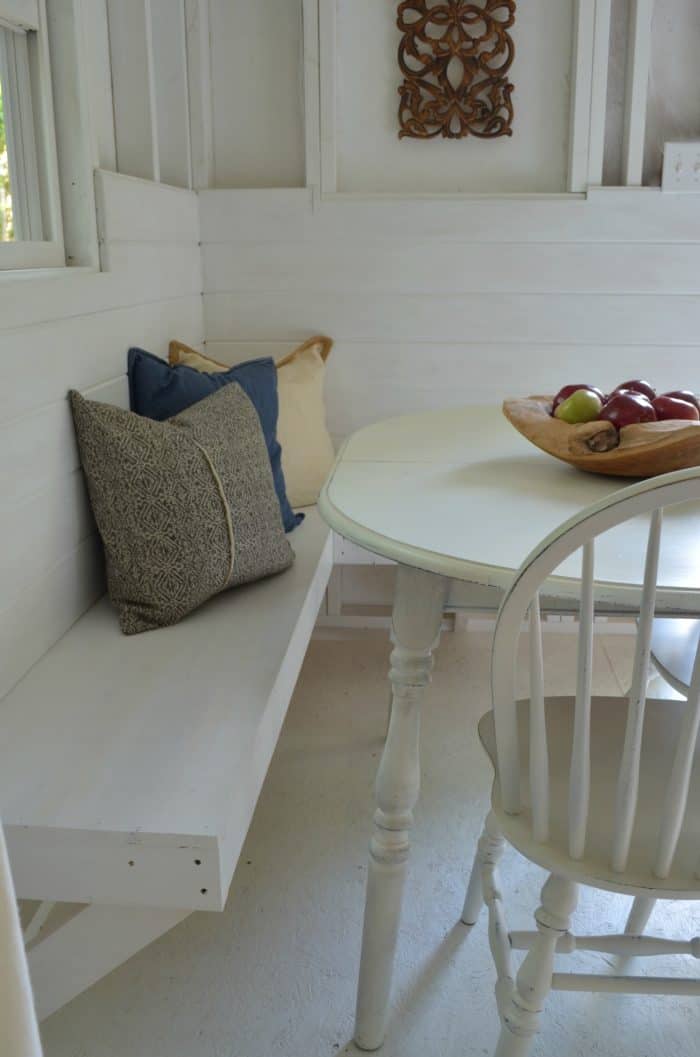 Here is a view without the table.
My vintage school chalkboard got a layer of antique wax to cover up the orange wood. The shutter, which was on my in laws house when they first built it years ago, I used to hide wires but it gave some added texture to the space as well.
The serving area also got a new look. Now instead of a pop up table we have a real serving area. Ray built it like he did the benches. I added the bar stools to make the space work double duty. When not being used as a serving table it can be a desk. I've already utilized that feature.
Before…
After…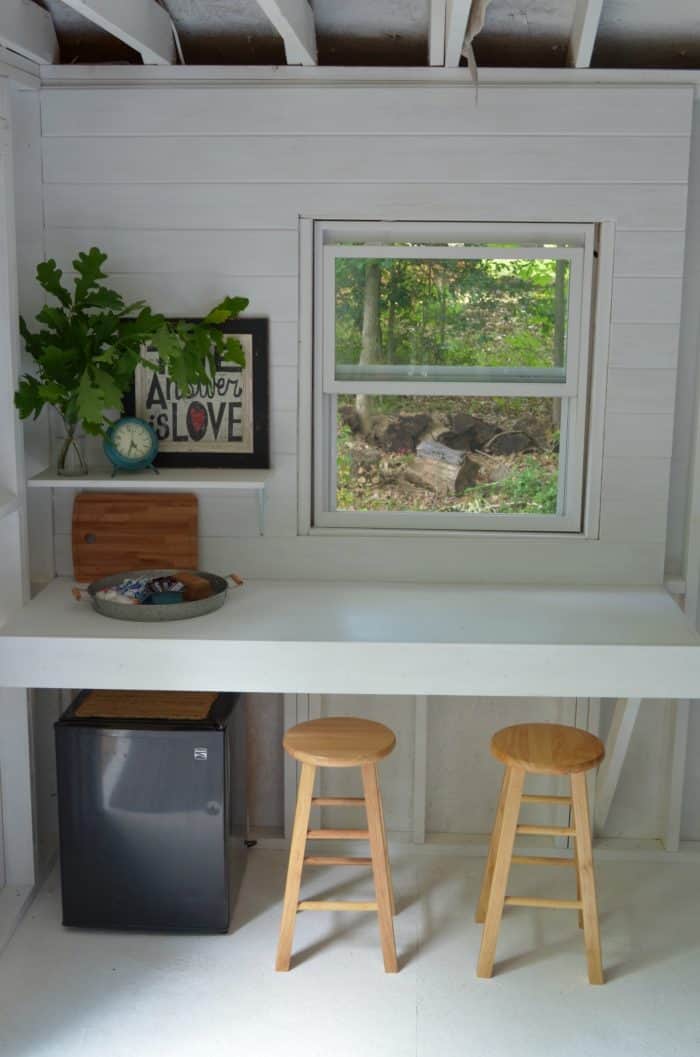 The two loft areas above will still be used for storage. So my sister helped me cover it up with drop cloth. This was her idea and it turned out great. I grabbed the cheaper drop cloths at Walmart because they aren't stiff. They are more fabric like in feel.
Love the tent look it gives the space.
I had planned to add plants to the deck but I didn't get that part totally done yet. Ray needed to do some yard work so I decided to share the "porch" with you in a different post.
THANKS to my honey for the build projects. I had told him he wouldn't have any work in this space.
This shed makeover has lots of projects that can work in any space. I will post tutorials and how to's on the blog so you can all be inspired. I'd love to have you on my email list so when I have those ready I can get them to you right away.