Bathroom Makeover with Black Painted Walls
Bathroom makeover with black painted walls that will inspire you for your next home paint project. See how this bathroom looks after it's mini two day makeover.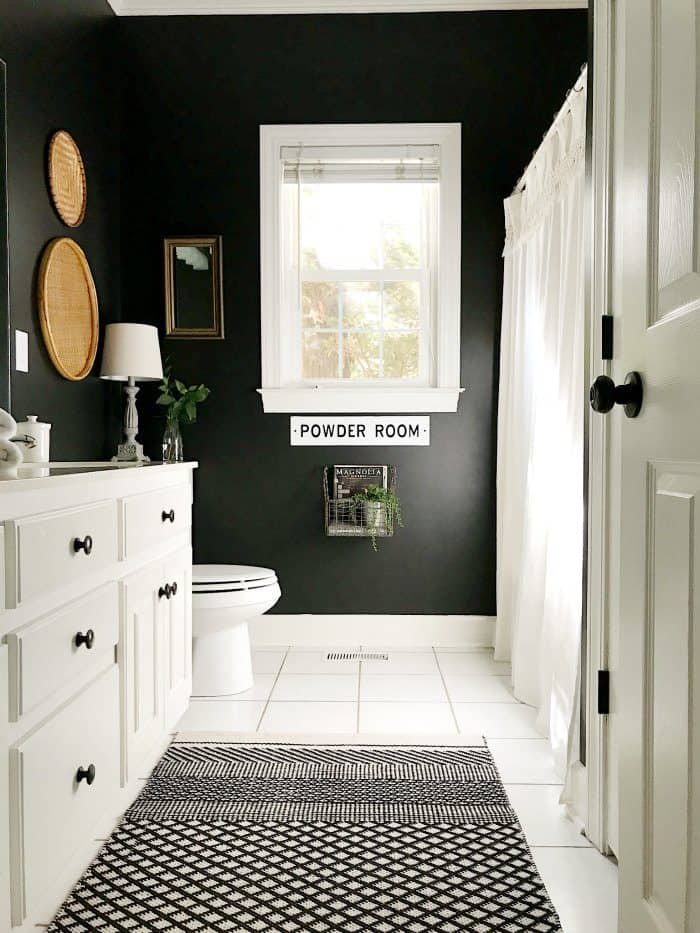 One of my favorite things to do is a room makeover for as little money as possible. There are times when you need a room refresh to feel excited about a space again. Our hall bathroom has been the same since we painted it the green trellis. A beautiful shade of green but I was tired of it.
This post is to share with you what I did to the room, what I bought, and what I pulled from other rooms in our home. Shop your own home, it's great fun. There will be extra talk about the black walls because you always have paint questions.
I have wanted to paint this bathroom black for a long time. I ended up painting the kitchen walls black to be sure I was going to love it. Since the kitchen had only two half walls to paint and white shiplap balancing the dark, I knew it would work.
The moment I put the black on the wall I was hooked. I love it so much. Learning how to paint a room is one of the DIY skills you can have.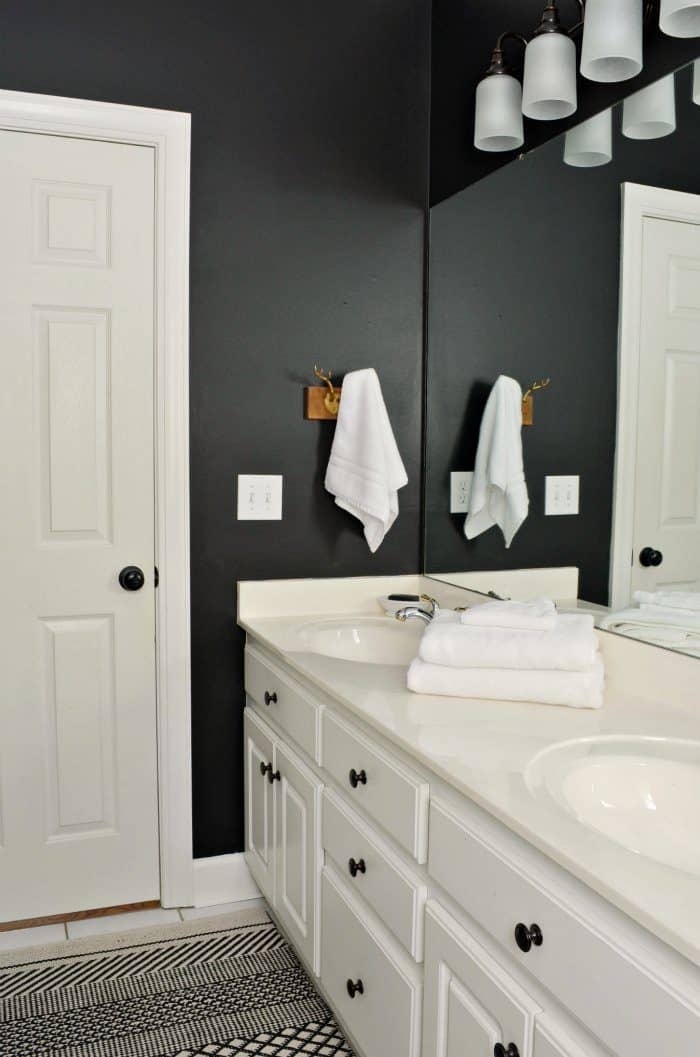 Many times paint is the star of our before and after home decor projects.
FAQ's for black paint in a bathroom
Do black walls make a room look smaller? No. I find that the opposite is true. Dark colors, especially black, make things recede. This gives the appearance that the walls are further back. My sister has told me multiple times she can believe how bigger this bathroom looks now. When we did our backyard makeover I used black on the fence and shed for them to recede into nature. It worked.
What is the best black paint for walls? All blacks are not created equal. Undertone is going to make each shade of black look completely different. Check out this post for choosing the best black for you home.
What is the hardest part about painting a bathroom? The cut in for sure. Most bathrooms will have less solid wall space and more cut in or trim to paint. There is the entry door, linen closet door, cabinetry, mirror, light fixture, shower, and window that will all need to be painted around.
How many coats of black paint did it take? It only took 2. This is why I like using paint and primer in one. It helps give a good coverage. Plus, I have found it takes more coats to go from dark to light than light to dark. Therefore, when I decide I don't like the black paint, which is no time soon, I will prime first in order to not have to paint more coats of the color paint.
Paint colors used
If you love a white room you should check out the white and mauve bathroom makeover in our upstairs bathroom.
Give my favorite paint brushes a try!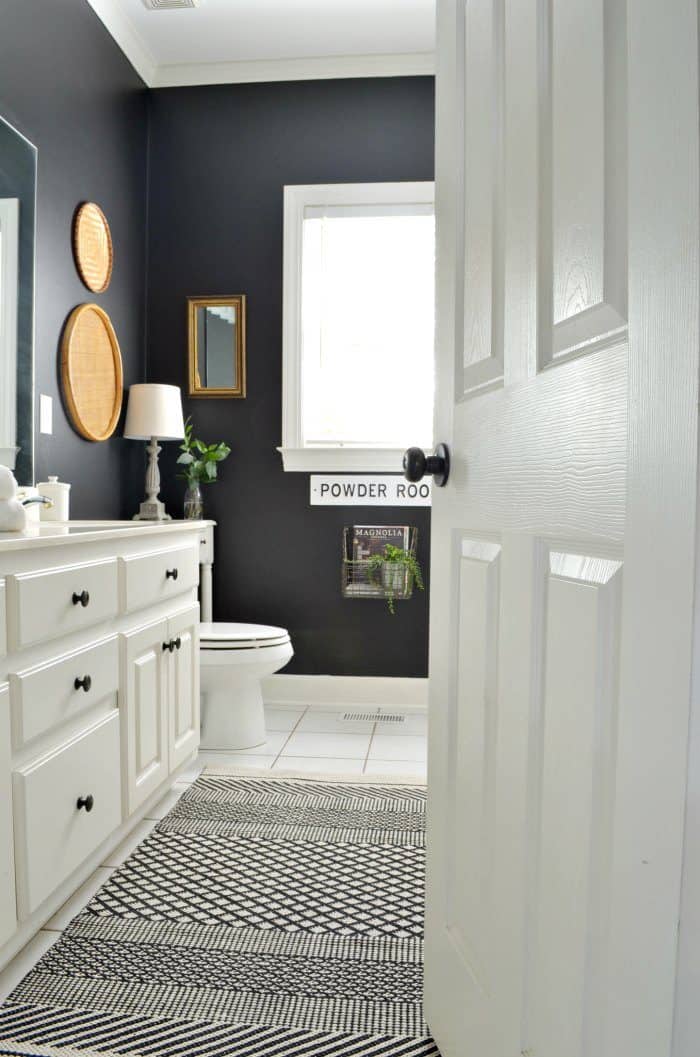 Bathroom Makeover Projects
Painted walls, trim, and table
DIY hand towel holder. I bought the decorative antler hooks a while back because I thought it was cute. Created a custom towel rack with some extra wood in the garage.
Hanging wall basket was being used in the shed (Did you know we have a converted shed?)
Wicker wall baskets from my dining room (thrifted)
Greenery clipped from my yard
Lamp shade with another lamp
Soap dish
Throw Rug $24.99
Mirror (thrifted) $3.50
Shower curtain (mine was a clearance find, similar linked) $12.48
Hand towel (gifted from Home Depot at Haven Conference)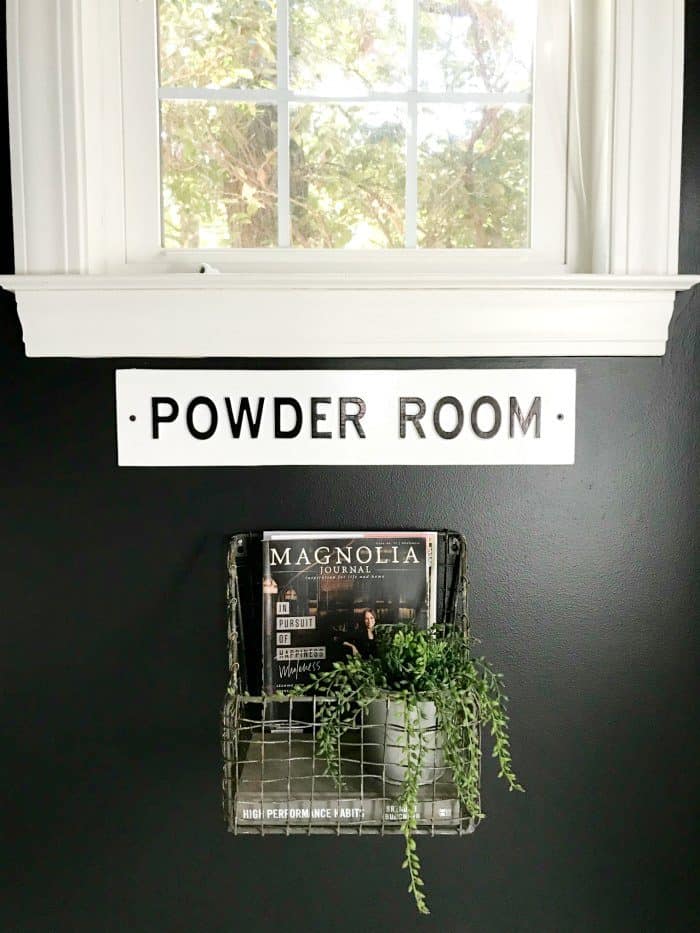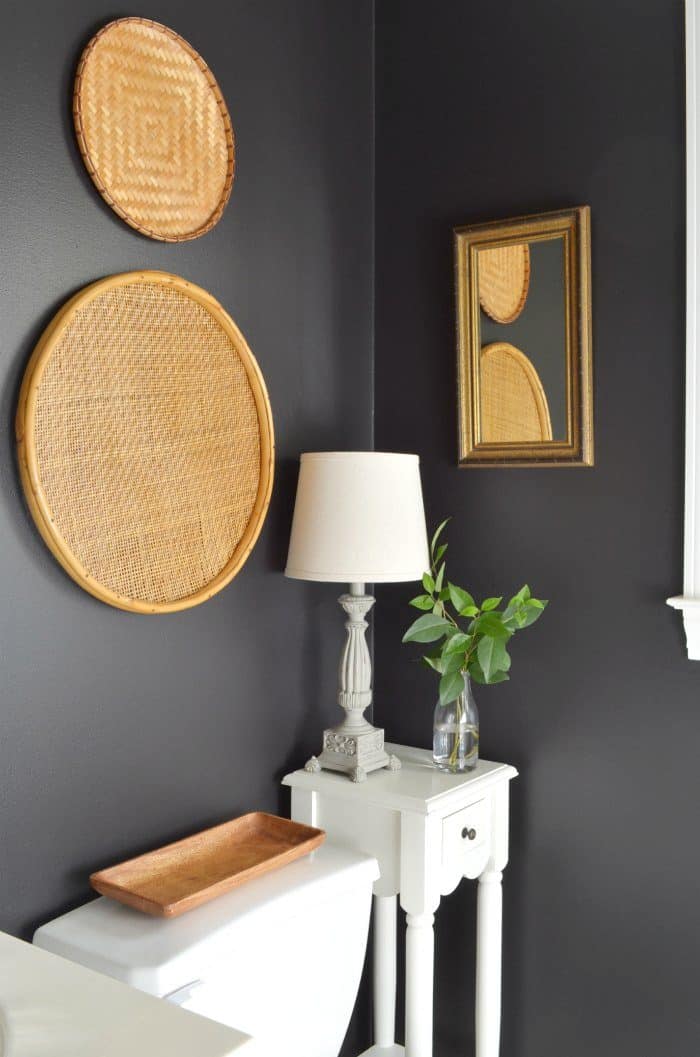 So what do you think? Will you now consider painting a room black in your home? If you are be sure to check out my post that teaches you how to choose the right shade of black paint. That is the most important part.
Creating a room you love is very attainable. Paint is your number one weapon for the biggest impact. The rest can be done if you get creative with your decor.
More home decor paint projects