DIY Spray Painted Lamp Shade
I've been busy this week sorting through lots of clutter around my house.  You know that "stuff" that fills your mental space just as much as it fills your physical space.
I appreciate all of you who commented, encouraged, and joined in on my facebook and Instagram post about my clutter.  We can all do better and I love the accountablity.
So with that said, look for upcoming blog post about getting organized!I will keep posting updates on my Facebook and Instagram of behind the scenes.
**Update: Post from my Organizing Success listed at the bottom of this post!
For now here's a project I completed this summer that you can all do!
DIY Spray Painted Lamp Shade
Supplies for this project:
I purchased a basic white drum lamp shade, some painters tape and a can of spray paint.  The color I used is called Almond.  The drum shaped lamp shade is the best because it is easy to tape and keep your lines straight.
Start by placing your first piece of painters tape straight from top to bottom.  To measure the distance easily between the first line and the second, I placed a piece of tape to mark the distance.  I eyed this part…it's not rocket science.  After I had placed the second piece of tape from top to bottom I moved my marker tape and continued the same process all the way around.
After I had taped off all the stripes all the way around the lamp shade, I added a second piece of tape to widen my line.  You can purchase the wide painters tape but I wasn't sure exactly how wide I wanted my stripes so it was best I went with the smaller to start.
I took my shade out to the back yard to paint it.  Be sure to have it raised off of the ground so that you can get a complete coverage from top to bottom.  I sat mine a piece of scrap wood.
One you have it all painted go ahead and remove the tape while the paint is still wet.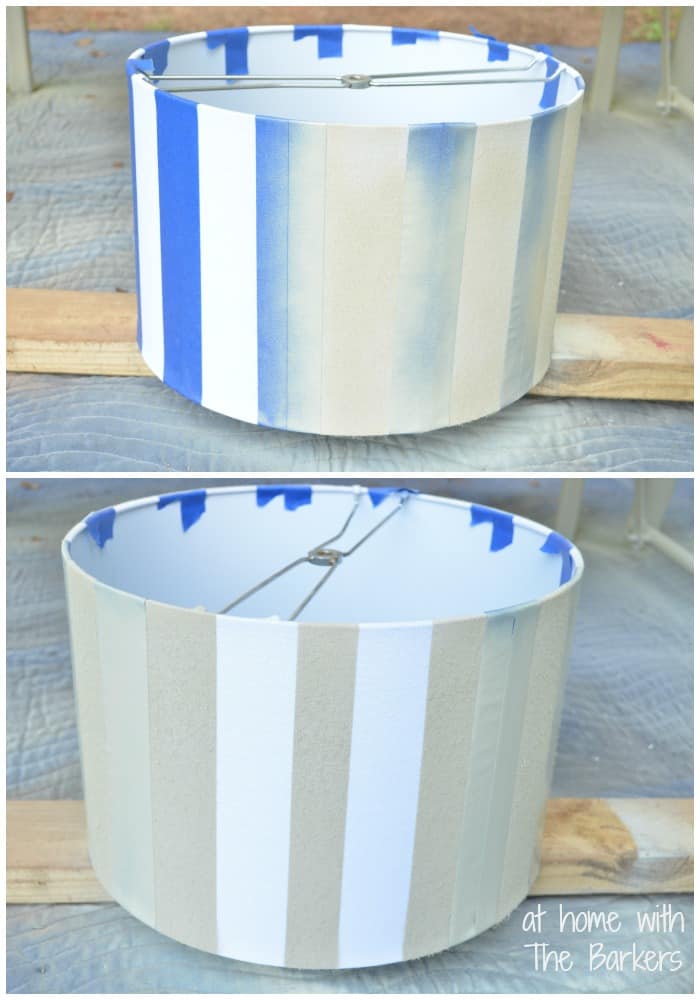 The stripes were perfect.  If you look closely you can see that the fabric looks a little furry.  I took a piece of sand paper and GENTLY wiped over the painted areas to dust the fuzzy look off.  BUT it really did look fine and that step wasn't required.  I did have a little over spray on to the metal parts on the inside of the shade.  You can get that off easily with FINE steel wool.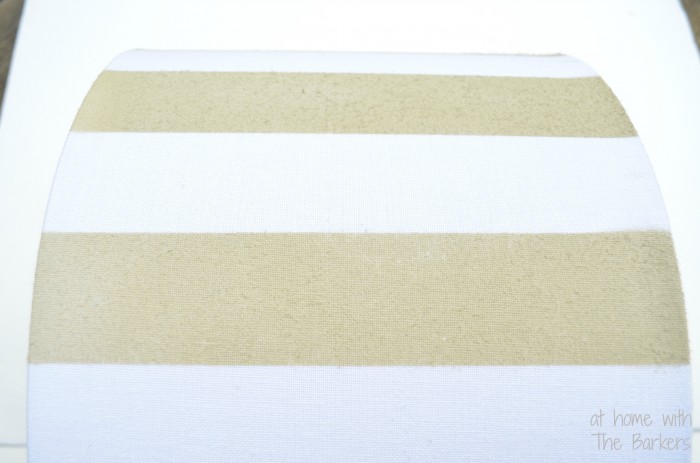 The DIY spray painted lamp shade made for a fun addition to my living room.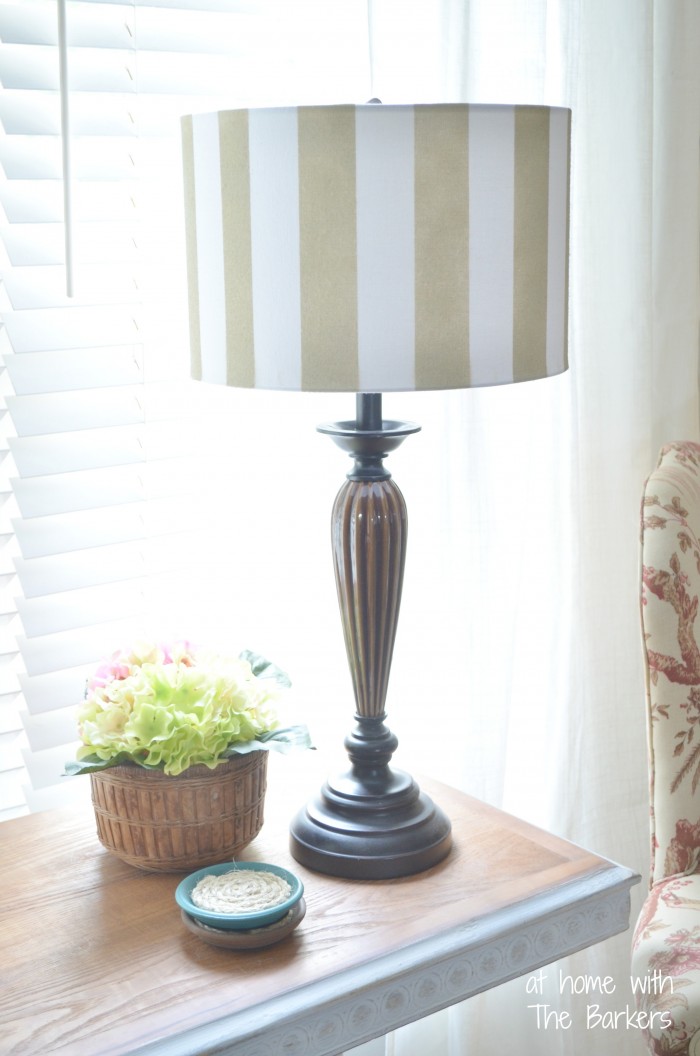 Making over lamps is very budget friendly, you will love this one below! I made it for my daughters room.  It was mostly her idea.
{QUICK SUMMER PROJECTS FOR OUTDOORS}
Organizing and Decluttering Post:
Follow At Home with The Barkers here: Facebook, Twitter, Instagram, Pinterest