DIY Spray Painted Lamp Shade
Finding ways to creatively update your home decor is so fun. Like this DIY spray painted lamp shade that you can do in an afternoon.
There are so many ways to make this do it yourself project work for the style of your home. Alternate the size of the stripes or paint with a brighter color instead of a neutral.
Keep in mind though, when choosing your paint color how it will look at night when the lamp is turned on. The paint color on the lamp shade will appear more see through at nigh, thus changing the color some.
For instance, a red could appear pink when the lamp is turned on.
This post contains affiliate links. See full disclosure policy.
Lamp shades aren't the only part of a lamp you can makeover. You can paint metal lamps, get creative with painted brushstrokes, or decoupage with paper.
DIY Spray Painted Lamp Shade
Supplies for this project:
I purchased a basic white drum lamp shade, some painters tape and a can of spray paint. The color I used is called Almond. The drum shaped lamp shade is the best because it is easy to tape and keep your lines straight.
Start by placing your first piece of painters tape straight from top to bottom. To measure the distance easily between the first line and the second, I placed a piece of tape to mark the distance. I eyed this part…it's not rocket science.
After I had placed the second piece of tape from top to bottom I moved my marker tape and continued the same process all the way around.
Next I taped off all the stripes, all the way around the lamp shade, I added a second piece of tape to widen my line. You can purchase the wide painters tape but I wasn't sure exactly how wide I wanted my stripes so it was best I went with the smaller to start.
As with all spray paint projects you will need a well ventilated space. Outside is best. Be sure to raise the lamp shade off of the ground so you can get a complete coverage of spray paint from top to bottom.
Using scrap wood as a table top will allow you to get most of the lamp shade up off the ground. Then as you spray you can use the inside hardware to turn it.
One you have it all painted go ahead and remove the tape while the paint is still wet.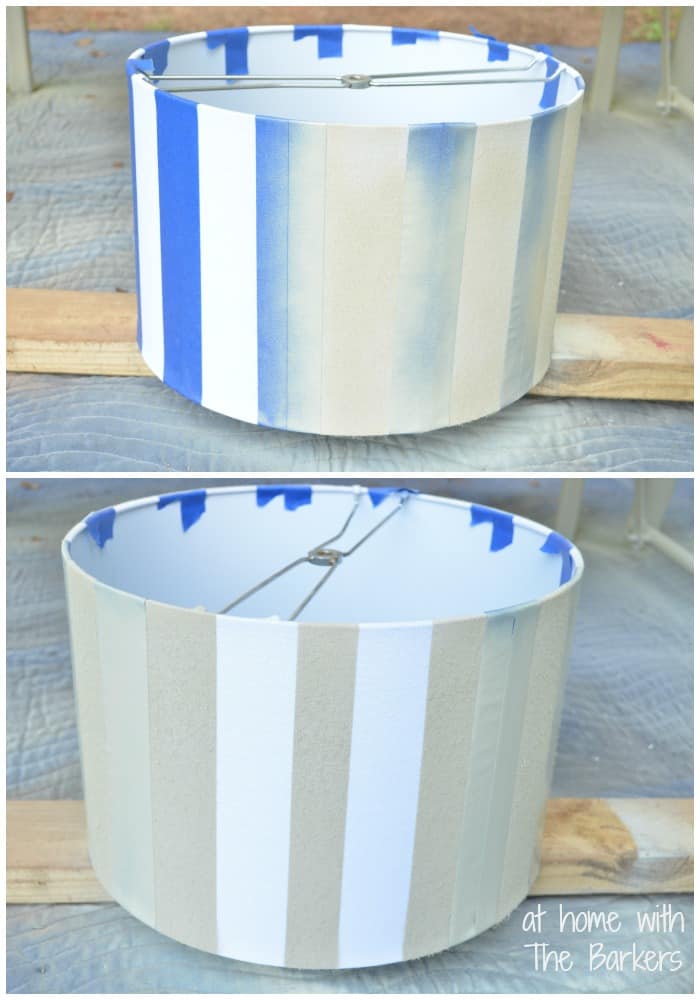 Find more incredible painted home decor ideas like how to make a new vase look old, painted cement look lamp, or aged terracotta pots. Plus so many more DIY home decor projects.
Finishing details
The stripes were perfect. If you look closely you can see that the fabric looks a little furry. I took a piece of sand paper with a high grit count and GENTLY wiped over the painted areas to dust the fuzzy look off. BUT it really did look fine and that step wasn't required.
I did have a little over spray on to the metal parts on the inside of the shade. You can get the paint overspray off easily with 0000 FINE steel wool.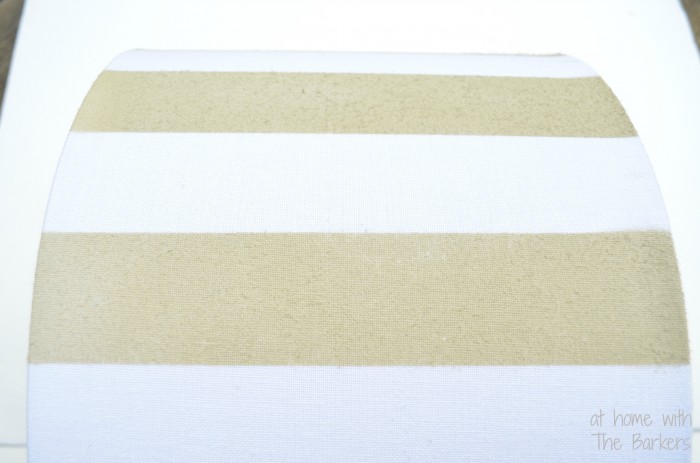 The DIY spray painted lamp shade made for a fun addition to my living room.