A guide for finding inspiration to DIY or buy pottery lamps. I love a good DIY project but there are times when you need to buy. This post will give you inspiration for both.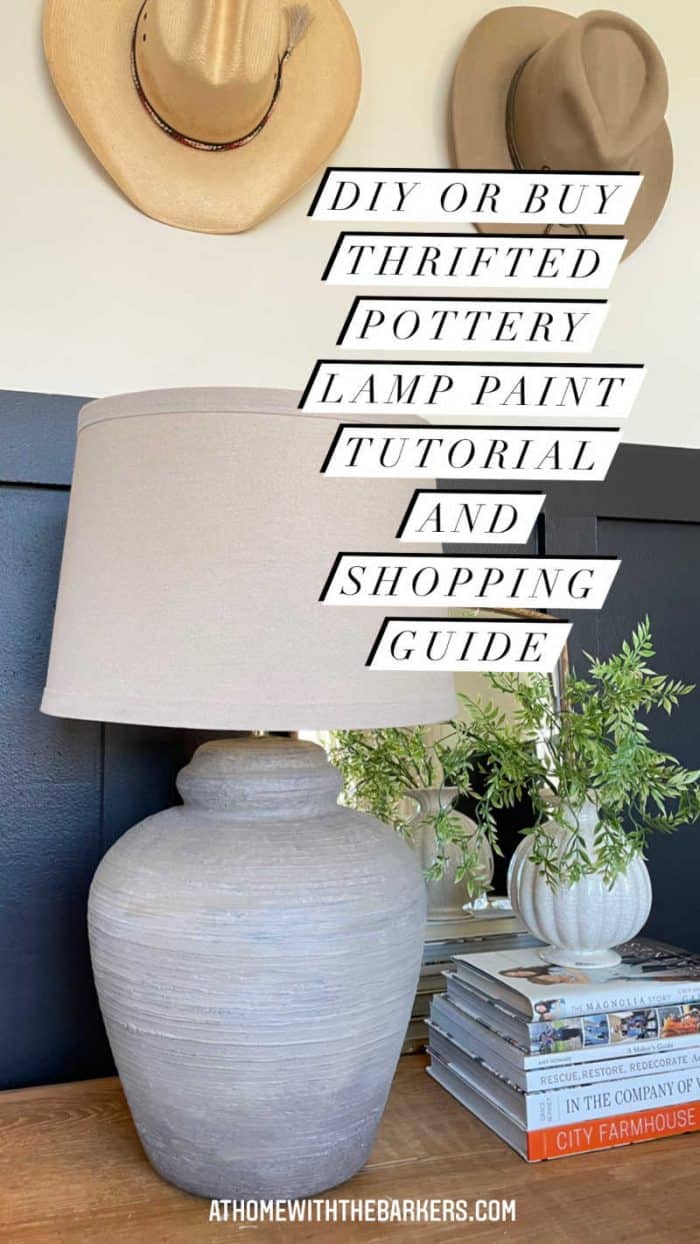 This post may contain affiliate links.
When looking to refresh, update or makeover a space, home accessories are the easiest place to start. Lighting is a great item to consider.
Lamp styles can truly change a space. Pricing can be all over the place though. I am a firm believer in quality items but there are times when a good DIY can get you the same look. In this post I'm sharing how I turned a thrift store pottery lamp into a look a like store bought one.
How to find a pottery lamp
When searching online for a certain type of home decor there can be different items pop up depending on the words you search. This pottery lamp can also be referred to as terra cotta lamp, ceramic lamp, concrete lamp and clay lamp. So keep that in mind when you are looking around.
You can use your search to buy or as inspiration to DIY your own. Look around at thrift stores for a pottery lamp to faux paint. These style lamps use to be much more available but I have a harder time lately finding them. It may depend on your area.
As you scroll down the page you will see how I painted my lamp. Below that you will find links to shop. Check the prices. You may find a lamp you would rather buy.
The lamp I owned was thrifted and spray painted a flat black. A little scuffing with sandpaper for an additional layer. It worked with my dining room before I painted the walls black.
My goal now was to have my lamp look like concrete.
Steps for painting your pottery lamp
Painting the lamp is all about layering. Just as I did with my vintage look wood sign. You will need 3-4 different colors of paint for this project. Light medium and dark. I used paint samples I had on hand. Look through any of the lamps in the shopping guide for inspiration to fit your home style.
brush entire piece with medium color paint
dry brush the light color onto the textured areas (dry brush= making sure your paint brush is relatively dry, use wispy strokes to paint)
fade dark color along the bottom by dabbing paint with a paper towel, rag or sponge
dry brush again layering shades of each color
repeating any of the above steps gives dimension to the look (the paints blend when wet so keep this in mind when you are layering)
when layering and faux painting, less paint is better (laying a trash bag or paper towels out allows for unloading paint as well as mixing colors)
This is how I faux painted my pottery lamp. This should give you just the tips and inspiration you need to paint your own. If you prefer to buy one, click on any photo below in the shopping guide.
Shop pottery lamps