Dark Sofa Decorating Ideas plus Shopping Guide
Dark sofa decorating ideas plus shopping guide. Including two different style ideas including mood boards.
I have been wanting to share mood boards here on the blog for a long time but wasn't quite sure what would be helpful. After asking around on my Facebook and Instagram, I came up with an idea.
Whether you are looking to give your living room a complete makeover or a refresh with new accessories, this post is for you.
I took this dark sofa and gathered up some great decorating pieces to create two different looks. The best part about them both, you can mix and match as well.
To shop each of the looks you can find sources under each photo as well as a photo shopping guide at the bottom.
This post contains affiliate links. Click here to read my full disclosure policy.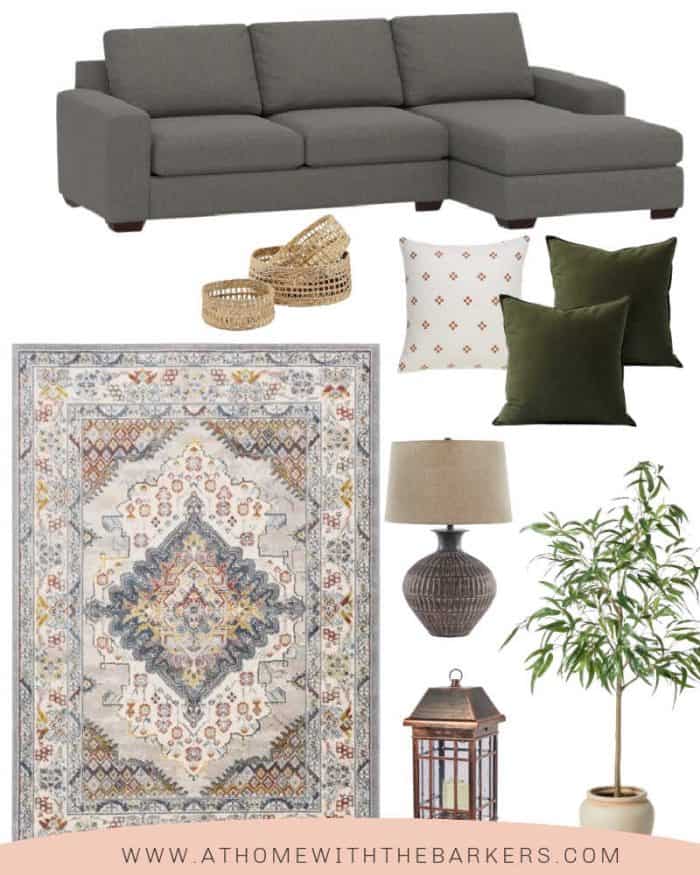 Sources: Dark Charcoal Sofa | Oriental Rug | Baskets | Patterned Pillow Cover | Olive Green Pillows | Lamp | Lantern | Eucalyptus Tree
If you click on an item and it is out of stock, use the one in the photo as inspiration. If you need help message me and I will see if I can find you something similar.
The plan is to do mood board looks for a light colored sofa as well as leather. My throw pillow options for a leather couch is one on my popular posts.
By the way, do you say sofa or couch? I tend to use both.
Sources: Dark Charcoal Sofa | Natural Area Rug | Wood Beads | Plaid Pillow Cover | Olive Green Pillows | Lamp | Clock | Eucalyptus Tree
To see all details just click on the photo of the item you're interested in. As I said, I'll be posting more moods boards for the living room. I'd love to hear what else you'd like to see. Shoot me an email at [email protected] or leave a comment on this post.