Light Colored Sofa Decorating Ideas plus Shopping Guide
Light colored sofa decorating ideas plus shopping guide. Including two different color palettes with mood boards.
This post is a follow up to my dark sofa room decorating ideas post. I wanted to showcase both options so you can see what is possible with your space.
This post contains affiliate links. Click here to read my full disclosure policy.
Whether you need to change out one thing at a time or you are ready to start fresh, these mood board room designs will give you just the ideas you need.
If you need a new sofa, this one is a best seller.
When creating these two room options I wanted to show how changing a few items can give you a new look. Most often this is an affordable way to refresh a room without starting fresh.
By keeping the more expensive, main items the same in both rooms, you can clearly see how to a rug and accessories can transform a space. Other than paint, this is most affordable way to go.
Sources: Sofa | gold bowl | blue stripe pillow | blue pillow cover | golden brown pillow cover | rug | art | TV cabinet | faux plant | pouf
If you click on an item and it is out of stock, use the one in the photo as inspiration. If you need help message me and I will see if I can find you something similar.
The plan is to do mood board looks for a light colored sofa as well as leather. My throw pillow options for a leather couch is one on my popular posts.
By the way, do you say sofa or couch? I tend to use both.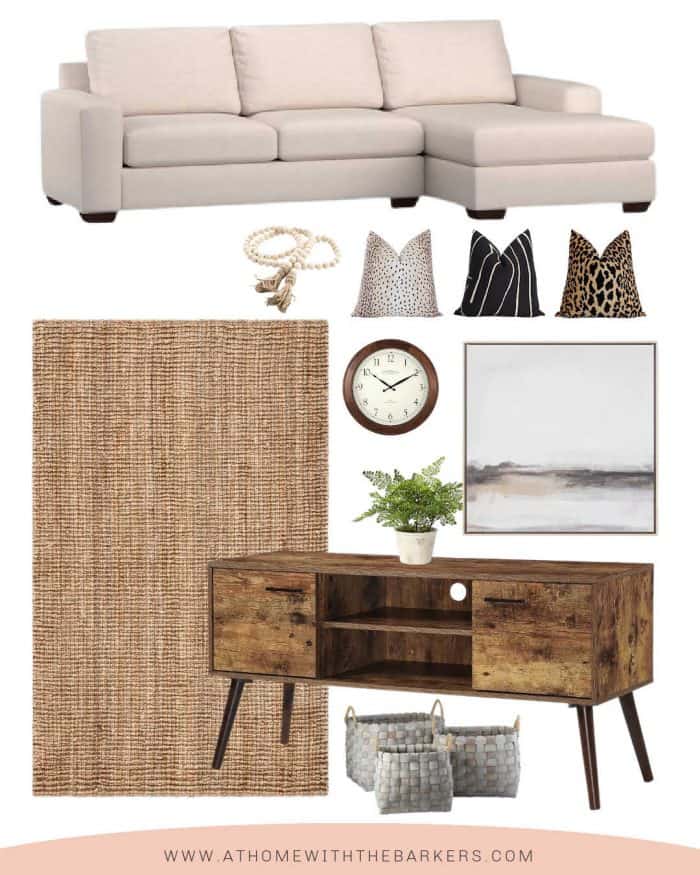 Sources: Sofa | wood beads | antelope pillow cover | black pillow cover | animal print pillow cover | clock | rug | art | TV cabinet | faux plant | basket set
To see any details click on the photo of the item you're interested in. As I said, I'll be posting more moods boards for the living room. I'd love to hear what else you'd like to see. Shoot me an email at [email protected] or leave a comment on this post.