A white bedroom makeover with touches of mauve, black, and tan. Created with lots of paint projects, DIY headboard build and affordable cozy touches.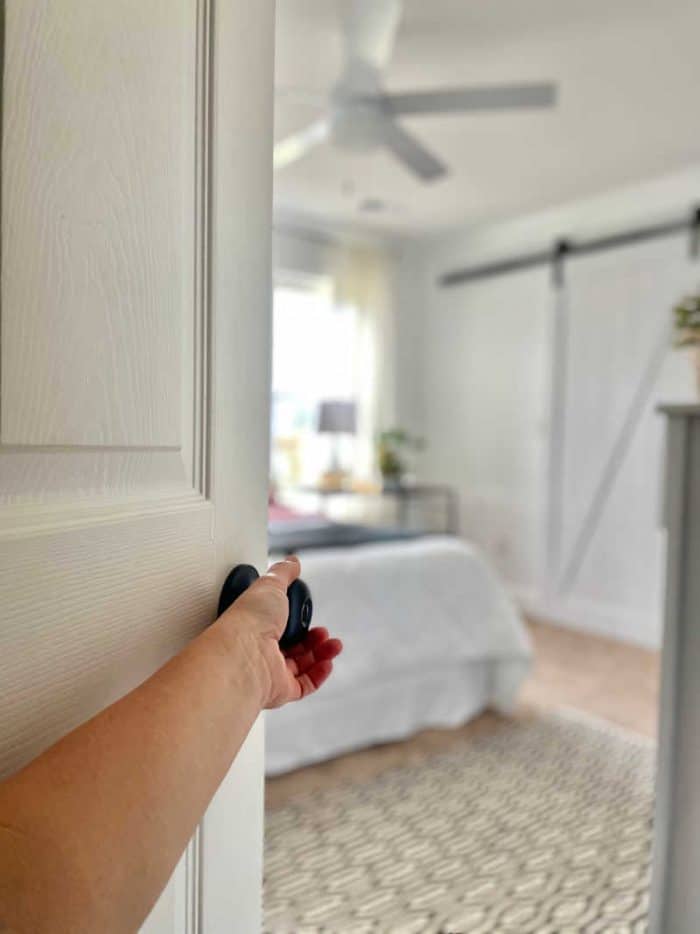 This post contains affiliate links. See full disclosure policy.
Oh my goodness, I finally finished Sarah Beth's bedroom and bathroom makeover. I really thought I would get through this one faster but I did not. Before we start, I created two blog posts to show each space. There were way too many photos and details to cram it all together.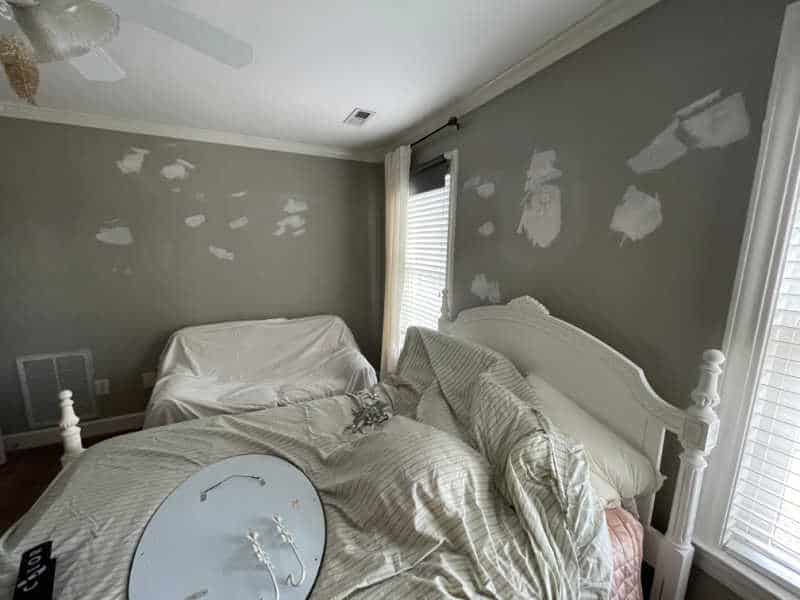 It had been many years since we did the last room makeover. Then I came across the first time I posted about her room here on the blog. WOW! It shows you just how different paint can make a room. You can see that I still have the same curtains and Pottery Barn loveseat.
Also, it is very clear how we have decluttered over the years and the difference it makes.
By documenting along the way in my Instagram stories, I was able to share the process in real time. While some people love the real time progress, most do not. Everyone wants to see things done now. BUT that is not how the world really works.
This is where I get stuck. As a content creator and blogger, this is a job I adore. Pleasing my readers is why I do this. So, going forward I am going to try and close the gap between sharing my ideas and getting things done in order to post here on the blog. Be sure you are subscribed to my email.
White Bedroom and Bathroom Makeover with mauve, black and tan
Now on to the reason you are here! The bedroom makeover.
This started because Ray and I have talked about selling our home. YIKES! Did you see that one coming?
We have talked about this for a while but as long as the kids are still in college it hasn't felt right. That season of life only has another year then we plan to revisit the idea.
That being said we decided to start doing things to our home that would make selling easier. No way do we want to be crunching in all of the projects just to put the house on the market. May as well enjoy it. You never know, we may never leave after all of this.
On January 19th Ray started patching all of the holes in the walls upstairs. Well, that escalated quick and there was no turning back. I took this as a sign he wanted me to make over all of the rooms. LOL
Before that dress was the current gray it was painted with Annie Sloan Chalk Paint in Emperor's Silk.
I knew I wanted a white paint. If you have ever tried to sample white paint you know there are so many options. When I painted the mantel I was going for a Rae Dunn Mug white.
This time I wanted a bright neutral white. So instead of having color custom mixed I sampled whites that are on the shelf at the home improvement store. I ended up choosing Ultra Pure White from Behr.
The entire color palette came together with white, mauve, black and tan.
Be forewarned, once the walls go white you will more than likely need to paint the trim, ceiling, and doors. I had already planned to paint the trim but I thought the ceiling and doors would be fine. NO! I have not painted the doors yet. All of the doors will be done at once, after I finish painting the rest of the upstairs.
Learning how to paint a room top to bottom has saved us so much money through the years.
ALSO, I primed the walls and trim before I painted.
Bedroom Makeover details
Painted ceiling, walls and trim (after Ray patched all of the holes)
Washed curtain panels and cleaned windows
Washed slip cover on loveseat
DIY painted XOXO art
Swapped the dark dresser for a different one I had
Brought in writing desk
New bedding
Brought the rug from my laundry room
New smoke detector
As far as decor for this makeover, it all needed to be affordable. Sarah Beth has lots of her things at college and I didn't want to have more things than we needed in this room. I pulled this extra writing desk (currently on clearance) in as a nightstand / side table. I love using larger pieces next to the bed.
The love seat is from Pottery Barn and I bought it from Craigslist. We removed the closet door and added the barn door early 2020 along with a new closet. The closet build never made it to the blog because I wasn't able to photograph it with Sarah Beth at home. I plan to share that soon.
We bought the barn door at Costco and it included the hardware. If you ever see them and consider it, get it. Great quality for the price. If you don't shop at Costco, I found this sliding door on Amazon.
The bedroom furniture arrangement was the way we wanted it. We had moved it like this last year and Sarah Beth loved it.
The white room was so amazing but I knew we had to keep it cozy with some colors. Neutral enough but with some contrast. The mauve paint on the bathroom cabinets came first then I found the sheets that matched perfectly.
Once I found the sheets and that fun pillow at Target I knew I had something. It was a color palette and decor style that Sarah Beth and I both loved.
Now we have a really beautiful space to enjoy. When and if we decide to sell, that room is ready to go.
Shopping List:
Animal Print Pillow (random find at Target they said was sold online, I can only find similar items)
Lumbar fur pillow (HomeGood's)
Comforter (HomeGood's Clearance find)
Lamp (HomeGood's)
As always, when you share my blog post with your friends and Pin It to Pinterest I appreciate it so much. It gets my work out into the world for others to find help and inspiration from. THANK YOU!
Check out the before and after home decor project posts for a full tour of our home as it has changed over the years. .
Next stop on this makeover is the ensuite bathroom!