Before and After Home Decor Projects
Reflecting on our before and after home decor projects is a great way to see how far our home has come through the years. You will find everything from painted projects, home improvement renovations, thrift store makeovers, and more.
This post was originally written in my early years of blogging so I thought it was time to update it. Our home has so many changes this is a great way to share lots of projects in one place.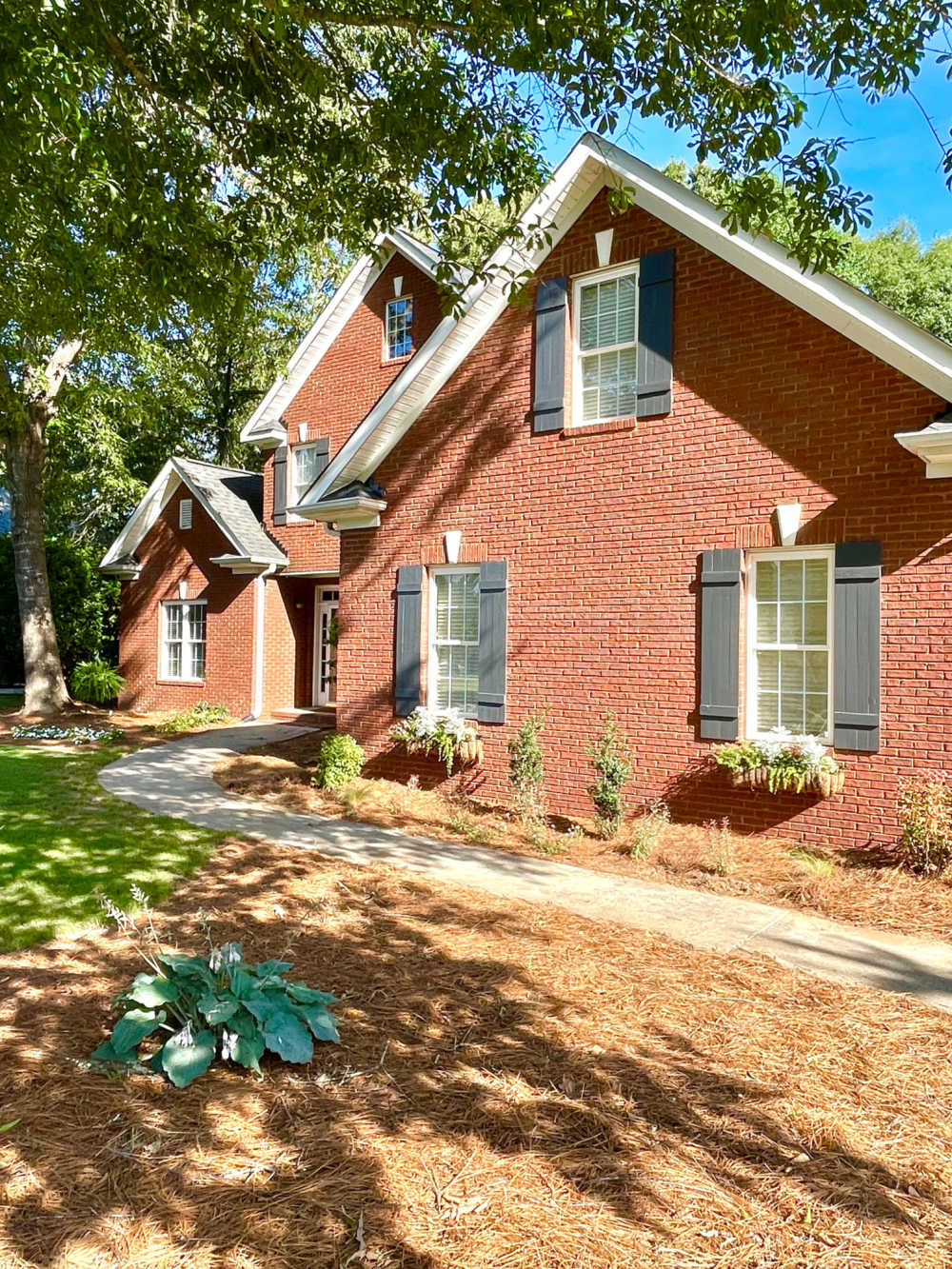 The best way to get the home you love is create it. Try any of these 10 home decorating accessory projects for some smaller scale ideas.
I hope you enjoy the before and after tour of our home projects. Use the dropdown Table of Contents menu to navigate ahead to any area you wish to see first. For further room or project details you will see those links highlighted.
I love how paint can transform a room!
As an avid DIYer I would highly suggest learning to paint. I paint 99% of our home projects. Learning how to paint a room myself is one of my best skills. Don't miss my paint sheen guide so you make the best decision for your paint finish.
Before and After
We have lived in our home for 15 years now. Most of the before photos in this post are from when the blog was started back in 2013.
Changing things up for fun or function brings me joy. We try to keep renovation projects to a minimum because we are in our 50's now, haha but the past two years involved some big changes.
My hope would be for you to look through our home projects and figure out a way to adapt them to your home. You can change things in your home without a huge budget or full reno. Making a home is fun so keep that in mind.
Exterior curb appeal
Creating a welcoming home exterior can be done with simple touches. Our DIY board and batten shutters still look really nice. I have considered repainting them a different color but it's been way too hot for that.
The flower window boxes and removal of shutters from windows that should not have had them made a huge difference too.
Ray and I aren't very good with landscape but we finally installed some new plants this year.
Keeping the small porch cleaned up is an easy way to make a big impact.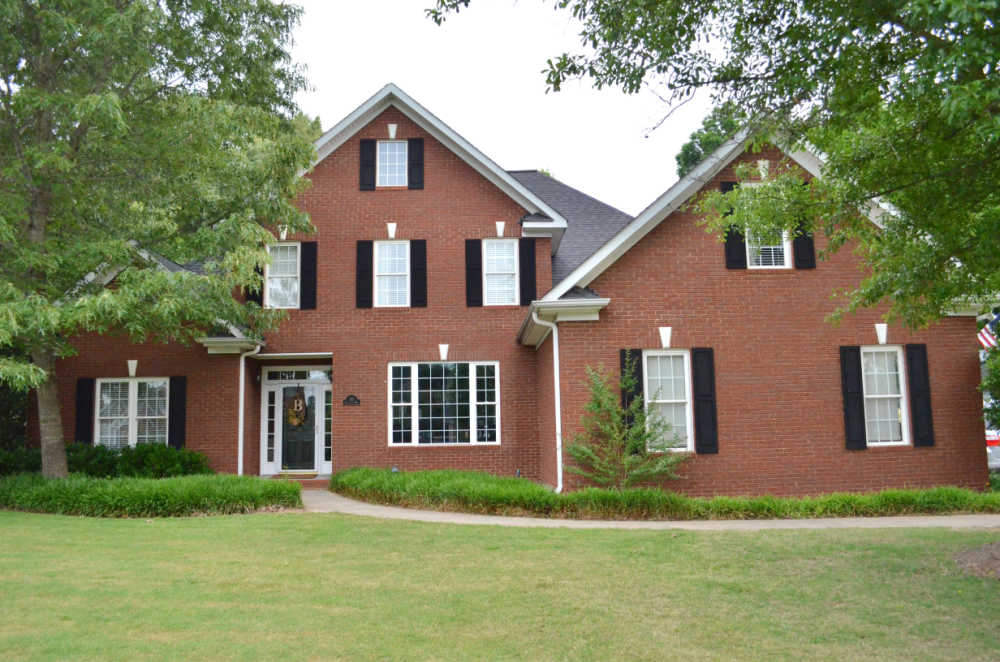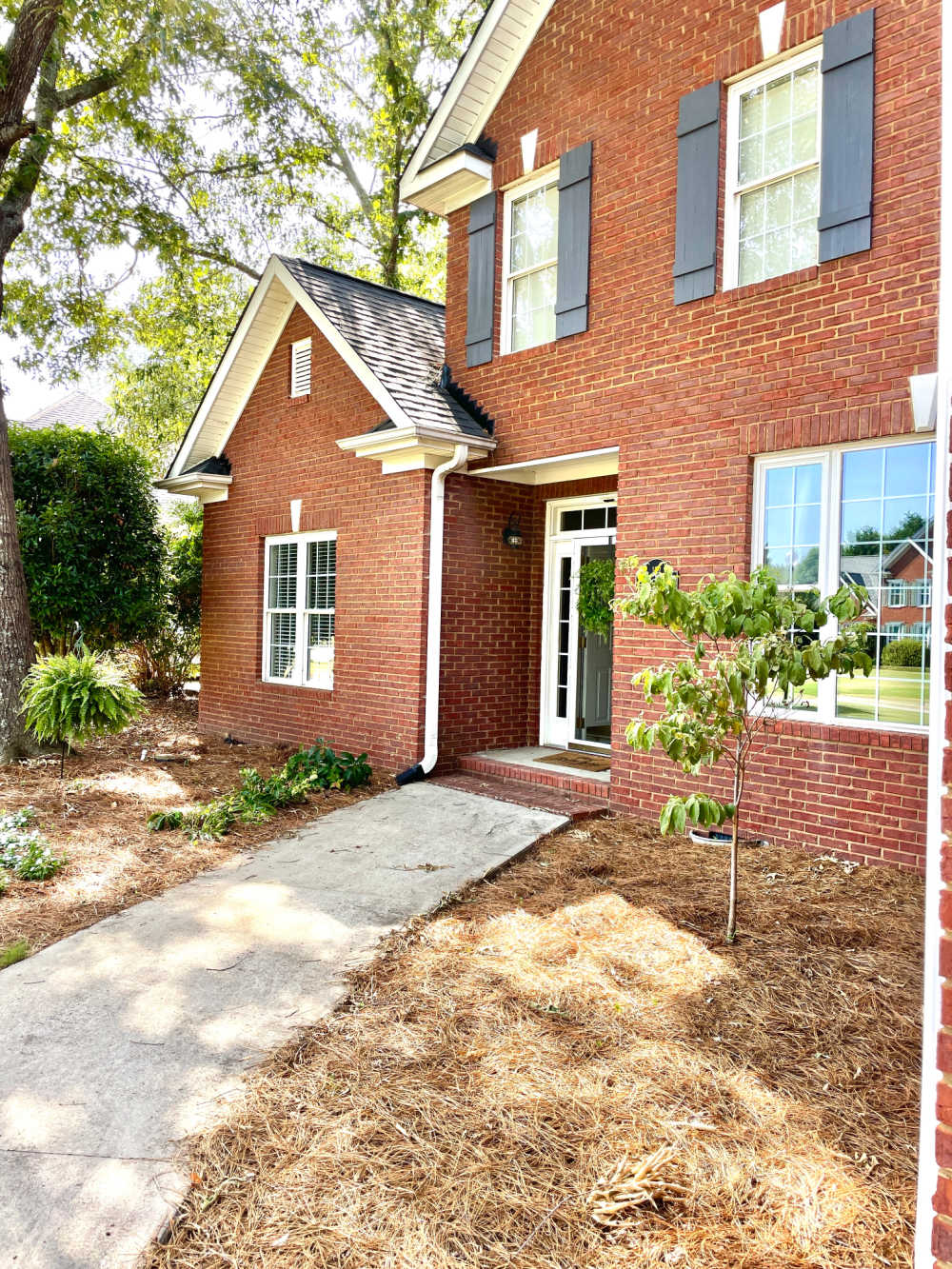 Hardwood floors
This was the one project we had wanted to do for many years. We knew having our hardwood floors refinished would be left to a pro and not a DIY project. The change it made in the overall look and feel of our home was worth the hassle.
Changing the look of the floors created inspiration for painting other rooms. More before and after room makeovers coming soon.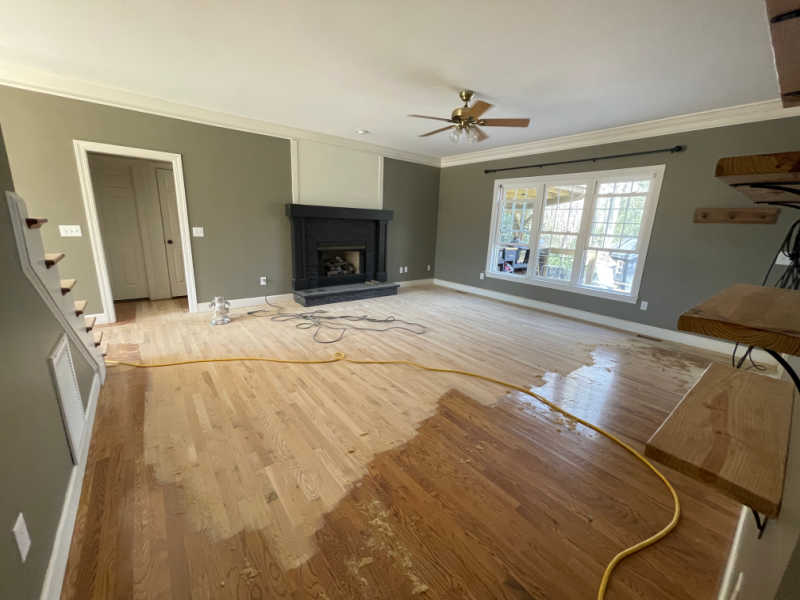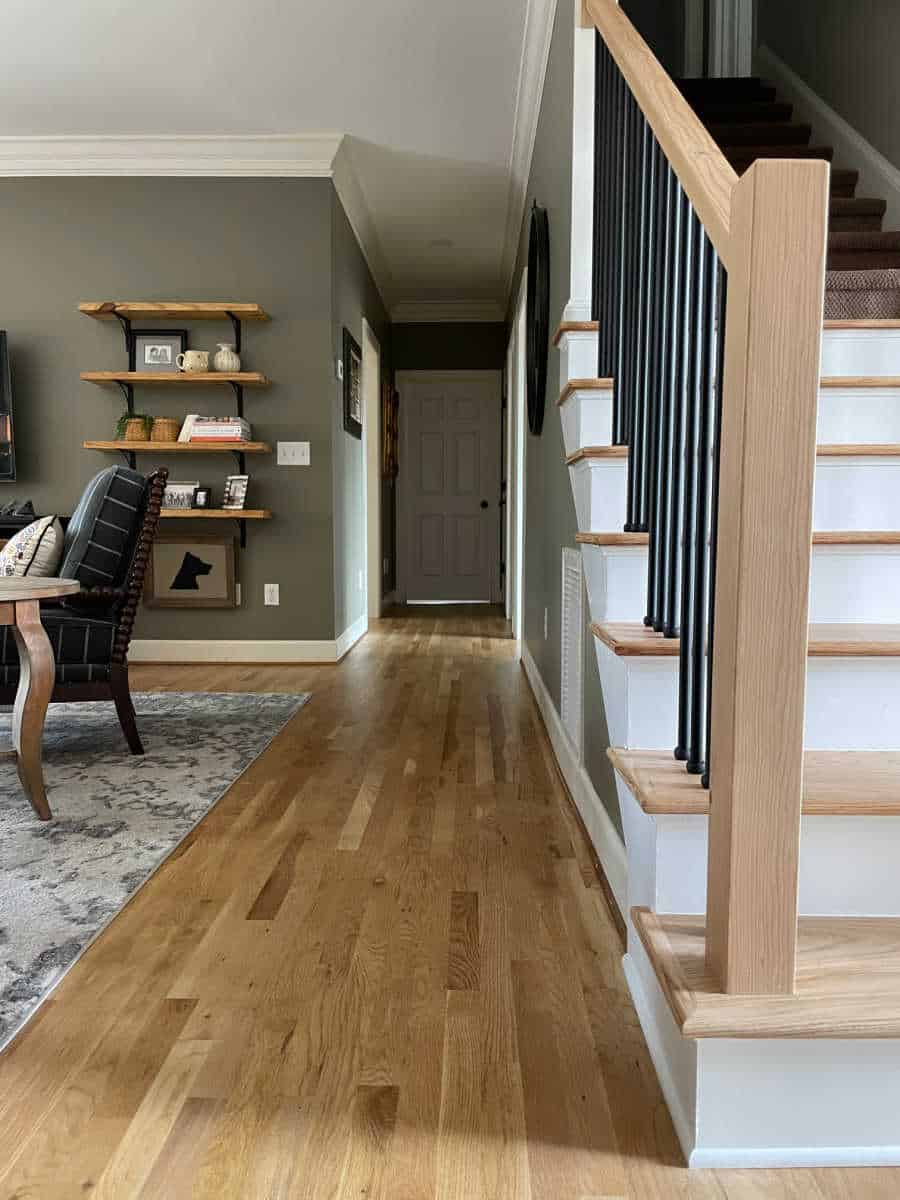 Foyer Entryway
One of the biggest changes to the foyer entryway is the staircase makeover we completed this year. I love it so much. The before and after of this project might be one of my favorites.
There was nothing really wrong with the stairs before but I prefer a more streamlined style. We were able to keep with the homes exterior and not make the stairs look too out place.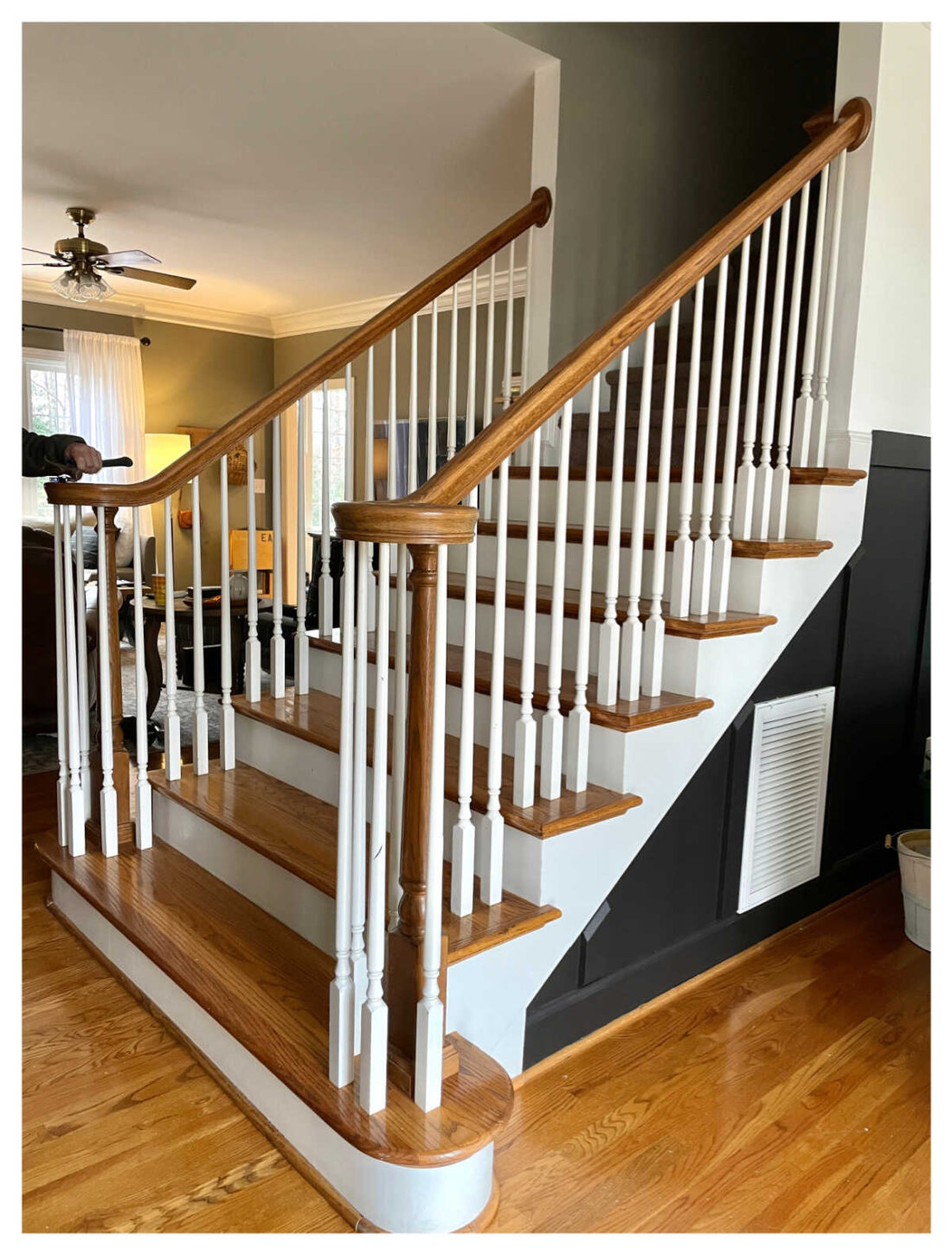 Removing the curved handrail and bottom step was the start. Then adding the iron balusters took it up a notch. When we decided to have our floors refinished this project was a must a the same time.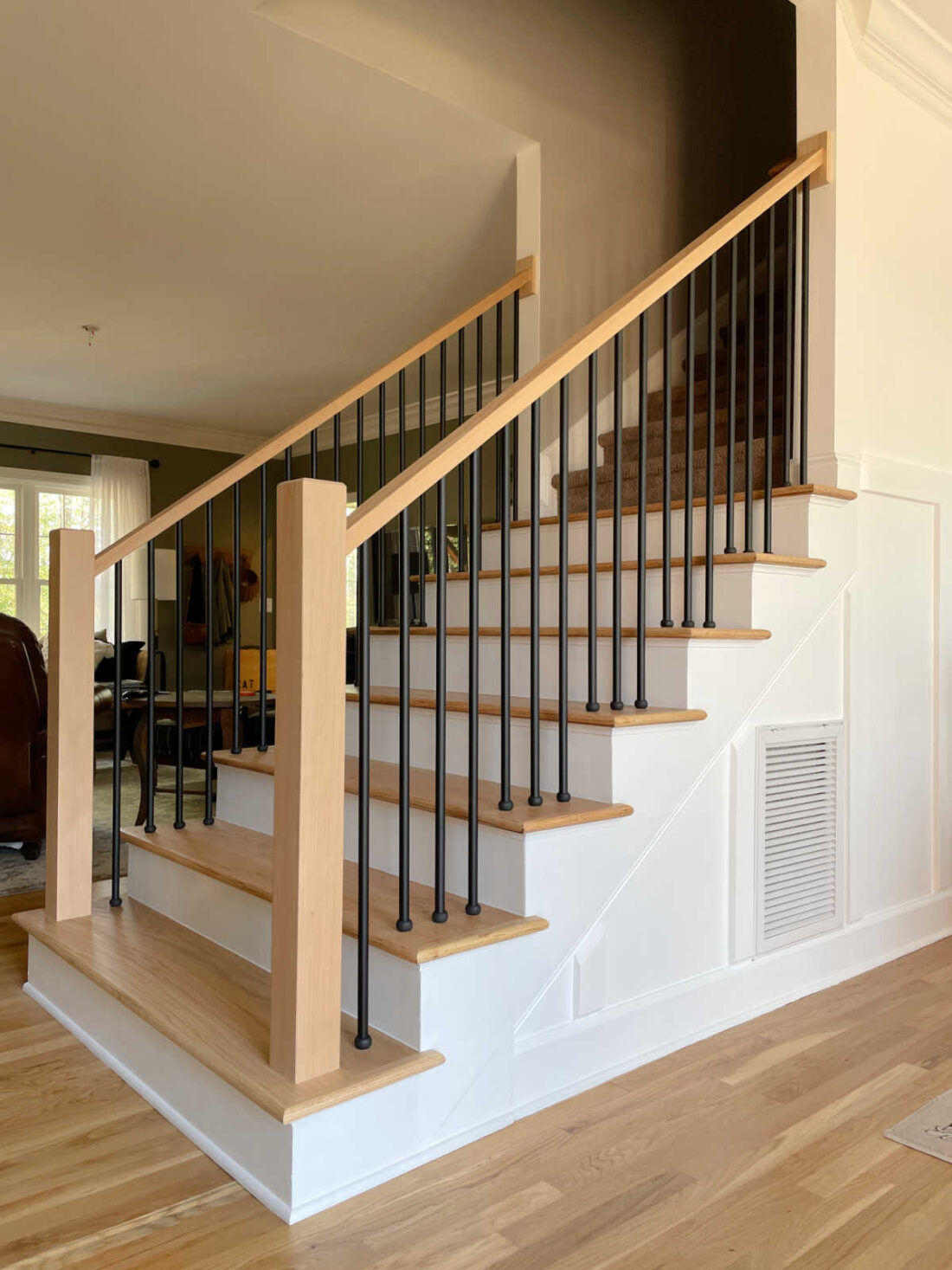 Dining Room
The board and batten walls in the dining room was a completed project from many years ago. However, this room has been painted more colors than any other space in our home.
It is currently all white and I'd love to replace the chandelier. I bought one last year and it was broken. Then decided to get the other projects done around it before I settled on a style.
The black dining room walls was the most recent makeover before I painted it all white.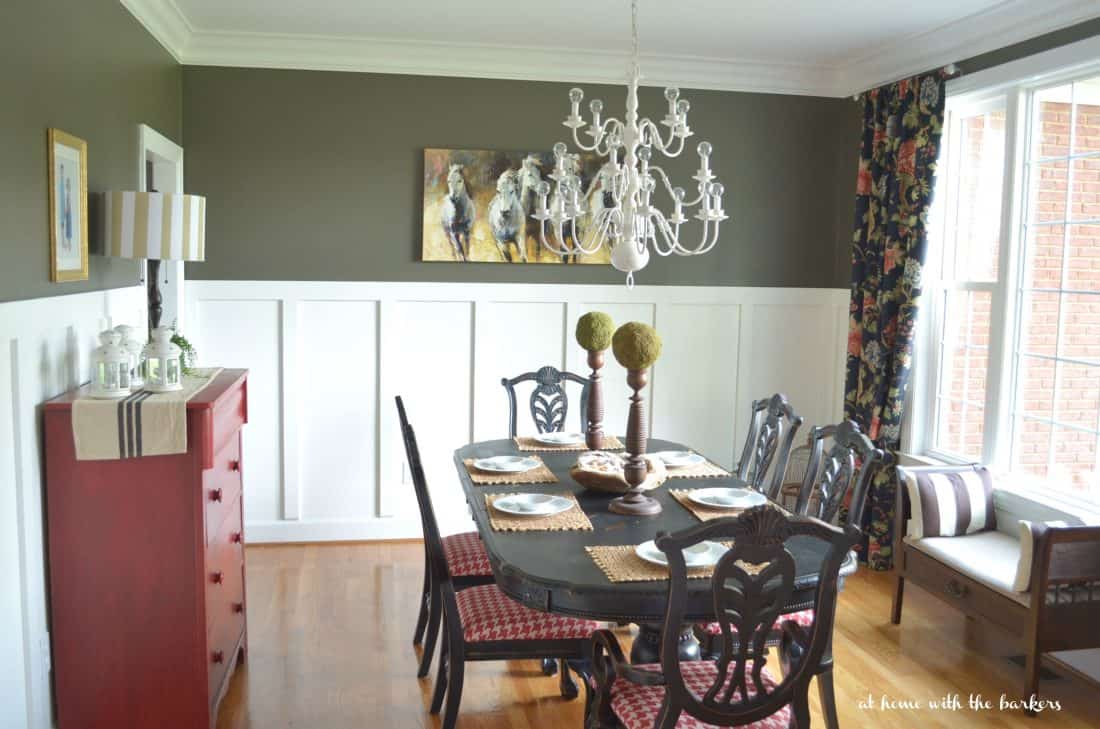 Living Room
Over the years this room has been painted a few different colors. If you have been a blog reader for any amount of time you will know I believe learning to paint is the number one DIY skill you should learn.
The current living room paint color is deep and cozy. This is our hang out and watch TV room so the color is perfect. Most recently I painted the stone and fireplace surround black.
The DIY rustic wood shelves we built gave the room a place to add some books and photos.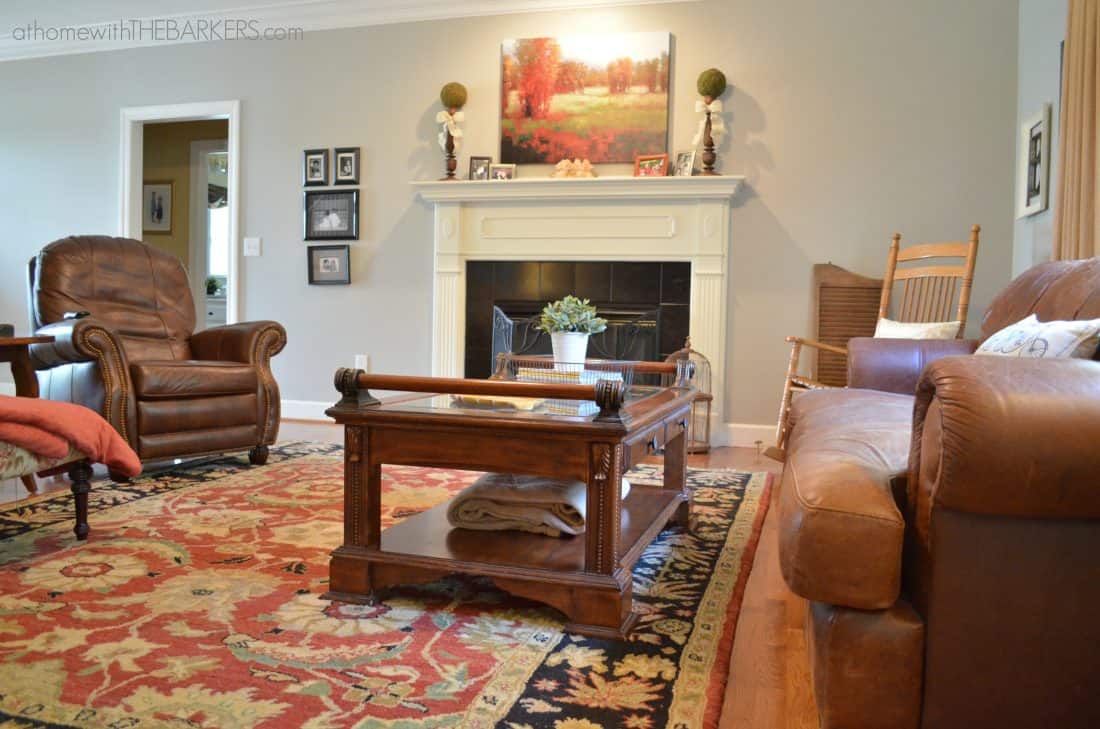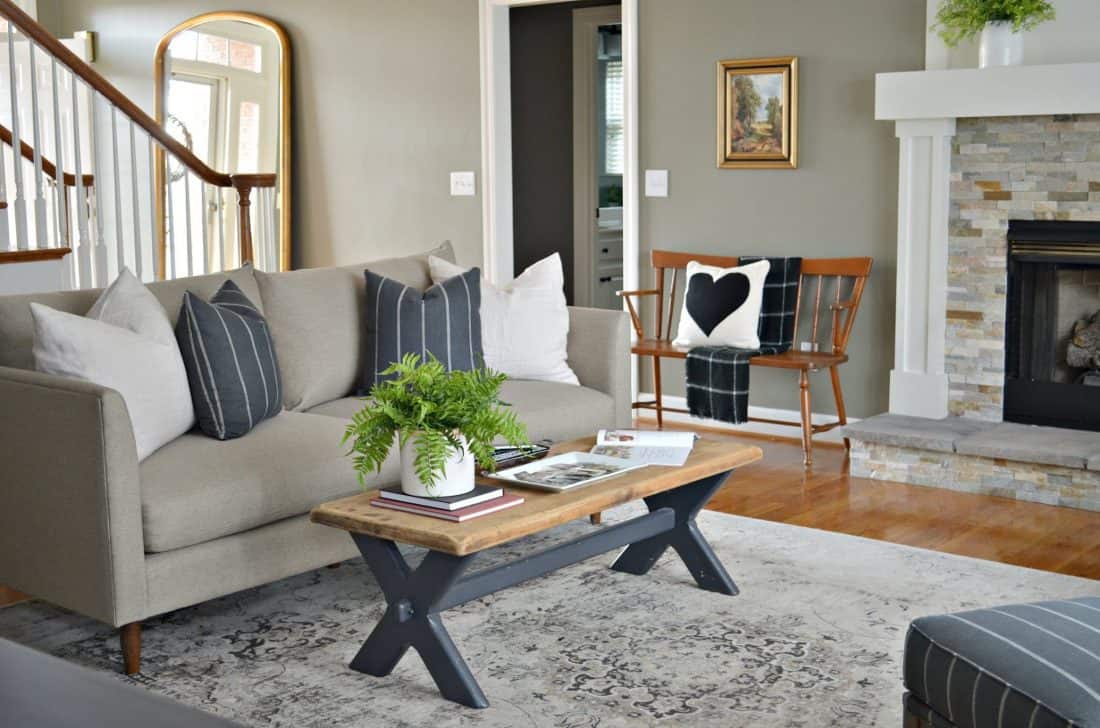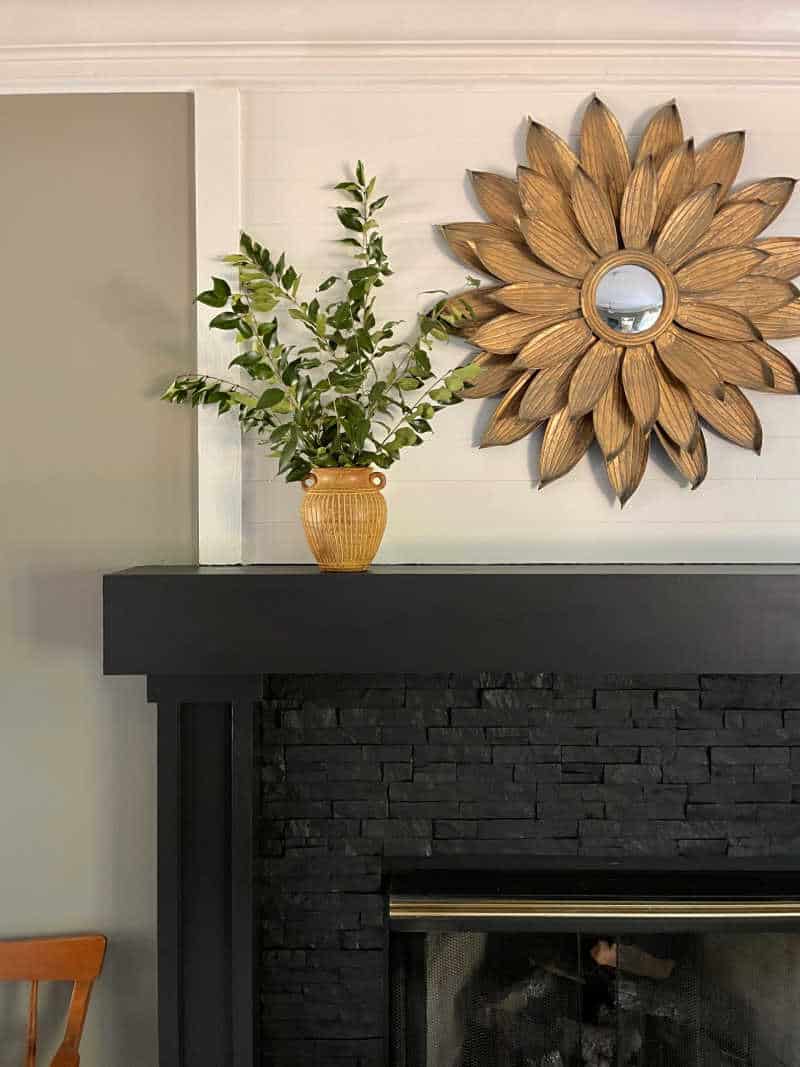 Downstairs bathroom
Our down stairs bathroom is a full bath, however we use it as a powder room. It is an extra bathroom on our main level. Painting the bathroom black in my favorite Sherwin Williams black magic makes it one of my favorite rooms.
Paint and changing the decor is the only thing I have ever done to this bathroom. The green paint color refresh between the gold and black painted walls is still a favorite too.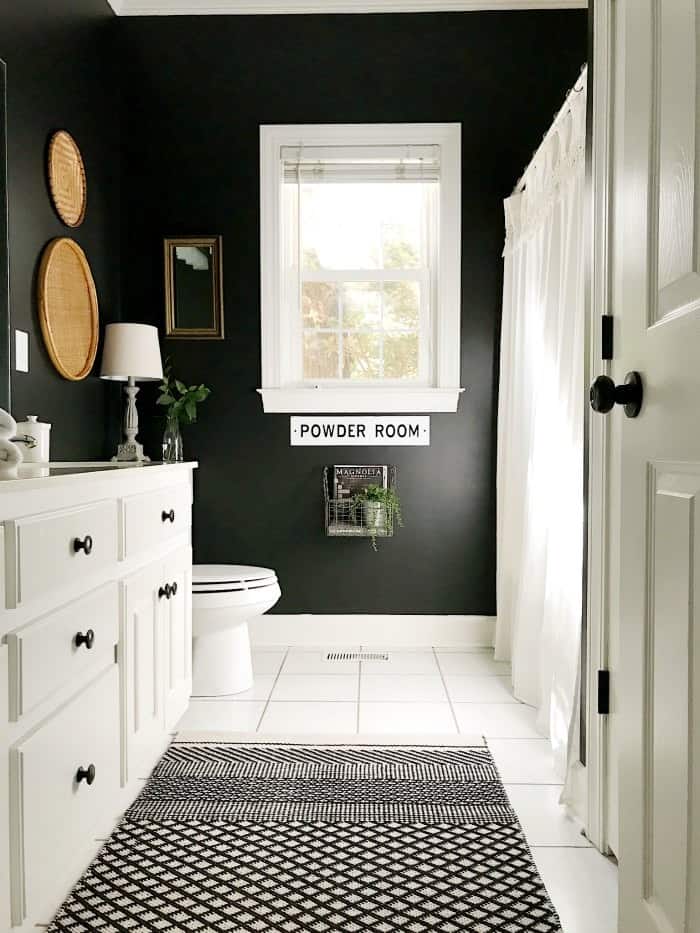 Ray's Home Office
A long time coming for this relaxing home office makeover. It is the most recent room we have completed. Painting it in Sherwin Williams coastal plain is the perfect vibe.
Kitchen
This is the one room we wish had an entirely different layout. The one update which did make a big difference was the kitchen cabinet facelift and removal of some of the uppers.
We don't miss the storage at all. Our minimalist lifestyle is more important than places to put stuff we don't use or need.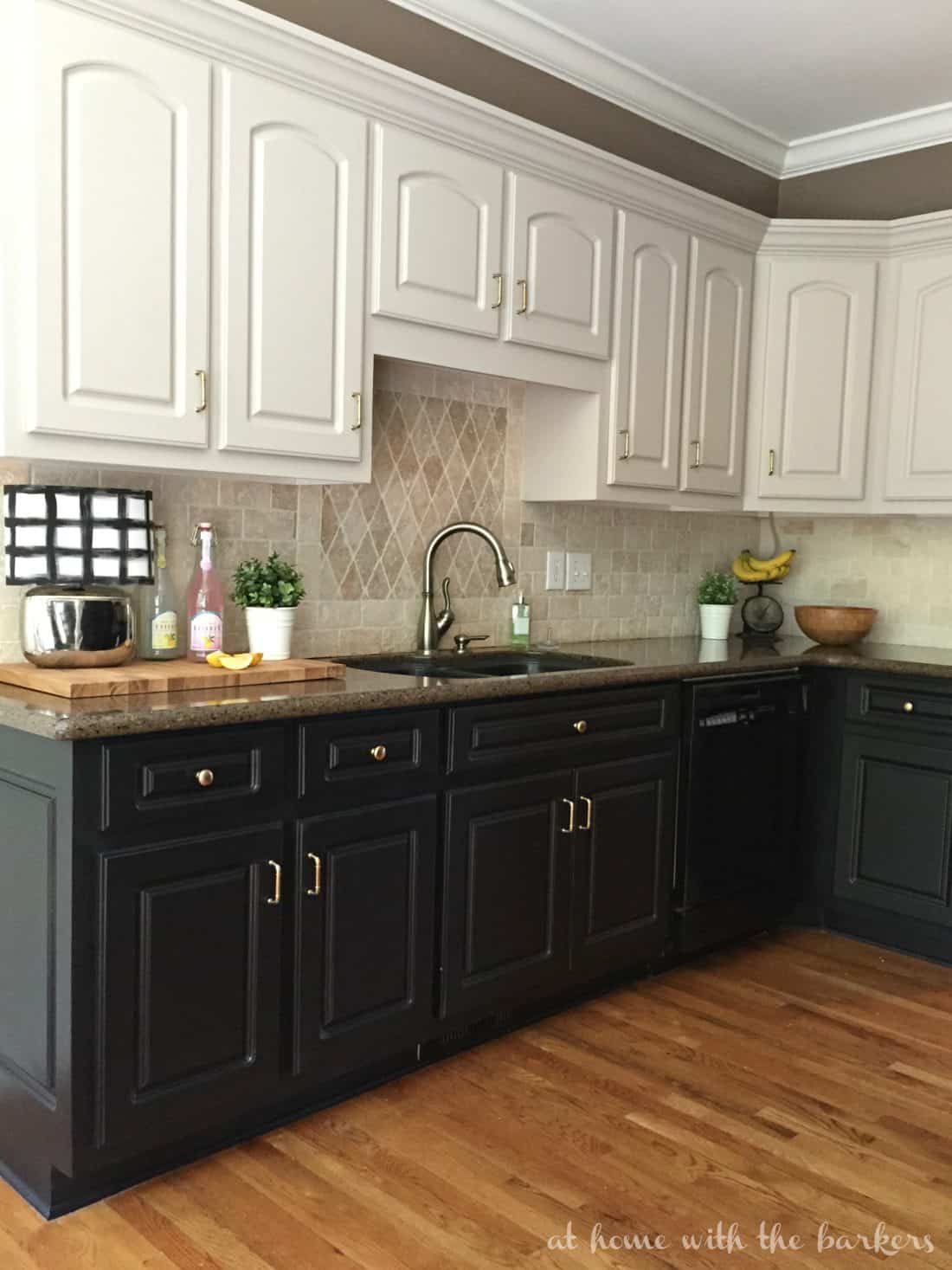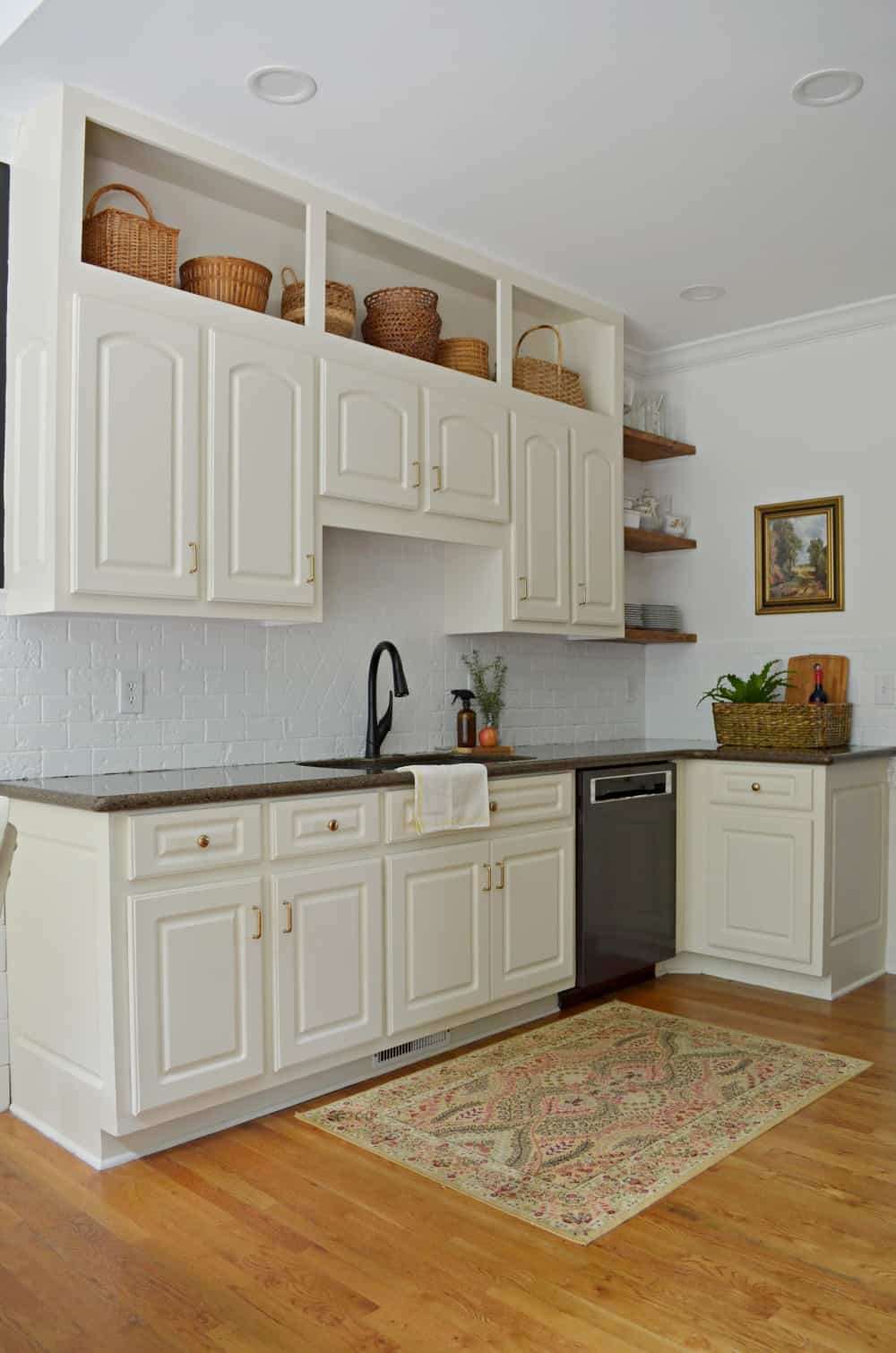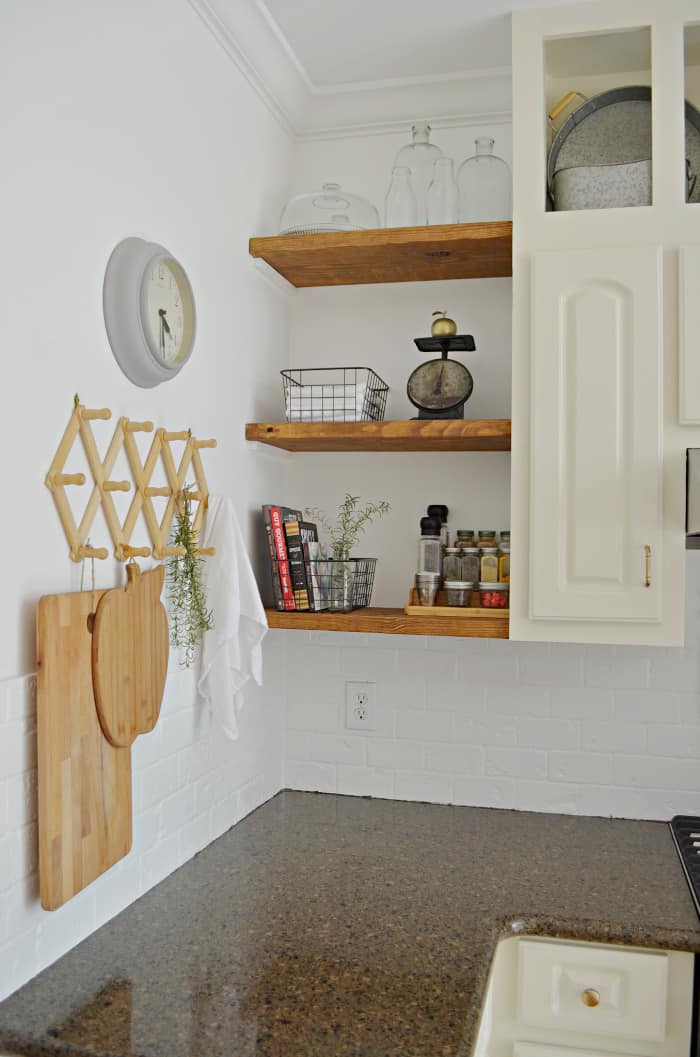 Laundry Room
A quick fix laundry room makeover with paint and a few accessories. There is no surprise there. Painting and decluttering will do wonders to a room.
The simple DIY key organizer was a life saver. Having four drivers in the house, neighbors spare key and all our extras made this a great project.
The interior faux wreath made a nice touch to the room.
Garage
When giving a room or space a complete makeover is out of the question consider what you can do to make it better.
This cluttered and messy garage entryway makeover is the best example.
Seeing this space every single time we walked in and out of our home made me crazy. Instead of getting overwhelmed and tackling the entire garage, we started small.
This has led us to getting rid of so much other stuff in our garage. Now we can easily park a car in there.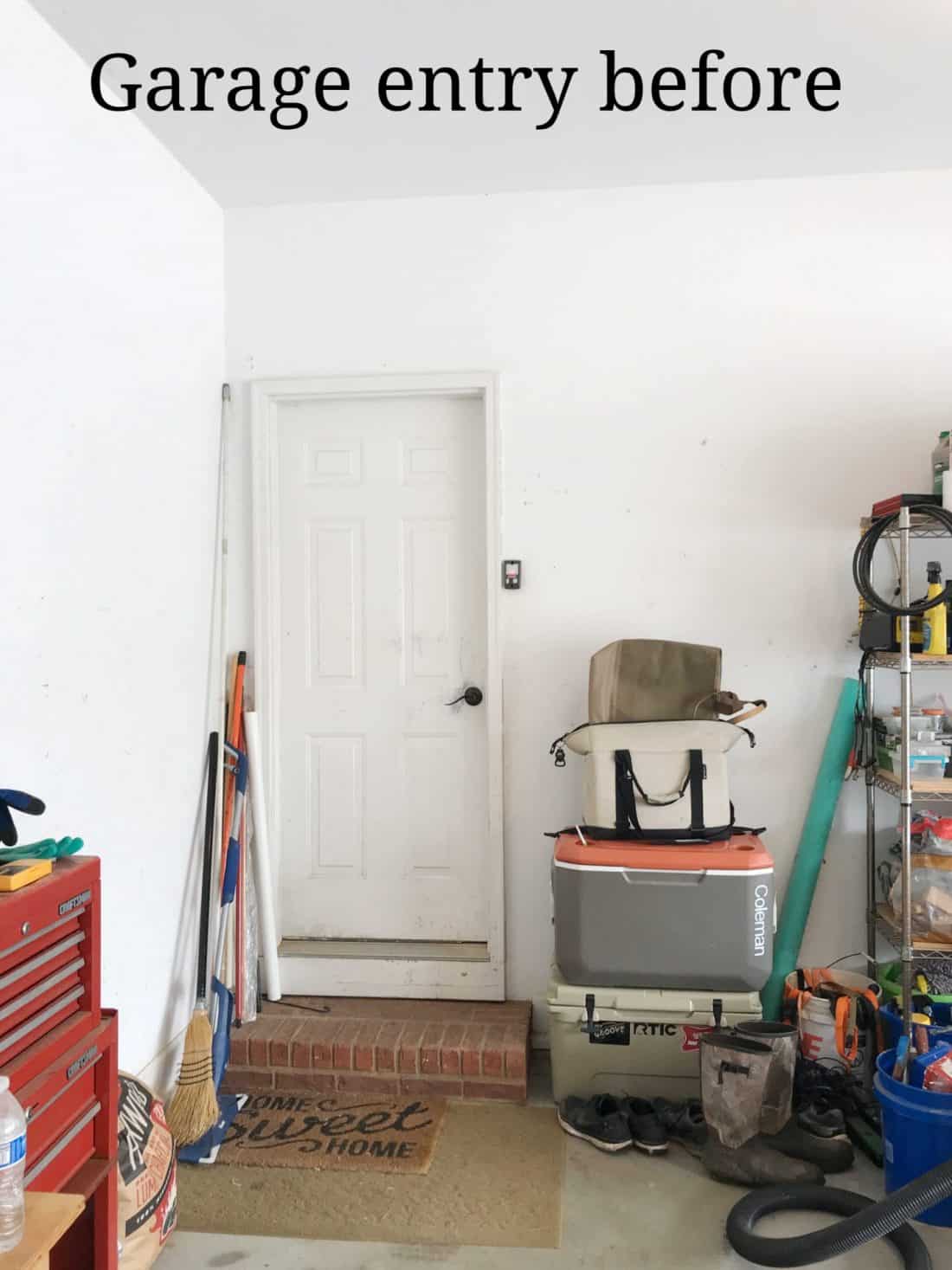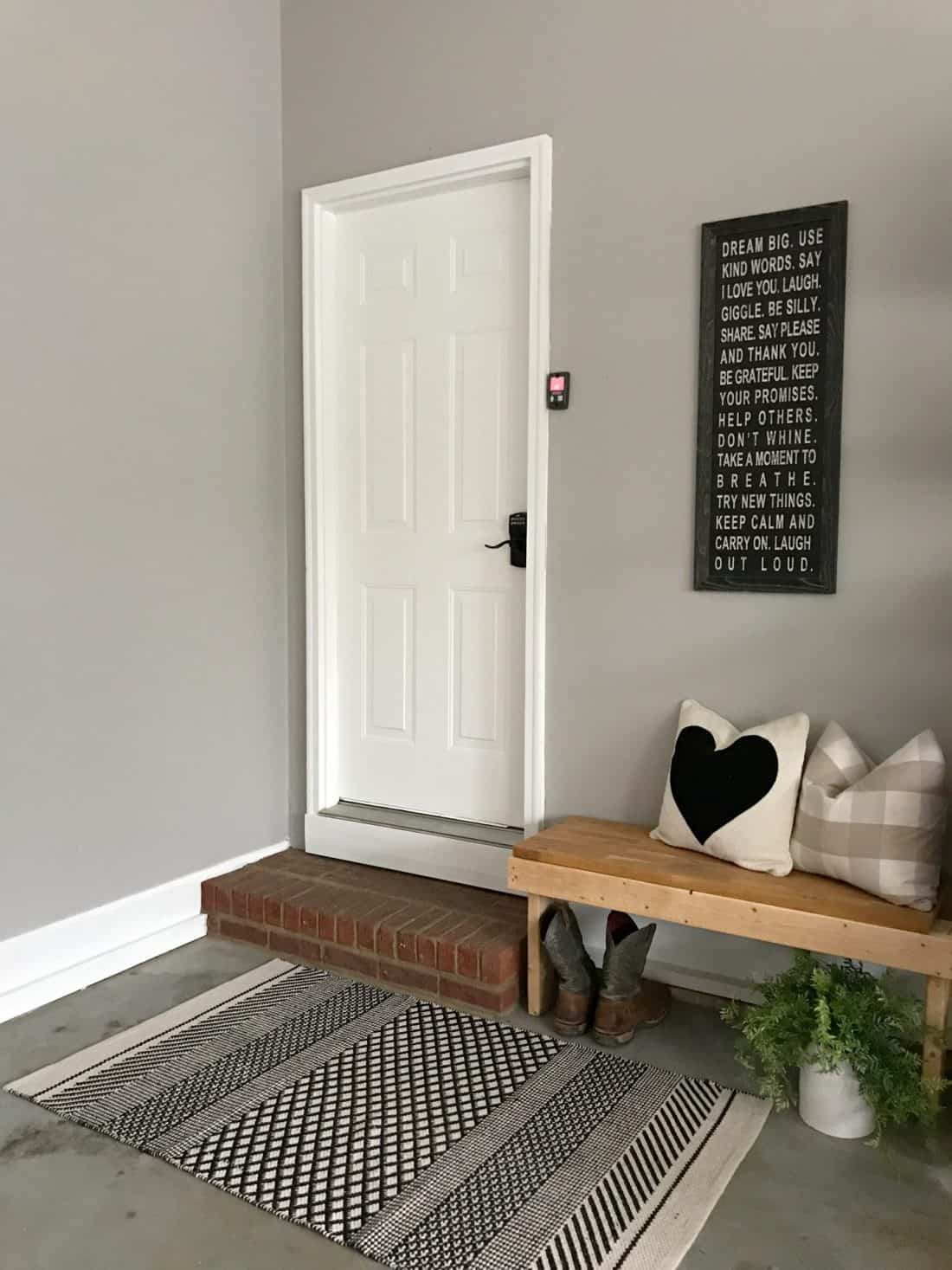 Primary bedroom
The changes to our main bedroom have been small. Mostly paint, as I have mentioned, but we did build a new headboard.
The DIY headboard we originally built got a makeover. I haven't written a blog post for the second build yet but I will. The current photos of our bedroom are decorated for Christmas.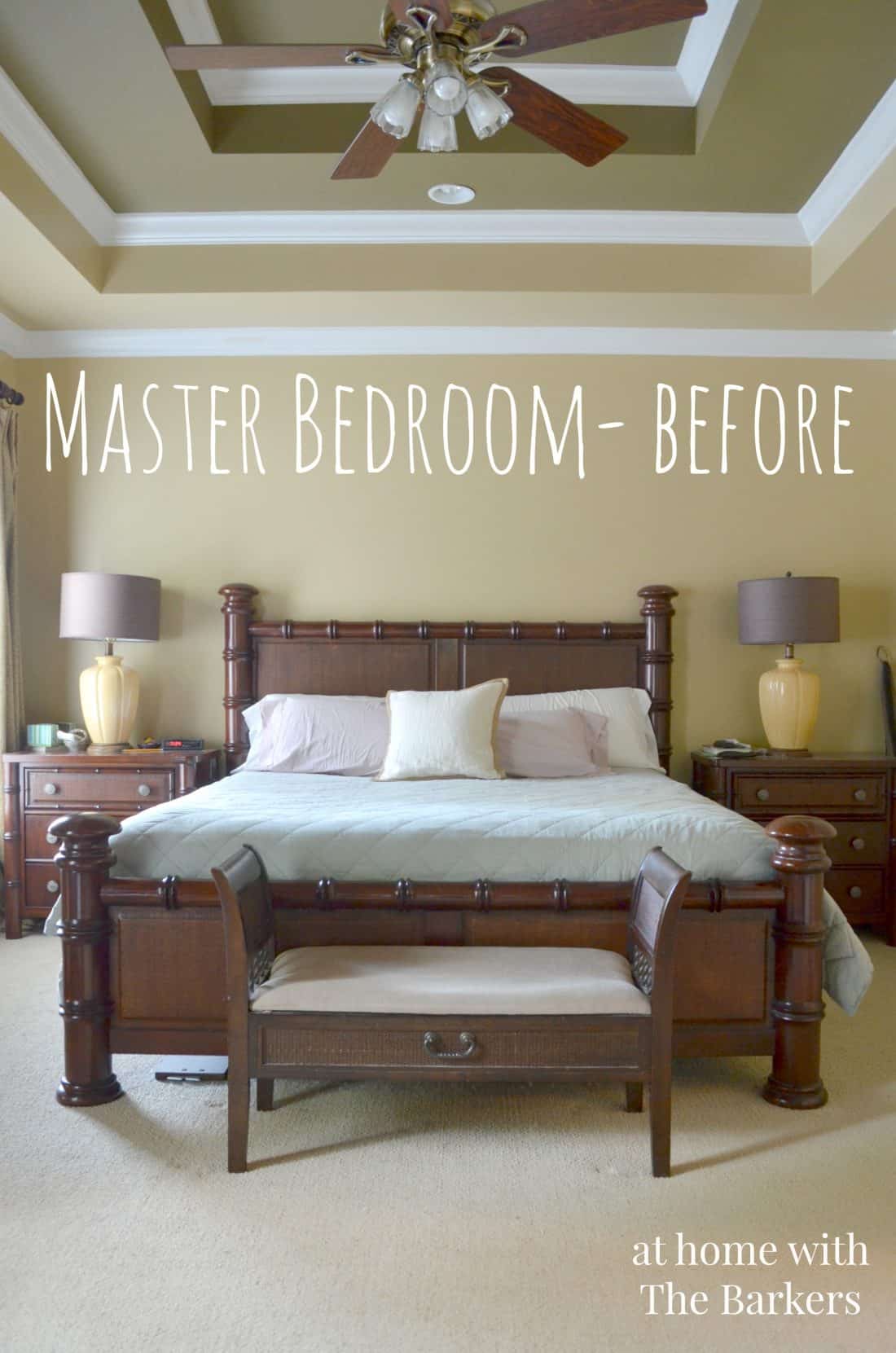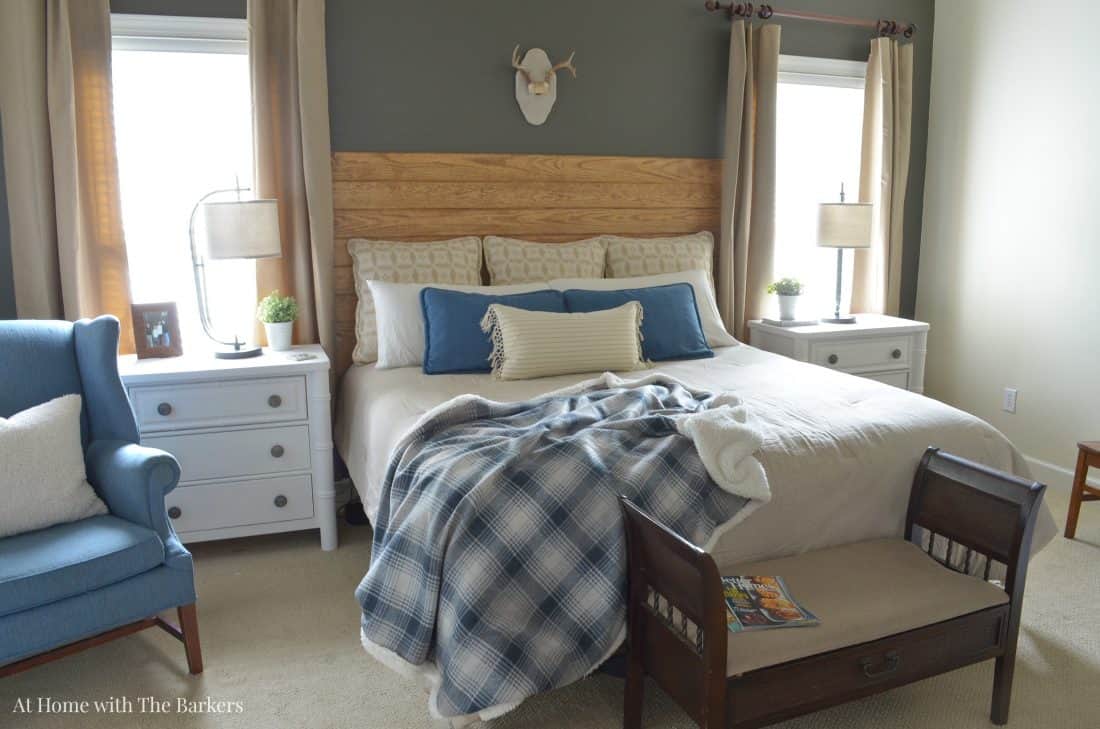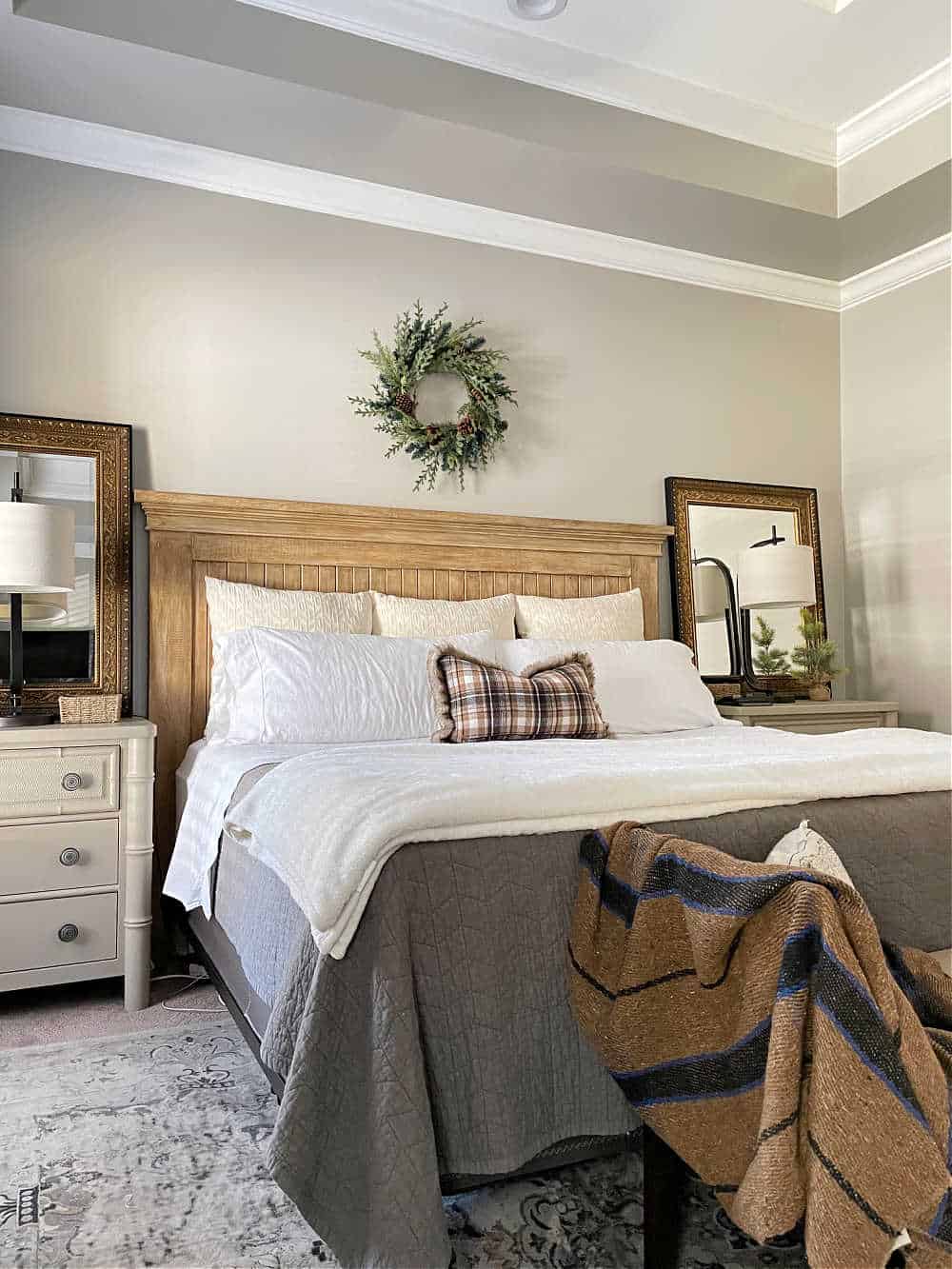 Daughter's bedroom
Our daughter recently graduated college. She will be moving back home for a little while to save money as she starts her first grown up job. Last year we completed a bedroom makeover and a bathroom makeover.
This was the first time I have ever painted pure white walls. It is the hardest color to paint.
Deck
The deck makeover including our outdoor kitchen has been one of our favorite spaces. Hanging string lights in the backyard was the extra touch.
This project was completed in the spring of 2020. This past spring we finally sealed the wood.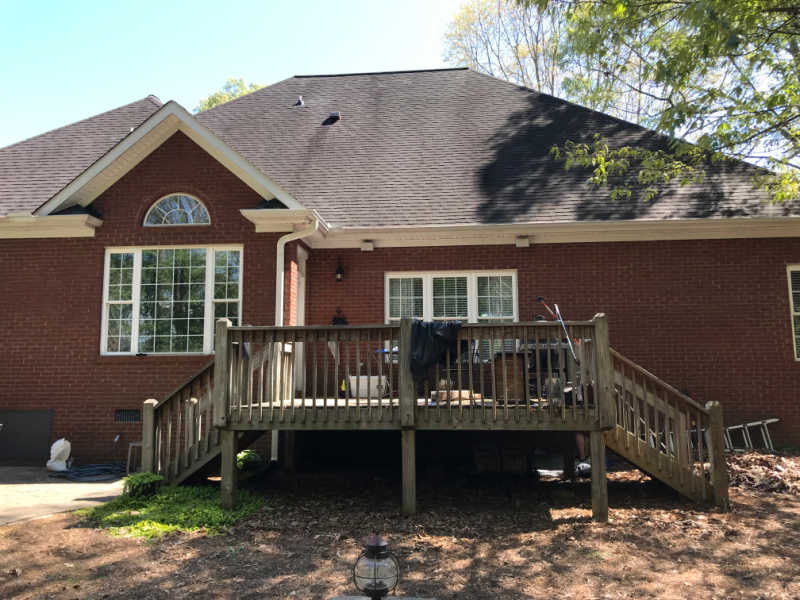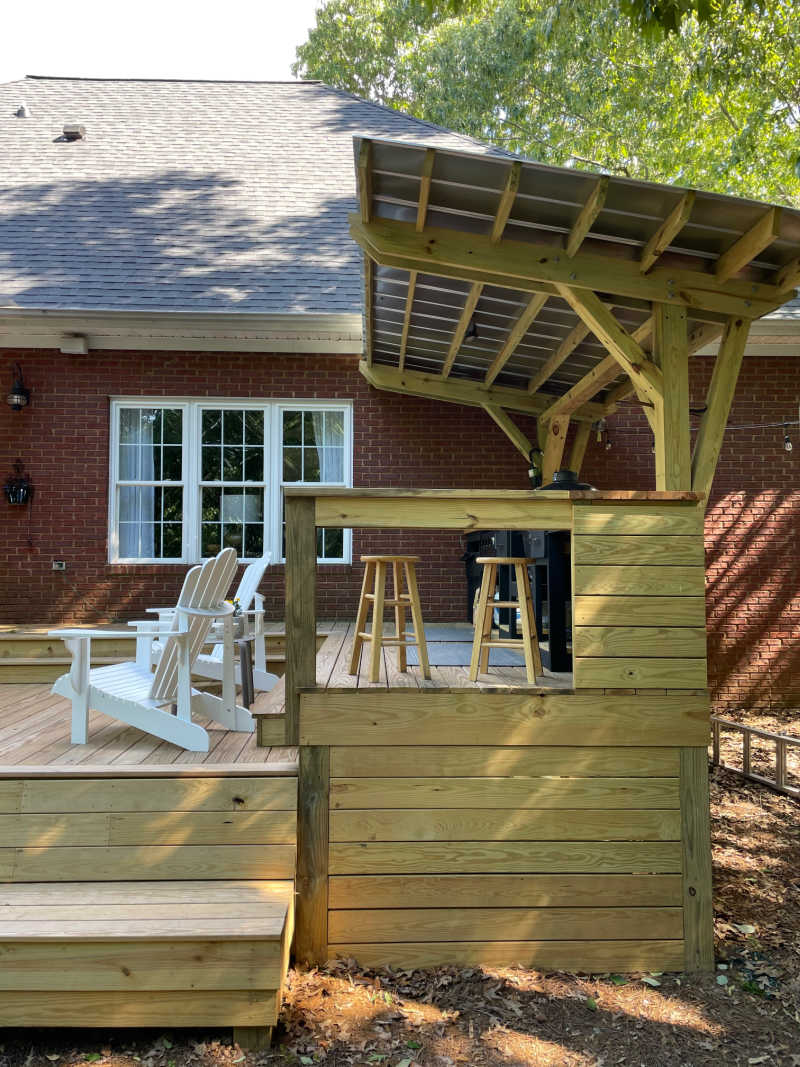 Creating a home takes time and money. Our home decorating projects are always trying to make our home function better and make us feel at peace. Beautiful rooms should make you want to hang out.
I hope this before and after home decorating projects post allows you see potential in your own home. Check out any of the project post and room makeovers on the blog for help. The menu bar at the top of the page will guide you.