How to make a DIY key organizer to make finding and keeping your keys easily accessible. A beginner project made from wood and hooks.
Thanks everyone for your sweet comments about our laundry room makeover I shared this week. It's such a nice space to be in now. This room needed some love but there was virtually zero in the budget for it.
The projects for that makeover were done for free with things I found around the house. Be sure to check it out after you learn how to make this key organizer.
This post may contain affiliate links. Read full disclosure policy.
I made a smaller key holder a few years ago that was just not cutting it. Although it was cute with faux barn wood paper it didn't have enough hooks nor was it hung properly. There are way too many sets of keys around here and tossing them all in a basket was a terrible idea.
How to make the Key Organizer
I usually keep scrap wood from in the garage if the piece is big enough to do something else with later. I found the perfect size scrap and didn't even have to cut it. It was a pine board that I can't even remember why I have it.
The metal hooks I had on my Ikea Hack piece that I no longer needed. They were the perfect width for the board. Such luck is very rare! You can also use these hook options.
To paint the board I laid it on a drop cloth on the kitchen table and painted one side and the edges with white sample paint I had left over from choosing my trim paint. I didn't paint the side that would be attached to the wall.
I measured the hooks out evenly and drilled them down. No photo of this part because, well, I was holding the hooks level so Ray could drill them down. We did pre drill to be on the safe side, never want to split the wood.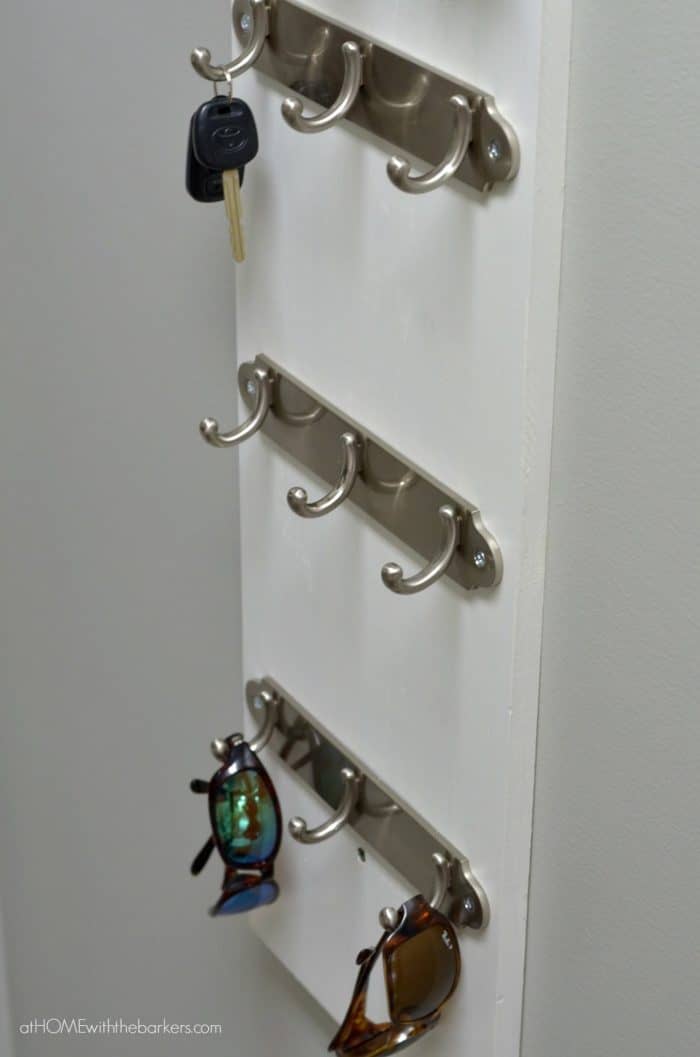 I wanted to make sure the key organizer was very sturdy. Ray suggested we drill it directly into the stud. This was a great idea because it was easy and I could easily cover the screw holes. The below photo shows the 2 screws he drilled directly into the wall on a stud. One below the top hooks and the other below the bottom one.
I used a white sharpie paint pen to color in the screw. The inside is still dark but once keys are hanging they are all covered up.
Thrilled with how it turned out. This is one of my top 10 DIY home decorating accessory projects.
It doesn't wobble at all and has plenty of hooks for keys and extras.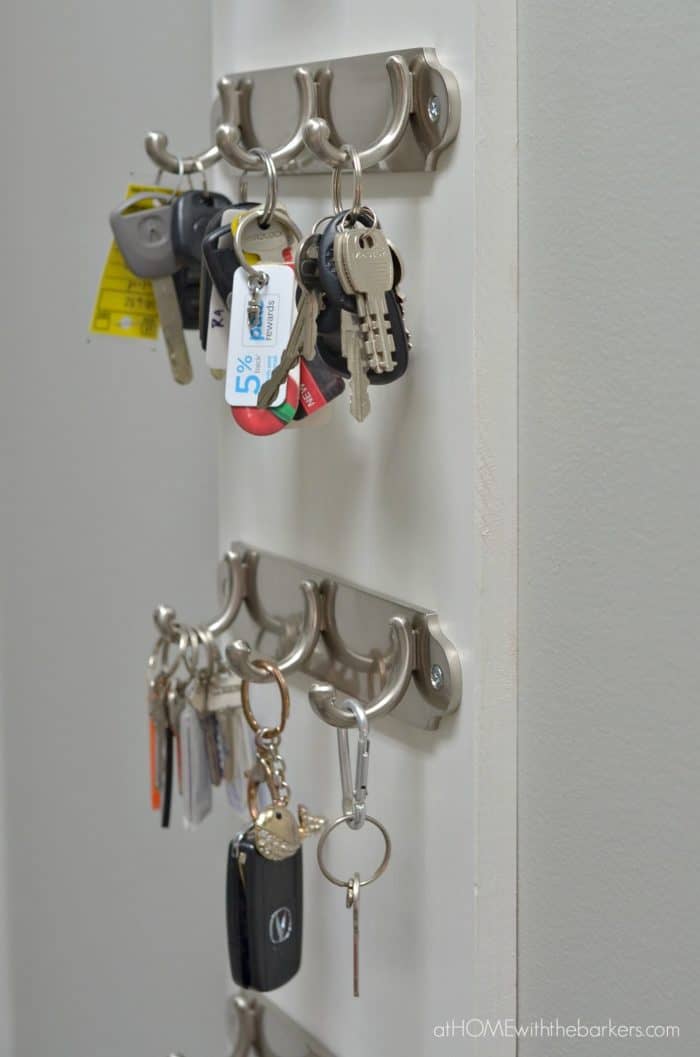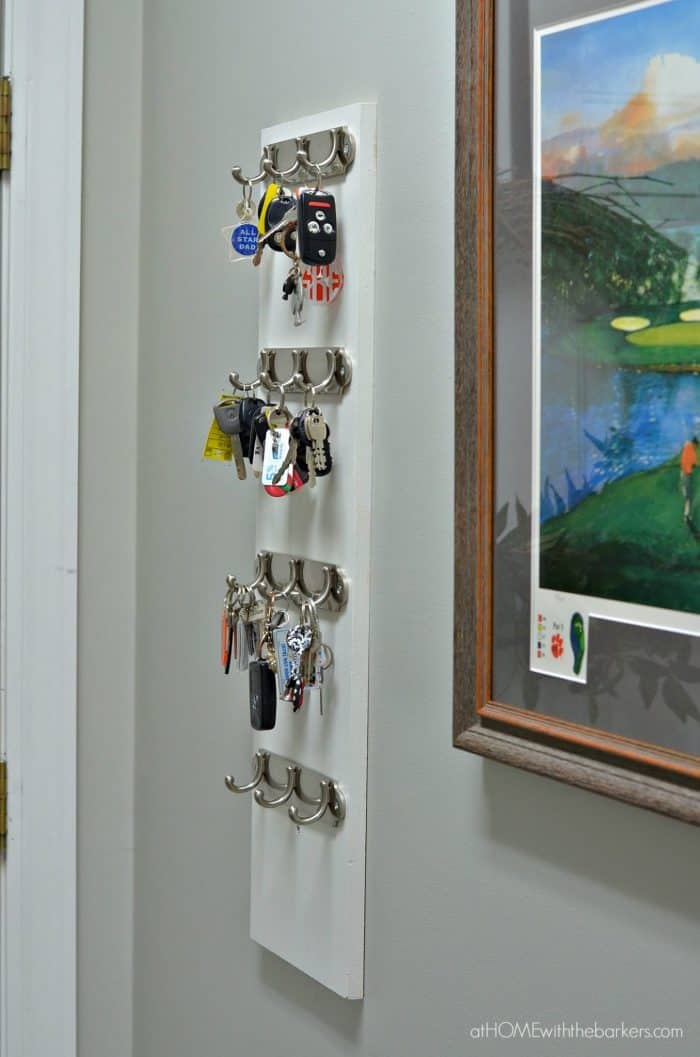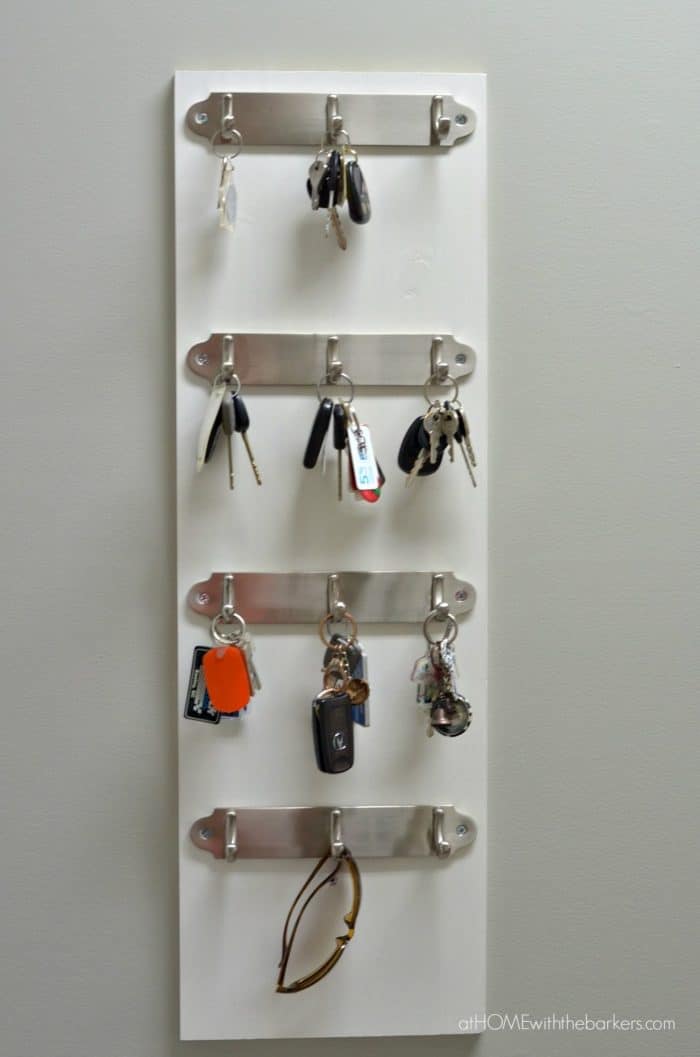 The door here is the garage entry so the DIY Key Organizer is in the perfect spot.
I would also be so thankful if you would pin the below photo to one your favorite boards. It helps me get my projects out to the world.
Sonya