How many of you hate going into your laundry room and it's not just because of the dirty clothes? Have you considered how a laundry room makeover just may create a space you don't hate being in? Check out how simple decor changes gave this laundry room just the lift it needed.
Today is the first installment of our "Seasonal Simplicity" home tour series. The goal of the tour is to focus on simple ideas to incorporate seasonal touches to our homes, and to share them with you!
Check out 10 DIY home decorating accessory projects to try.
For me, I'm not one to change up too much decor for each season. I tend to do more practical decorating instead that will carry throughout the year. For spring, I think cleaning. I decided for this spring tour a laundry room makeover was in order. Since the goal of this tour is simplicity I made sure the makeover would be doable for anyone!
Some projects are more detailed but many times paint is the star of our before and after home decor projects.
Our home was built with one of those laundry rooms that is incorporated into the entry from the garage. The worst idea ever unless you make is big enough to be considered a mud room. Mine is not. I needed to keep in mind that this room must be functional for what we use it for, laundry, shoes, drop zone, etc., but I also need it to look more like an entryway.
As much as I love to paint, I hadn't painted this room in almost 10 years! Yikes.
Here is what I was dealing with, the before. Very cluttered, dark and boring.
In order to keep this very affordable I only purchased a few items. The rug is from HomeGoods, and the clock and lamp are from Walmart. The total spent for those 3 items was $75.oo. Everything else I already owned.
Laundry Room Makeover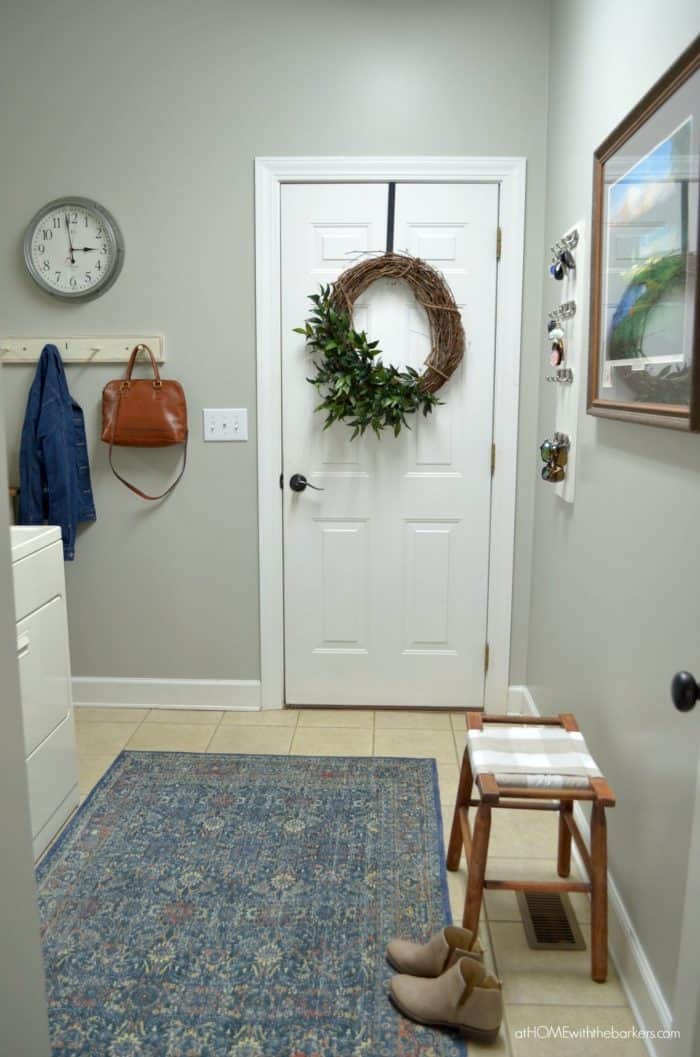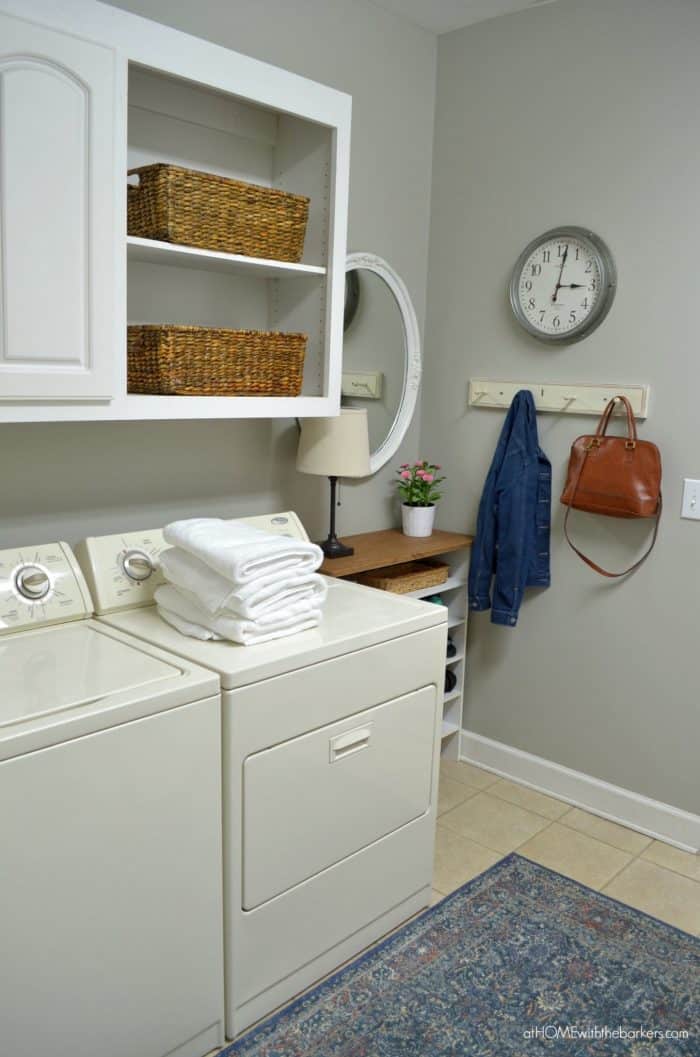 The gallon of paint was left over from my bedroom. The color is mindful gray by Sherwin Williams. Paint alone can totally change a room. See my bathroom refresh for another great example! Learning to paint is a DIY skill worth knowing.
I used my DIY Farmhouse style wreath that I made a few months ago.
As with true spring cleaning fashion and my crazy love for decluttering, I cleared off the shelves and brought baskets from the attic. Now it looks so much neater.
RELATED ORGANIZING POST:
I had extra wood in the garage to create the key holder and the table top for the shoe storage. I'll share tutorials for those in the next few days. Be sure to sign up for my emails below so you don't miss anything.
In the past I tried a bench in here but it ended up being a landing zone for more stuff. I decided the bench seat/ foot stool would work better. This is a vintage piece I found and added new fabric too. We needed a place to put on shoes and my hope is this will work better. So far, so good. Quick cell phone photo of my daughter as she was heading out for track practice.
Laundry Room Makeover Recap (and how I only spent $75)
Purchased the rug, clock and lamp.
Painted mirror with white paint sample I already owned.
DIY wood table top for shoe rack with scrap wood (tutorial coming soon.)
Hung art I had from another room.
Letter board was a Christmas gift from my hubby.
Mopped the floors with my favorite cleaner (duh, spring cleaning)
I hope you enjoyed the spring laundry room makeover. Don't let the word makeover scare you. Sometimes it's as easy as a new coat of paint.