Vintage Wood Stool Makeover
A thrifted vintage wood stool makeover showcasing how a simple piece of fabric changed the entire look.
I have had this stool for over a year with total intentions of giving it a new look. It was bought it at a yard sale for $3.
I'm happy to have finally gotten around to this Vintage Wood Stool Makeover. It was so easy that I can't believe I waited a year. It now sits in our laundry room.
Pieces like this are great items to pick up from thrift stores, yard sales, or grandma's house because you can change them up so easy. Basically a fun and trendy new piece of furniture. Just like this reupholstered foot stool I did with hot glue.
Some before and after home decor projects are simple, some are more involved.
As you can see, this stool was really dated and had an ugly orange yarn like seat. I had already sanded the wood in this picture but it also had an orange tone. I really wanted to get rid of that.
Here is a side by side look at how the wood started and after sanding.
I wanted to highlight the details in the wood but with a white washed effect. I took a spoonful of clear furniture wax and added white paint to it. Then I just rubbed it on like I do when I wax an furniture. This also helps cover up some of the orange toned wood. It turned out so great, I plan to do it on another project soon.
I have a few denim projects in the works, this is just the first one. I've loved denim forever and I'm so happy to be using it in home decor.
To recover the stool I measured and cut the denim with plenty extra in order to tuck it under.
This was the easy part..no sewing or staples were needed, only safety pins. You can see how I folded the fabric around the seat and pinned it tightly. I had to layer two pieces of the denim in order to cover all of the yarn. Then I added 4 gold thumbtacks for a little detail.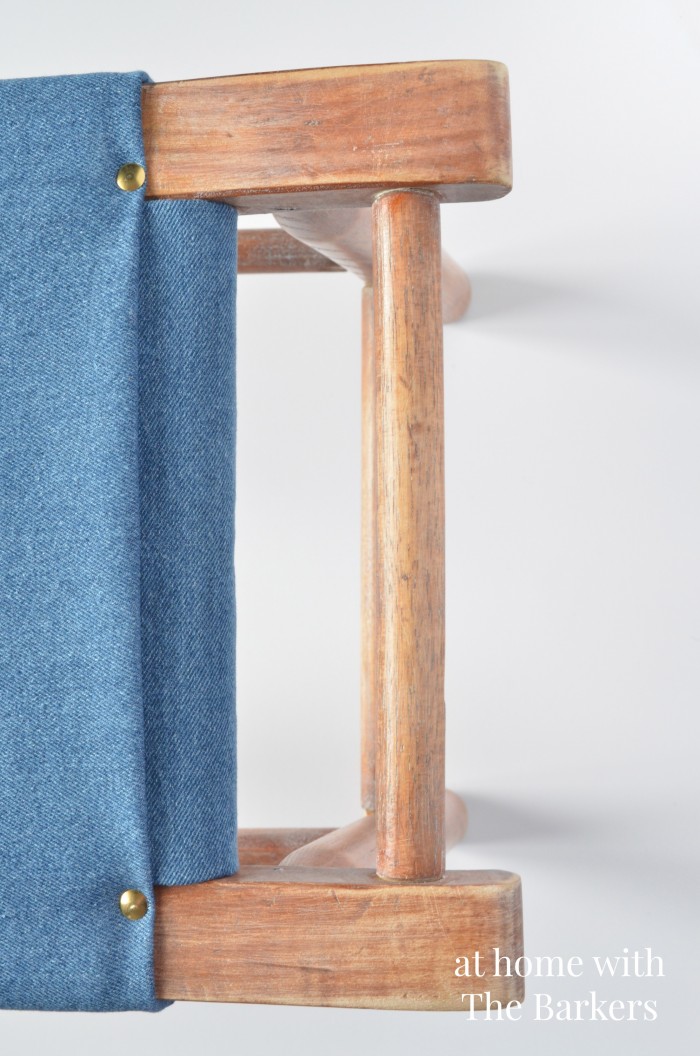 I love being able to transform thrifted pieces into updated gems! This vintage wood stool makeover is one of my recent favorites.
The extra fabric came in handy on this no sew denim table runner. Sometimes you need to rethink how to use a piece without a makeover, like this repurposed stool for outdoor entertaining.
Have you found any great pieces lately while you were out thrifting? I'd love to hear all about it and how you plan to transform your treasures! I know I can count on hearing all about it, y'all are great at sharing in the comments.
If you love what you see I would be so happy if you shared it on your facebook or pinned it to Pinterest! Sharing is caring 🙂