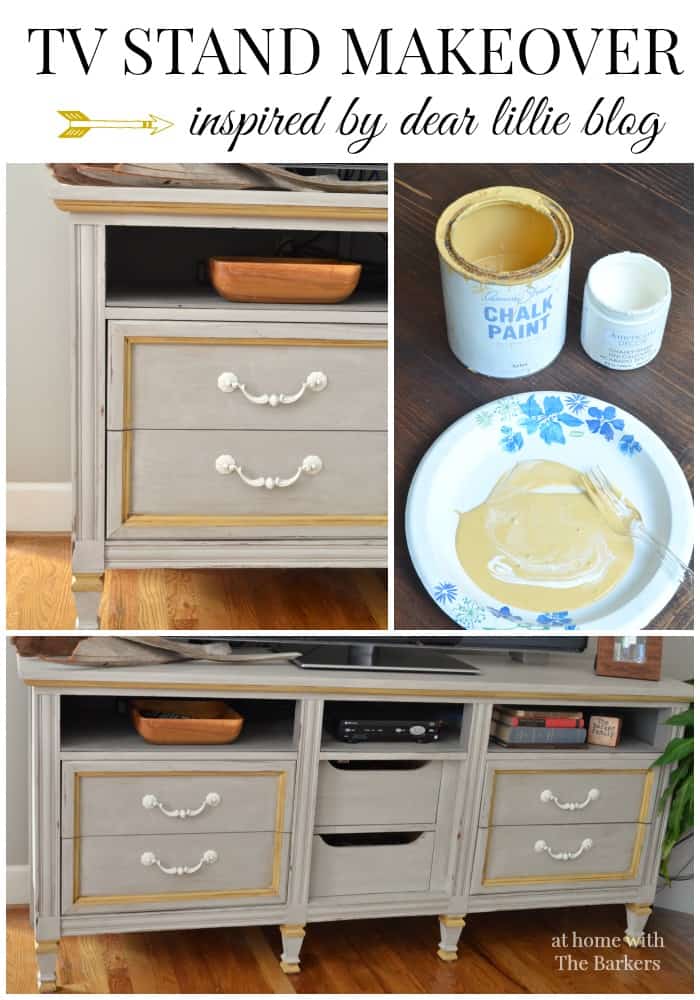 I'll admit, I wasn't sure what I was going to do at first but as soon as I saw my inspiration piece I knew I was doing a TV Stand Makeover!
It's themed furniture makeover day! If you remember last month I did a decoupaged vanity for my daughter. This month's theme was two toned. All of my DIY girls will have their projects linked up at the bottom!
If you have seen any of my room tours on the blog you saw my dresser turned TV stand in those pictures. I converted it a while back but I have never shared it with you here. I had lots of before pics but for some reason I can only find one, that was taken with my cell phone in the garage. BUT you can still see how this piece started out.
I had already painted it with mindful gray and glazed with gauntlet. Both are Sherwin Williams colors that I really love. Perfect if you are looking for true gray. It looked like this…
THEN I saw this picture from Dear Lillie Blog and I fell in love with this furniture piece…
It is so gorgeous! I was immediately inspired to add the yellow to mine giving me the two toned effect for my TV stand makeover. I'm not sure if this piece is painted or if that is a light golden wood but still I love it!!
I knew I could mix some paint to get a similar color and that is exactly what I did.
I had Annie Sloan Chalk Paint in Arles. Which I don't love until it has dark wax on it. It is a bit orangey so I added some of the Chalky Finish paint in Lace (white) to make it creamier yellow instead of orange yellow…my technical art skills at work, LOL!
You can see as I was applying the yellow paint the color is not exactly right BUT I know what dark wax does this color.
Now for the wax…fyi, it's not easy taking a one handed iphone picture while the other hand waxes!
I am loving how it turned out!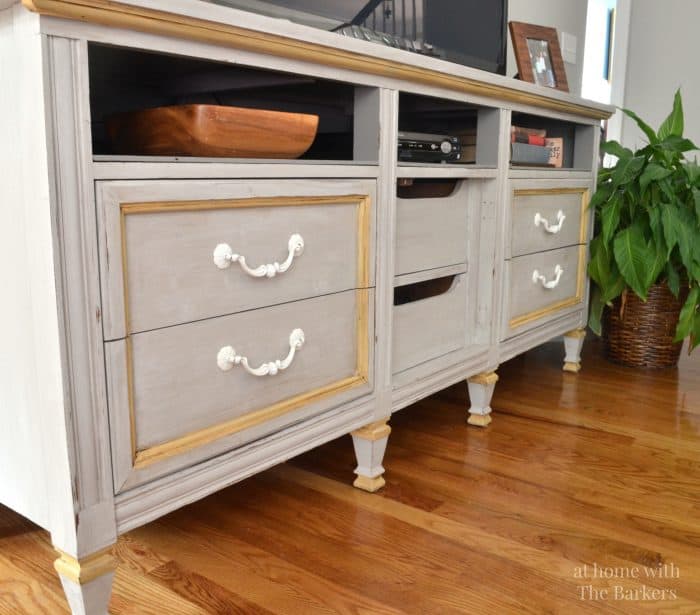 NOW I NEED YOUR HELP…if you notice in the inspiration piece the drawer pulls are black…mine are white…I think I should change mine…DO YOU? I would love to have your input, comment below…stay white are change to black!