Welcome Fall Home Tour – Simply Rustic fall decor and a fall home tour to welcome in the season.
First I'll start with my fall decor. I'm not one to decorate over the top for all seasons but I love fall and I like to at least add touches of it around the house.
This year I am calling it Simply Rustic. I layered items I had from around the house to create vignettes inspired from fall. The only money I spent was on the $20 faux fur throw blanket that I bought.
Welcome to the Foyer:
I decided here to use the wood piece I had cut for my fall centerpiece. I loved it before when I had originally put it on my dining table but I loved it even more here with this display. The chic gold owl was an end of season 80% off from last season. The glam owl and the wood gave the exact rustic fall I was hoping for.
Welcome to the Dining Room:
The dining room centerpiece has one of my favorite pieces, the vintage scale. I have had it for many years and it gets moved from here to there! The fruit cups are also special…that was my wedding dishes and since we just celebrated our 20th wedding anniversary I though it would be a nice touch.
The mason jars are part of about 20 that I have. The acorns are real!! My husband had to cut a tree down and it was full of all of the gorgeous acorns. I added some fresh rosemary from my yard.
This goes to show you that you don't need to buy new things to decorate from the season. Not of these items are traditional store bought fall but it gives a cozy feeling that fall evokes.
I did have a moment of trying different things but decided I loved the sentimental touches of the wedding cups.
Welcome to the Living Room:
This is the room we hang out in as a family. It needs to be cozy. I wanted to still bring in the simply rustic touches but in a more muted way in this room.
I changed things up on the walls in here, not just for fall but to actually stay. The beautiful scenery art above the rocking chair was a piece I was recently given. My brother in laws grand mother passed away and she had many lovely things. My sister thought I would love this so offered it to me…YES! She also gave tons of the vintage mason jars!
This old shutter was the original one's on my in laws house when they built their home many years ago. I layered it on the coffee table with a vintage basket I had.
Just this past week I showed you how I made the burlap art above the chairs.
I recycled my plastic and styrofoam pumpkins from last year. The painted pumpkins was a super fun crafty day.
That is my fall home tour, thanks for stopping by to take a peek!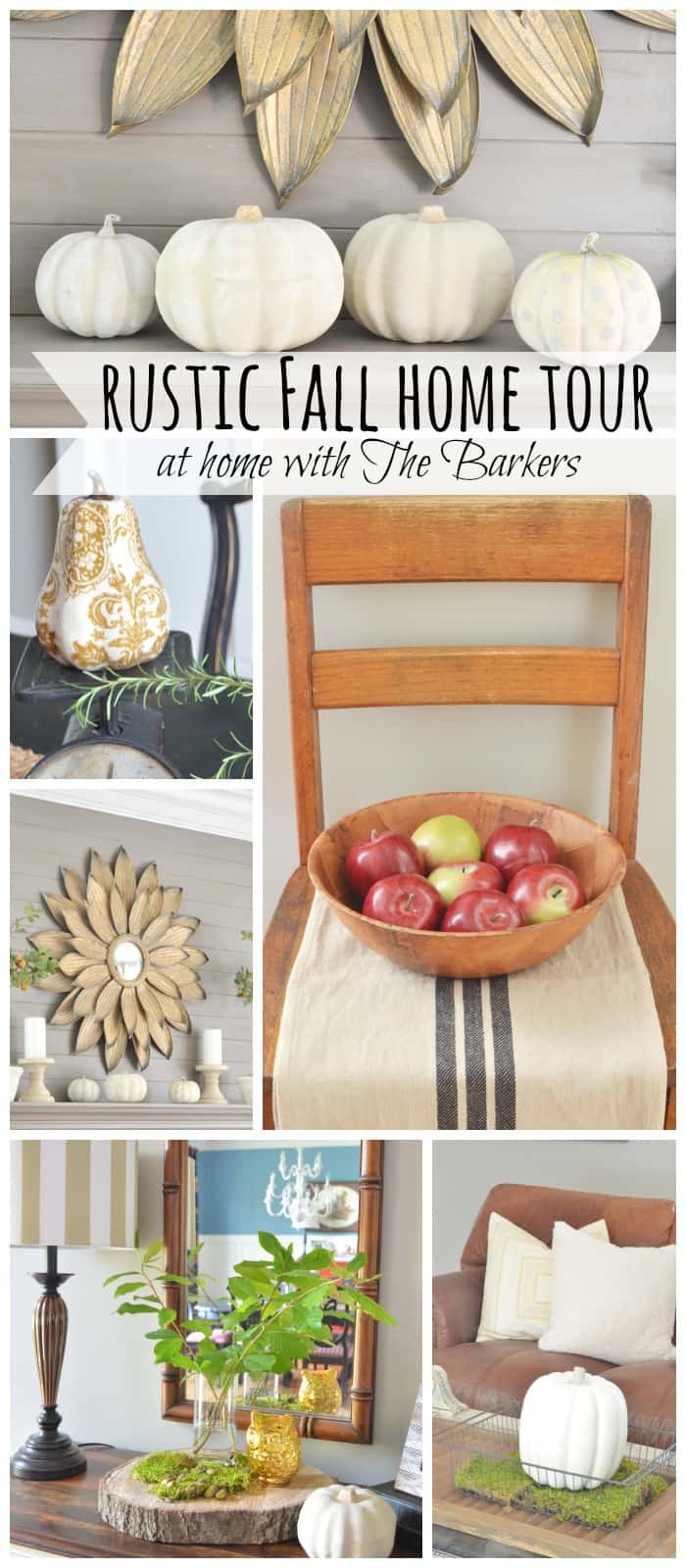 Fall Projects that you see in my fall decor: