An easy painted pumpkins DIY craft project you can do today. Using chalk paint you can bring new life to dated fall decor.
This post may contain affiliate links. See our disclosure for full details.
This post was originally written years ago but I'm updating it and bringing it back to the front of the blog. Projects like this are always fun to share again.
I love painting things. I think we have established that! Painting plastic pumpkins is an easy project you can do with fall decor you have owned for years or inexpensive ones you grab today.
I also love reusing decor I already have because I like to add creativity into my life as often as possible. Knowing how to shop your own home is a fun way to keep that creativity alive.
Pumpkins are the perfect little fall accessory but let's face it, it's mid September and it's hard to find all of those awesome pumpkins just yet.
We will not let that stop us!
I pulled out my left over Chalky Finish paint that I used on the Grain Sack inspired Bench Makeover and got to work.
Creating a more simple color palette with seasonal decor has become my favorite thing over the years. It brings a peace to our home.
How to layer paint on the pumpkins
I painted polka dots on this one then white washed over that. Basically letting the dots dry before gently brushing a thin layer of lace color paint over the entire surface. Next allow the all over color start to dry then I gently wiped over that with a damp paper towel.
I layered all of them with two colors except the big white one. I love this lace color, it's the perfect shade of white. The chalky finish paint works well over the glaze that was on the painted pumpkins from last years project.
The best thing about chalk paint is it's ability to paint onto any surface.
The dark green pumpkin from the before picture is the one you see above on the right. The deep green changed the color of the paint some and I love how that happened. Sometimes you just have to go with the flow but I love how these painted pumpkins turned out.
See how these painted pumpkins looked decorated on my simple fall mantel.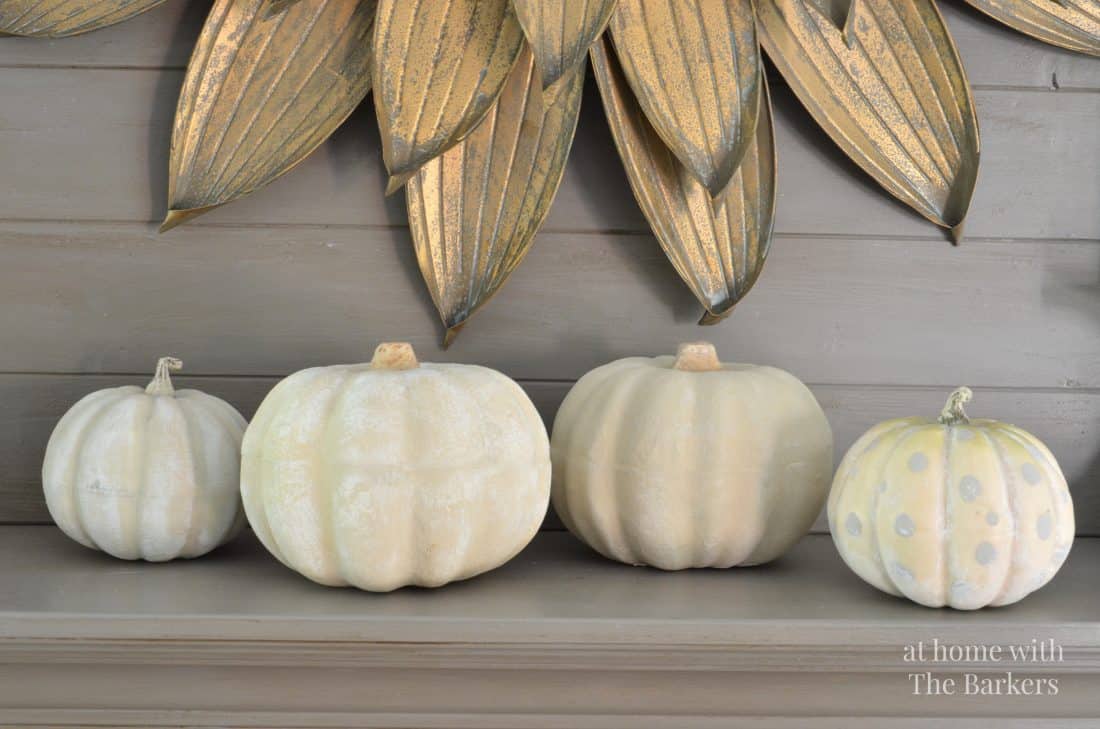 There are many different ways to paint pumpkins besides what you see here. Think of color ways that could work in your own home. Mix paint and make your own shades.
If you want a rich luxury look try using gold rub n buff on your pumpkin. You could do it on the entire surface or just the stem.
Take a look at our simply rustic fall home tour from the year I used these pumpkins.