How to get an Aged Zinc Look
Have you ever wondered how to get an aged zinc look in your home decor without spending a fortune for it? Try this faux paint technique to get that high end aged zinc look on plastic pumpkins.
(affiliate links included in this post)
This year I wanted to do something a little different in my Fall Decorating. I still love all the colors of fall…red, orange, and brown but I wanted to add a touch of metal.
So, I figured out how to get an aged zinc look on my plastic pumpkins.
How to get an aged zinc look using paint
Supplies I used for this Project
You may already have some plastic pumpkins stuffed in your attic.
They have a great shape to them but they aren't anything special.
Always important to spray paint in a well ventilated space. Spray painting items that need to be coated all over is a bit of a challenge but can be done.
Using Rust-oleum spray paint in Silver Metallic Finish each pumpkin was coated. I will say, it is easier to paint and glaze over a non glossy surface but I was going for this dimpled look on the faux finish.
If I had used a paint brush on the base coat the surface would have been a little different with possible brush strokes.
Be sure to do light even coats of spray paint. It helps keep the finish consistency as well as speeds up the dry time. This paint is already fast drying which is a plus.
Once the paint was dry the faux paint layer is added by mixing equal parts clear glaze with black acrylic paint.
By adding the glazing mixture to paint it makes the paint thinner and gives you longer working time before it starts to dry.
Update: In my photo I used Valspar glaze but it is no longer made. Any clear glaze, like this one here, will work just the same.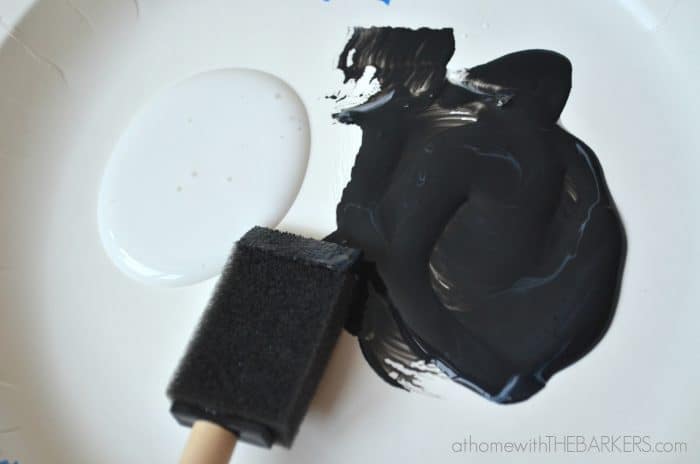 Apply the glaze and acrylic mixture with a foam brush.
I found that using a piece of cheesecloth worked best for this technique.
I used a dabbing motion to spread the glazed paint mixture onto the pumpkin with the foam brush. Then going back over with the cheesecloth to soften the edges of the glazing mixture.
You can add and remove paint easily once it is mixed with the glaze. The glaze medium allows your paint to have a longer dry time so it's easier to work with for projects like this. It's what I always used to glaze kitchen cabinets.
This pumpkin (and the 3 other one's I painted) turned out beautifully!
So much better than I ever expected.
This is a great paint technique to use on any surface, so if you are looking to add some metal touches to your decor you may want to try this on candle sticks, clock, or even a side table. The options are endless.
If you like a different look on for your painted pumpkins considered a color palette to coordinate with your home decor.