Kitchen cabinet hinge upgrade
One way to update a kitchen is with hardware. A kitchen cabinet hinge upgrade is good way to stop cabinet door slamming. This post will show you how we upgraded our cabinet hardware by adapting our original hinge to a soft close hinge.
This post is in partnership with Hickory Hardware. Affiliate links are included in this post.
The mini kitchen makeover all started because I wanted to increase the height of the cabinets.
I had considered changing out the door handles and pulls but decided they were still something I liked. They were added during a previous kitchen makeover for the one room challenge back in 2015. Feels timeless to me.
We wanted to add the soft close door feature hinge for a while and this seemed to be the perfect opportunity. Removing the cabinet doors to paint would allow us the ability to replace the hinges then. There are lots of options for hinges so order exactly what you need. This post will show you how added soft close concealed face frame hinges with 1/2 inch overlay.
We were surprised once we received the hinges that the holes didn't line up with the current hinges. While this was an easy fix it did take a little longer than we had planned.
Here are the steps we took to replace the existing hinge with the new soft close hinge from Hickory Hardware.
Kitchen Cabinet Hinge Upgrade Steps
Remove current hinge from door.
Plug existing holes with these plugs using wood glue.
Allow to dry at least an hour.
While the plugs are setting, prepare for attaching the hinges to the frame. The old hinge we removed had two screws to secure it to the frame. The new hinge had only one. Therefore, we had to drill a new hole. We took the hinge to the cabinet frame and lined it up in place, pre-drilled for new screw hole.
Once hinges on the door are ready to attach use a center punch to mark for pilot hole.
Pre-drill new hinge screw holes.
Screw new hinges in place.
Now attach doors back to cabinet frame.
You can see in the below photo how the plugged hole and the new hinge hole will line up. The plug made a hard surface for screwing into.
You will need two people when attaching the cabinet doors back on. One person to hold the door straight, the other to screw the hinge into the cabinet frame. To make all of the doors line up level with one another, Ray hung the first one, then cut a small block as a jig or guide. That block lined up with the bottom of the cabinet door and the face frame. The block was a huge time saver.
The DIY kitchen makeover reveal included painted cabinets, painted stone backsplash, and the cabinet facelift mentioned already.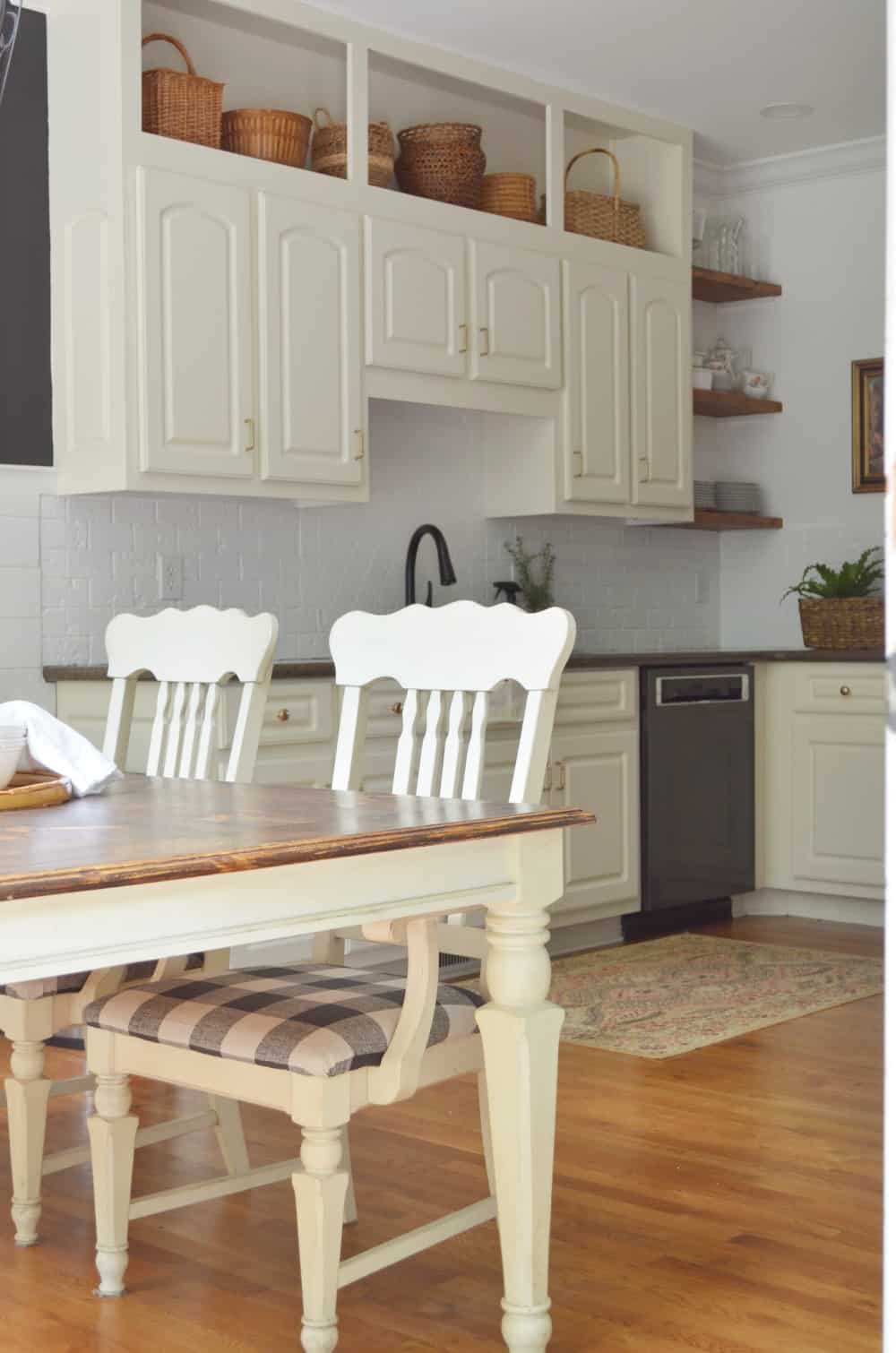 Whether you replace your cabinet hinges or not they do need periodic maintenance.
Taking care of kitchen cabinet hinges
Taking care of kitchen cabinet hinges is essential to ensure your cabinets continue to function smoothly and last for a long time. Here are some tips on how to maintain and care for your kitchen cabinet hinges:
Regular Cleaning:

Wipe down your hinges regularly in order to keep dust and debris out. Especially grease from around the stove area.

Lubrication:

Keep the hinges lubricated as soon as you hear any squeaking noises.

Tighten Loose Screws:

Check cabinet doors for loose screws. If you ever feel the door jiggle just a little the screw needs checked. Be sure not to over tighten or you risk the chance of stripping the screw.

Adjusting Hinges:

If your cabinet doors are not aligning properly, you may need to adjust the hinges. Most modern hinges have adjustment screws that allow you to move the door vertically, horizontally, or in and out. Follow the manufacturer's instructions for adjusting the hinges to ensure proper alignment.

Avoid Overloading:

Prevent extra strain on your cabinet doors. Don't use your weight to press onto an open cabinet door or hang anything heavy on them.

Soft Close Mechanisms:

These mechanisms can wear out over time, so if you notice that the doors no longer close softly, you may need to replace the soft-close components.

Use Door Stops:

If you have cabinet doors that swing open too far consider adding door stops.

Keep Dry:

Use exhaust fans and keep your kitchen from becoming too moist. Hinges can rust.

Regular Inspections:

Periodically keep a check on your cabinet hinges for wear or any damage. Regular checks can prolong the life of your hinges.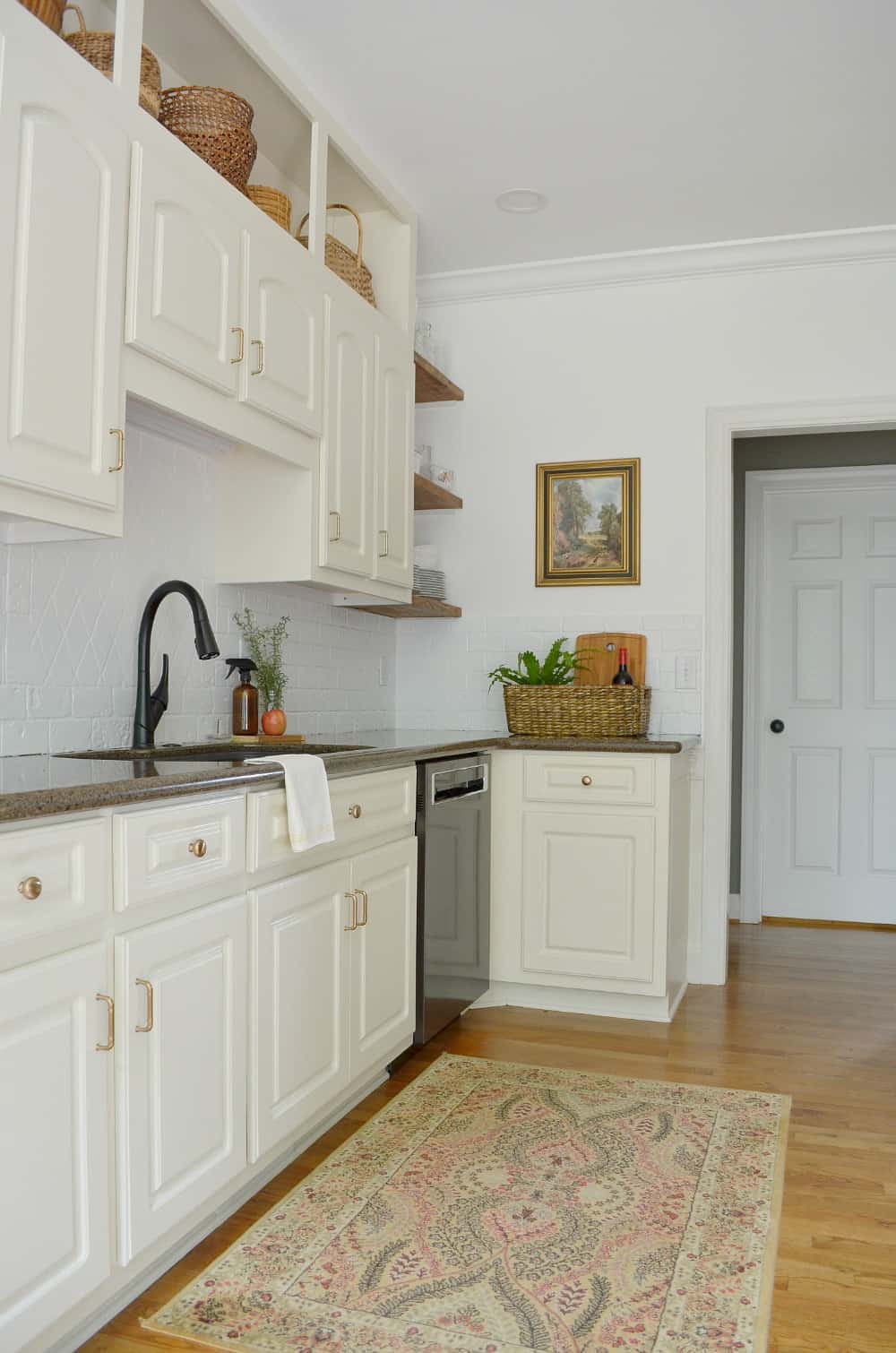 I'm collaborating with other blog friends. Check out what they did with their Hickory Hardware.
It's looking like 2019 is the year of room makeovers around our home. That means I need to update my home tour here on the blog. I've already completed the living room, built a new headboard for the master bedroom, and I have an idea for the dining room. We have changed out all of our boob lights and hung a new foyer light. It looks amazing.