One Room Challenge Kitchen Makeover Reveal
Today is the day…6 weeks in the making!
Our One Room Challenge Kitchen Makeover Reveal is finally here!
If this is your very first visit to my blog, WELCOME, I am so happy to have you! You can check out Week 1, Week 2, Week 3, Week 4 and Week 5 to see all of the action in progress. I'd like to say a BIG thank you to Linda from Calling it Home for hosting such great party. I have admired all of the bloggers who have participated over the years and this year decided to join the fun..aka DIY'er hay day.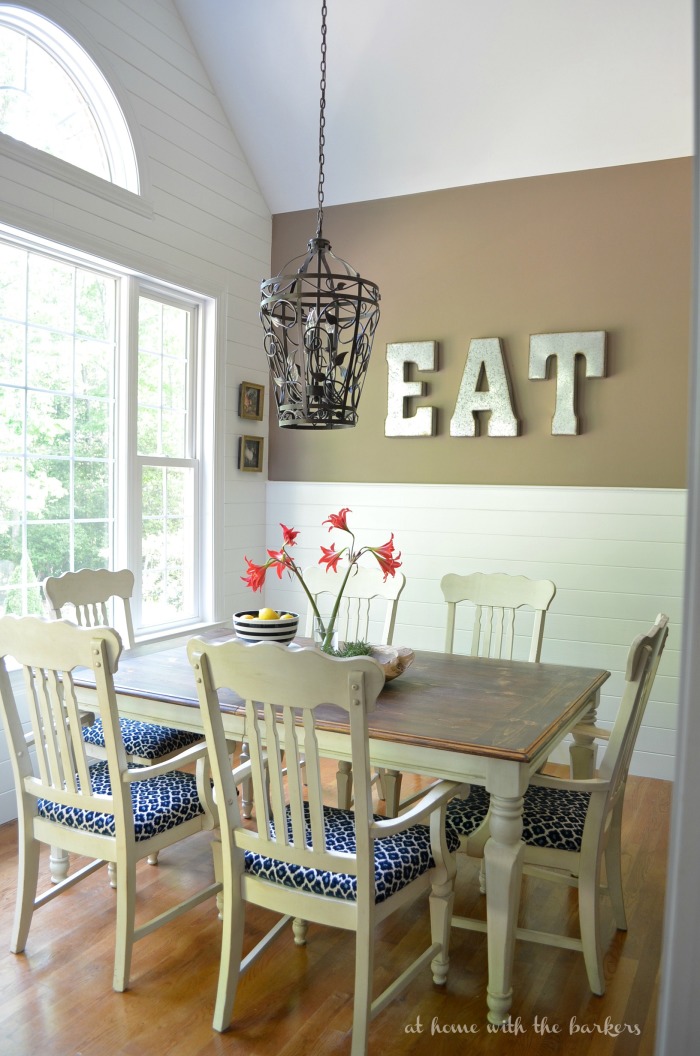 Our BIG wow for this room has to be the planked walls. My husband worked so hard to complete my plans and knocked it out of the park. The side walls weren't as hard as the back one. That back wall is really tall and has the windows. Cutting all of those curves were an undertaking but he did it like a champ.
We did the same wood planked wall for our Beverage Bar that I posted about on Monday. I will write a full post about how we did both of those but first I have to gather my self from this kitchen makeover.
Let's take a look back at what this room started as.
Not bad at all, I just needed a change after 7 years.
By the way, that Cookie sign went right back to that spot…I love me some cookies!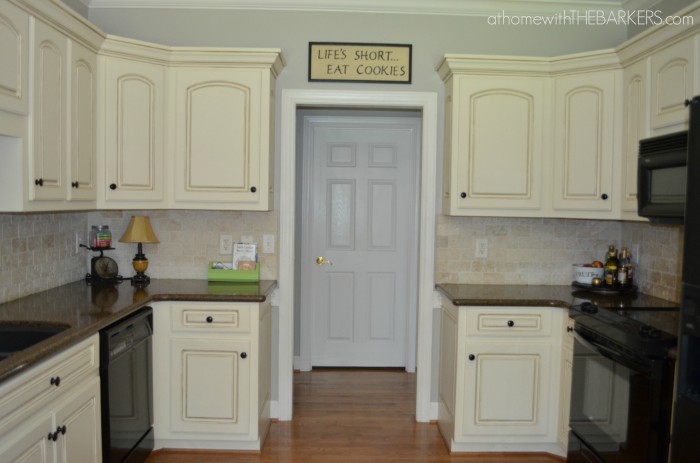 AND NOW the after…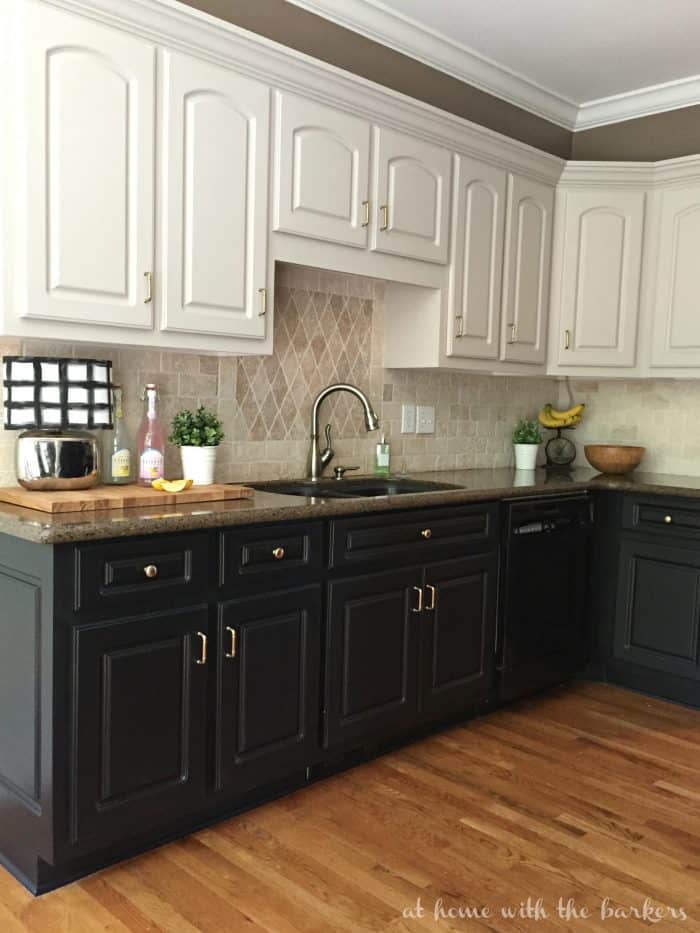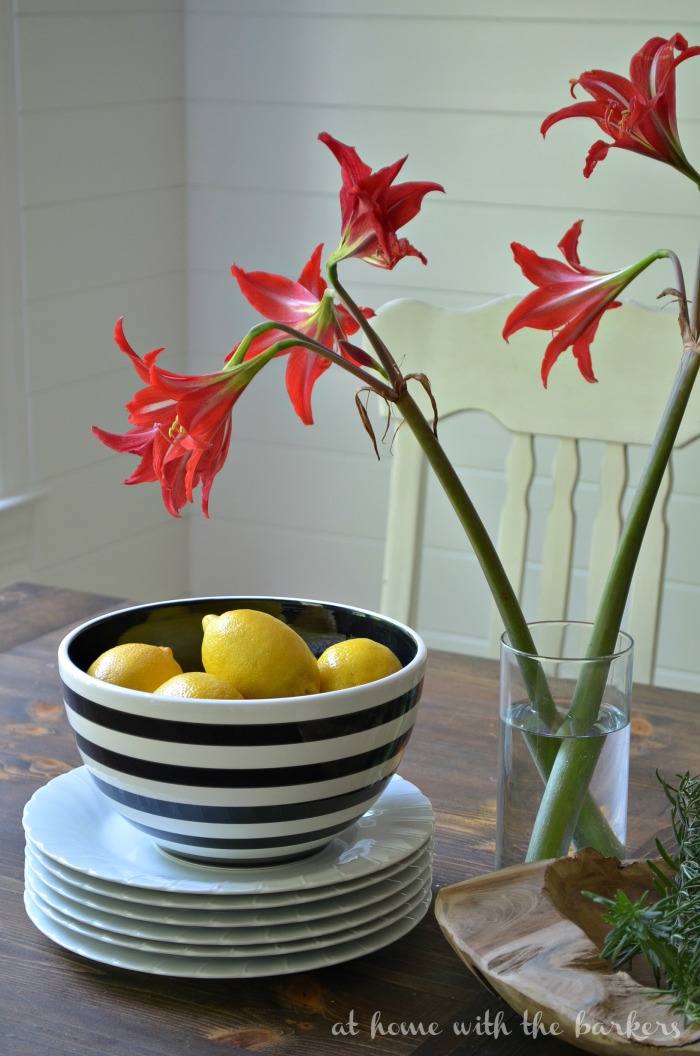 I painted the planked walls in an almost white color called Blanched Pine (Valspar color.) I LOVE the contrast of it with the black and gray painted cabinets. I used DecoArt's Americana Chalky Finish paint for the cabinets. Carbon and Primitive were the perfect colors.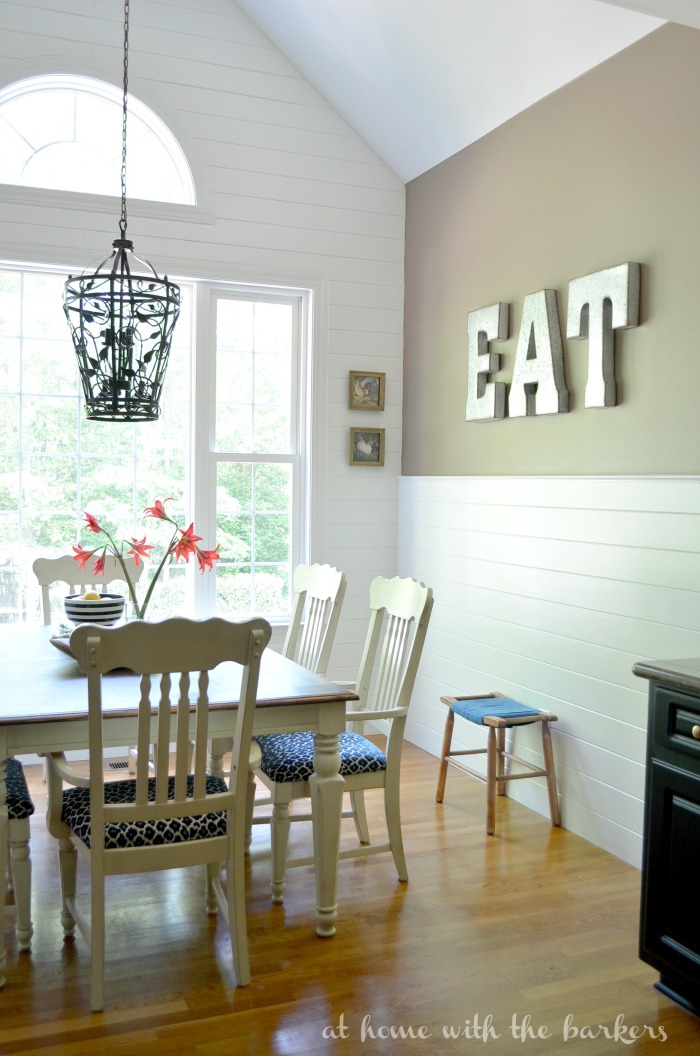 AND this fabric I used to recover the chairs…Oh la la!!!
I have a about 1/4 of a yard left over so I am hoping to embellish some sofa pillows with it. I'm feeling the need to sew again. At least that won't involve my hubby and he will be happy about that.
In a cost saving, budget friendly manner we knew we had to keep the counters and backsplash. They really are pretty and there was no reason to remove them. One year until our first born heads to college calls for being money savvy.
So I chose the wall color to keep the room neutral and to tie in the those two elements. It is the perfect light brown. It's called Down Home from Sherwin Williams.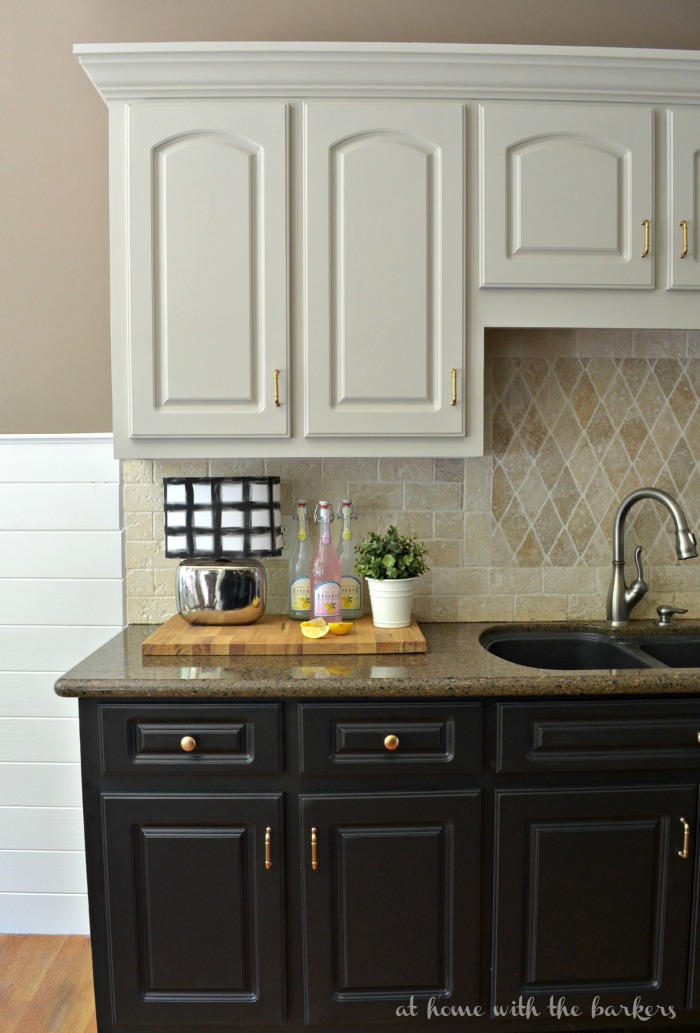 Are you swooning over that hardware?
Back Story: I made a huge mistake when I ordered my hardware and when it came in the mail last Thursday it was way too dark. I thought it was going to be a bright bronze but it was dark. It did not show up on my black cabinets. After a freak out email it was all taken care of. THANKS to the awesome peeps at Hickory Hardware they hooked me up with an entirely new order and sent it over night! THANKS MISSY, you rock!
I ended up choosing the Cottage Collection Satin Rose and I LOVE them.
Found the ceramic black and white striped bowl at Ross for $5.99! I would have loved to have found it in coffee mugs too.
That lamp was a last minute DIY. I had the lamp in the attic that I had purchased on clearance from Target. I was inspired by Emily McCarthy's house tour in the new HGTV magazine. I'll be sure to post all about it soon.
I have plans to cut that piece of butcher block in half and use them when I actually cook. It was left over from our beverage bar.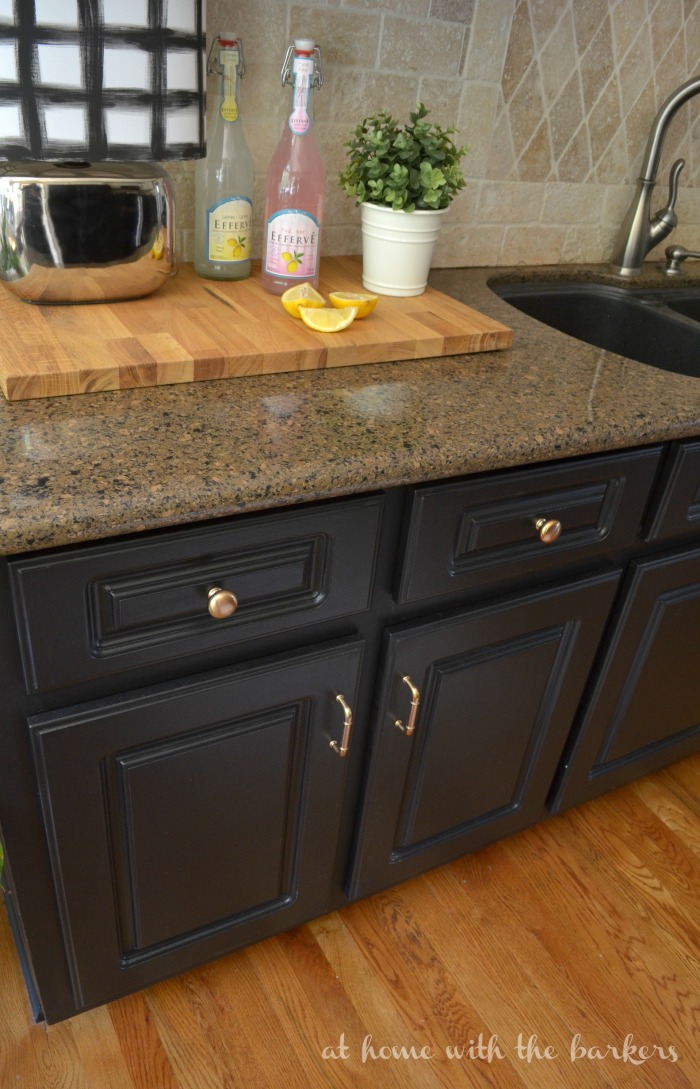 I am really thrilled with how it all turned out. Now I have to start working in my yard planting and cleaning pollen.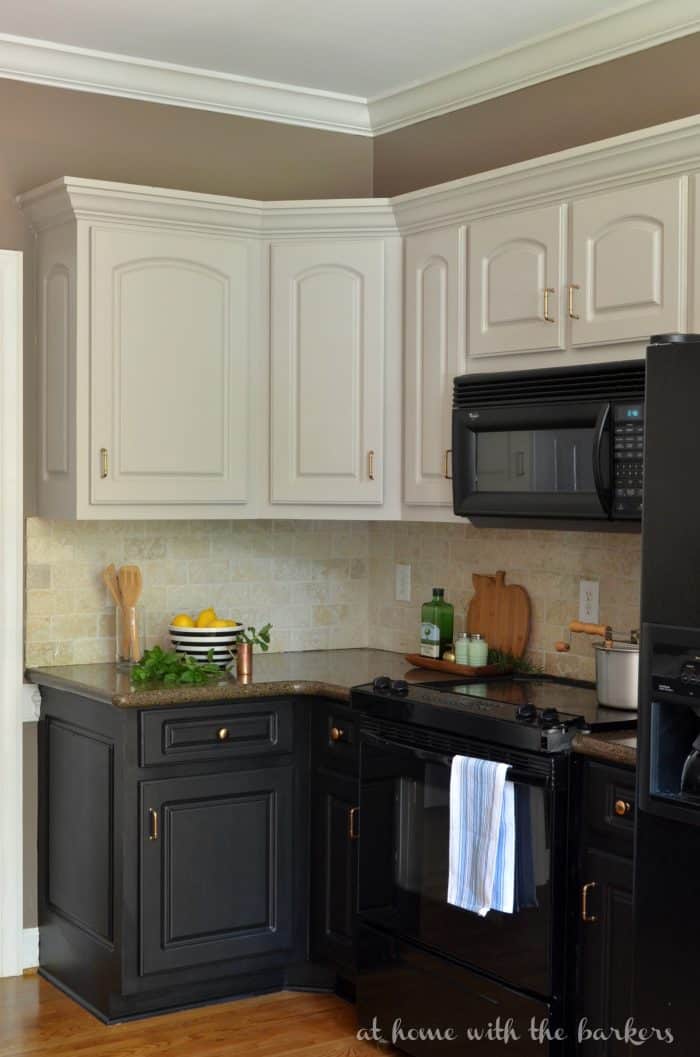 If you step to the left of this view of the stove there is a doorway into the hall. There is a pass through between this hall into my dining room and that is where the under stairs closet is located. That is the space we turned into the Beverage Bar. Here is a view from the hall. I plan to also use this area to serve for parties!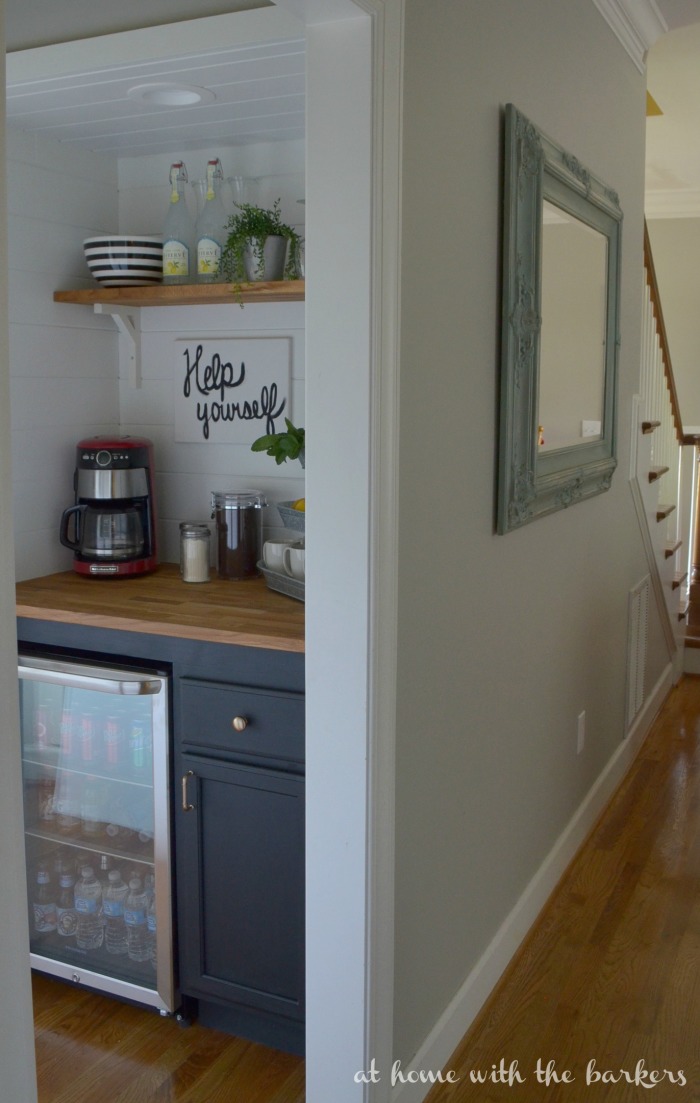 Now that the kitchen is complete, my husband had a great idea for us. We decided to start cooking together on Friday nights and try new recipes. I'm excited for that because I really don't love to cook…wink, wink!
Here are the tutorial follow up posts: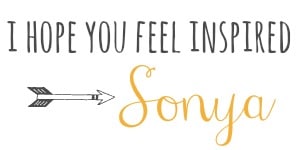 Linking up to Miss Mustard Seed, Savvy Southern Style