Black Kitchen Cabinets The Ugly Truth
The ugly truth of having black kitchen cabinets isn't always talked about. Sharing from my experience the pros and cons of having black cabinets in your home.
If you aren't familiar with me, I'm a huge fan of Sherwin Williams black magic and have it painted around our home. Our bathroom makeover with black painted walls is still my favorite a few years.
Decorating mistakes happen and sometimes I have to admit I'm wrong. I painted my cabinets black as part of the One Room Challenge 6 week room makeover. I decided on a two tone look with the bottom cabinets black.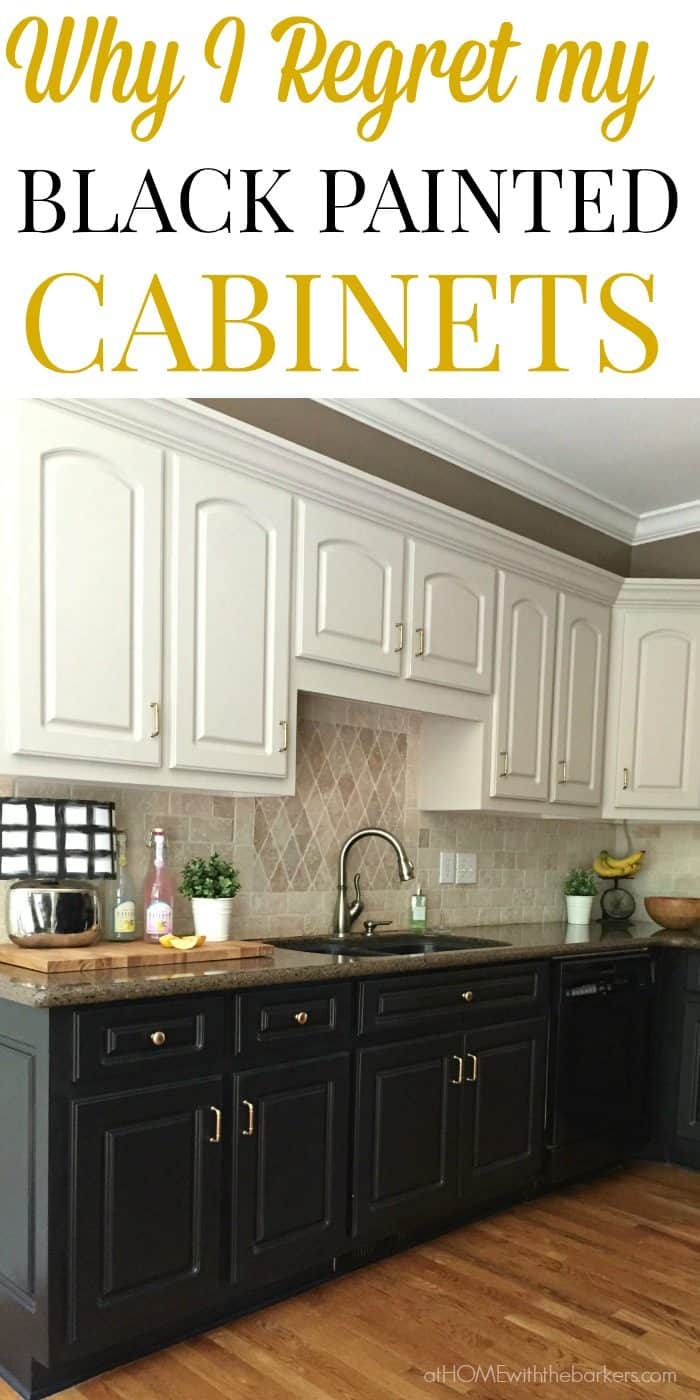 Affiliate links are provided in this post, see full disclosure here.
The UGLY truth behind Black Painted Cabinets
First, I really do love black painted furniture in home decor. The TV cabinet in my living room is painted black and it looks amazing. It's a free standing piece with lots of light color around it so it holds its own well.
Secondly, this chalky finish paint I used on my cabinets has held up really well. I use it all the time on painted projects.
Now for the reasons I think my choice to use black in the kitchen was awful…
Makes my space look smaller
This one is tricky for me because black paint doesn't make rooms look smaller but it can depending on the window placement. In our black bathroom, the space feels larger. There is a perfect balance of contrast and the window draws your eye outside.
The way the kitchen is designed I have lots of light by the breakfast table as you can see here. The big window and the white wood planked walls help. But when you turn around to the black cabinets there is no window.
I thought by painting the cabinets lighter on top it would work but that didn't work for me.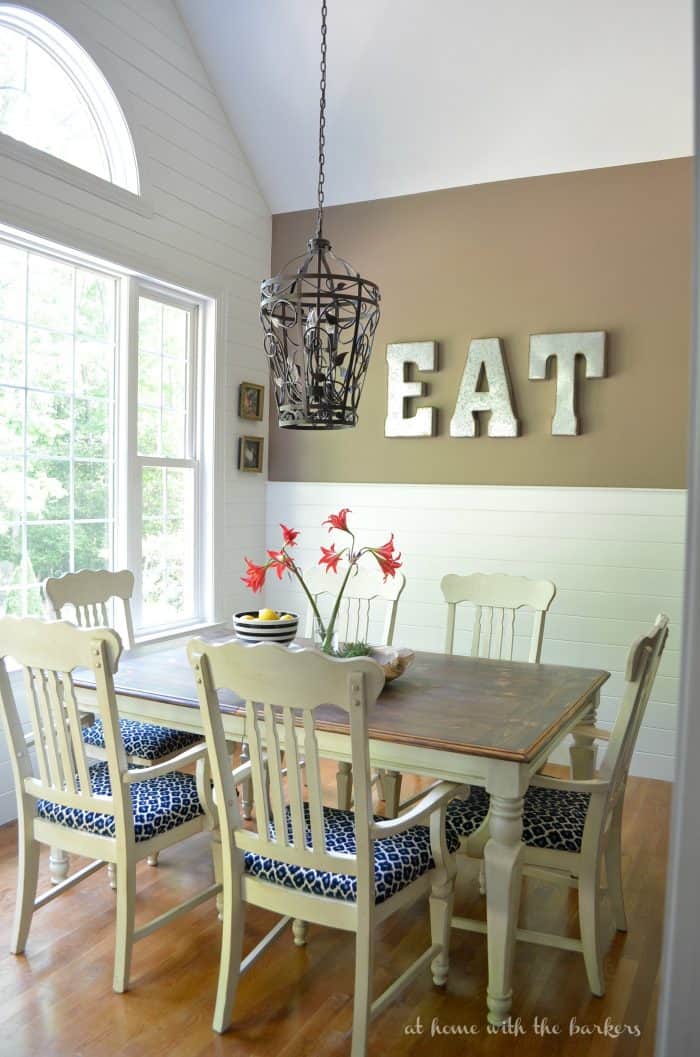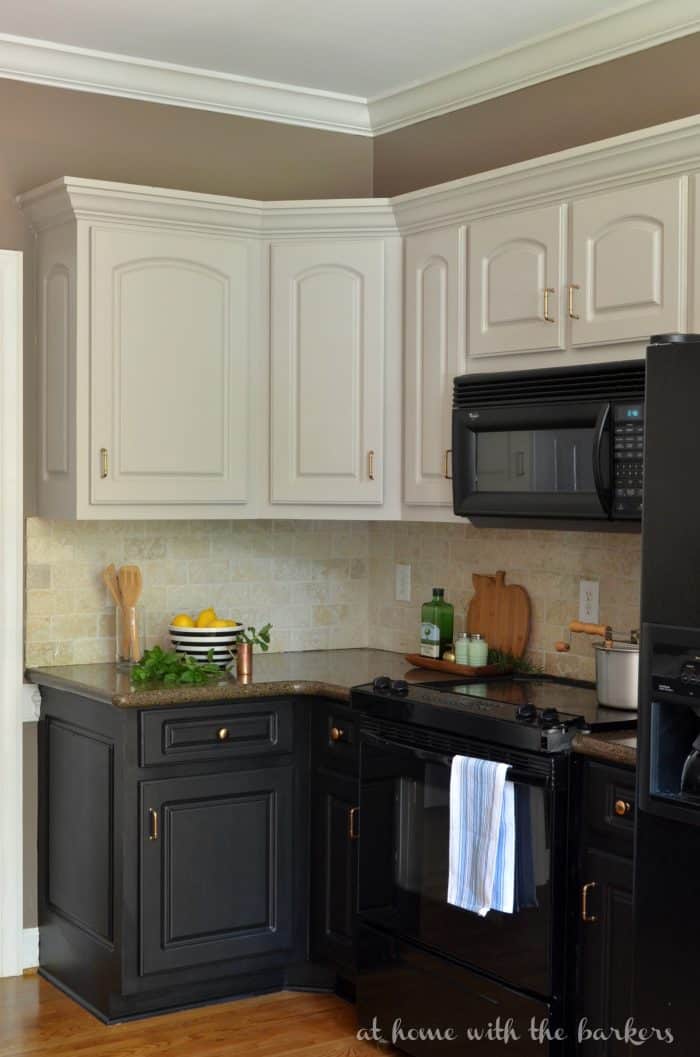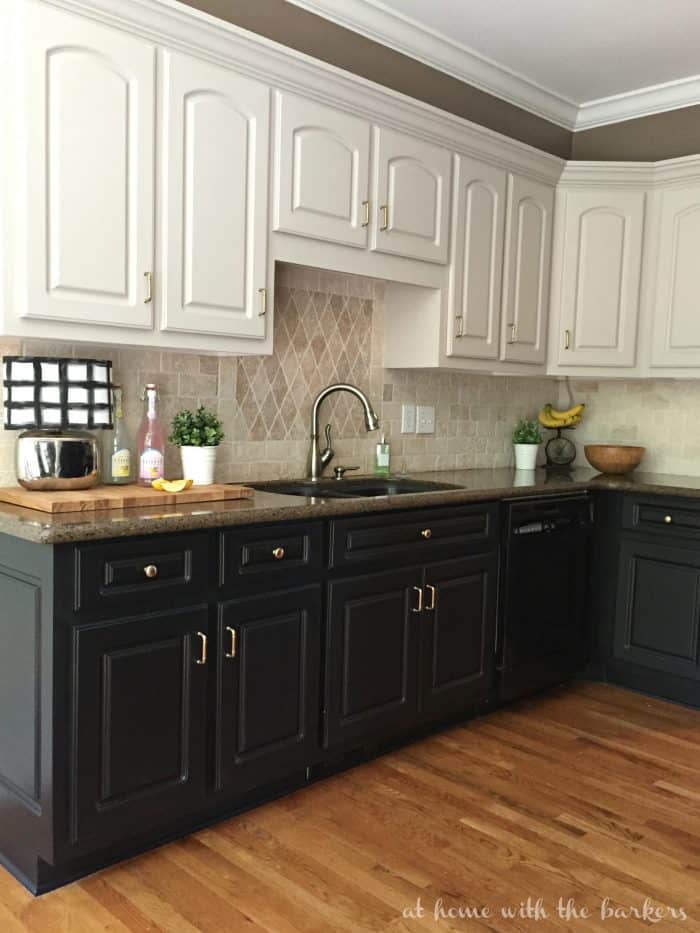 It does look pretty but you can see how the lower cabinets almost disappear but not in a good way how a window brings the outside in. I spend so much time in this space that it sort of brings me down.
I think this is the one time when slimming black is a bad thing. In home decor I usually strive for making a space feel larger not smaller.
Always Look Dirty
The other and most annoying thing about the black in my kitchen is how dirty they always look.
Have you ever owned a black car? Well, I have and this is the same idea. I know that I can wipe my cabinets down but I don't want to do that every time I cook. . All the neat freaks just gasped, lol.
They look dirty all the time. Food and dust show up easily. Kitchens do get messy and need cleaning no matter the color but the black just draws your eye to it much more.
I am about to get real here and show you some true life unedited photos I took today with my iPhone. You can see what I have to look at on a daily bases.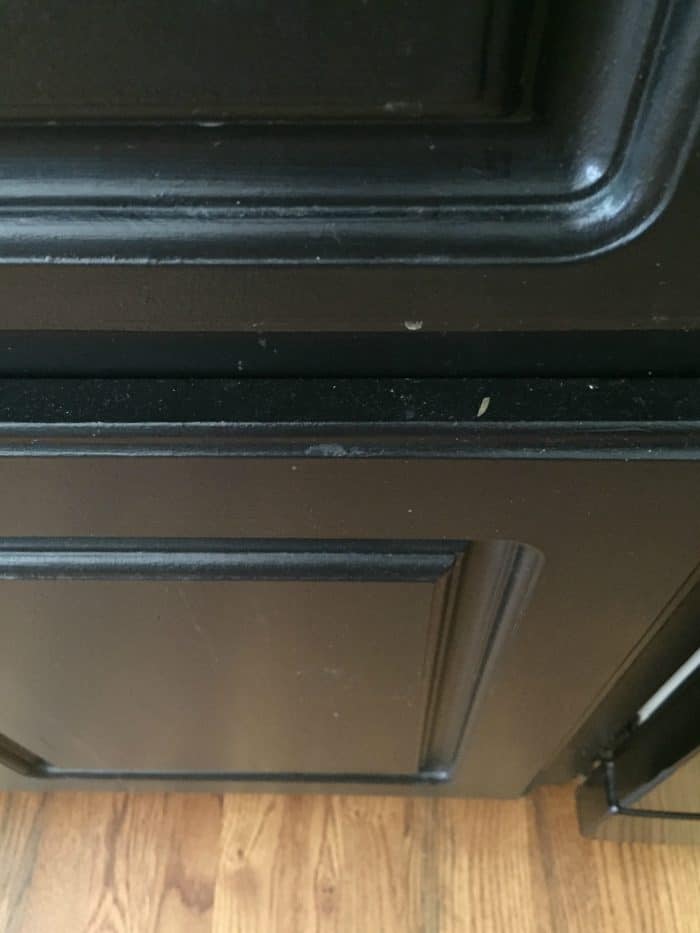 It looks terrible, I know. Our DIY beverage bar doesn't get dirty like this so it works to be painted black.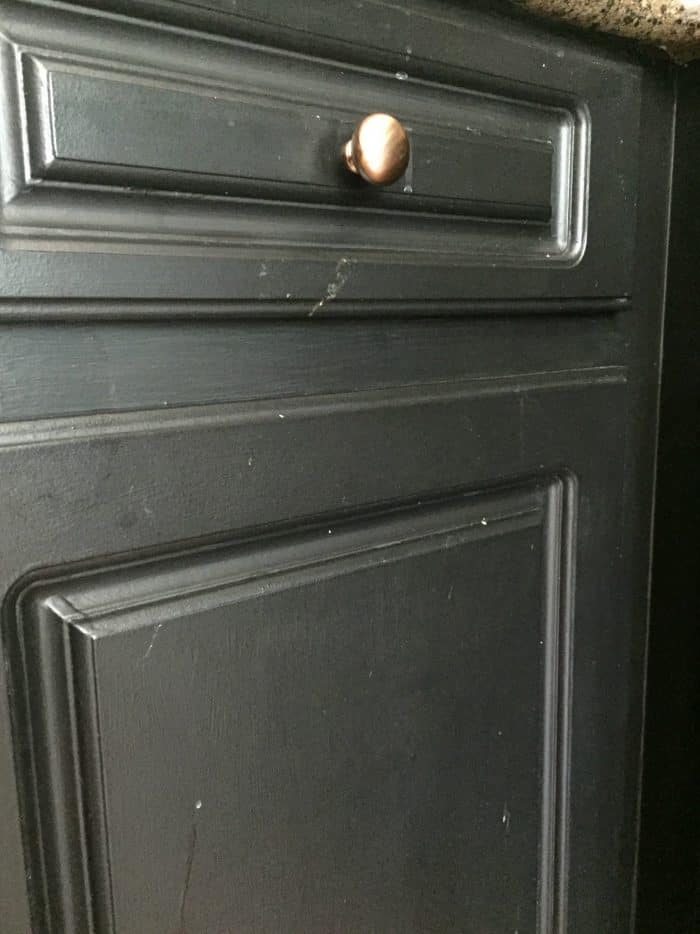 Too many different visuals for the eye
The black color alone isn't the reason it didn't work. There are too many places for the eye to fall. Two different ceiling heights, too many different paint colors, textures and finishes also played a role.
Even though I love black paint and the way it can make a space feel, it needs to be carefully considered for the space it is going in.
I have lived with this long enough and I am ready to go back lighter.
The cabinets were antique white with glaze before the black and I am currently trying to decide on true white or a creamy white. I will be using this painted kitchen cabinets tutorial again myself.
NEWEST UPDATE: DIY Kitchen Makeover Reveal
I'd love to hear what you think about black cabinets. Leave me a comment.