How to build a Beverage Bar
How to turn an under the stairs closet in to a built in beverage bar, drink center for your entire family.
This unorganized, cramped closet was really wasted space.
It was a place for me to stash anything and everything that I didn't want to look at or deal with at the time. This space is underneath the stairs between the dining room and the hall which leads to our kitchen.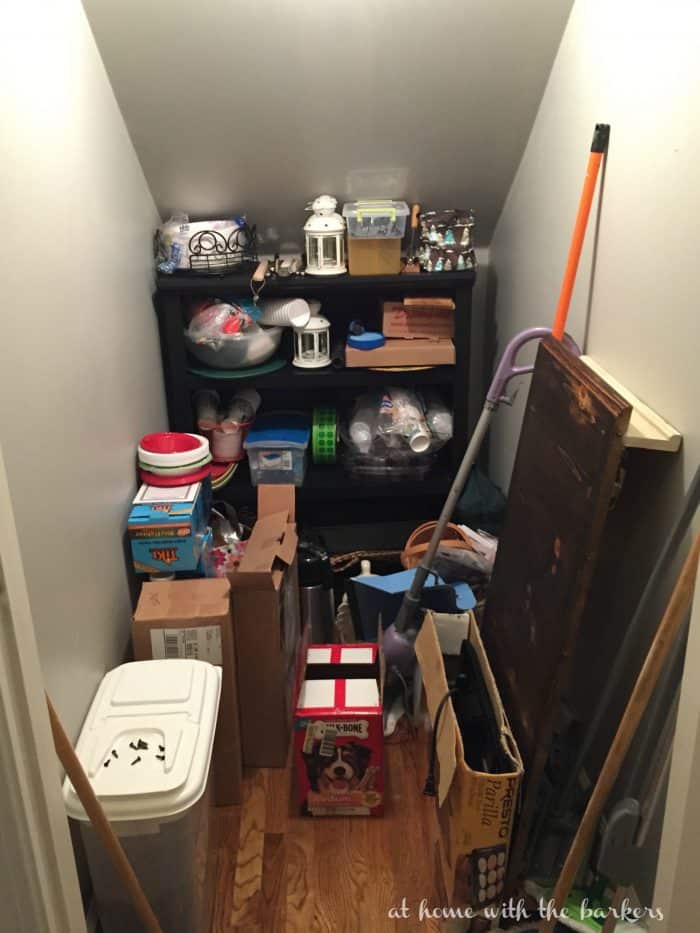 It was the perfect spot to create a built in beverage bar out of this closet.
This is one of those projects where everyone in our home agrees was worth it!
Our kitchen counters are sort of chopped up so being able to move the coffee pot and supplies has freed up a section on the kitchen counters. The beverage bar also serves as a place to sit desserts when we hold family functions.
Here is the useless space before we cleared it out. This is exactly how it looked for years.
This post may contain affiliate links. See our disclosure for full details.
Building a custom home beverage bar
There was some demo that had to happen. We removed the doors and the door frame.
This left a very rough piece of wood showing but that was alright because we were planning to add a smooth new piece over it to paint.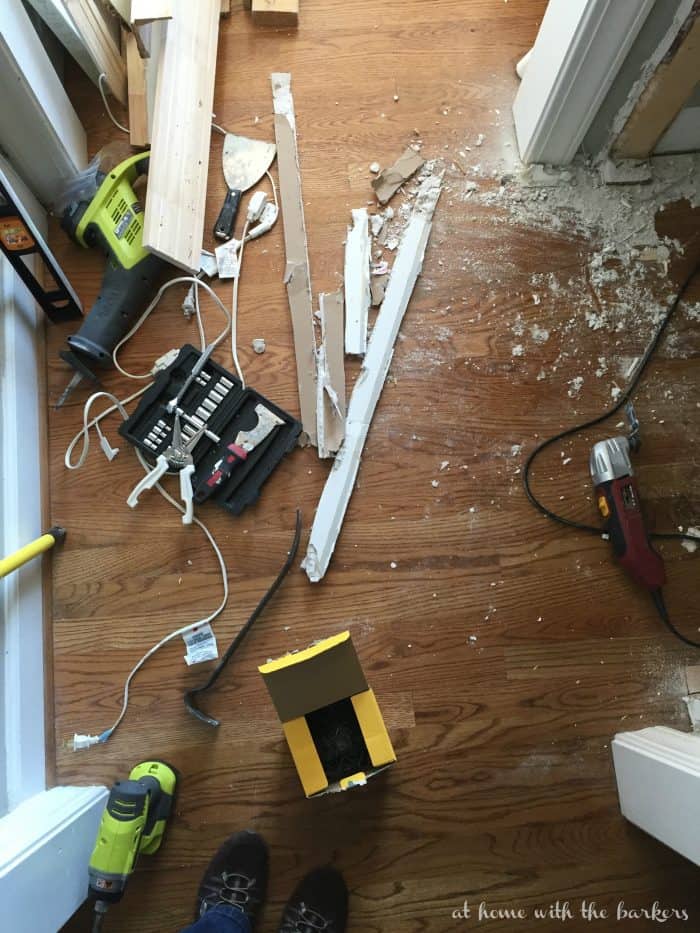 The only issue with removing the door frame was the floor. Once the frame was out that left the subfloor showing. We were very fortunate that we had a few pieces of raw hardwood left over from adding hardwood floors in other rooms.
Ray cut the wood to size then filled the seams with a stainable wood filler. I sanded and stained over it. I bought Miniwax stain in Golden Oak thinking it was the color and guess what…it was right on!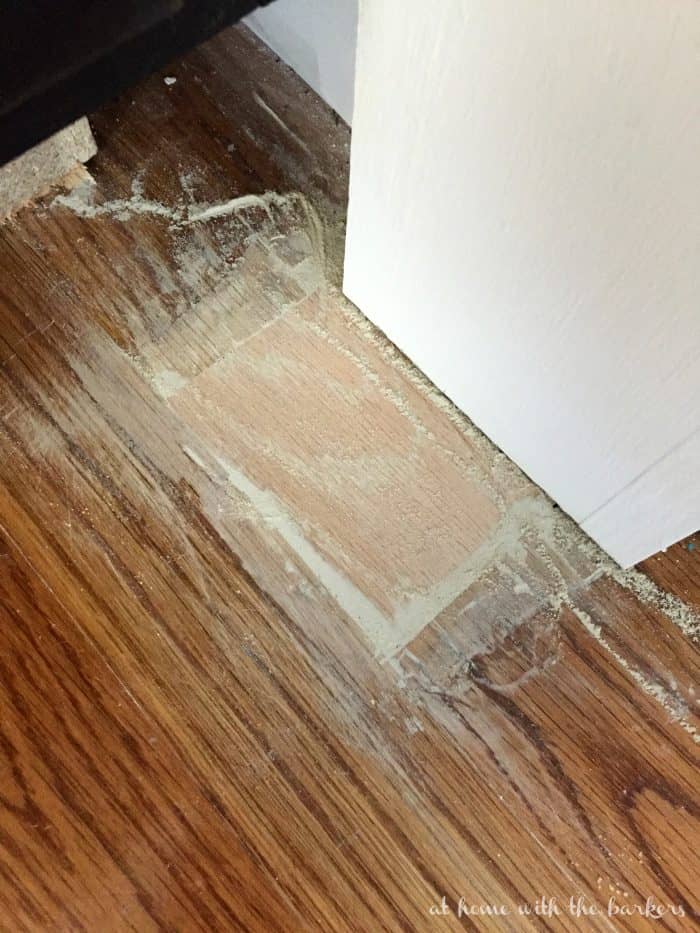 Since this space already had two side walls all we had to do was build a back wall. We made sure to measure the depth of our cabinet and beverage fridge in order for those to fit.
As you can see the light fixture had to be moved but I am not qualified to explain that process. If you or your husband are handy with electrical then you may already know how to do this otherwise get help from a professional.
We did leave the light behind the wall in tact and wired in a new can light for the bar area. Both lights are attached to the same switch.
We added a horizontal piece of wood to the side walls in order for the butcher block countertop to sit on.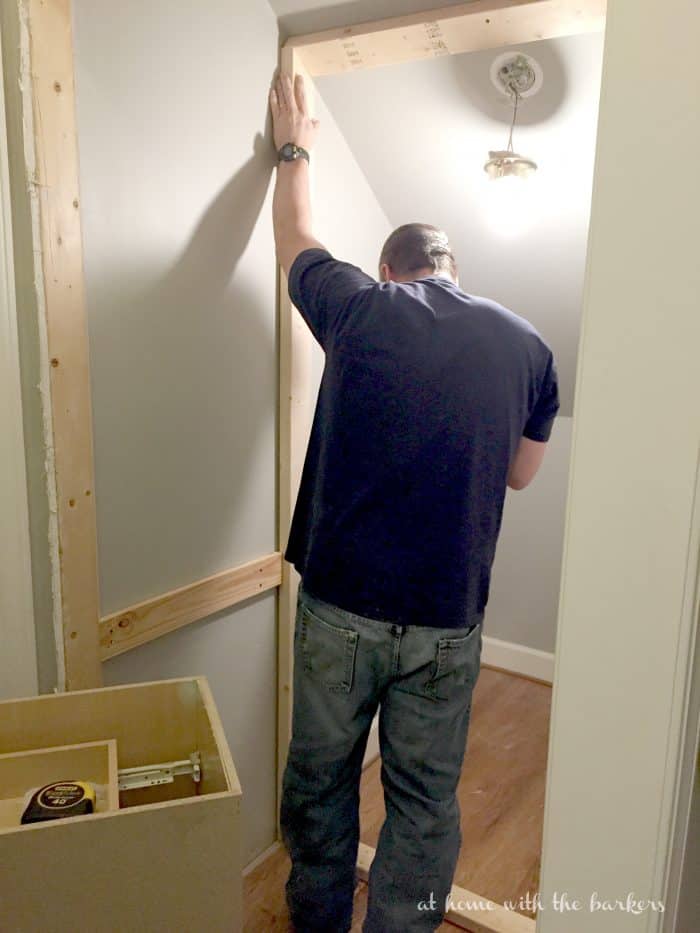 We bought the mini fridge and the slide in cabinet from Home Depot. The cabinet comes in different sizes so measure your space to see what size will fit.
The butcher block was purchased at Ikea. We drove to Charlotte and loaded it up.
It was 6 feet long and was enough to make the top, a shelf and a couple of extra cutting blocks for my kitchen. I purchased the HAMMARP Countertop in Oak. You can now buy this same counter top at Home Depot.
Then I used butcher block conditioner on it because Bob Vila of This Old House recommended it.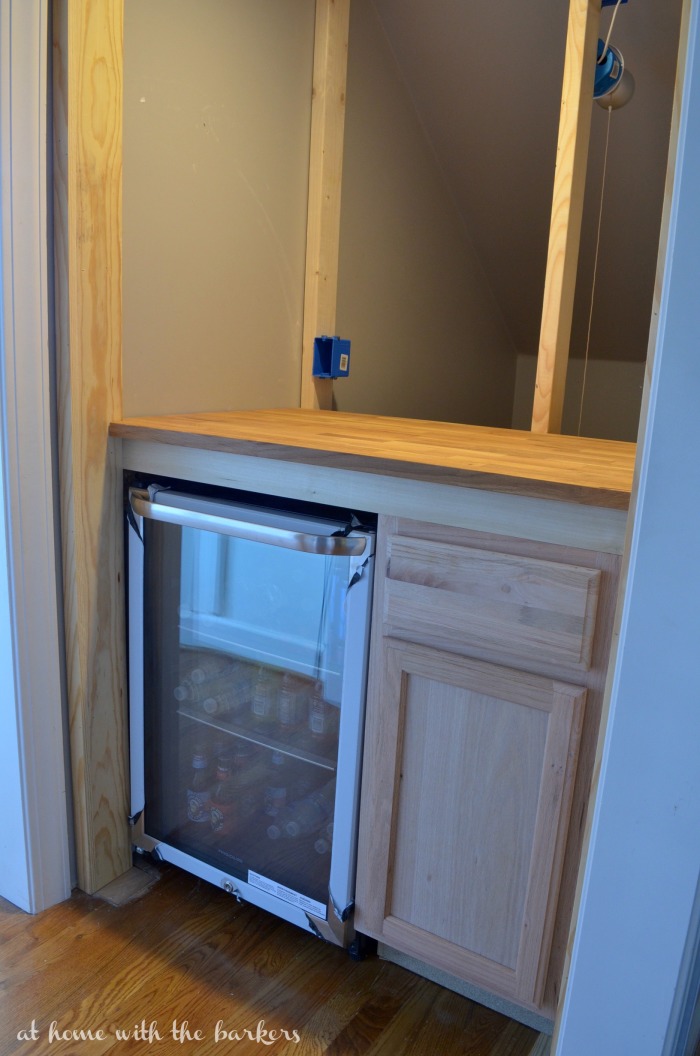 These photos show how everything comes together. To save money and time there are only studs behind the fridge and cabinet, no real wall. You can actually slide the beverage fridge out right now and crawl behind there if you wanted. We just added the planks from the countertop up.
Along with the two side pieces of wood that were added to hold the countertop a front facade had to be created to cover the space between the countertop and cabinet as well as to the right of the cabinet by the wall.
These were cut, glued on with wood glue then nailed in with finish nails.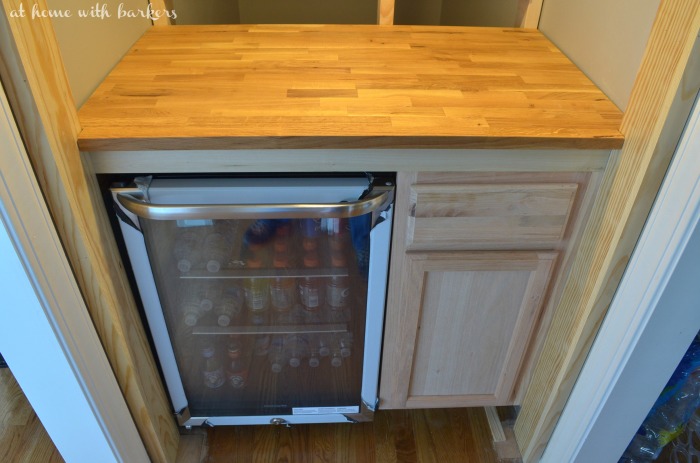 We covered the walls and ceiling in the beverage bar with planks then painted white. To see how we installed the tongue and groove planks I have a tutorial HERE.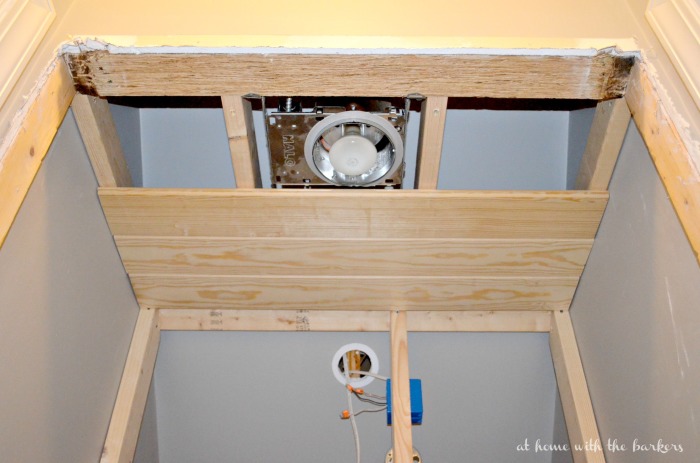 Those brackets holding the shelf up are also from IKEA and cost $4 each! That is a great price! We were going to build some but when we saw these we were sold!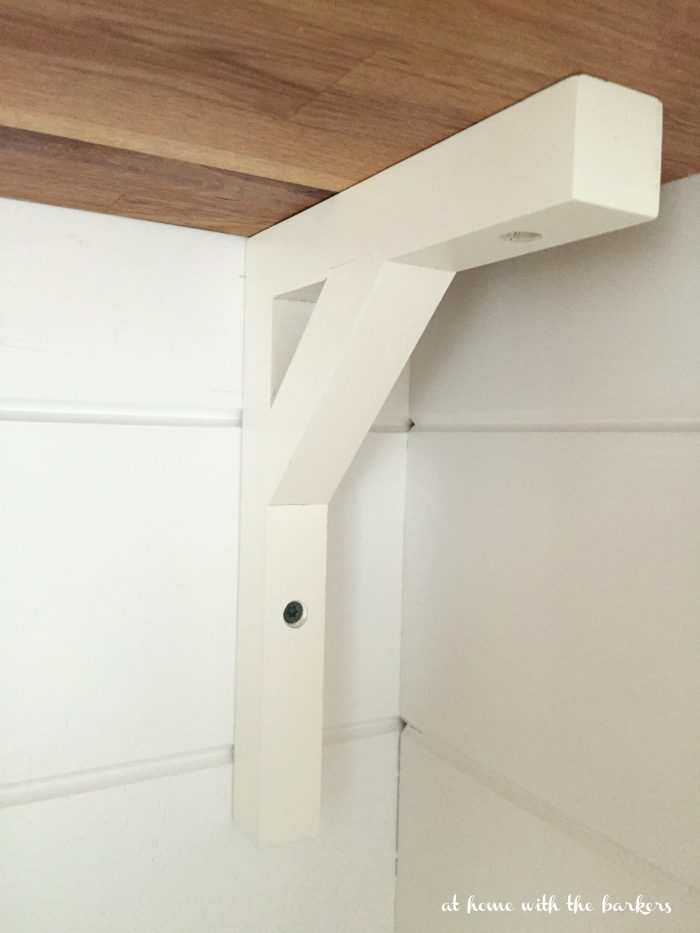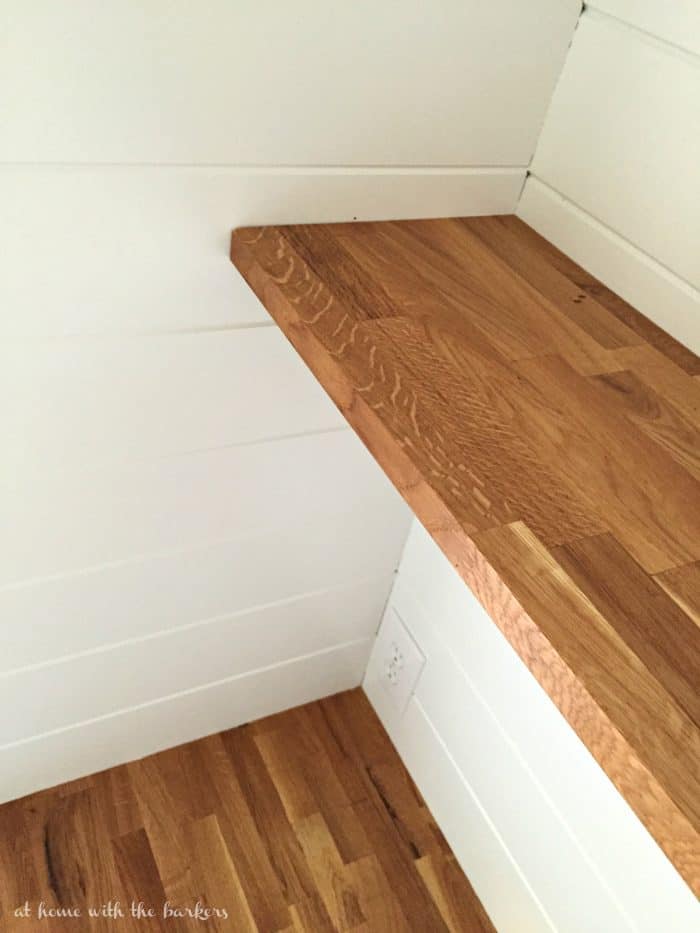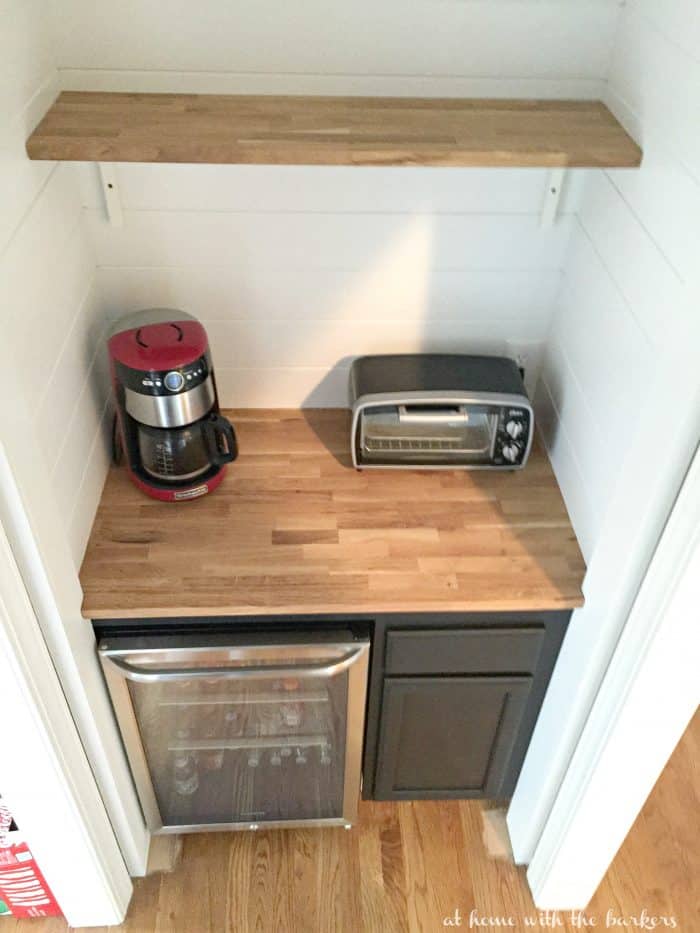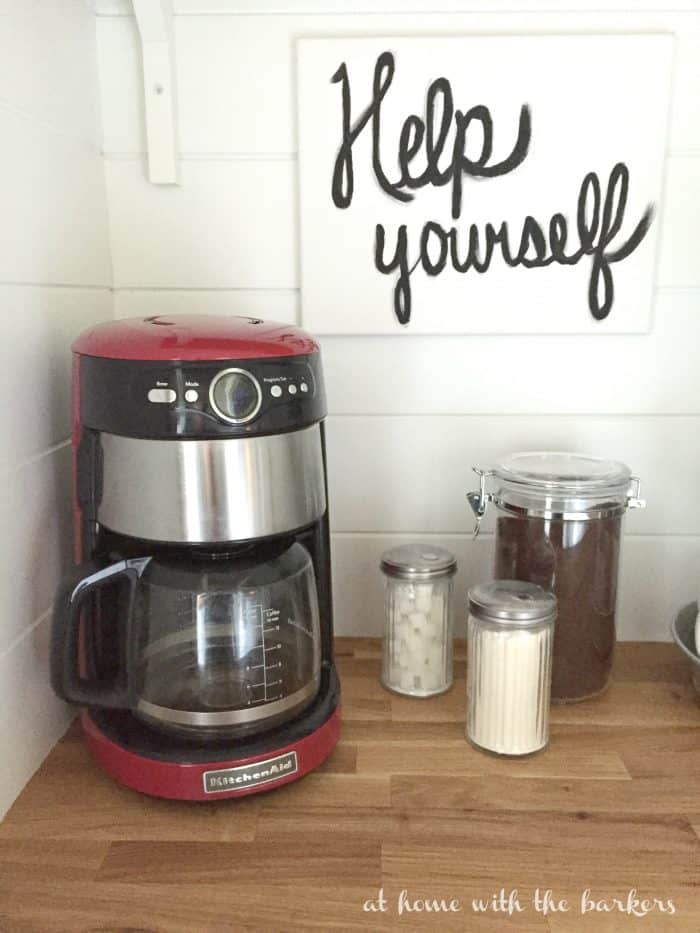 I've already shared all of the details about the painting the beverage bar HERE.
You can find the mini beverage refrigerator at Home Depot.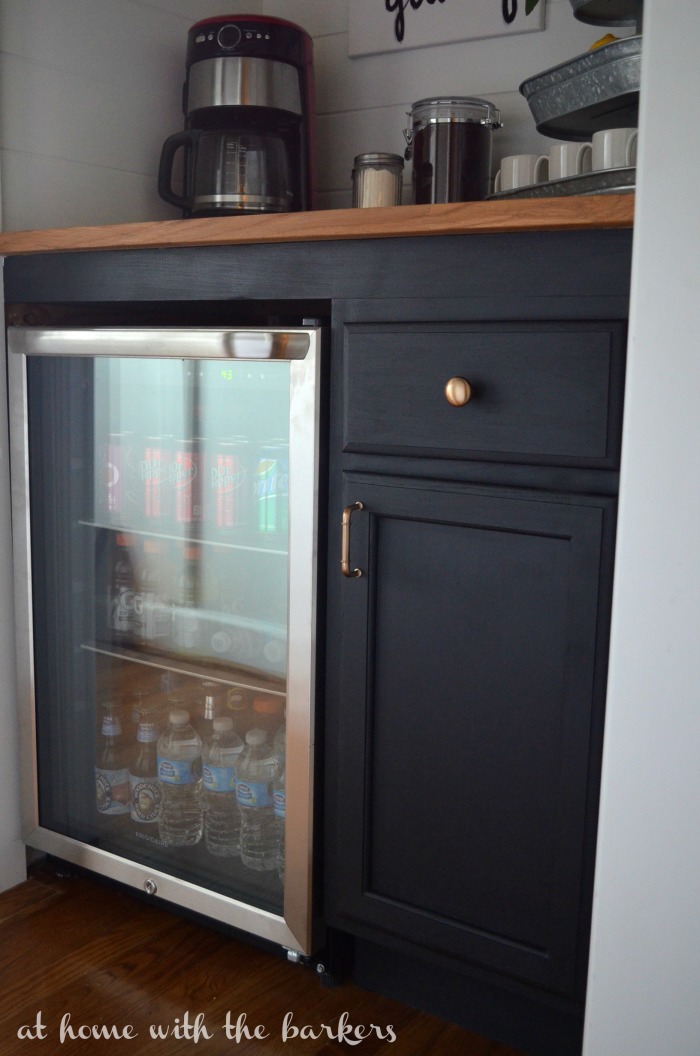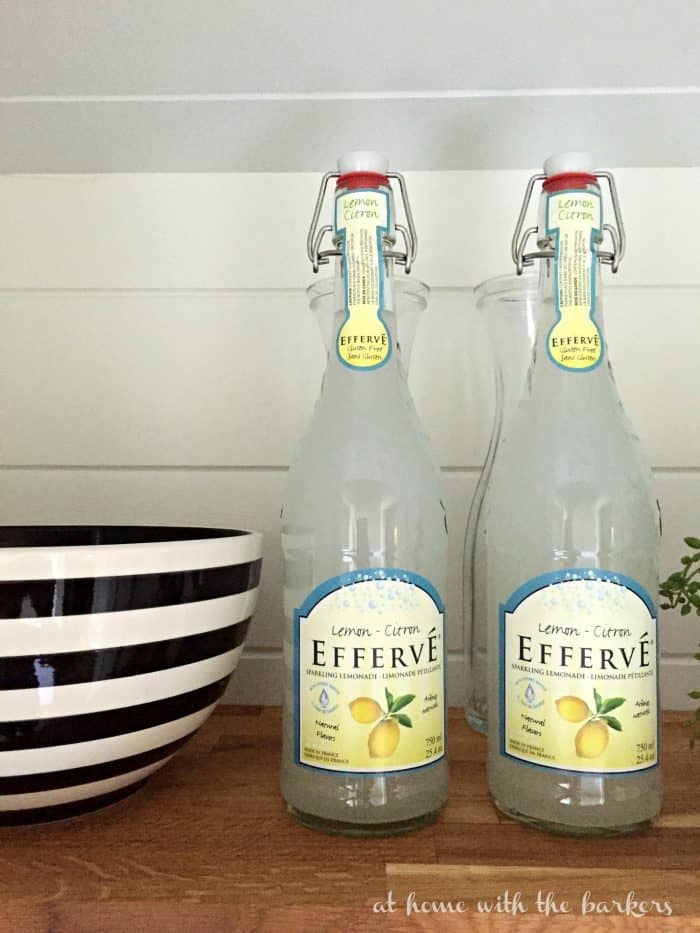 I've shared a few photos on Instagram and was asked where I bought a few of the items. The three tier metal tray came from Sam's Club over a month ago. Someone told me they went to the Sam's website and found it because their store was out.
The black and white stripe bowl was found at Ross for $5.99 and I would have bought more if I could have found them! It matches everything! AND that little help yourself canvas, I painted it for free because I already had the supplies!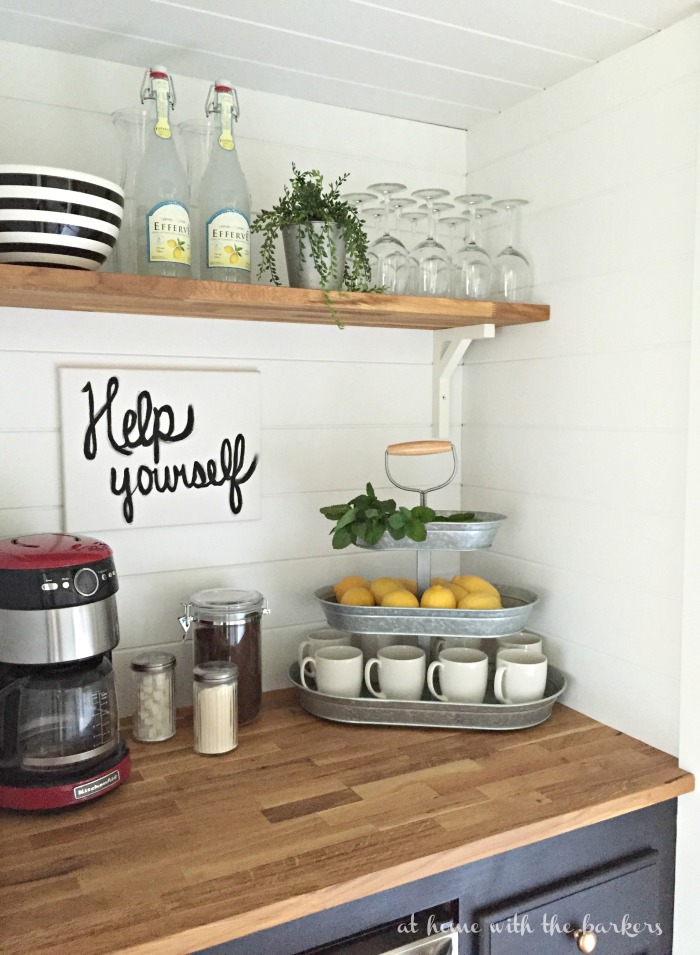 If you would like to see the complete kitchen makeover click on over HERE.