Painted Kitchen Cabinets Tutorial
Full tutorial for painted kitchen cabinets including tips and tricks to get the job done faster. Paint is the best way to makeover any room in your home and can make the biggest impact.
This is my most up to date painted cabinets post. You may have been linked to this post from elsewhere on my blog. Therefore, some of the photos may be different. In an effort to stay current I wanted to use my most recent kitchen makeover photos.
Over the years I have painted more kitchen cabinets than I can remember. It is a labor intensive job. Mostly because the kitchen is the heart of the home and when it gets disrupted the rest of your life gets messy. Eating is important, right.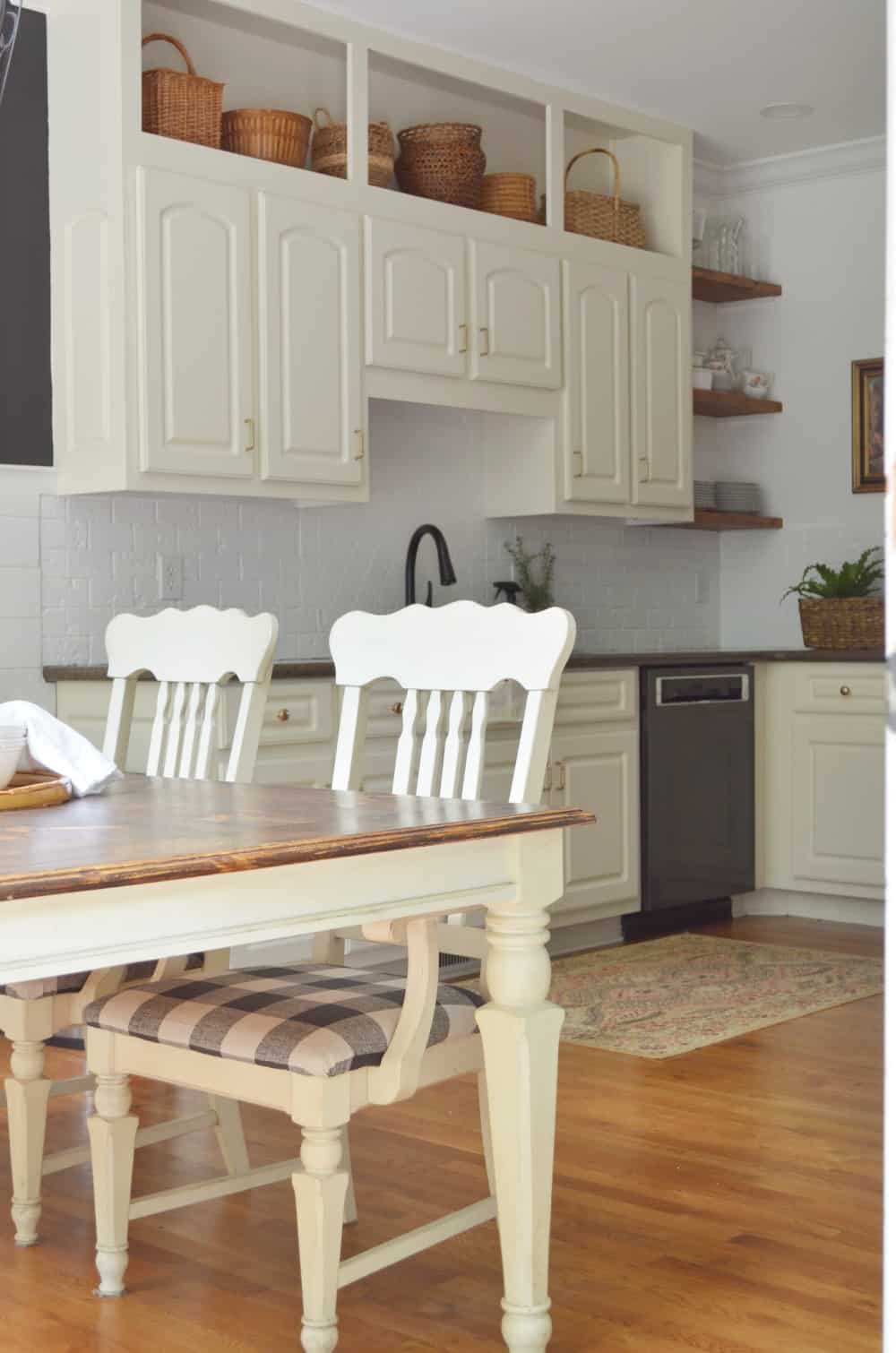 This post may contain affiliate links. See full disclosure policy.
Painting cabinets make an amazing room makeover. See lots more of our before and after home projects for inspiration.
Secrets you should know
For this post, I am specifically talking about painting over already painted cabinets.
There will be lots of tips that will work for stained cabinets as well, especially the prep work.
When in doubt prime and/or sand first.
Unless you have multiple people helping you to bust through this in a weekend, plan for a full week of DIY. Allowing cabinet doors to dry before flipping over is very important and takes time.
Be prepared with meals for you and your family. Cook ahead of time or get pizza delivery. Makes your life much easier.
I do not paint the cabinet box interiors. Never have.
Supplies
I often choose a paint and primer in one EVEN when I am using a primer. The extra coverage is always a good thing. As far as the brand, I like Behr Premium Plus and Sherwin Williams Cashmere. I have also heard great reviews of Benjamin Moore Advance but I have not used it.
When choosing a brand I take into consideration, smell, coverage, and what store I am shopping that day. I am highly sensitive to smell so for me that is top priority.
The paint finish you choose is up to you. It will depend on how shiny you want your cabinets. I would choose a satin or semi gloss.
Keep in mind though, prep work is just as important as the type of paint. Paint can only stick to a well prepared surface.
If you are new to painting cabinets you may want to go with cabinet specific paint because of the self leveling nature.
Prep work
Cleaning cabinets with a degreaser is a must. Follow directions on the bottle.
Remove cabinet doors. Stack them up somewhere out of the way. Remove the hinges making sure to label them as to which door they go with. My trick is to put all of the specific door hardware in a ziploc bag and lay it back inside the cabinet box where that door goes.
Prepare areas for painting the doors where you can leave them for a couple of days.
Layout drop cloth before painting.
After cleaning is done apply painter's tape around the cabinet boxes if you are uncomfortable with your edging skills.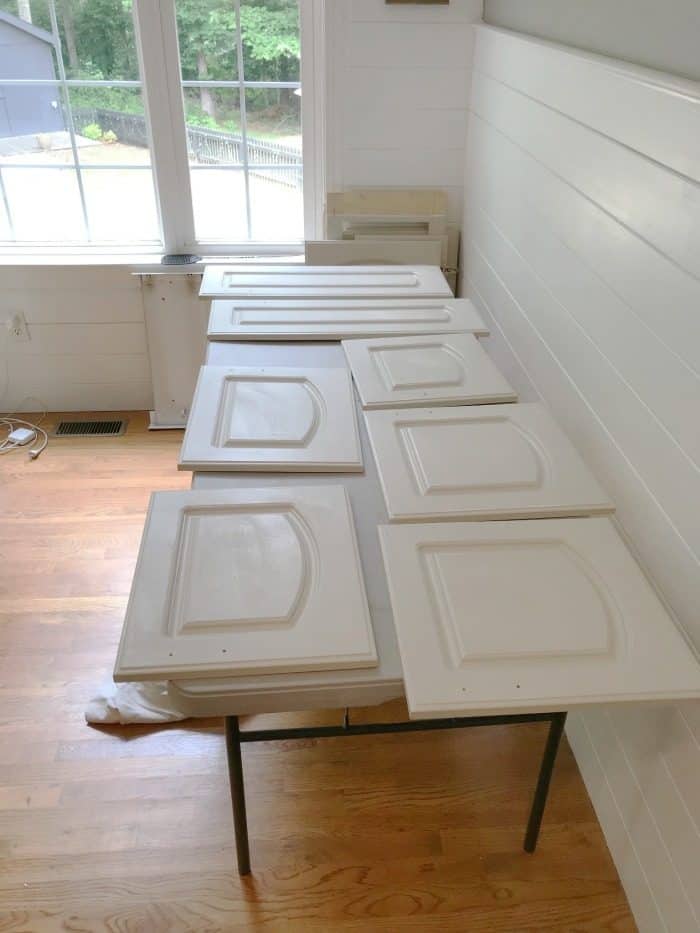 Paint
Prime the cabinets. Zinsser Bullseye 123 water based is my go to. It will be up to you if you want to prime the boxes and cabinet doors at the same time. If you are living in the space while you paint determine what will work best and disrupt your space the least. Primer dries fast so there isn't much wait time.
Paint cabinets. I paint with both a brush and a foam roller. The brush is needed to get into some of the details. The foam roller is used to create the smooth paint finish. You can certainly use a paint sprayer but I prefer doing it with brush and roller. Spraying will have to be done in a well ventilated area, mostly like outside.
When painting cabinet doors, allow paint to fully dry before flipping to the other side. This is why I always make sure the cabinet door front gets done last.
Keep your paint brush wet at all times during the process. Wrap it in Cling Wrap during waiting times. If you need to carry on to the next day you can wrap as well but I suggest you go ahead and wash. This will help keep a good brush for good paint surface.
Once paint totally dries reattach hinges and hand doors. Then put hardware back on doors and drawers.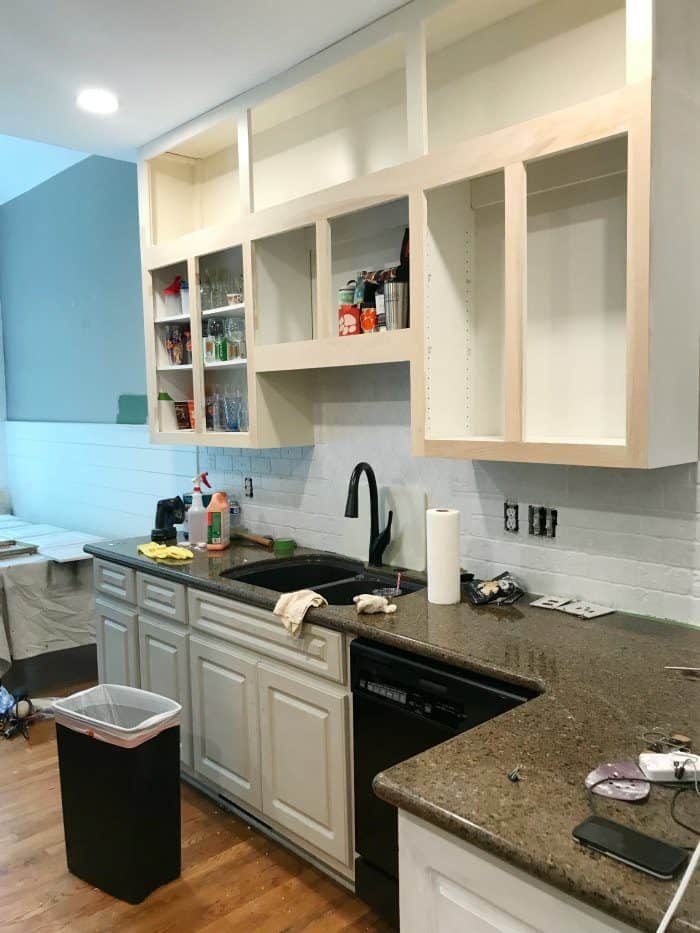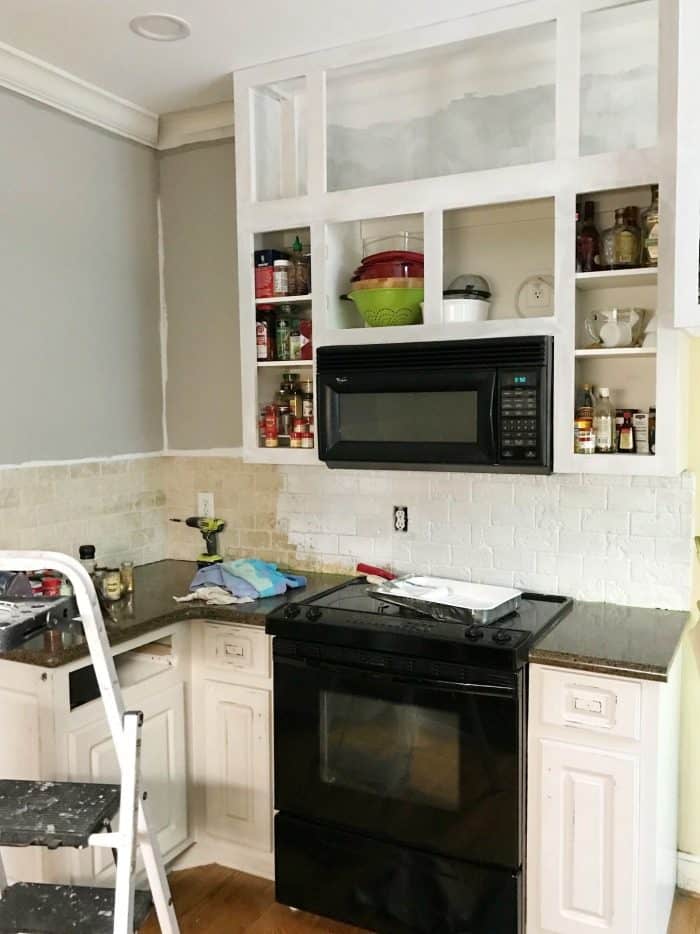 Hiring a professional to paint kitchen cabinets can get very pricey. Think $2500 and up. If you have the desire to do it yourself I hope this tutorial is helpful.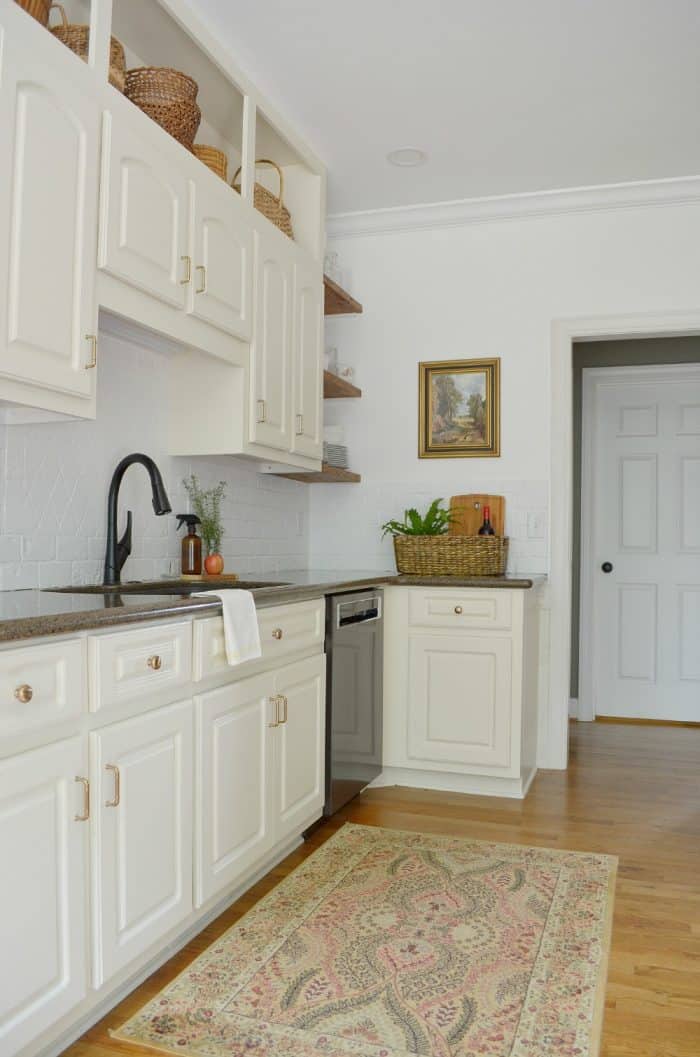 Be sure to check out our entire kitchen makeover along with how we gave our cabinets a facelift.
If you have any questions that I may not have covered, PLEASE feel free to ask!
AND if you aren't already I would love for you to follow me on my social channels.
Click PIN IT to save this graphic and post to your Pinterest boards. It helps me get the word out about my blog as well as save the project for when you are ready to paint.