Since posting my Kitchen Tour, I've had many people ask
what paint I used on my Painted Kitchen Cabinets.
So, I thought I should give a few details.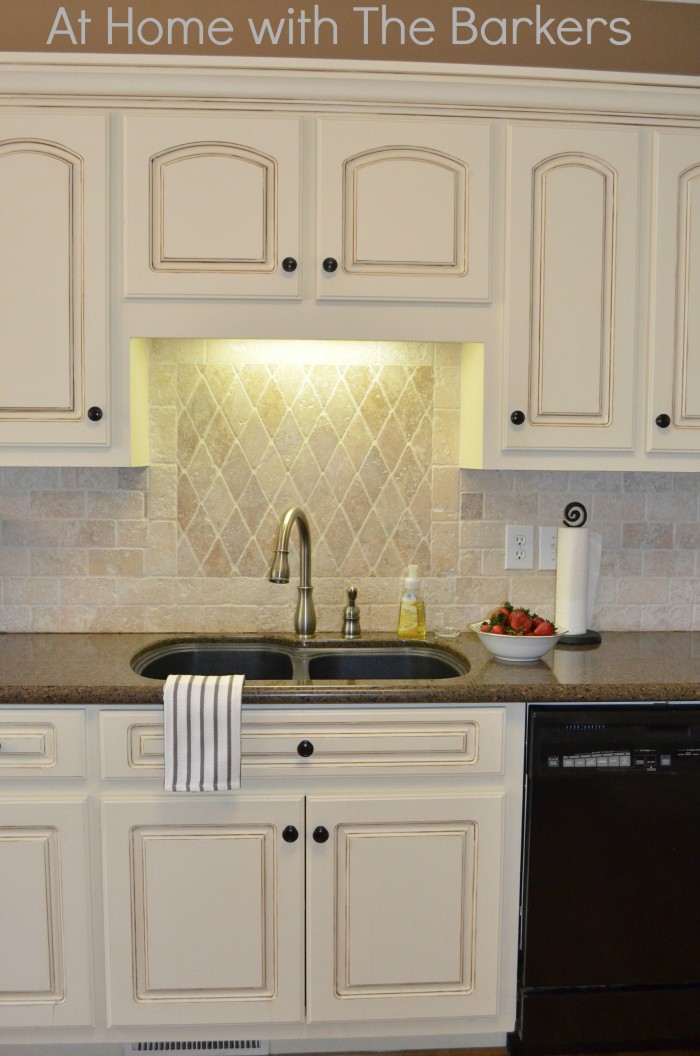 I wanted a paint that was durable, smooth looking and not shiny.
So, I went with Sherwin Williams Cashmere.
The color is Antique White.
This paint goes on so smooth and feels great to the touch.
These painted kitchen cabinets were done with a foam roller and they look as if they have been sprayed.
The glaze I used is by Valspar and the color is Raw Umber.
I purchased it at Lowe's.
**UPDATE…the color raw umber is no longer available.
If you need a different color just buy the Clear glaze and add a little paint in the color of your choice.
The glaze is very easy to work with because of the slow drying time.
SO, if you feel like you have applied too much or too little you can fix it!
Even with all of the other products on the market, the glaze is still my favorite.
CLICK HERE for my how to glaze cabinets tutorial.
This is how the drawer looked before the Glaze.
You can see how much detail shows after you glaze.
To see the entire kitchen with the Painted Kitchen Cabinets head over to my Home Tour and look around!
The Glazing MDF versus Real Wood post that I recently added may also be some benefit to you if you are wondering how the glaze differs from piece to piece. What type of wood you have in your kitchen really does make a difference in the outcome.
If you have any more questions that I may not have covered, PLEASE feel free to ask!
AND if you aren't already I would love for you to follow me on FaceBook, Instagram, and Twitter.
Have a great weekend,
Sonya
Linked to: Savvy Southern Style