3 Simple Steps to Paint a Stone Backsplash
Paint is one of the most affordable and easiest ways to update your home. Painting a stone or travertine backsplash is a great way to update a kitchen in a single afternoon. It only takes 3 simple steps to paint a stone backsplash. Read on to see how.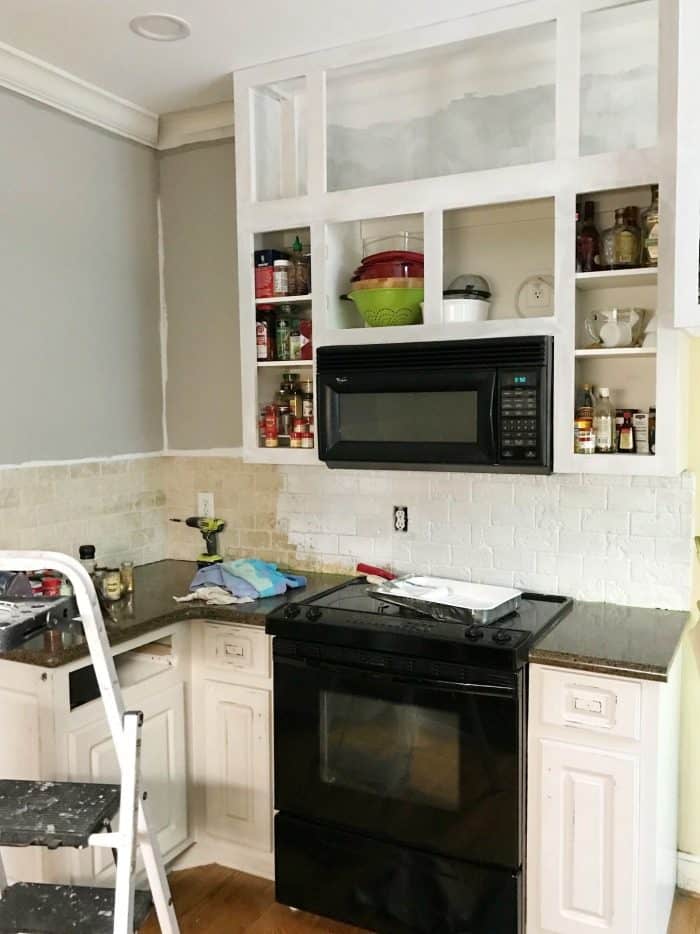 This post contains affiliate links.
**POST UPDATED 18 months later… The tile has held up excellent. Not a single chip or peel. I spray cleaner right on it and wipe it down. This is certainly a project I wish I would have done sooner.
When we decided to give our kitchen a makeover, we knew paint would be the best way to make the space look much different without a complete remodel.
FAQ's:
Can stone backsplash be painted? Yes, that is why you are reading this post.
Can you paint the grout? Yes, you will clean, prime and paint the grout just like the stone or travertine.
What type of paint do you use to paint stone tile? Latex paint works just fine.
Can stone tile floors be painted? Yes! I have not done this myself but I would take one extra step and add a topcoat to protect the floors.
Can I partially paint or whitewash my stone tile? Absolutely! You will clean the tile as per instructions below, skip the primer, then create your watered down paint mixture for the whitewashing.
Should I seal my paint? I you use a flat paint, yes you would need to do that. I recommend using a semi-gloss paint so you will not need that step.
3 Simple Steps to Paint a Stone Backsplash
Clean
Prime
Paint
Cleaning stone tile:
Cleaning the backsplash with a degreaser is very important, especially behind the stove. My stone was never sealed so it had started showing the oil stains. I used my favorite degreasing cleaner and washed it down well. This degreaser does not have to be rinsed off. I do wipe over with a clean rag but that's probably an extra step I do to make sure it's clean.
Priming stone tile:
Natural stone tile such as travertine is very porous. Therefore I recommend using a stain blocking primer. As hard as you try to clean all of the stone tile with the degreaser, you may have some oils stains make it back to the surface. Using a primer, such as this one, will block any stains that are coming through.
Normally I don't use painters tape but I wanted to cover my counters while I worked. The tile is natural so it does not have straight edges. Paint made its way under the tape. I was able to scrap the paint off that dried with a stainless steal scraper. This angled tip gets the job done without scratching my counters like a razor blade would.
I used a brush to paint the primer. The tumbled stone tile has so much natural texture, I wanted to be sure the primer went into all of those spaces.
Painting stone tile:
Once the primer is dry you can then paint. I used a latex semi-gloss paint + primer from Olympic One. This was a paint I had left over from another project so I was able to save money here. Paint the same way you do the primer, with a paint brush. This allows you to get into all of those grooves.
When painting behind the sink I used a small artist brush. I didn't want paint all over my faucet.
In order to get a complete coverage, I painted two coats of both the primer and the paint.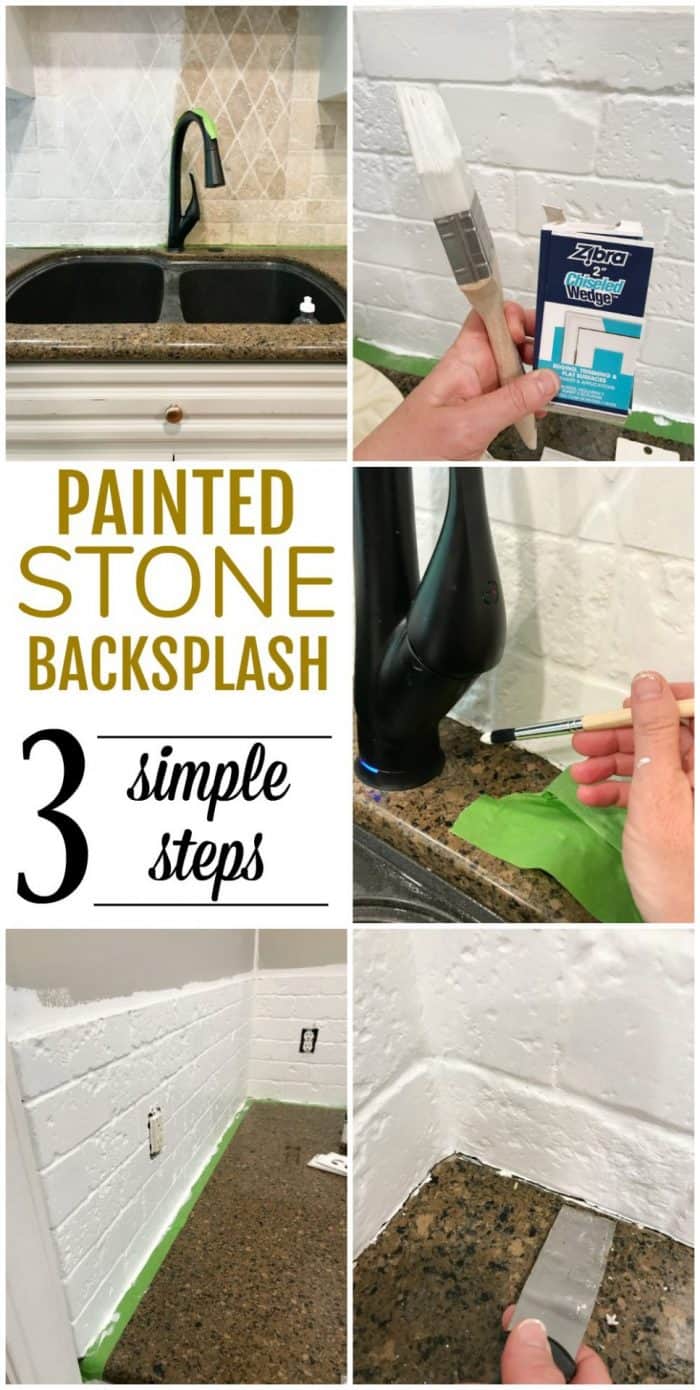 This is a good before and after of the tile and the DIY cabinet facelift we did for our kitchen makeover. Both are nice but the updated after makes me really happy.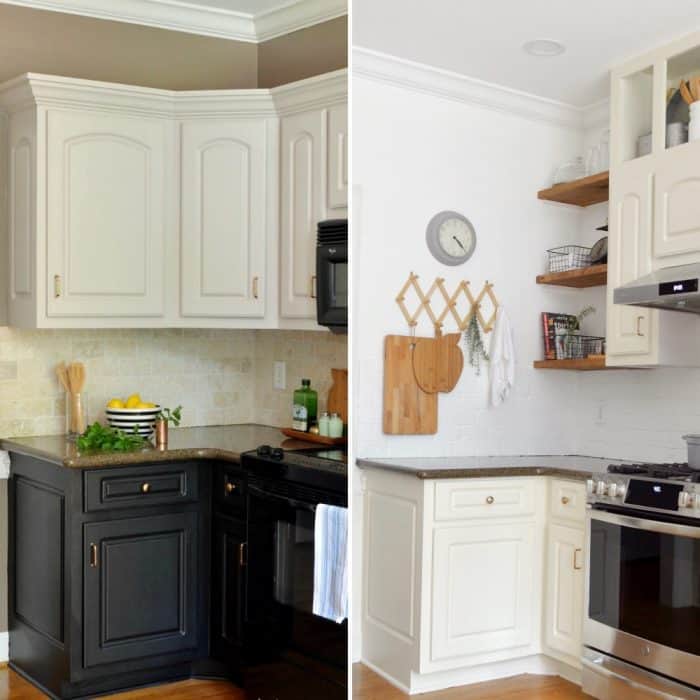 I know there will be someone who asks why I wanted to paint such pretty tile. You care correct, it is pretty but I have had this tile for 12 years and it no longer fit my decorating style as is. Painting it white gave me a different look for now without having to replace the tile.
One thing I am big on is creating a home you love. Don't wait for a dream home to make the home you're in special.
Happy decorating friends!