How to paint terra cotta pots
Painting terra cotta pots can be done quickly by following these easy steps. Perfect weekend project for all skill levels.
Let's go ahead and clear the air. It appears to be correct to use the term terra cotta, terracotta, terra-cotta, or clay pot. So I'm going with what feels natural.
Terra cotta pots are beautiful in their natural red orange color, but if your style and decor could use a boost, painting your clay pots could be an easy after noon project. The endless amount of paint colors makes this perfect for any decorating style.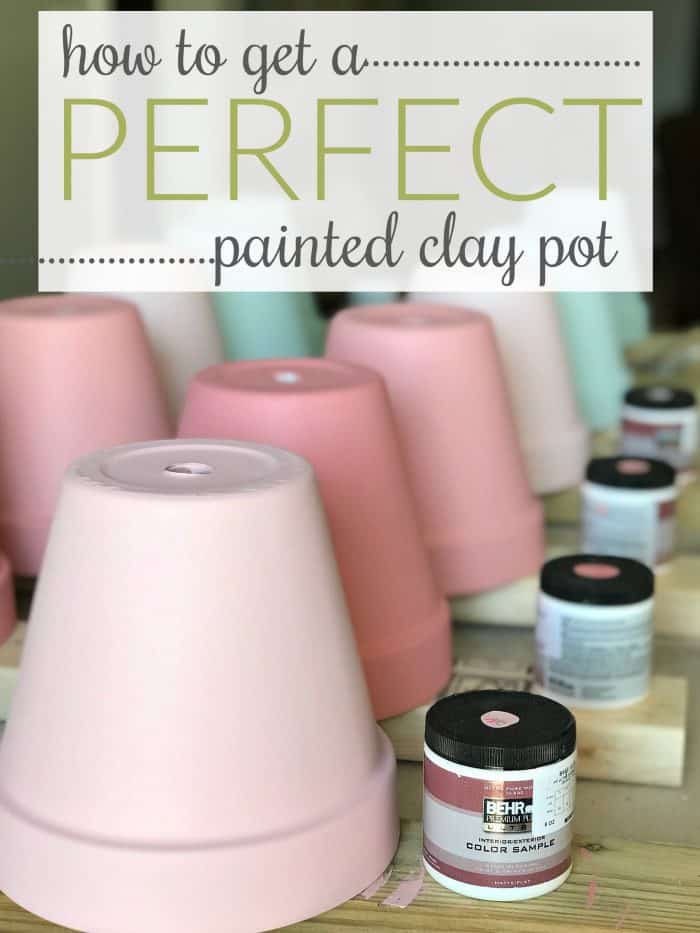 This post contains affiliate links. See full disclosure policy.
If you prefer to keep most of your pots looking more natural then you may like this aged terracotta pots with paint look better.
Find more incredible painted home decor ideas like how to make a new vase look old, painted cement look lamp, or paint a concrete bust.
Painting terra cotta pot supplies
Paint (acrylic or latex)
Sealer (if you use a different type of paint that needs extra protection)
After painting 32 pots this summer for the conference booth, I have it down pretty well. The color palette you will see in this post was part of the Charleston theme for the booth design. All of the colors used here are linked in the booth design and build post.
Steps to paint terra cotta pots
Wipe down your clay pot with a damp cloth to remove any dust. Don't soak them with water just get off any dust.
Prime the the pot with a spray primer to save time. This will need to be done in a well ventilated space like outdoors. Place the pots upside down on a table covered with a drop cloth and cardboard boxes. If you don't need the bottoms painted then you can place them right side up and go ahead and prime the inner rim of the pot as well. Lifting the pots off of the drop cloth keeps the pots from sticking once sprayed. One can of spray paint covered 7-8 pots with one coat. I used 8 inch terra cotta pots. **A reader said I needed to primer and paint the entire surface if I plan to use with real plants and outdoors. Better safe than sorry.
Once primer is dry continue using the same table or move indoors for better temperature when you are ready for the paint your color finish.
Paint the clay pots with acrylic or latex paint. The choice of paint is up to you. I used all latex paint from BEHR on the pots that I had on hand leftover from the booth. Samples sizes are perfect and plenty of paint. Many times I will use paint from around my house left over from other projects. This saves money and the colors already match the decor. I used my favorite nylon angle paint brush.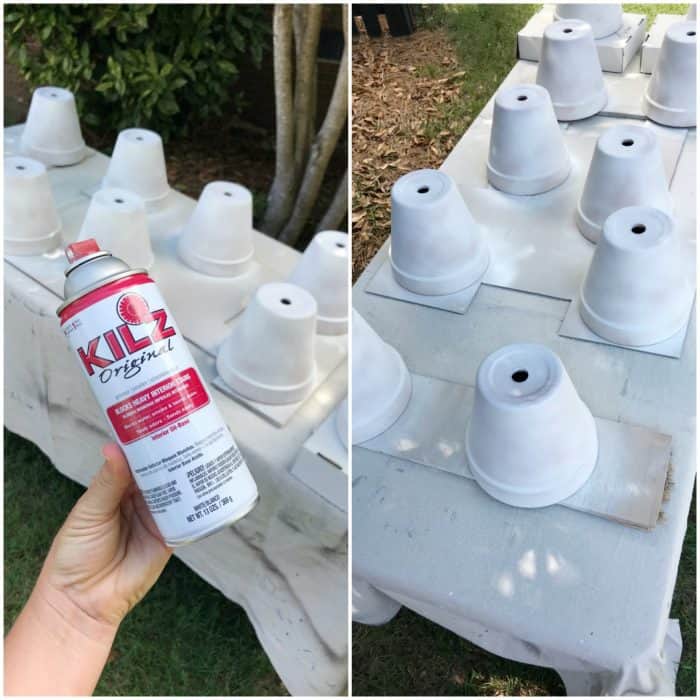 Paint tips
Hold the pot over your forearm with your hand inside. Put your finger in the bottom to balance the clay pot in order not to drop it.
Hold your arm and the pot over the drop cloth so you don't drip paint.
Paint the pot in the side to side direction instead of top to bottom. I tried both ways and side to side flowed much easier and faster.
Drag your paint brush slowly in order not to splatter paint. Trust me on this one.
You could also use spray paint, just as I did here on the primer. This is how to do it if you have leftover paint in jars on hand and are looking to save money.
Reader tip: "You need to paint the pot completely, or your pot will develop blisters and the paint will bubble off. It's from the water soaking into the clay when you water your plants…..they were designed that way." (Thank you friends for always offering great extra advice.)
By doing a layer of primer first your painted terracotta should hold up great.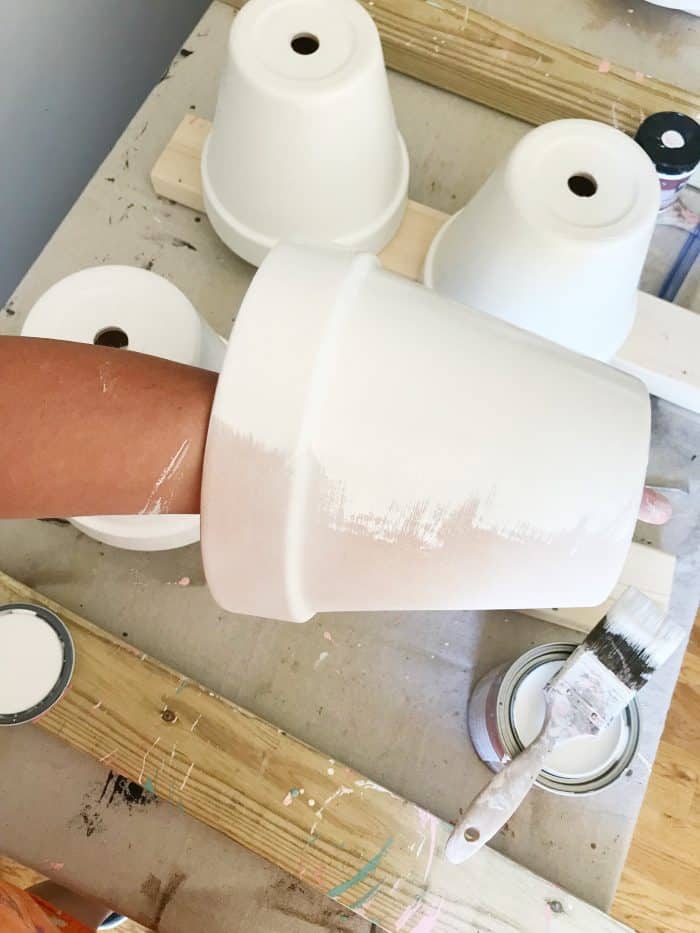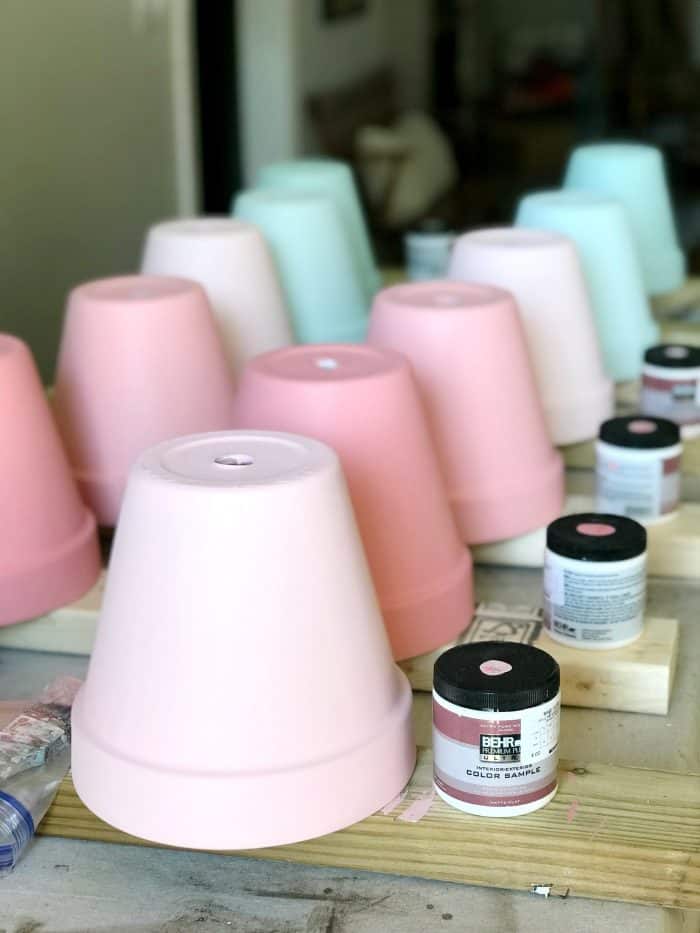 You could go a step further and add your house # or monogram for a fun personalization to your painted pots. Of course, the sky is the limit for color choices. Add Rub n Buff to the rim for a metallic detail. I love it when you all share your projects with me. Leave me a comment below if you try this or you have do it in the past. We can compare notes.
If you prefer to buy pottery pieces ready to use then here are some I thought you may love.