How to make a new vase look old
Today you're going to learn how to make a new vase look old. Specifically, how to paint a shiny white porcelain vase to look like vintage pottery. It's an easy DIY project that you can repeat on other decor items.
Painting items is a great way to give a unique look to something you've had for a while or bought brand new.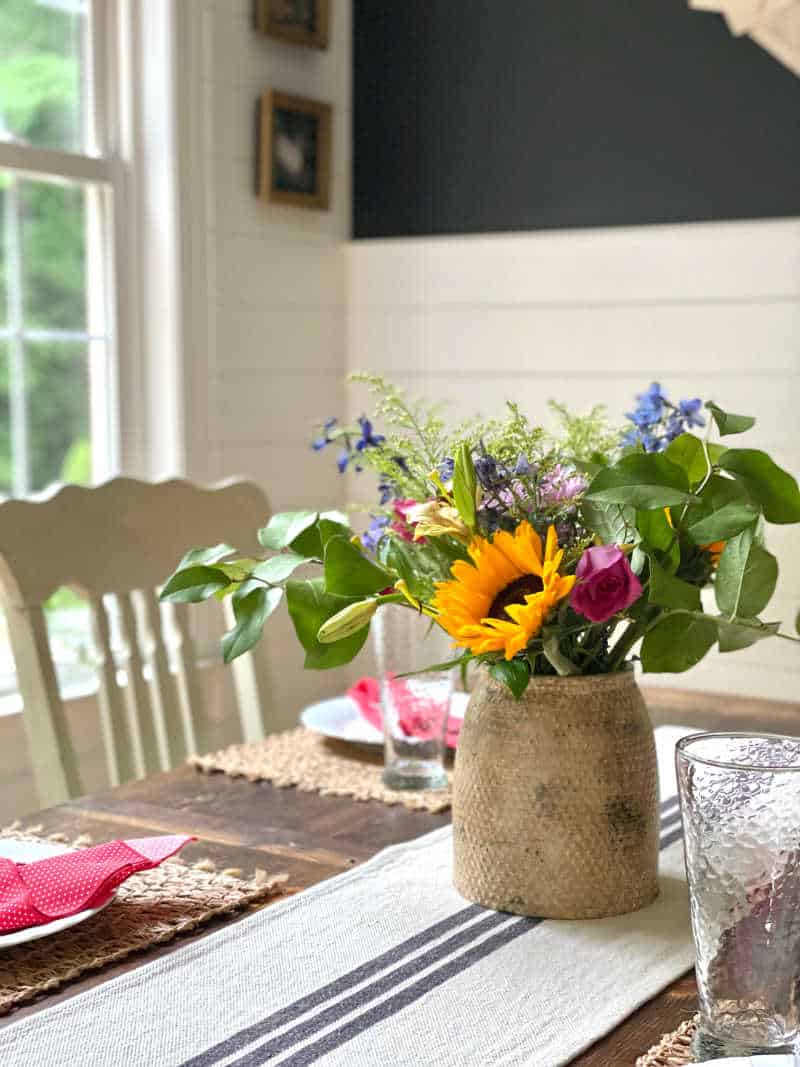 This post may contain affiliate links. See full disclosure here.
How to paint a white porcelain vase to look like vintage potter is easier than you think. You have the ability to choose the vintage, aged or antique look prefer. This was the undertone of color can match your home decor.
The steps below share the colors of paint I used aging my new vase but you can easily change all those. The goal is layer and distressing.
Here is the pot / vase I bought and painted. What do you actually call it?
Make sure your vase is clean before you start painting. Soap and water should do the trick.
Painting in four easy steps
Step 2 white or off-white latex paint in flat or eggshell finish
Step 3 while layer 2 is still tacky, rough up and remove some white paint with a damp paper towel
Step 4 add a layer stain or a gel stain with a napkin
My project started with a gloss white porcelain pot that I purchased from Stein Mart for $12.99. I believe you could do this same paint technique on a clear glass vase that you buy at the dollar tree. I should definitely give that a try.
NOTE…these photos are screenshots from a Facebook live I did when I painted these. So they aren't as clear as I would like but you can see the process.
Step 1
This is a relatively quick project to complete. Chalk paint dries very fast so you will be able to move on to step two in no time. I painted two layers of step one but wasn't worried that it was perfectly covered.
Paint doesn't like to stick to shiny surfaces. This is why you need to use chalk paint as the first layer in step one. It will stick.
Layering paint is the key to getting a vintage worn pottery piece as your end result. Anytime you paint layers like this it always looks bad before it looks great.
Step 2
When you add latex paint in a flat or eggshell finish on top of chalk paint it too will dry relatively fast. This layer will only need one coat of paint. The goal will be to let the dark come through. Give this latex paint a few minutes to get a little tacky before you do step three. You cannot wait until it is dry, that won't work.
Step 3
Use a wet paper towel, squeezed out and just dab it around the surface peeling off little bits of paint. This will also give a rough texture to the rest of the pot this is was going to give you dimension to your layering and paint.
Don't overdo it at first. If too much paint is coming off on your paper towel let this layer dry a little more before continuing.
Step 4
I keep gel stain on hand at my house because it's a product that I use often when doing distressed paint projects. Use whatever stain you may have on hand. If you need to grab one be sure its a basic brown color. Not too dark or red.
I also keep off white samples paint jars that you just get on the counter at Lowe's or Home Depot. Those are made with the eggshell finish, sometimes flat and work really well for this type of project. Make sure you don't use semi-gloss or gloss. It will not work well.
More painted home decor projects
This is an easy project to try out. You can find these type of pots very affordable, maybe even at thrift stores or yard sales. If you feel like you have messed up, just start over from step one. Chalk finish paint is your friend.