How to plant and hang iron window boxes on a brick house from someone without a green thumb. Give your home exterior instant curb appeal.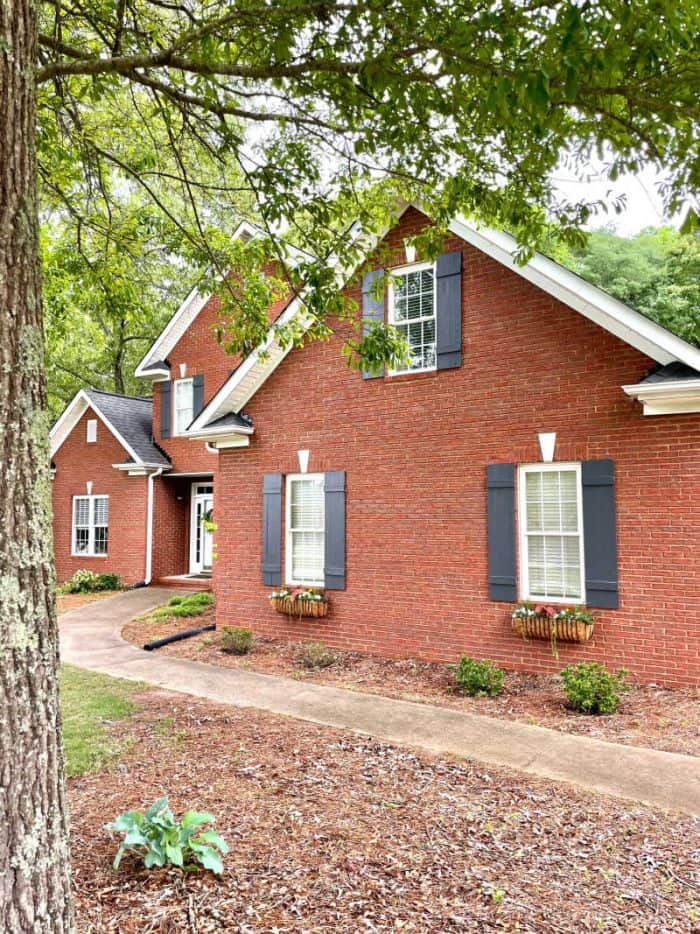 This post may contain affiliate links. See full disclosure here.
These iron window boxes have brought instant curb appeal to the front of our home. Just the same as knowing what windows need shutters. I have wanted to add window boxes to the front of our home for many years. Thanks to my sister for giving me these two wrought iron planters (alternative here) for helping her move.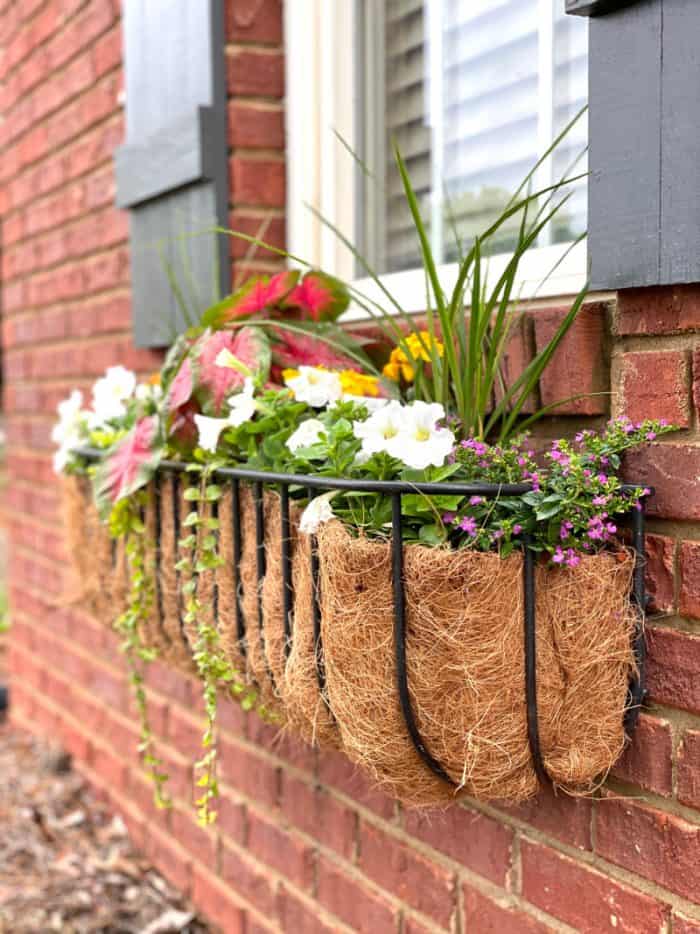 One of the biggest hurdles for me has always been I don't enjoy planting in the yard. The only thing I love doing in the yard is cutting the grass. Weird, I know, but I actually enjoy cutting the grass. Planting flowers for some people is relaxing. For me, it's stressful. However, I knew the front of the house would look nice with the window boxes added
Filling planters is worth it though because of the beauty that comes.
Tons more before and after home decorating projects are here on the blog. Check the menu bar.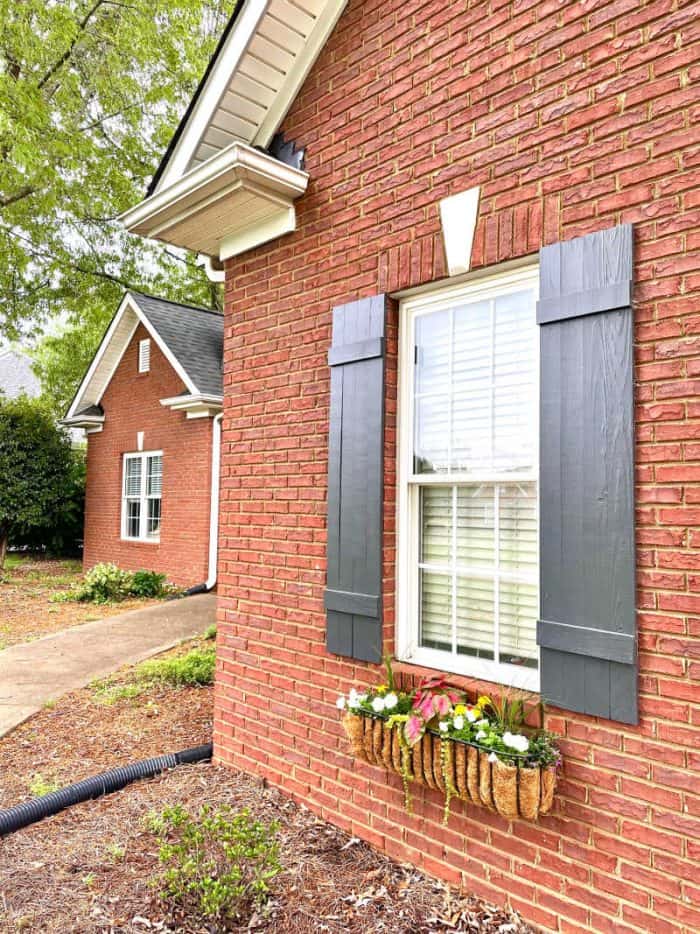 how to build your own Shutters
How to choose flowers for window boxes
Thriller, filler, spiller
Color combinations
Sun/Shade
After doing a little research here is what I found out. When it comes to choosing flowers for your window boxes look for a thriller, a filler and a spiller.
Thriller: plants that grow tall and act as the star
Filler: plants that fill out and fill in the space
Spiller: plants that spill over the edge of your window box as they grow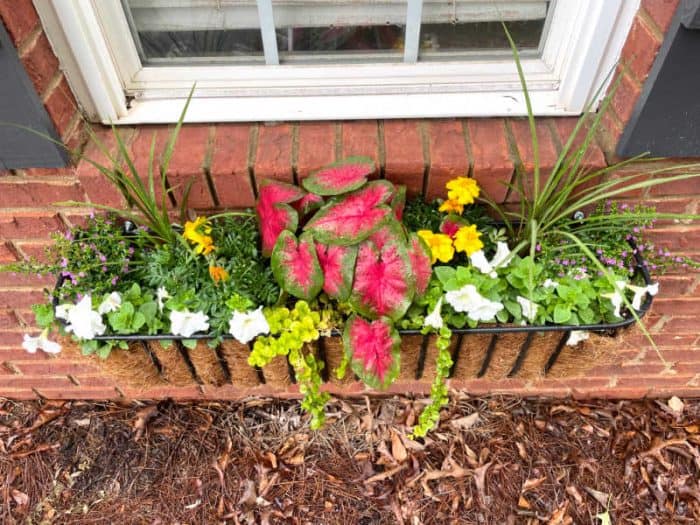 Keeping this in mind helped me choose plants specifically for my window boxes. Of course choosing the type of plant depended upon how much sunlight was going to come to that part of my house. You will need to choose your flowers based on whether or not you have a lot of shade, part shade or full sun.
Once I was in the sun section of the garden center then I could move on the picking the flowers that appealed to me. The way I do in home decor, I mixed textures and shapes.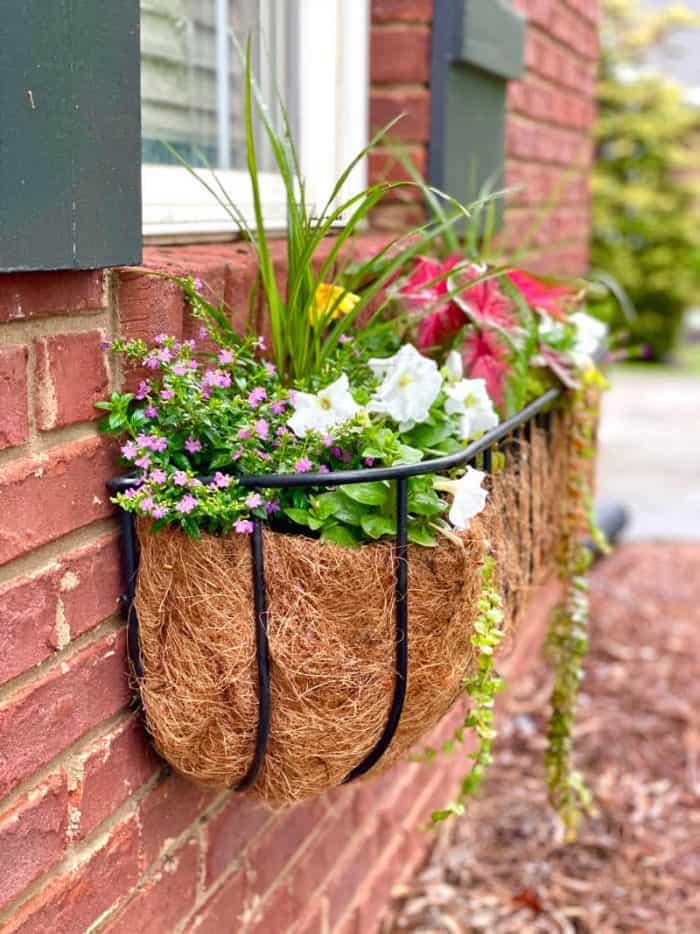 As I chose a color palette I made sure they would stand out against our darker red/brown brick. I wanted simple pops against the brick so I chose more yellow green for the leaves for some of the plants. The one plant in the middle is the thriller with the big leaves. While it does have red and could be hidden by the brick, it has the green edging so it will still be a thriller.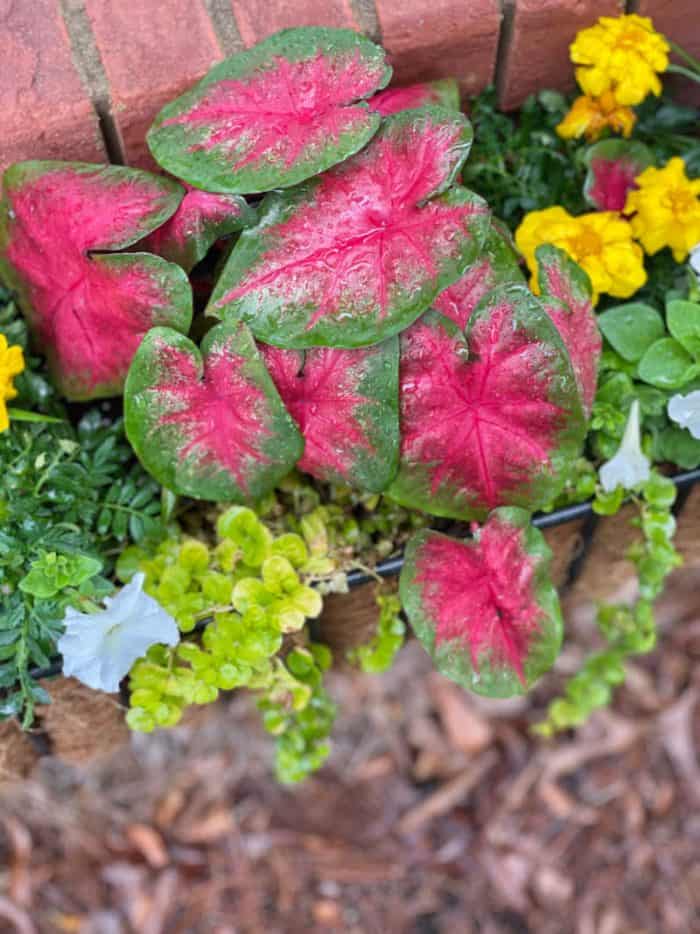 How to take care of the flowers
Window baskets like mine require a liner to hold water and dirt inside of them. They can dry out real easy. The trough style liner is a called a coco (coconut ) liner. The coco liner I bought had great reviews. Even if you choose this type of window box, you will still want a liner for water.
Natural coconut fiber layers with AquaSav construction
Hidden layer keeps soil moist and retains plant nutrients
Allows natural air circulation for better root development
The coconut liners last two years so I will be able to reuse this each season for a couple of years. These cost double the price of the basic ones but for only $13, I think it will be worth it.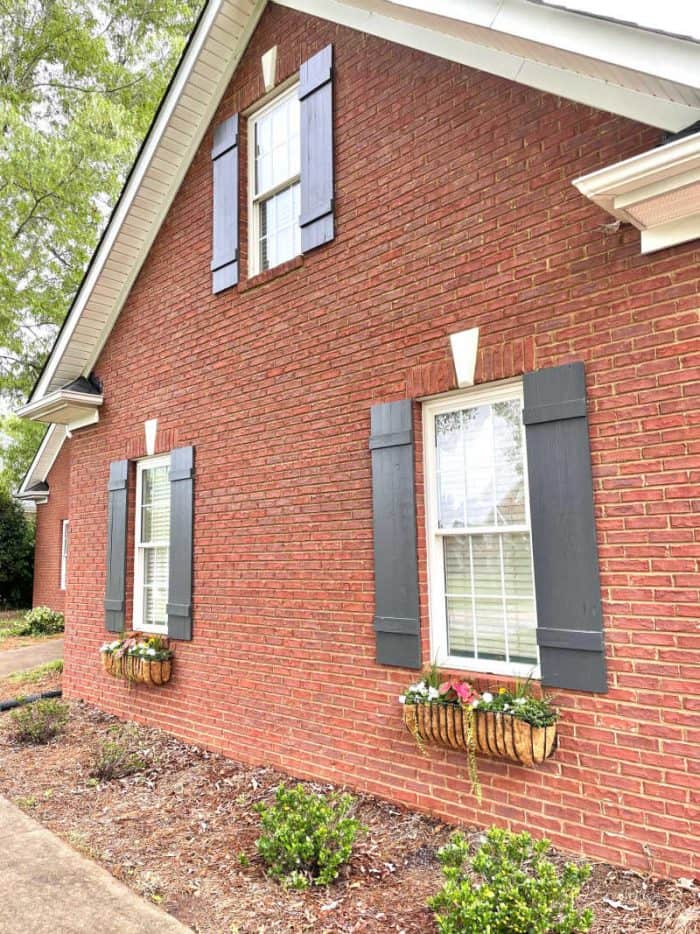 How to attach window boxes to brick
Attaching the wrought iron to the brick requires a masonry drill bit and screw. We used our regular drill by attaching a masonry bit. Mark the holes to pre-drill. Our iron window box has 3 spaces for hanging. I held the box up in the correct spot and Ray marked it with a black sharpie. Then we secured the planter with concrete anchor screws.

This is the part of the project that Ray completed. I personally do not drill into brick, wood sometimes but not brick. This is how we work on most projects. The decorating and designing comes from me, the tool work comes from him. We make a great team.
I'm excited to watch these flowers grow, fill in and spill over the window box. Throughout the summer they're going to showcase more especially from the street.
Also, the wood shutters are a DIY project too. We built them in 2013 and they have held up perfectly. We have repainted them once. Great addition for instant curb appeal.
Be sure to pin any of these photos. It helps me to share inspiration out into the world and allows you to save the info for when you are ready to add your own window boxes.