Finding the right paint color and paint brush can make a painted mantel makeover easier. read on for details on both.
Do you use the same paint brush for all of your projects? Finding the right one can save you time and leave you with a better looking project. In this post I'm sharing how finding the right paint brush made my painted mantel makeover a breeze.
Early in our married life I painted because we couldn't afford to pay a professional. Now painting has become one of my great decorating loves. Paint can change a room in a few hours for little money when you learn how to paint a room yourself.
Our recent living room makeover most certainly included painting. I usually do all of our painting but because we needed sheetrock repair on our ceiling we paid a professional to come in and do it. We got the best deal to paint the living room along with all of the ceilings. I painted lots of samples in an effort to choose the right color.
BONUS to having a real paint professional in my home is leaning new tricks. Now I need this drop cloth.
I painted the mantel myself. Our DIY fireplace makeover a couple of years ago is still one of the best things we have done for our living room. Now, with the new paint color, it feels brand new again.
Pearly White by Sherwin Williams won out on the mantel color. Choosing a white shade is probably one of the harder colors for me to pick. If blogged about my tips for choosing the right paint every time that I kept referencing. I was looking for a white basically the color of a Rae Dunn coffee mug. The pearly white was the winner.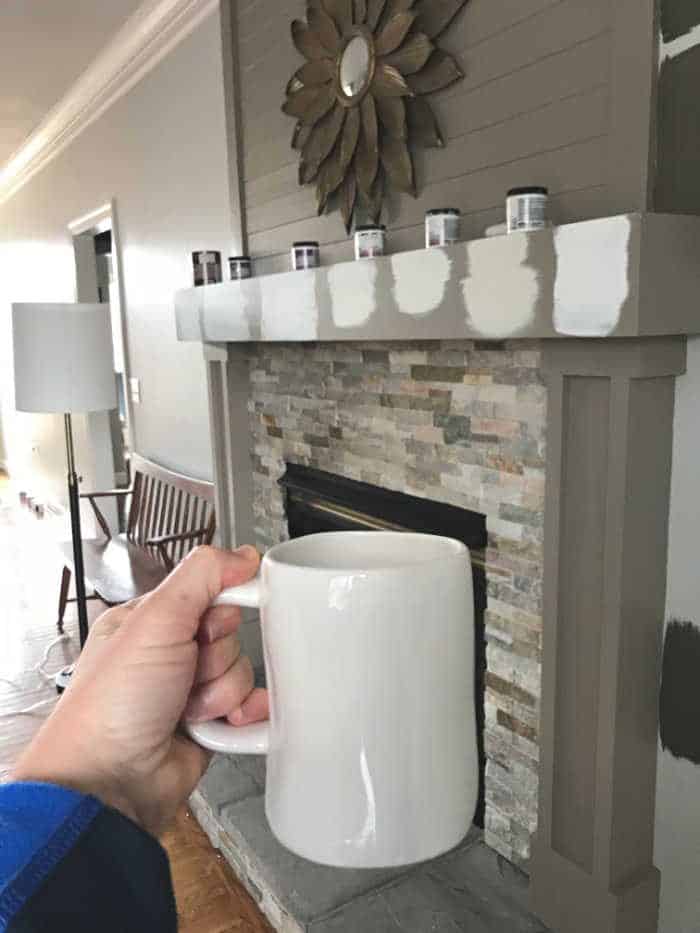 After receiving a set of paint brushes from Zibra, I was excited to test out one in particular, the Palm Pro. If you have painted furniture in the past you know how cramped your hand can become. Plus, I have always held my paint brush close to the bristles.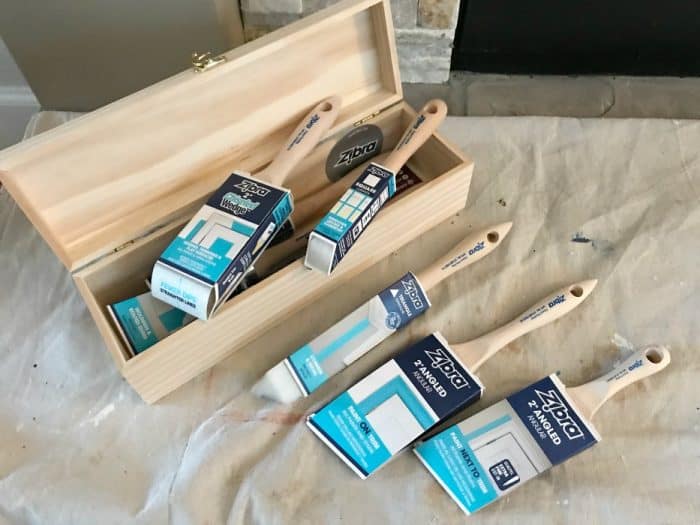 Palm Pro Cut in & Furniture (thinner) and the Palm Pro Trim & Surface (thicker) are both great for all type of paint projects. The brush design was made for your hand, not the other way around! The Palm Pro is uniquely crafted, fitting comfortably in the palm of your hand. More control and more comfort makes for easier painting. This brush is a must!
The Palm Pro Cut in & Furniture brush was my go to for the mantel. I tried out the Zibra Triangle Corners & Details brush for the seams and it painted them perfectly too. My favorite thing though was the Palm Pro and the way I could hold it. The bristle kept a clean line and it was easy to wash. BIG win for me.
Pin this photo for when you are ready to get started on your next paint project. OR just pin it because you like me. Sharing is caring 🙂
Lots more painting inspiration for you: painting inspiration