How to Recover Kitchen Chairs
You have NO idea how excited I am for this post. It's week 5 of the One Room Challenge and that means we are on the last lap of the race. If it's your first week visiting you should check out Week 1, Week 2, Week 3 and Week 4.
I still have a few hefty things to complete but I work well under pressure and almost prefer it (don't tell Ray.) When I have too much time I tend to get scattered.
This week I am showing you how to recover kitchen chairs. I told you all last week that I had to scratch the island so I decided to give the kitchen table some fun new fabric. My sister and I hit up a local fabric store in Greenville and there were so many gorgeous fabrics but I was drawn to this blue cheetah print called Simba Navy. It's a lovely thick high quality velvet.
Supplies you will need for this PROJECT: includes affiliate links
If you have been reading my blog for any amount of time you have probably guessed I am frugal or cheap if you will. I will look and look until I find a good deal. This fabric was $28.99 a yard BUT I really wanted it. After looking around at beautiful fabric I realized this price wasn't that expensive after all. Since I only needed to cover 6 chairs, 2 1/4 yards of fabric would work. I did end up buying 2 1/2 yards just for a little extra to "maybe" add to some upcoming sewing projects for the living room.
Here are my chairs in the current state.
The seats are easy to remove. They are only 4 screws that hold it on.
I laid my new simba navy fabric face down to cut out the size needed to recover the chair. The fabric is wide enough to cut out 2 seats side by side.
Be sure you staple down the center of each side in order to keep the fabric centered. Then carefully pull tight all the way around as you staple it down. Fold the corners in carefully creating simple pleats. You don't want it to look like a wrapped package.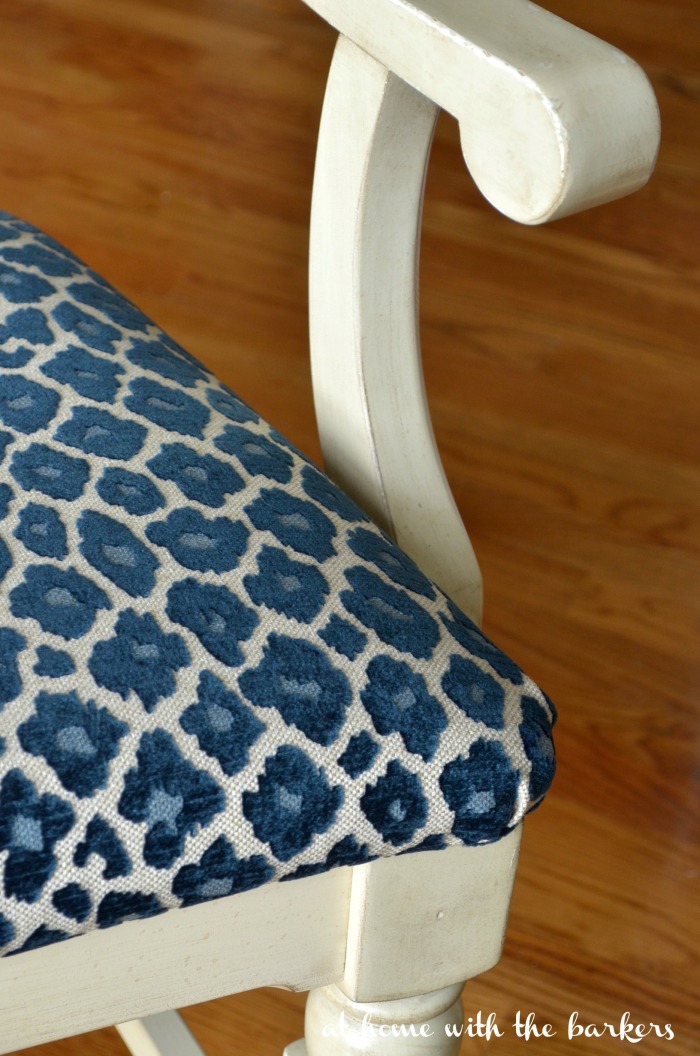 Here is a side by side before and after. GORGEOUS!!
Be sure to stop by Calling it Home to see how all of the linking participants are coming along.
Have a great day! Click this photo to save on your Pinterest DIY board!
**UPDATE: Head over to see the KITCHEN MAKEOVER REVEAL!