Have you heard of the One Room Challenge? Linda from Calling it Home host an amazing event where 20 bloggers are challenged to complete a one room makeover in 6 weeks. There is a weekly link for participants that I will be participating in and I will have that link in each post. That way you can see how everyone is coming along. I have decided to join in and do a kitchen makeover. I have been really dreaming of changing my kitchen for a while and I think this is the kick in the pants I am looking for.
Each Thursday starting today through May 7th (the final reveal) I will be sharing my progress. Today I am going to share with you my kitchen makeover plans. If you are new here, welcome! I'd love to have you leave your email address so I can send you all my new post straight to your inbox, it's free! Also, if you are a blogger and you are participating leave a little note saying hey.
Ray and I have been talking about ideas for our kitchen makeover and lots of those ideas include a big budget. Well, we don't have a big budget so we came up with a different plan that will work for our family and look great. I will admit, we were on the verge of going Chip and Joanna Gaines and busting out a wall but in the end we laid down our tools and came up with these new kitchen makeover plans.
Let's take a look at the kitchen now. It's still pretty I think and my glazed cabinets get the most comments and email questions of any post on my blog BUT I have had them this way for over 7 years and I am ready for a change.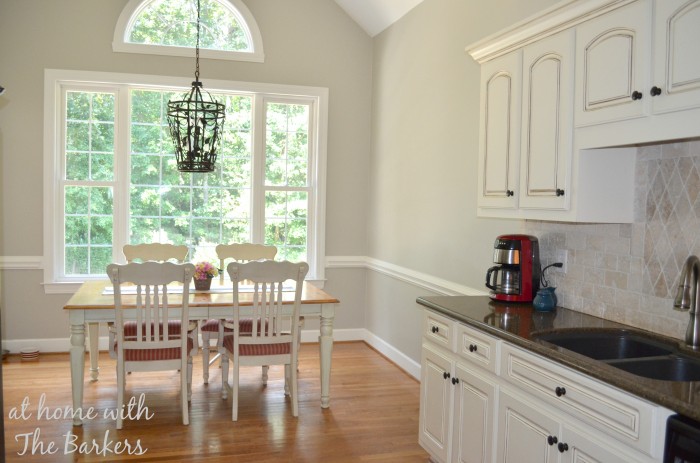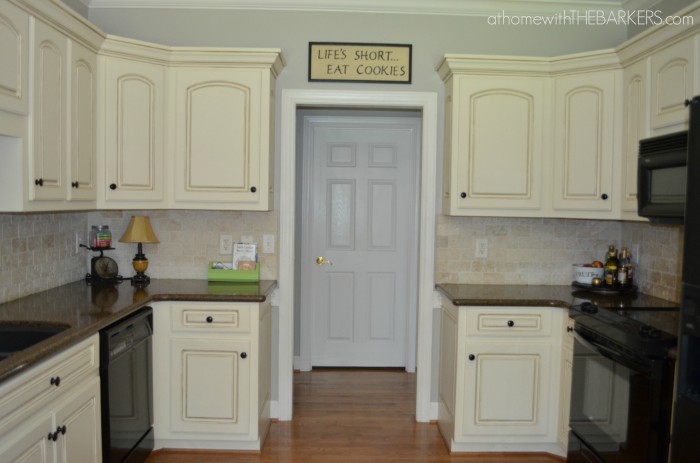 The only change really in 7 years was painting the wall mindful grey. They were hopsack.
All of the details haven't been worked out, mostly because I am a work as I go girl but I have decided on most of it.
Kitchen Makeover Plans:
Painted cabinets – two toned, black on the bottom, white on the top
New Cabinet Hardware
Replace table with an island
Wall treatment- maybe wood panels 🙂
New light fixture
Some organized/functional under cabinet space
I am so excited and nervous…Spring is a very busy time around here with all things unrelated to DIY and home decor that I will have to be very good with my time. If you would like to follow along on Instagram I will be sharing things during the week there before the posts go live each Thursday. To get all my blog post updates, add your email to my "first to see" list and I will notify you as soon as a new post goes live.
KITCHEN MAKEOVER WEEK 6 – THE REVEAL