Try these 5 gallery wall tips to create a unique art wall in your home. Art wall using many different items.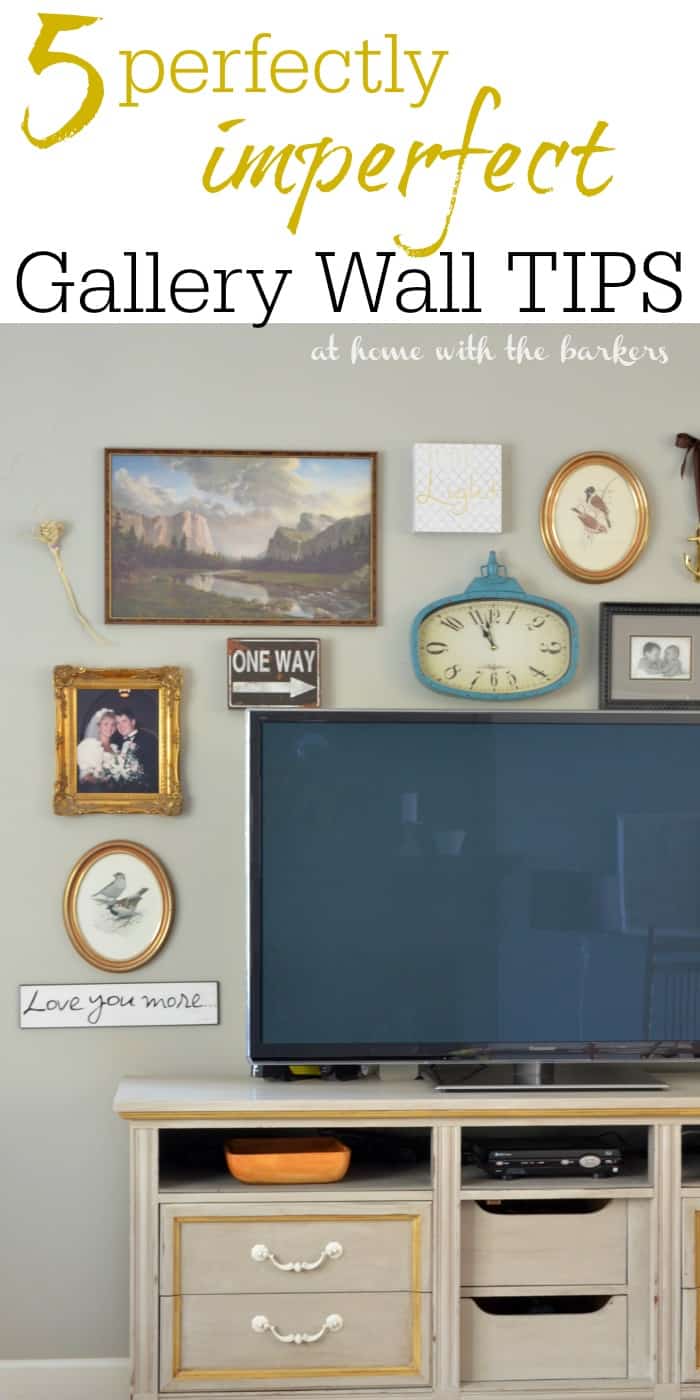 Last week when I shared my spring home decor on the blog I showed you some of my new gallery wall in the living room. I love sitting in this room and looking at the wall. So many great compliments about it I thought I would share with you my perfectly imperfect gallery wall tips!
Gallery walls can contain anything you want them to. Family photos, nature art, collectibles, etc. I was going for an eclectic gallery wall so a little bit of this and little bit of that was going to be perfect for my eclectic wall.
In our home office makeover I created a gallery wall that was more modern and streamlined.
I gathered everything I had around my house and laid it all out on the living room floor. Even pieces from other walls, thrift store art, wedding photos, and a couple of new things I had bought with my Kirkland's gift card that I was given for my spring decor.
I am not one of those people who measures everything exactly and makes sure it works before I nail holes…I'm a try this here, then move it if it didn't work. I will say, I have this knack for "eyeing" things. I do use a level to make sure things are straight but otherwise, I go with my gut.
Here are my best tips for balancing out the gallery wall.
1. How to balance art size
To ensure that your wall does in fact look pleasing to the eye balance of items is very important. A mix of small, medium and large items are best. Start by hanging the large items first. I hung the big rectangular Wood art first because I knew it needed to go in the tall space. Then the galvanized B and the mountain art went next.
Also, I try and keep the outer edge close to even. Not perfect because like I said, that's not my style but close enough. This gallery wall with custom art was kept more symmetrical.
(FYI, look closely at the TV screen and you can see my imperfect self and white board in the shot, LOL!!!)
2. Balance colors
Most of my wall is muted, natural colors with black, gold and a few shades of blue. After the large pieces were up I added the medium size pieces based on color.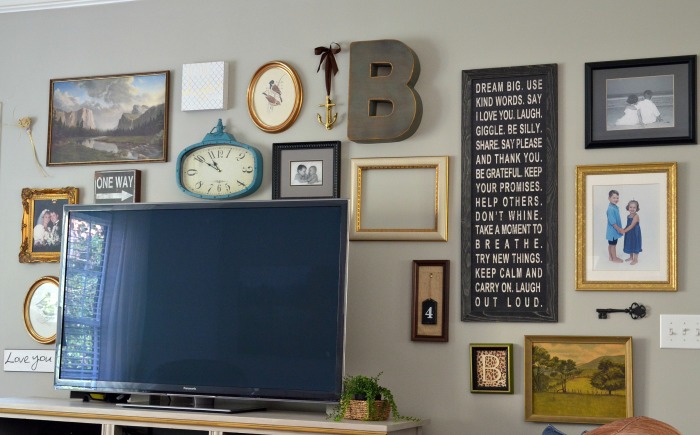 3. Thrifted Art
Thrift store pieces are the best and cheapest types of art to add detail to a gallery wall. The scenery art was all thrifted with a few custom pieces that I made over. The monogram B and #4 art were both thrift store makeovers.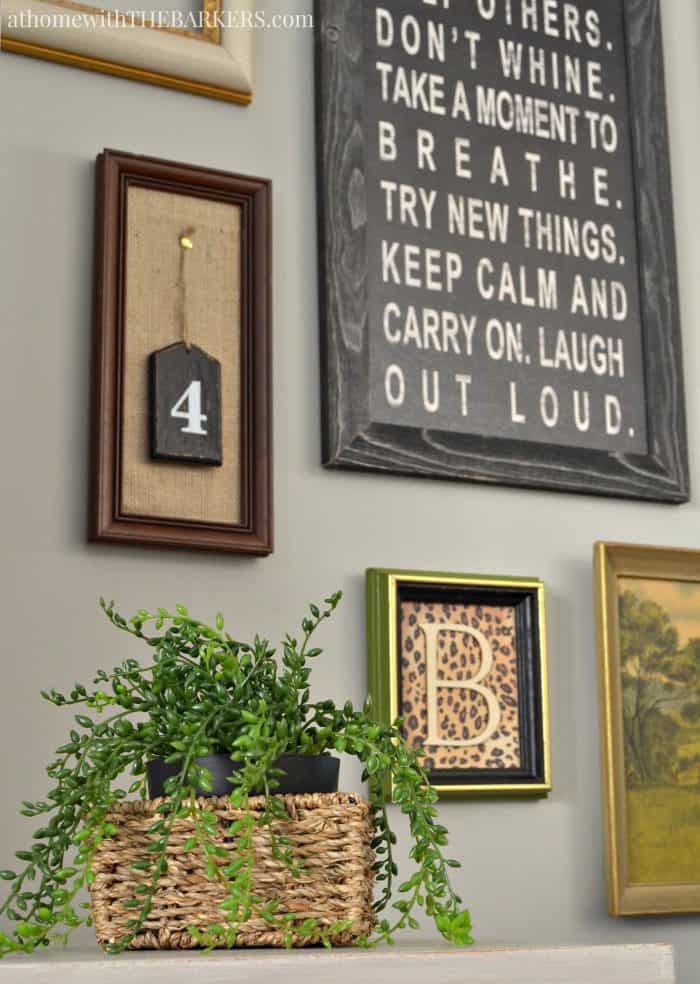 4. Sentimental Art and Photos
Of course, I had to add a wedding photo and a couple from when my kids were younger. The woven flower was from a family trip to Charleston, SC and I just used a gold thumb tack and stuck it in the wall.
5. Filler pieces
The smaller pieces will be used to fill in the space. Like the iron key and the brass anchor door knocker. These filler pieces are interesting pieces for the gallery wall but they also help fill in any extra space for more balance.
Now I have to know, anyone else "wing" things like me? I've tried the measuring, marking and all that jazz and I ended up with more nail holes than doing it my perfectly imperfect way.