This quote best sums up Springtime in South Carolina…"It was one of those March days when the sun shines hot and the wind blows cold: when it is summer in the light, and winter in the shade." ~ Charles Dickens
I have to admit, I love summer and much prefer being hot over being cold but there is something about Spring when you can bundle in a sweater yet sit out and feel the warmth of the sun on your face. It's glorious! Although we have had many rainy days here as of late, the day I was able to take photos of my Spring Home Decor for this post the sun was was shining perfectly.
Thanks to my blogging friend Jen from Migonis Home for inviting me to join the Spring Home Tour! Today is the last day of the tour and there have been SO much gorgeous inspiration ALL week!
For me, I don't do much "themed" decor but I do lots of refreshing rooms. I pretty much do that all of the time but mostly as the seasons change. There is something about fluffed pillows and rearranging furniture that makes me a happy camper. My sister and I give each other stuff all the time. We recently did a lamp swap and I ended up with the beauties. Funny how much better they looked in my house and vice versa.
I borrowed these golden yellow pillows from my daughters room. We picked them up last month on a trip to Ikea. I love them in my living room so I am pretty sure I am going to get a set for here as well.
I wrote about my recent addition of a new rug that caused me to paint my coffee table Scandinavian Pink. To be honest, I have been very unsure of that choice but the addition of those pillows make me like it. I'll let you know if I ever fall in love with it.
Last week I showed you my Vintage Twist Spring Mantel Decor…(lots more pics on that post) but after I finished my gallery wall around the TV the mantel seemed busy. I changed it a bit to something simpler. More like my fall monochromatic mantel.
Then I added a coverlet over my busy patterned chair, it could use new fabric, it was also competing with the gallery wall.
The most fun and exciting part of my Spring Home Decor was finally getting my TV gallery wall done! The galvanized B I bought from Kirkland's was my starting point! I think I will need to do a full post on this wall, it is worth it. To start you can see how I transformed some thrift store art for the wall.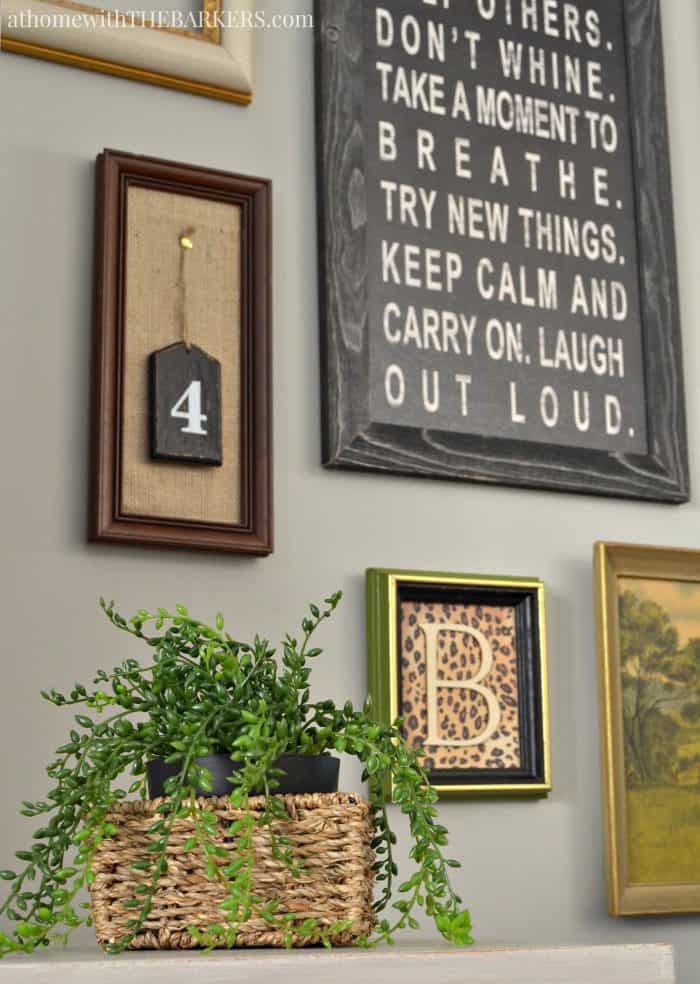 The family room view into the kitchen is a nice one, especially with light that comes from the window.
I am loving this mason jar runner I also picked up from Kirkland's. I'm a multipurpose decorator, oh…a new term, and this can be used so many different ways. It can bend in order for you to change the shape to fit your needs.