One of the best places to visit in the south is Charleston, South Carolina. A Charleston tour is also best taken on foot by a local with loads of knowledge. Check out this post for a sampling of what you will learn. Get your walking shoes and camera ready.
After being voted the #1 Best City in the World for 2016 by Travel + Leisure I knew I had to share this post again! As a native South Carolinian, I already knew this was a special place but there is something you should know about Charleston, South Carolina…it is best viewed on foot.
Sure, there are horse carriages and buses that can tour you all around the historic town BUT nothing compares to a walking for your Charleston tour.
Charleston Tour
There is so much to be learned about history from Charleston but this isn't history class.
This is a decorating blog!
SO let's look around at the beauty and inspiration that Charleston has to offer from gorgeous homes and architectural details, to colorful exteriors and grand window boxes.
The worn brick and black shutters are so classic. Although Charleston is known for the pastel colored houses, this beauty totally caught my eye.
The window boxes all overflow with beautiful plants and flowers.
You can walk all around town and gain so much inspiration for curb appeal. The flowers and greenery are in such abundance.
AND the colors are so vibrant!
There is really something special about the way Charlestonians maintain their homes. Whether there is a new coat of paint or a home has aged well, there is beauty everywhere.
The walking tour was so great because we were able to get off the main streets and into alleys and remote places that you may not have walked on your own. Little paths that you wouldn't think you could walk through.
Places filled with history.
This garage door is gorgeous. I love everything about it from the stain color on the wood to the iron detail! Then there's more window boxes to admire.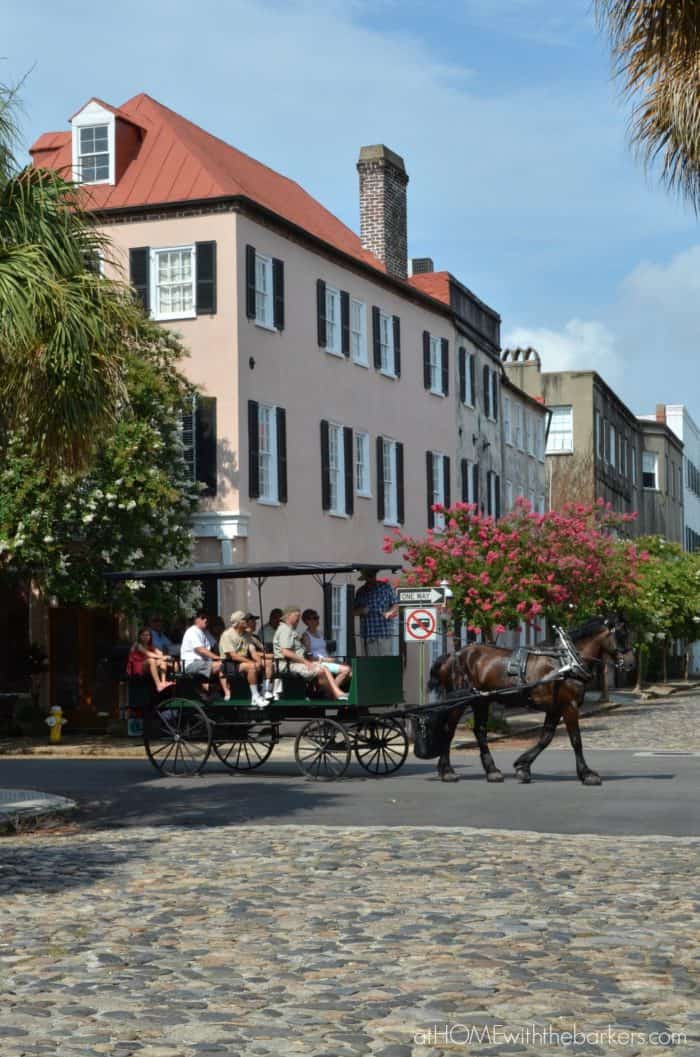 This is actually someone's home. A magnolia leaf wreath is true southern style. It seems as though Joanna Gaines has made the word magnolia popular but here in the south, magnolias are tradition.
It's the southern way.
The homes are really big but they sit on very small lots.
So the door entrance faces the street while the porch faces the neighbors.
It's a good thing we are friendly in the South!
The Battery, on the tip of Charleston, is probably the most well known features of this low country town.
It is as beautiful as you would expect.
From the ocean, to the stone wall, to the grand homes that line the street…
In true Southern hospitality style, our walking tour guide served us lemonade in the back yard of her parents Bed and Breakfast. It's called the Middleton Bed & Breakfast.
Yep, that's how it's done in the South!
Her name is Anne Middleton Herron and she is a 13th generation Charlestonian. I would highly recommend a Charleston walking tour with Anne.
Our family enjoyed the tour so much I told Anne I would be giving her a shout out on the blog. So if you are ever going to Charleston, take the walking tour with Anne.
Have you ever been to Charleston? What do you love most?