Relaxing Home Office Reveal
A before and after budget friendly relaxing home office reveal with a coastal vibe. Simple design, personal touches and a home office closet printer center.
Creating a great place to work at home has never been more important. Many more people work out of their homes now.
It was important to me to give Ray's office an appropriate makeover. He does so much for me, our home and this blog. The amount of home projects he has completed in our marriage is amazing. I've lost count.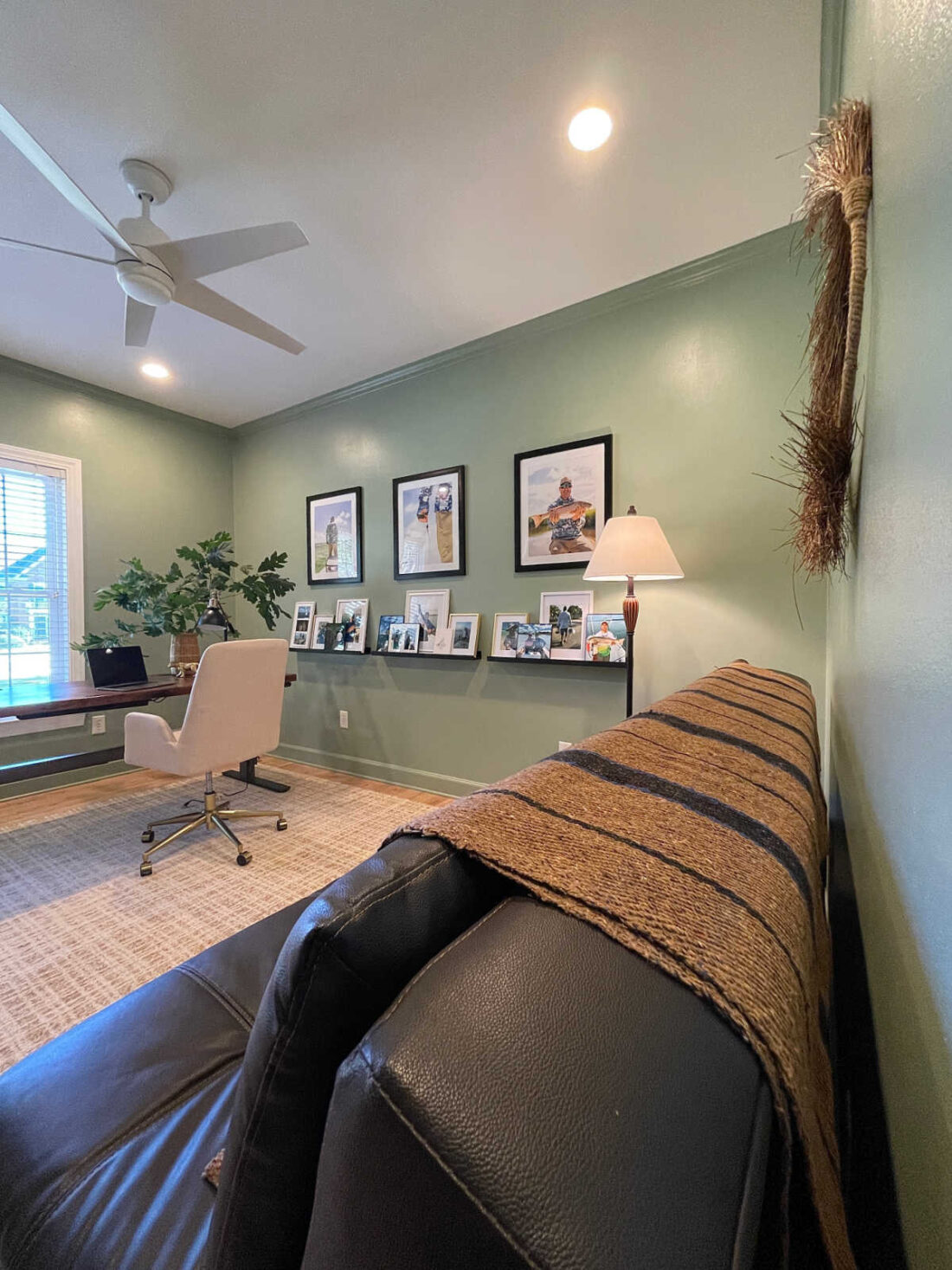 This post contains affiliate links. Read full disclosure policy.
Ray has worked from home since 2007. His office has never really been efficient. While I have always been more of a minimalist it has taken him longer to let go of things. Clearing clutter is a passion of mine, not exactly his.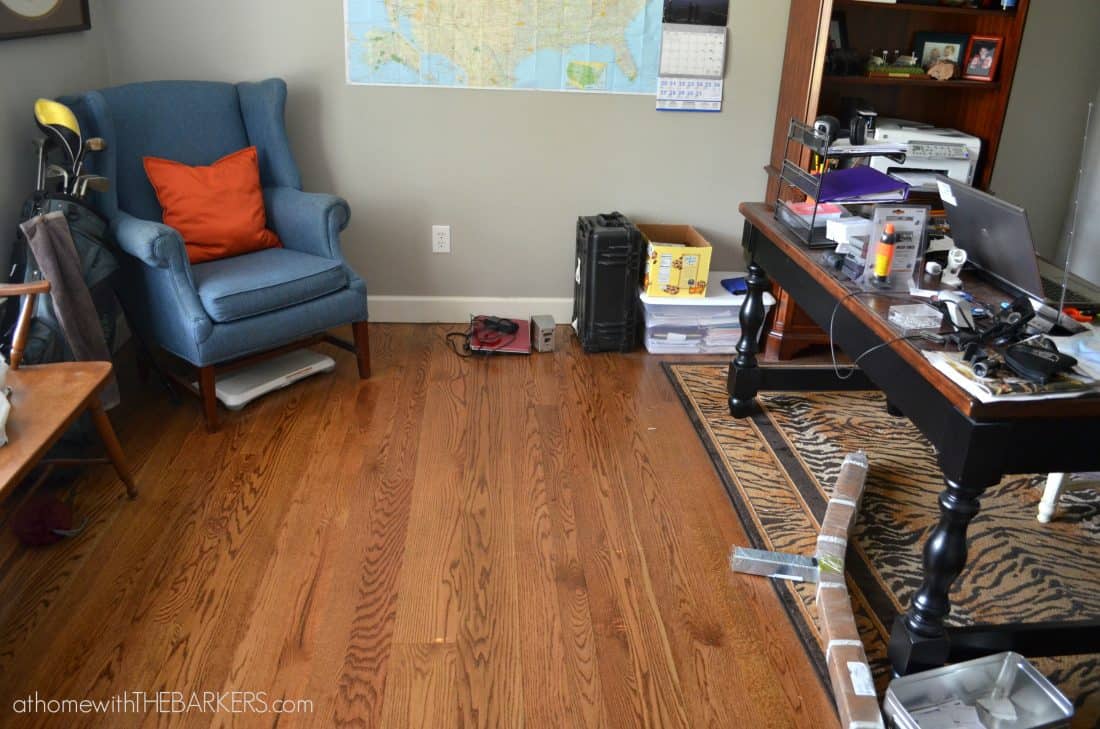 Mostly because going through years of important papers is a daunting task. I'm really proud of the progress in this room before the makeover started. After we had our floors refinished earlier this year and the room was empty, it lit a fire under Ray.
The room was also a mess of Costco furniture and a thrift store chair. Not very inviting for a space he spends so much time in. The last office clean up was years ago and honestly it was embarrassing to revisit.
Our home doesn't have a true office where there would be better windows and an entry way. We have two extra bedrooms on our first floor. These are the rooms we use for our office.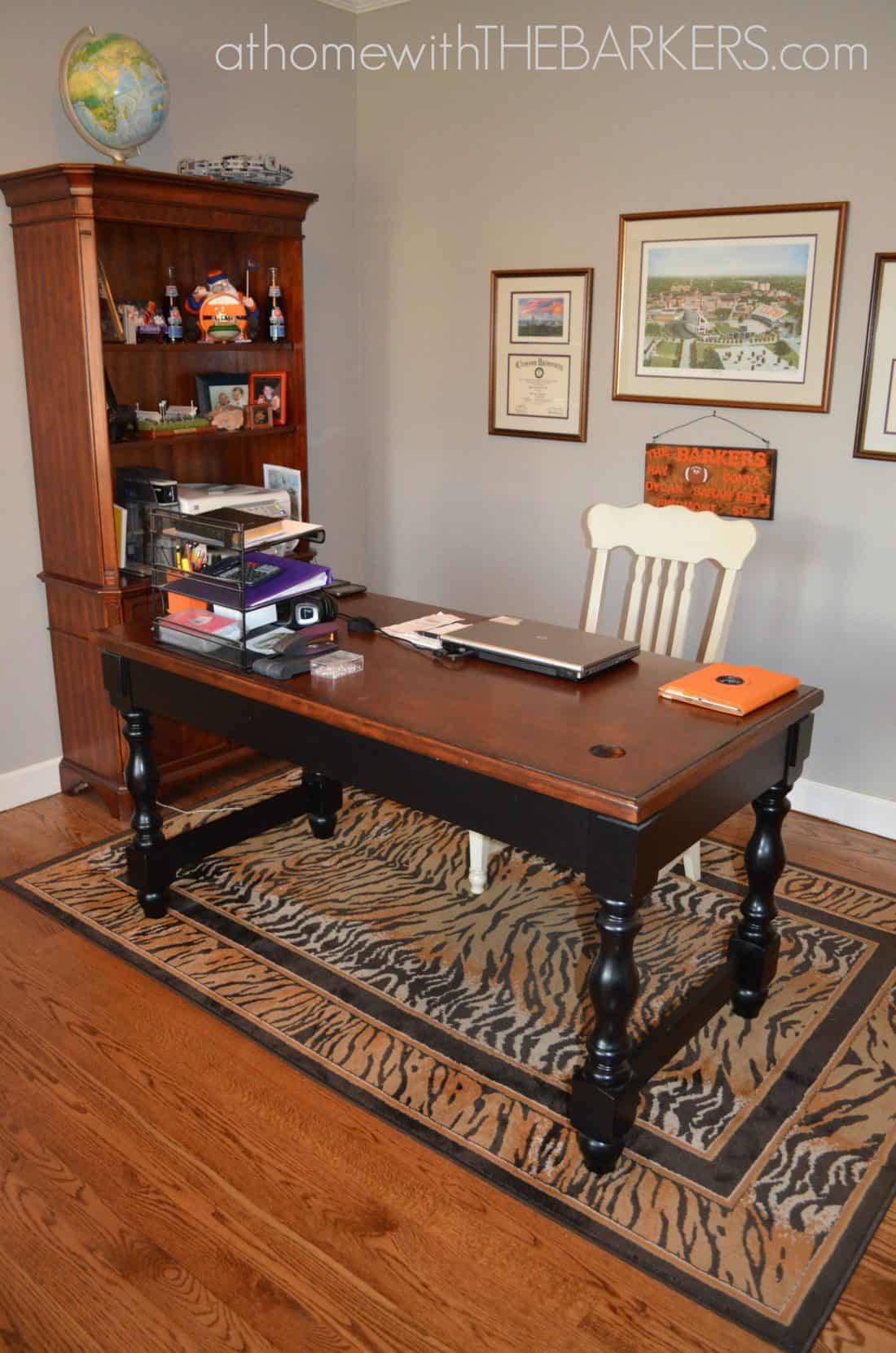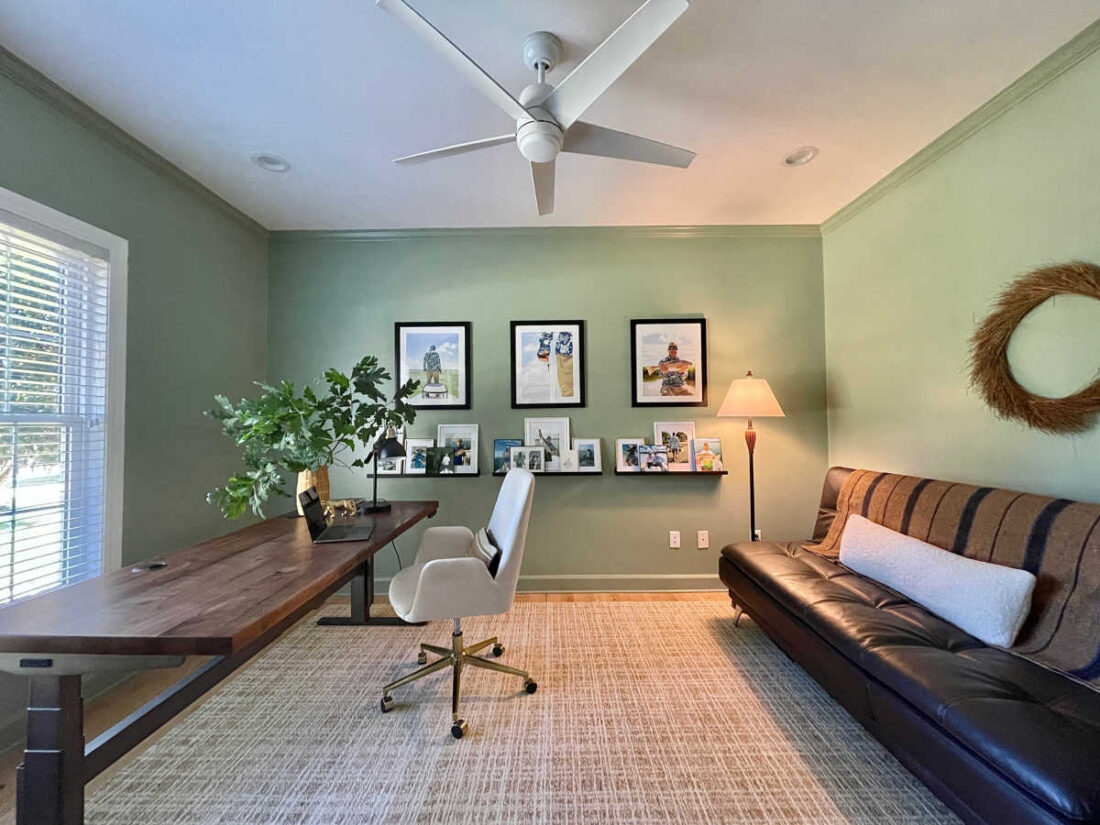 My office will be posted soon so keep an eye out for that makeover.
Our son Dylan lives in Charleston. Ray and Dylan love to fish inshore on the grasses. This is where the coastal vibe design vision started. If you have never visited Charleston add it to your bucket list.
Home office makeover plans
A fun little observation, notice there are two different office chairs. When I needed to photograph the room Ray was on a conference call and sitting in his chair. I pulled my chair in her for some of the photos. Once he was done, I grabbed his. He still wants a nice new chair so we are on the look out.
Creating home office design
As I mentioned in my Little Things Letter email, I don't like beach themed home decor. It's not my style. I do appreciate the colors and textures the coast brings. Creating a space with a feeling without literal interpretation of the beach was the challenge.
My job designing the room was to bring the green color, coastal plain to life with warm brown, white and a little touch of blue.
I wanted to choose a different green than the green trellis we had in our bathroom.
On a visit to see our son in Charleston I grabbed some photos for inspiration. This one with the oyster shell and marsh helped visualize how the color palette would come together.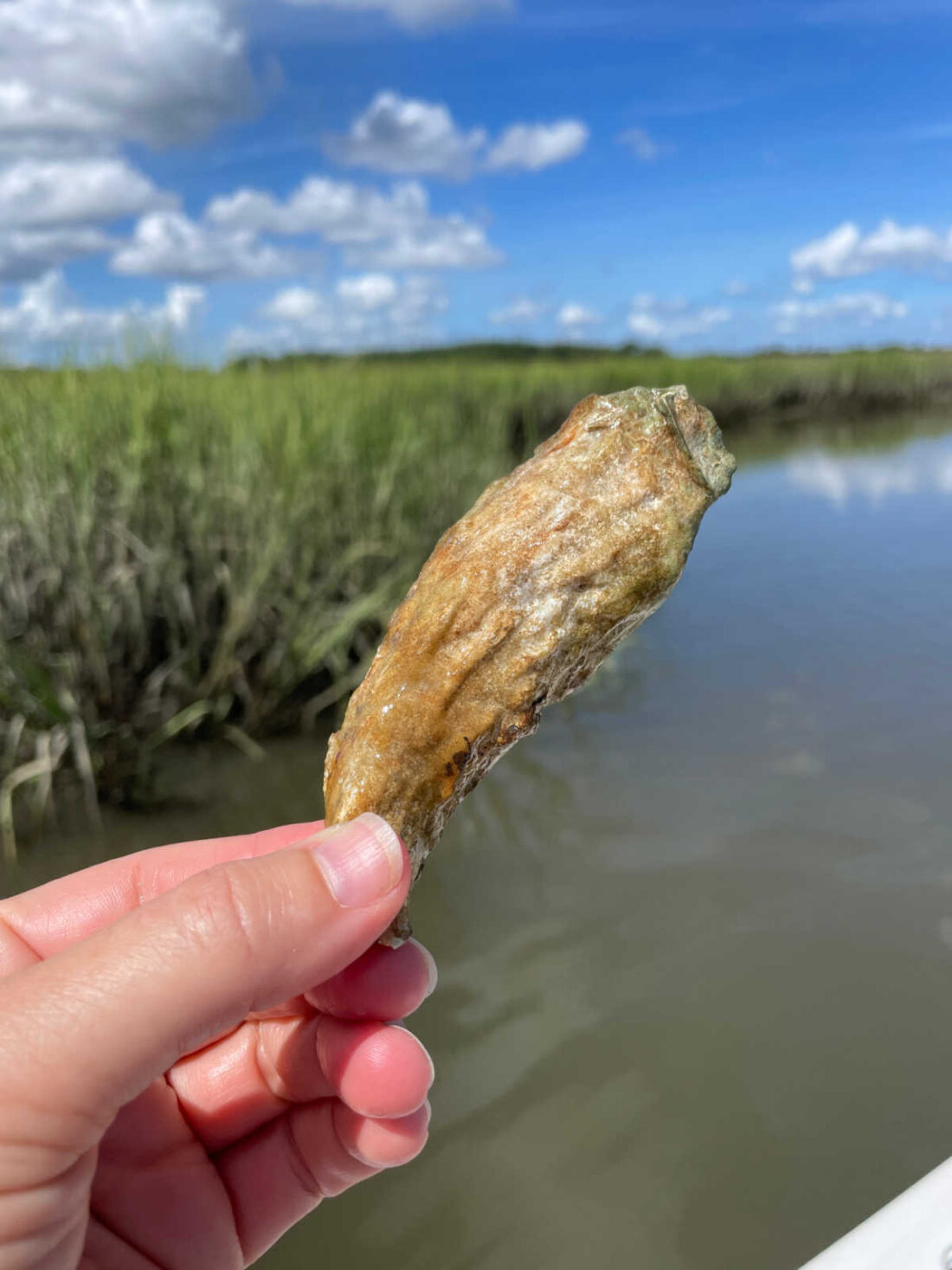 I knew I wanted to fill the big wall with photos. Ray dreams of being on the water fishing daily. Making this personal was important to me. I went through lots of photos and chose what I wanted to be printed. This would be the color palette.
When designing a room makeover normally there will be a fabric or rug to draw the color palette inspiration from but for our office the photos were the inspiration.
Texture is one of my favorite ways to add dimension to a room. I love to decorate with baskets because they make a room come alive. The brown grass wreath above the futon added even more texture. This fall wreath will live year round in our coastal marsh office.
Texture from other parts of the room came from the rug, wood desk, and leather look sofa.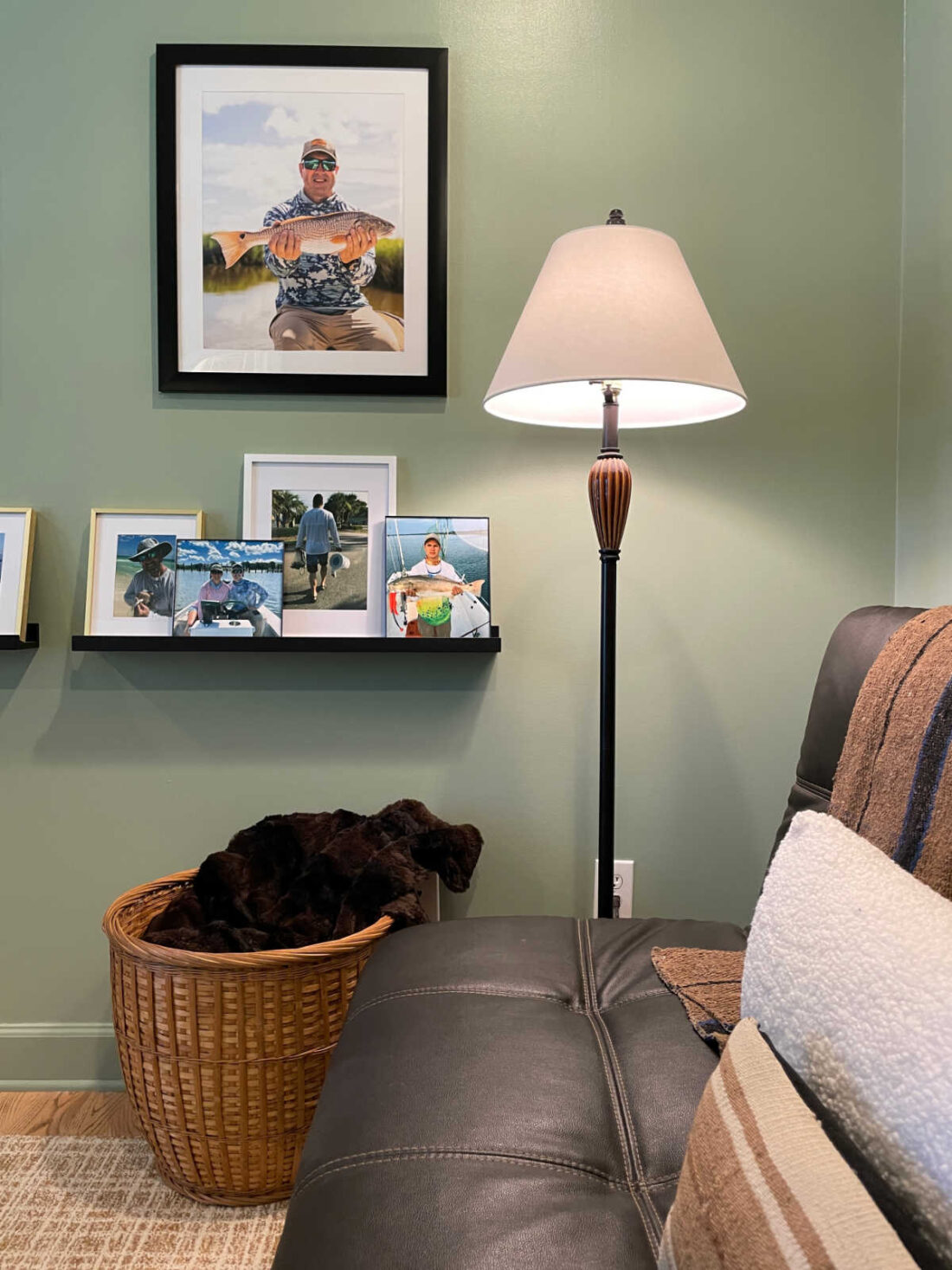 Home office makeover cost
$55 paint
$700 desk (read below that amazing story)
$210 photo wall frames and ledge
$50 photos printed Walgreens 50% off
$170 ceiling fan
Slim recessed lights were added previously
$100 accessories
Gifted by Loloi Area Rug
Previously purchased Futon sofa for our entertaining shed
Story of the desk
Ray wanted the highly rated Uplift desk in the 72 inch length. The ability to have more surface area as well as a standing desk was important. He was reluctant to pay the price, they are very expensive. When I say reluctant, I would have had to force him to buy it.
He started looking around on FB Marketplace. Found one, not exactly as he wanted, it was white but the lady sold it out from under him to someone that offered more money. SO annoying.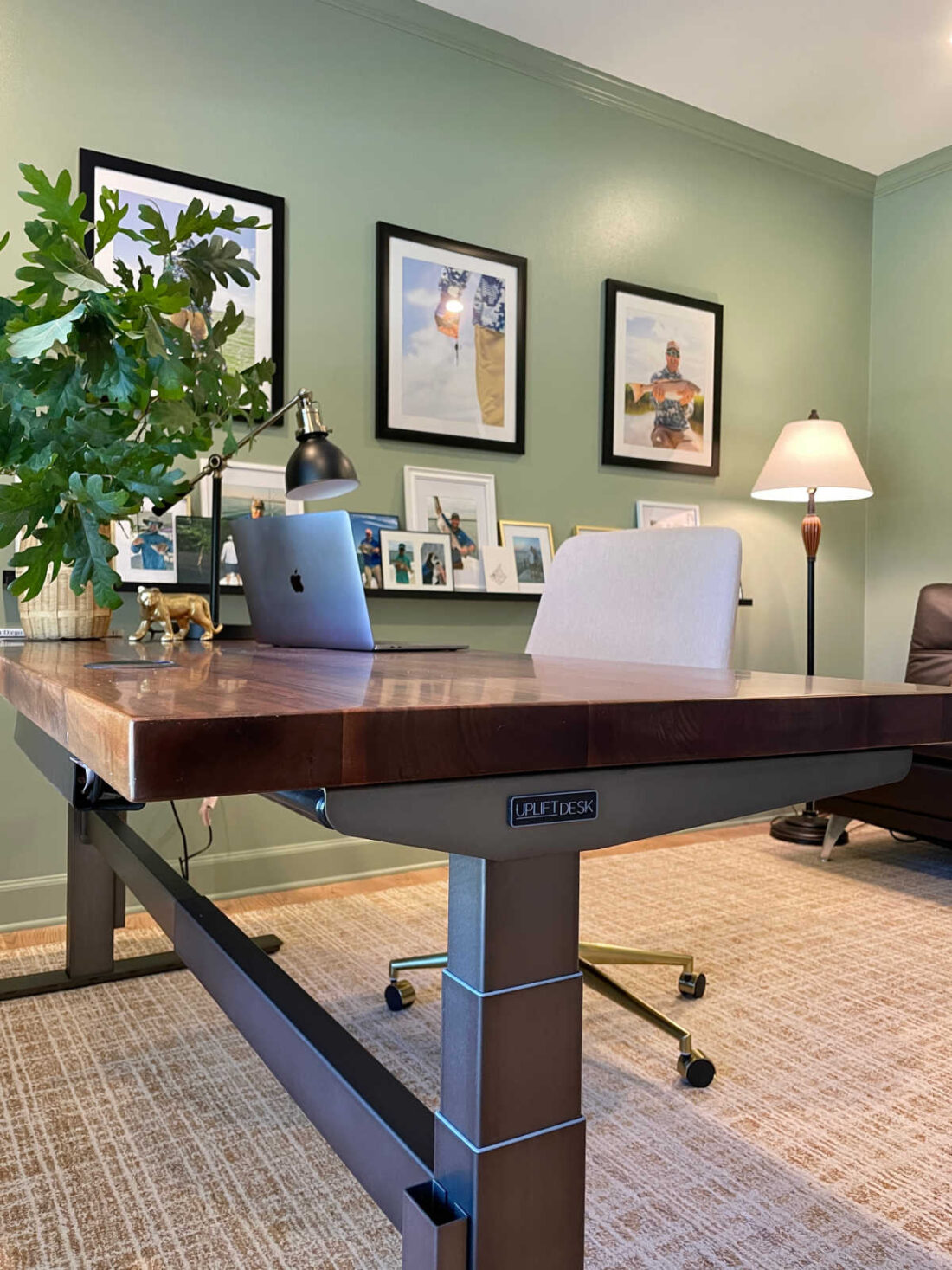 I decided to reach out to Uplift Desk as an influencer sponsorship offer. They declined me saying they only worked with specific people.
Months went by and Ray kept checking marketplace. One Sunday morning he hit a post just after it was listed and it was the exact custom desk he wanted with lots of extras. It was listed for $700 and 90 minute drive from us. The couple was moving overseas and needed to sell asap.
We went the very next morning and picked it up. This custom made desk we bought for $700 would have cost close to $3000. It has the commercial base, solid maple wood top, two file cabinets and more. We were so blessed to find it.
Story of the Chris Loves Julia Loloi Rug
Loloi Rugs reached out to me on Instagram and offered me a rug from a huge selection of designers. I have loved the Chris Loves Julia Polly Collection since it launched. I chose the Polly in straw, ivory colorway in size 8'6″ x 11'6″. It is very popular and goes out of stock often. You can shop the Polly rug from here as well.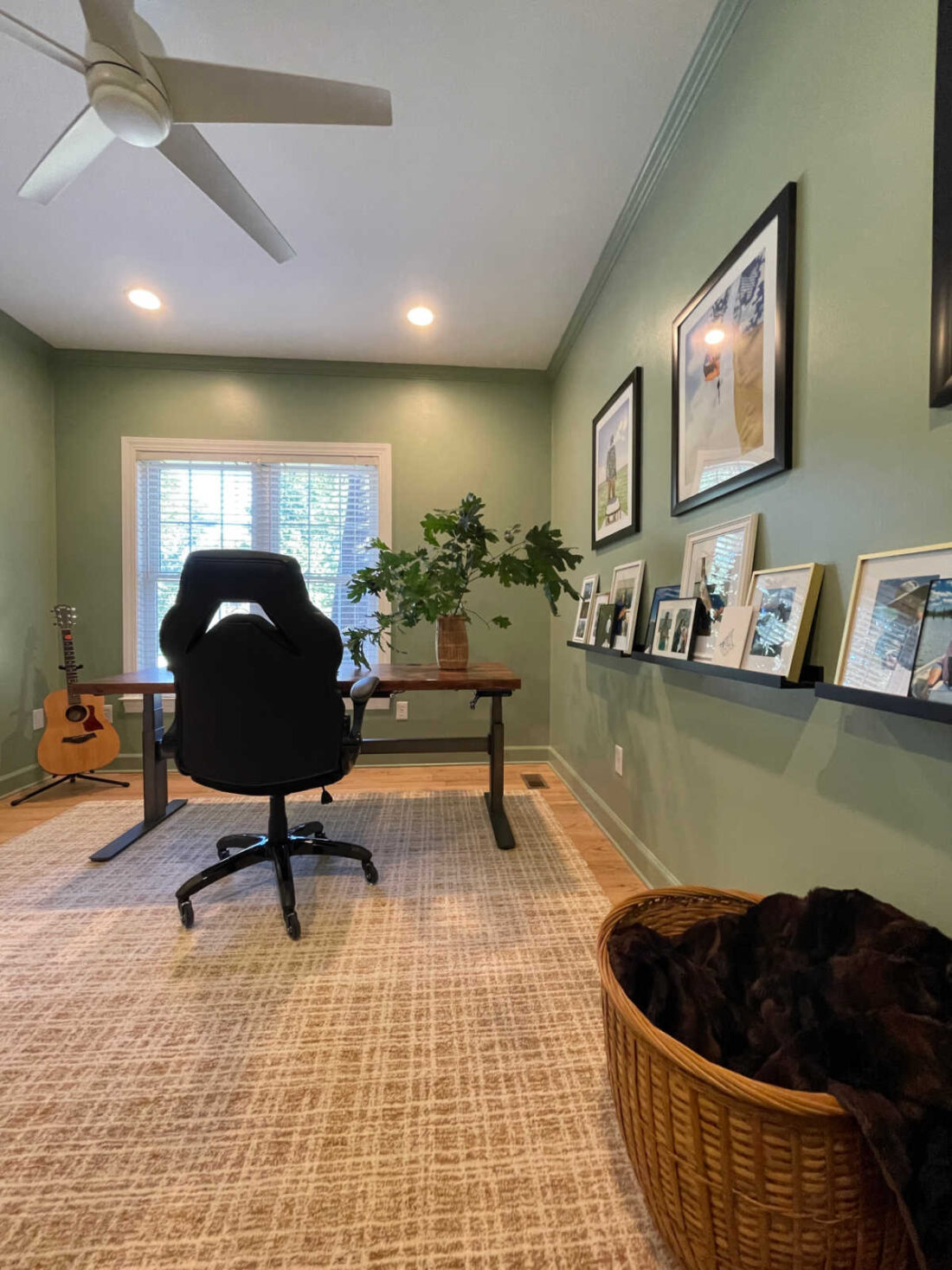 The rug is beautiful, thick and soft. When we first got it months ago it was shedding lots where Ray rolled his office chair. I thought maybe it was the cheap wheels. We ordered replacement wheels that are so much better.
You can see in the photo the old wheels were black and plastic. The replacement wheels are larger and clear.
There is still some shedding under the desk chair but not as much. I think to avoid this I would use the rug in a room that doesn't have a rolling chair. Otherwise, I absolutely love this pattern of the rug and overall quality.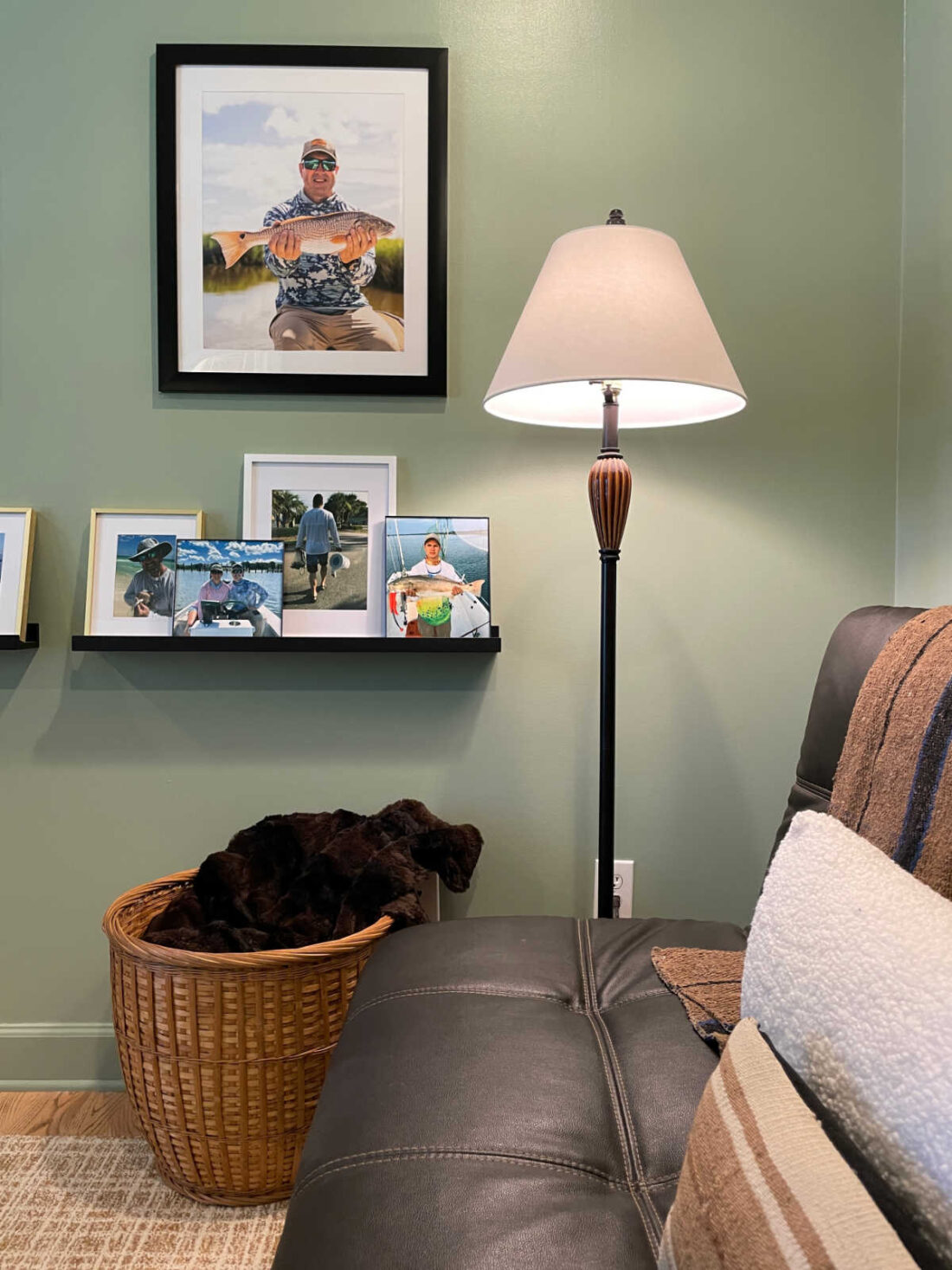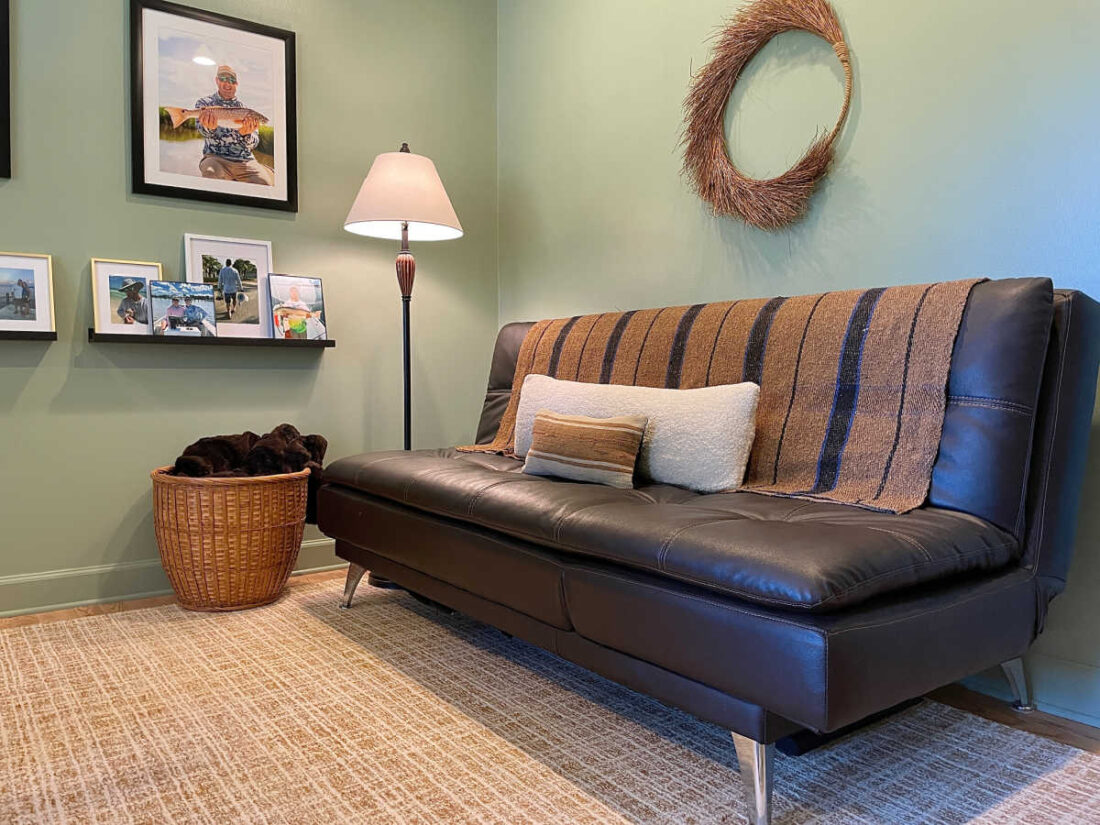 Photo gallery wall
The photos are all personal and are the feature of the room. The three large poster size photos were taken by our son, Dylan. He is a great photographer and videographer.
All of the wall supplies, the frames and ledge are from Walmart. I had the photos all printed at my local Walgreens.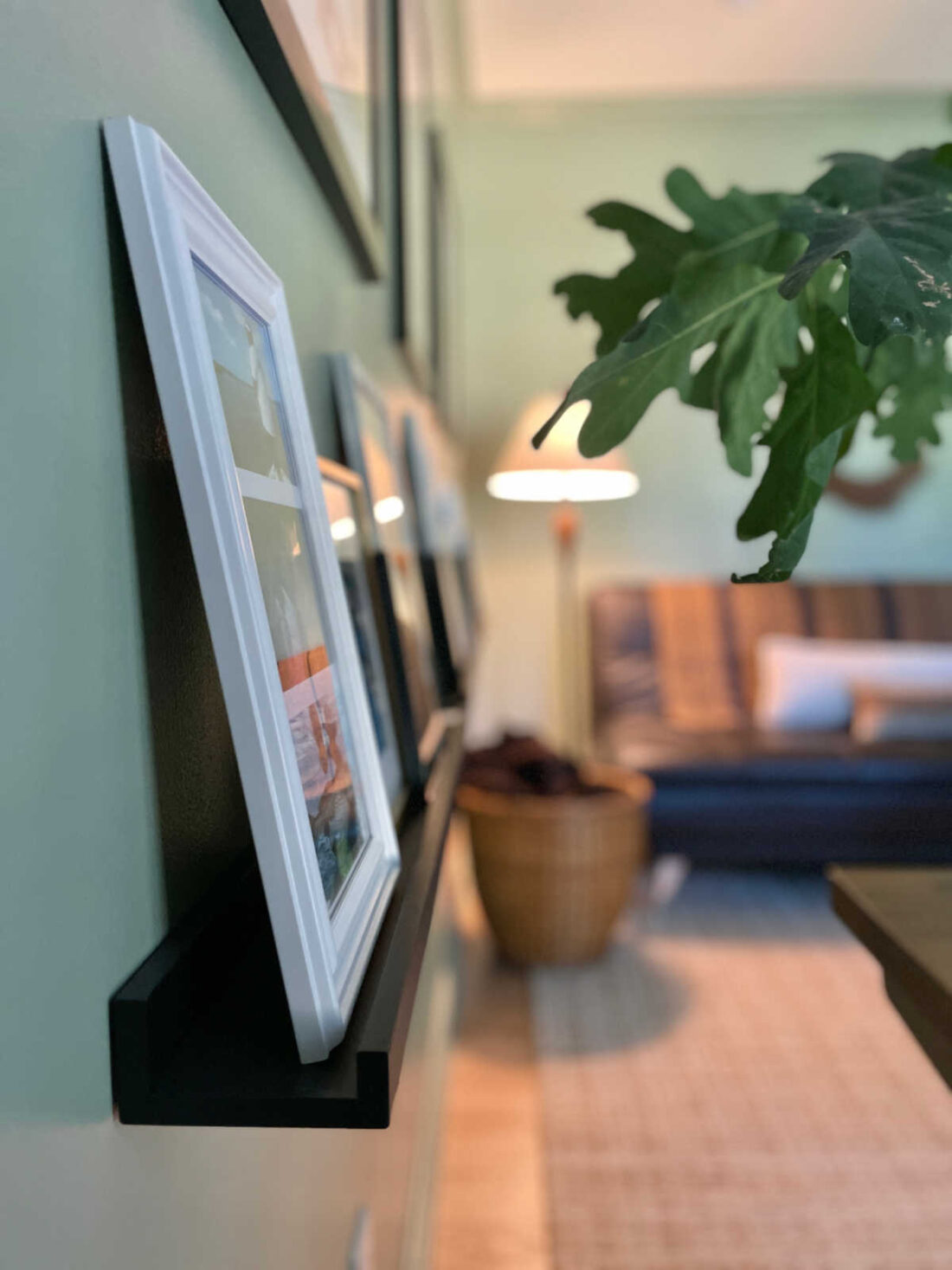 Office closet makeover
The closet as you can imagine was full of stuff that really didn't belong. Once we realized just how functional the space could be we gave it a fabulous makeover too.
Ray built shelves specifically for how we would use the space. Originally we left doors on. I had painted them a fresh coat of white.
The doors were extra wide and took up so much space in the room. We decided to remove them. Ray patched where the hinges were removed, I painted over the trim again, and now it looks amazing.
The home office closet makeover actually made the room feel so much bigger. It allowed for an additional gallery wall inside of the closet too. The easy access to the printer and other supplies worked out perfectly.
Our relaxing home office reveal turned out even better than we had hoped. Ray loves it and so do I.