Holiday Ready Room Refresh
See how you can complete a room refresh with just a can of paint. A bathroom before and after with the perfect shade of gray green called green trellis.
Behr sponsored this blog post. The opinions and text are all mine.
If you are like me and almost every woman I know you try to complete too many home projects the day before your guests are suppose to arrive for a holiday dinner or party. It's the never ending trend among those who love to host and invite others into their homes.
I've been talking about hospitality on the blog lately because it is one of my absolute favorite things. I love hosting parties, gatherings, dinners, etc. Hospitality invokes more of an enjoyment of being with others as opposed to feeling overwhelmed by the process.
Today we are going to get an early start with those projects with a holiday ready room refresh. I'm hoping to inspire you to get a start on those possible projects that you would love to have completed before you host your first party of the season beginning with Halloween. That way you can love your home before you love on your friends and family!
Learning how to paint a room yourself will be the best DIY skill you can know. Many times paint is the star of our before and after home decor projects.
Here is what my guest bathroom looked like before I started…
Paint Makes All the Difference
I've wanted to repaint my guest bathroom for a while so I decided to start there. It is after all the room everyone will see if they visit my house. Plus it's not a huge undertaking and I completed it all in a day.
The paint I chose the paint and went with BEHR MARQUEE® Interior Paint and Primer in Green Trellis. I have heard such great things about this "one coat" paint I was ready to give it a try.
If you love green paint colors check out our coastal plain green home office makeover.
I went ahead and did the cut in first because it makes the rolling easier. The paint coverage was impressive. One coat in the entire bathroom. It took half of the gallon of paint so I am considering using the Green Trellis in another small space, maybe my laundry room.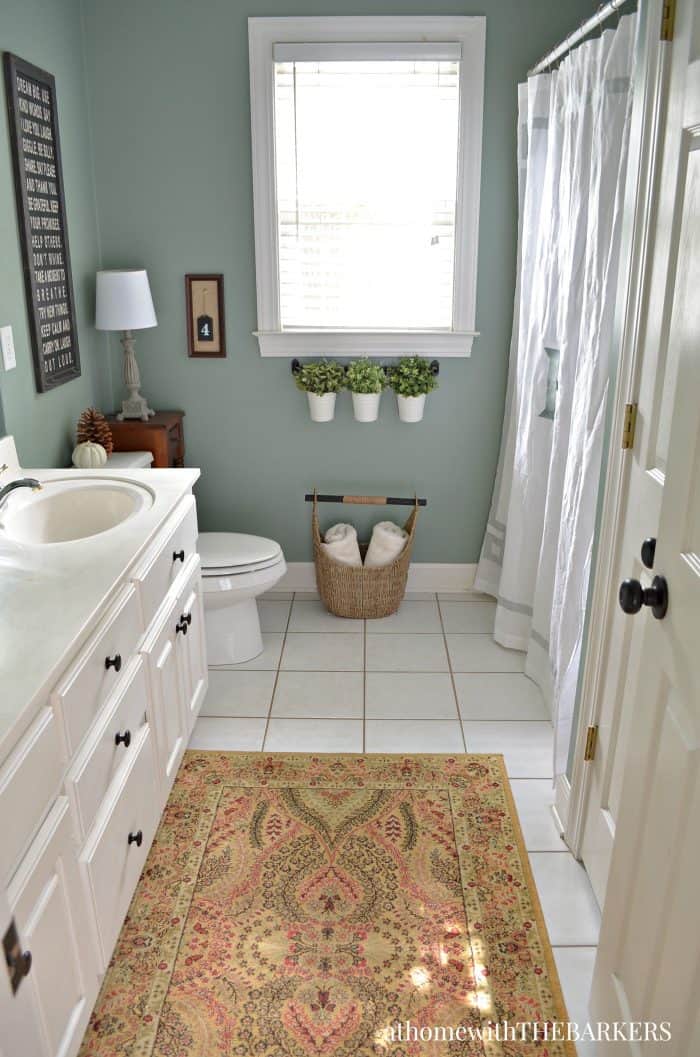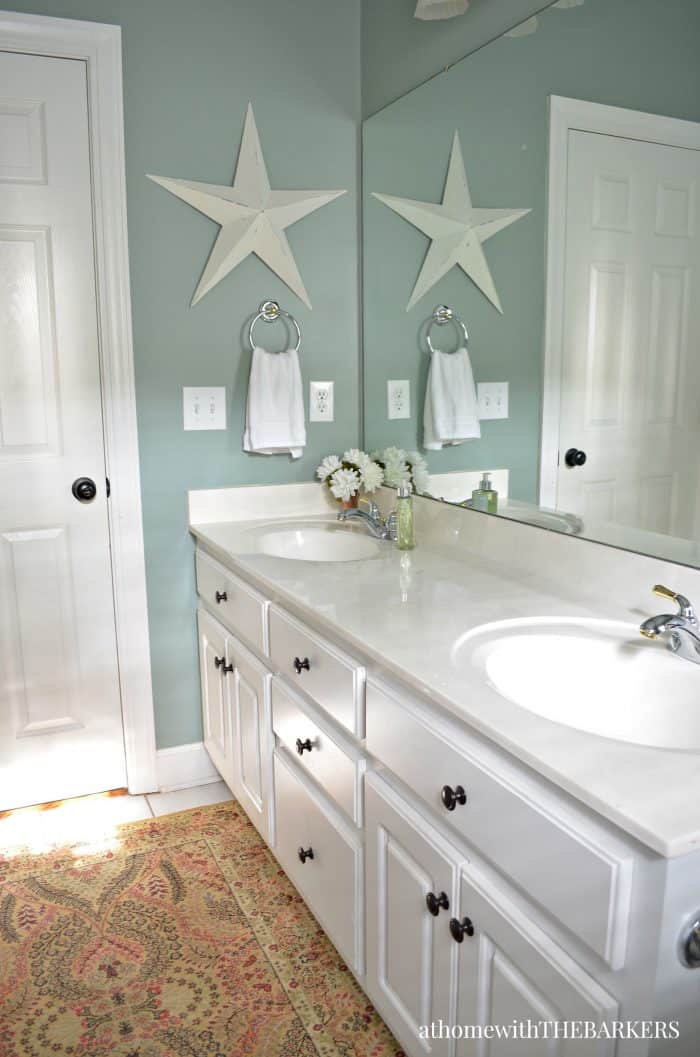 I LOVE the color. It is a great neutral and will look great with all types of decor. I think you will be really impressed with this one. I call it green my daughter calls in blue, so we can call this Green Trellis a perfect greenish blue.
The rest of the decor I shifted from around the house, all except for the new shower curtain from Ballard Designs. It has a monogram B on it which I bought on sale with a gift certificate that was about to expire.
Moving decor from room to room is also a great way to refresh your spaces without spending extra money. Only the cost of paint!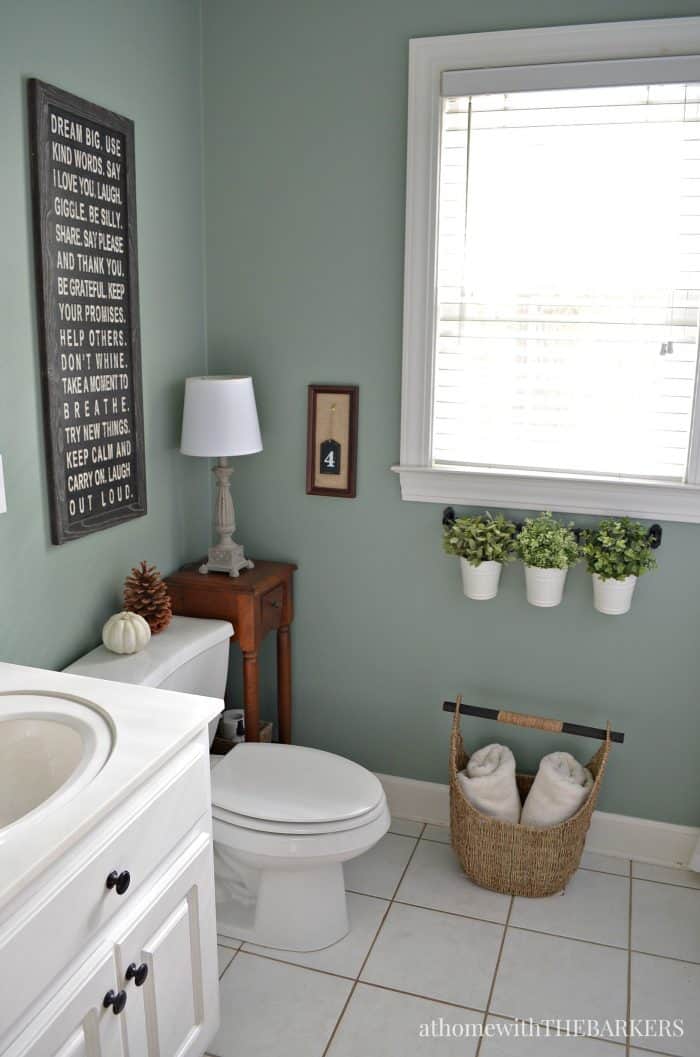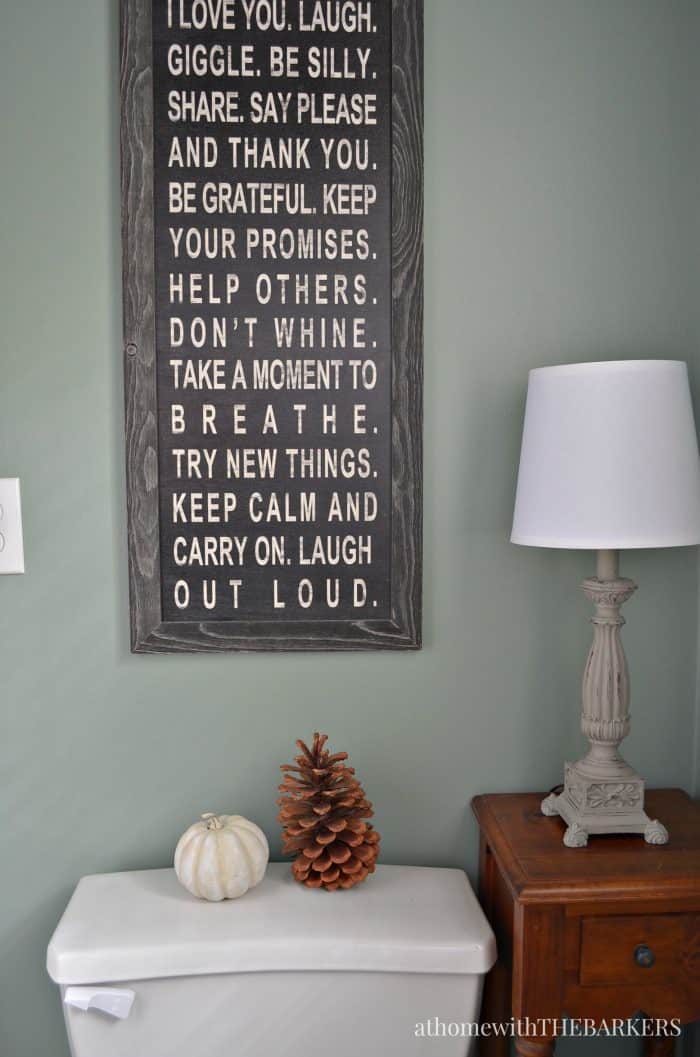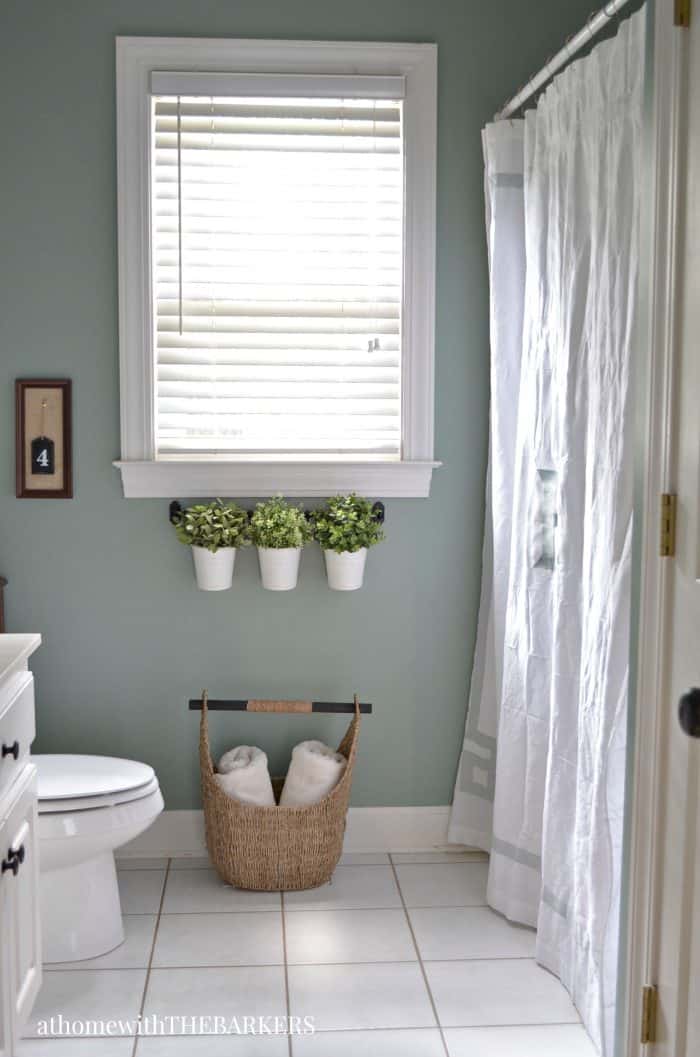 Who plans to get going on a holiday ready room refresh? Don't let the holidays creep up on you and you forget to enjoy it. Prepare now.
Updated black bathroom makeover!