Successfully declutter your home
Are you ready to declutter your home once and for all? Sharing what I've learned, through trial and error, to create a clutter free home.
This post may contain affiliate links.
We all want to make home the best place to be. It's where we should feel the most at peace. Using my 4 unexpected decluttering tips will get you started in the right place.
Clutter is causing your home to feel overwhelming. It may also be the cause anxiety and other physical issues. Not only does your house not look the way you want it to, it may be affecting you physically.
It can all change for the better, starting today!
The one word for successful decluttering is why? Ask yourself these type of questions…
Why do I want my home clutter free?
Why do I need a simplified space?
Why did I keep this item in the first place?
Why do I need it now?
Why do I procrastinate?
Why (fill in the blank)
"Clutter is nothing more than postponed decisions." Barbara Hemphill
My goal for you is to create a home free from things you don't need, don't love, and don't have space to hold.
I took one closet a day and decluttered it. Coat, pantry, linen, and my clothes closets. The photos in this post will let you see each space before and after. Also, we don't have a traditional coat closet, we use the garage entry area for that. Now all 4 of these spaces are simplified.
How to Declutter Your Home
Pick a lane and start. That is the best way to make progress. We all want step by step advice for exactly how to declutter but in reality it looks different for everyone.
Sure there are tricks that can help you but until you choose a lane that works for you, it will be hard to be successful.
There is you, your stuff, and your goal of a simplified, clutter free home. The lane you choose to get you and your stuff to your goal is up to you. Try one way and if it doesn't work, don't give up. Choose another lane, then go. I promise you will find your way.
I started with the KonMari method. Part of it was a light bulb moment for me and helped tremendously, while some of it I knew I wouldn't do long term. That's ok, I took what moved me toward my goal.
While I said there are no right or wrong lanes, other than doing nothing and letting it get worse, here are some ideas to get you started. Stop making clutter worse.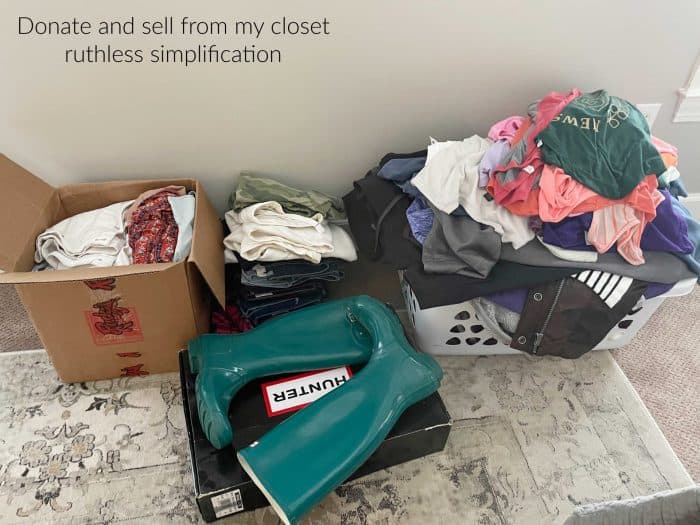 How to work through clutter
One room at a time
Similar areas (all closet like I did last week)
Biggest pain point (kitchen counters, etc)
Easy win (entryway)
Out of sight areas
Stacks, piles
My best advice is to NOT start with a space full of sentimental items. Those are the hardest and can derail someone new to the decluttering journey. When you are ready you can learn how to get rid of sentimental clutter.
Once you choose where you are going to start you will want to be very strategic. This is one place I can offer tips that will make you successful no matter which way you decide to declutter.
Move through a space as fast as possible
Trash – immediately
Donate – within 2 days
Sell – within 30 days, if doesn't sell donate
Trash = obvious broken, old and worn out items (do not donate trash)
Donate = giving to others what you no longer use feels good (do not guilt others into taking things)
Sell = earn money on items that have value (limit to a 30 day turn around for success)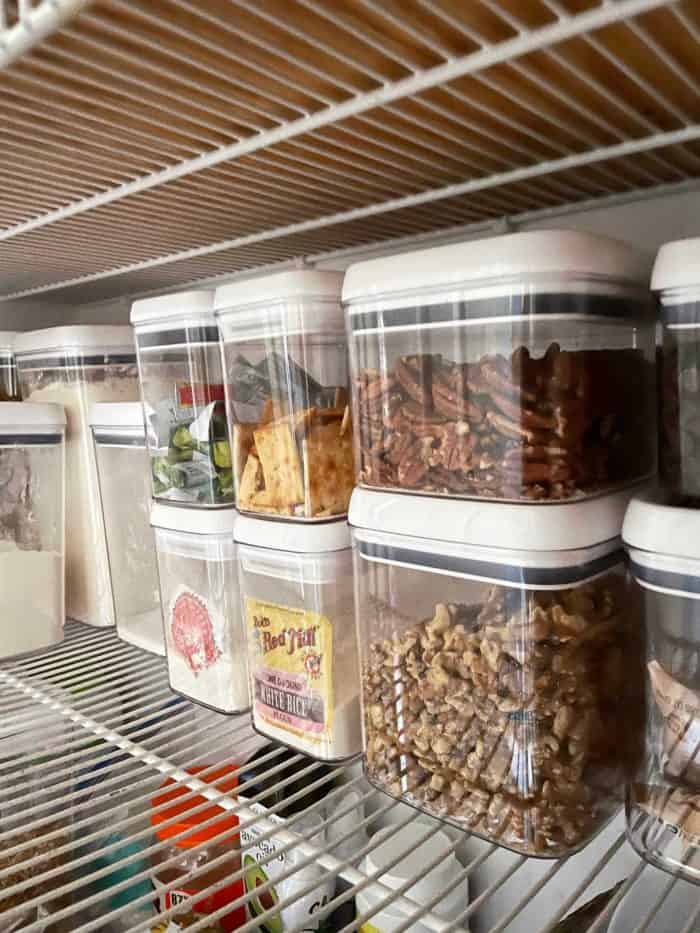 Failure comes when you go all in and then stop without changing any of your habits. How many times have you emptied an entire room, garage or attic without the right strategy to get it all done? I've been there!
It's ok to tackle one small area at a time. Each day you can take 20 minutes to get something accomplished.
How not to fail on your declutter journey
Do not make a big mess that you can't finish in a set time frame.
Don't try to organize things you don't need, use or love. Organized clutter is still clutter. Pretty, color coded bins, boxes and labels won't change what it is.
Stop adding more stuff to your home, especially while you are decluttering. Be strategic about what you let come in.
Do not start a declutter project in a place that requires someone's help who isn't on board with the plan. You can lead by example in areas you can control alone.
All of the things in my closets may not look like clutter. It looks like everyday items we use. As Ray and I make our way into the empty nest years, 40 bath towels was excessive. This was the second time in the last 6 months I have simplified the linen closet. After getting rid of an entire bag of towels and sheets, I still keep too many.
Once you start to live with less, it frees up your space, time and energy. Having much less laundry to wash. Feels good.
Declutter your home summary:
Pick a lane
Choose the pace (speed) at which you can be successful
Follow the strategy (trash, donate, sell timeline)
All lanes get to the finish line
If one lane doesn't seem to be working, start over in a new lane
Don't let expert "rules" make you fall short of your goal
The only way to fail is to never start
Now is a great time to start. I hope this post inspires you to create a home you love. Not a home overwhelmed by stuff.
More posts to help you organize your home…CLICK HERE.