Best fall home decor elements
Sharing the best fall home decor elements to choose in order to create a cozy home that doesn't look like a store display full of themed items.
One of the things about decorating for the change of seasons is the idea that you need to buy everything in a theme. I love adding pumpkins around every now and then, mostly to the porch but I much prefer natural elements that could stay year round.
This post may contain affiliate links. See full disclosure for further details.
Choosing home decor items that evokes the season in a subtle way can have a big effect on the beauty of your home.
Much of my seasonal decorating has always been simple. When I first started blogging I was adding a few more things (colorful fall home tour) to our home in order to share but quickly realized that wasn't me.
I decided to stop decorating our home just for blog post and instead teach you how I truly do it. I like to add touches to our home without having to really change much, if anything out.
Using your everyday home items is a perfect way to keep a simple home, decorated beautifully for every season.
Considering these 4 decor elements for your home will be a wonderful way to transition into fall without adding lots of "fall" themed items. Throw pillows for the season are easily switched and can bring in many of these elements.
Cozy Fall Vibes at home
deep earthy colors
organic and natural elements
cozy textiles and fabrics
inviting spaces
If you tend to use more color in your everyday decor, grounding it with neutrals is perfect for fall. Think monochromatic throw pillows for your sofa.
Everyday home decorating ideas for fall
Place your wood cutting boards on display. I do this already. The functionality of having them at my fingertips works for us. But as a bonus the wood boards add that fall texture to the kitchen.
Change out your flowers for dried bunches.
Shop Cozy Fall Decor
This list of ideas are excellent ways to incorporate these fall elements into your home.
INSIDER TIP: buy baby's breath from Trader Joes or the grocery story and don't add water to the vase. They will dry and look perfect all season.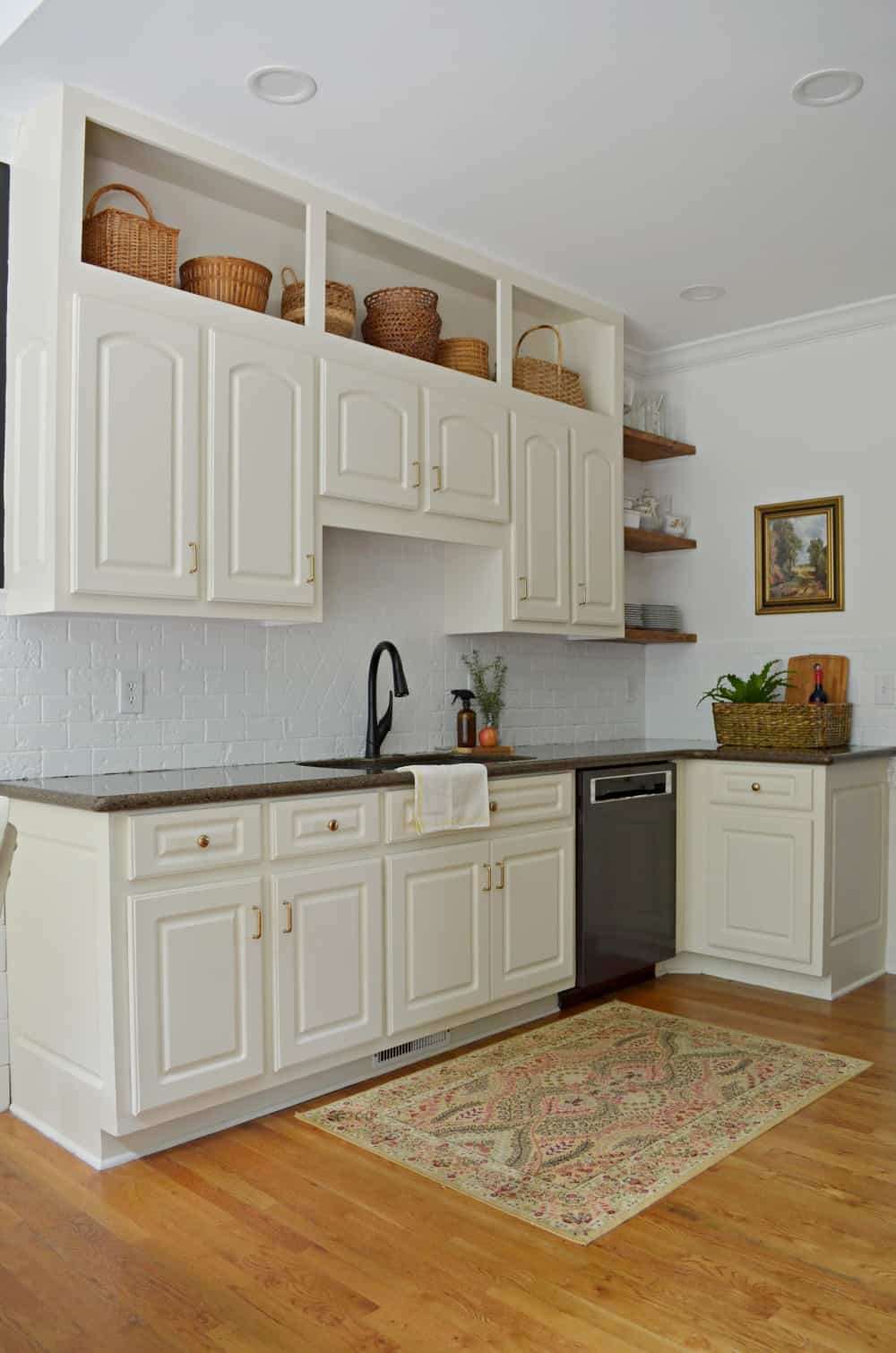 The above photo was styled for summer. Exchanging the greenery with some dried baby's breath as I mentioned or sticks would bring fall into this area with minimal work.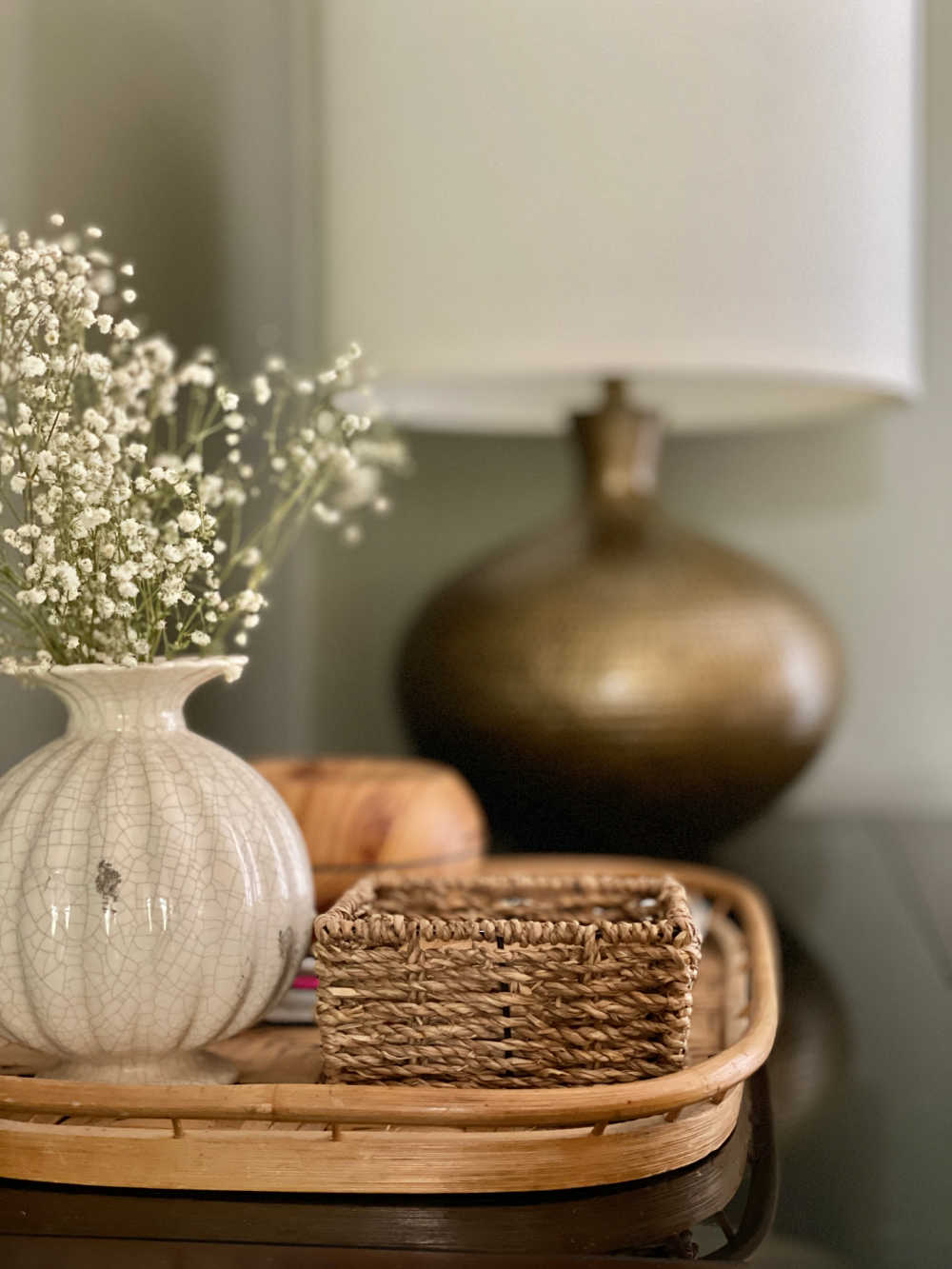 This shelf styling is a great example of how to bring fall into your home using the elements I mentioned above. The art work, the basket, stones and pottery work so well together.
Consider your everyday home items as decor. Think about the season and what part your items can play in your decorating. The display for cutting boards and dried flowers are both so easy to implement.
The branches used above in the black pottery can be clipped from your yard. Free fall decor at your finger tips. The overall moody room is beautiful. Now would be the perfect time to paint a room black.
I hope these photos give you some insight into how you can add fall to your home without creating an over done look.
When you are ready to add pumpkins and you want a fun project try paint. I've painted plastic pumpkins many times. These aged zinc look pumpkins were a great look.
An inviting home starts with inviting spaces. Fall is a time for gathering together. Whether it's at home with just your family, a small dinner party or a fun football tailgate, it's all about feeling connected.
I believe creating a home where everyday life or gathering with friends should feel special. Each season is a great time to refresh your home.