7 Ways to decorate with baskets
Baskets in home decor can be multifunctional and designer friendly. This blog post will share 7 ways to decorate with baskets in your home as well as a shopping guide.
Using baskets adds texture and dimension to any room or space in your home. Depending on the size and shape chosen, the basket can be used in many different ways.
Baskets vary in price range as well. A quality made basket will last you for a very long time. So the price is going to depend on size and quality. When shopping online read the description and reviews. This will give you a good idea of the basket quality.
This post may contain affiliate links. See our disclosure for full details.
One very important point I want to make about baskets that you may use for storage. While they are great for making a space pretty, you can easily get into the habit of out of sight, out of mind mentality. Don't do that. I have written many times about clutter and how to overcome it. Stuffing things in baskets without a specific purpose will not do you any good in the long run.
You can however learn how to decorate with trays that will help with the visual clutter while giving you something to decorate.
7 Ways to decorate with baskets
Plant containers
Coffee table organization
Wall art
Blanket storage
Faux florals / wreath alternative
Table centerpiece
Bedside basket
Before I share more details about decorating with baskets, let me share some photos from around my own home using baskets. Some of my baskets are vintage and I get them from my sisters Upcountry Living shop.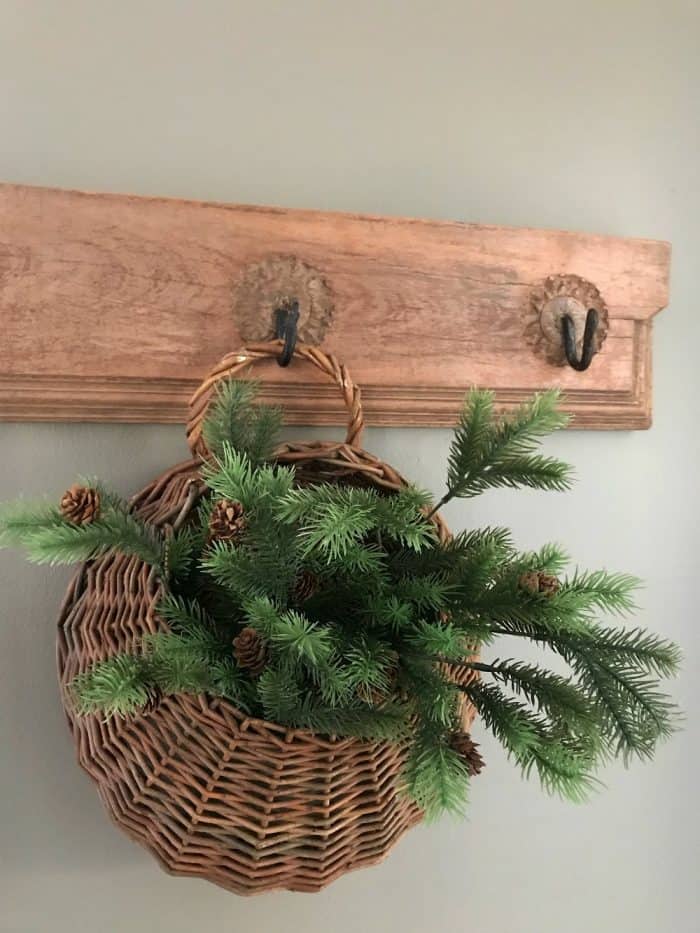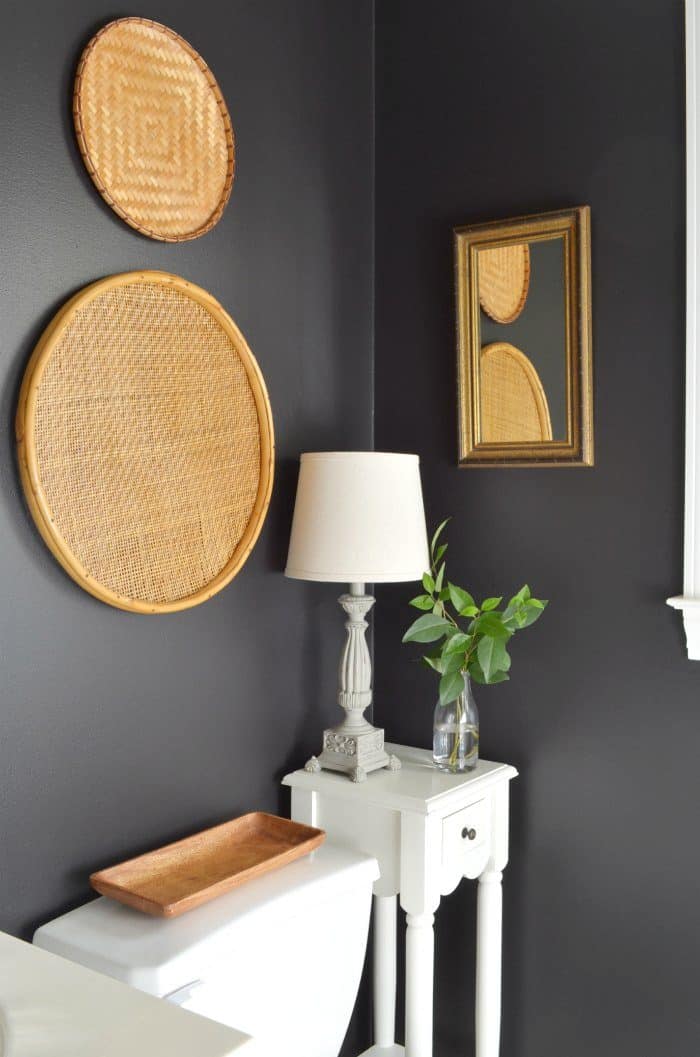 Let me dig a little deeper on each of these ways to inspire you for using baskets in your home.
Plant Containers
Woven baskets are perfect for house plants. Keep in mind not to allow water to make its way to your basket. It could mold. Drop a faux house plant into a woven basket and you get immediate interest. The texture and nature of the basket levels up a faux plant.
Coffee Table Organization
Gathering coffee table items into a basket will instantly organize your living room. Baskets on the coffee table work great for remotes and magazines.
Basket Wall Art
Hanging baskets on the wall adds interest and texture to any room. Depending on the style of baskets, colors and design you arrange them, you can do this for any style home. If you have a smaller piece of art you want to hang but it's too small, add baskets. This is a great way to increase surface area of art for bigger walls.
Blanket Storage
If you are like me and most people I know, you have a collection of throw blankets. Storing your blankets will require a large basket. Trying draping one over the edge to pretty up the room. Lived in makes a room feel cozy.
Faux florals / wreath alternatives
One of my favorite baskets is a hanging basket that I use in my house. It worked well decorated in my winter decor. look nice on a door instead of a wreath. All you need to do is insert a foam floral block to secure the stems.
Table Centerpiece
This is where you can really get creative. A basket as a table centerpiece can be purely decorative with flowers or functional with dinner serving items. I tend to use baskets for more function. You can add some jars to the inside of the basket to place utensils in for dinner or a gathering.
Bedside Baskets
We all end up with many extra items on our nightstand. Reading material, remotes, drinks, chapstick, and lotion. Using a tray style basket will keep you bedside neat. Create a peaceful bedroom is important to help you relax and sleep well. A cluttered space can be overwhelming.
Baskets in home decor are the universal accessory to any and all decorating styles. The shopping guide below includes mostly woven baskets. The are many other materials out there for baskets such as fabric, nylon, plastic, and wire.
Baskets in decor provide
Texture
Color
Organization
Interest
Have you ever had the privilege of watching a basket being created? It's so awesome to watch a basketmaker weaving in and out to design a piece. I've seen it in the Bahama's and in Charleston.
Basket Shopping Guide
Click on any photo in the basket shopping guide below to see the details and pricing.

To recap the 7 ways to decorate with baskets
Plant containers
Coffee table organization
Wall art
Blanket storage
Faux florals / wreath alternative
Table centerpiece
Bedside basket