Sherwin Williams Coastal Plain
Looking to add a green paint color to your home then you may want to try Sherwin Williams Coastal Plain. Learn where we used this color and how you can incorporate it into your home.
There are many shades of green paint that can be considered neutral because they play well with other colors. I think coastal plain is one of them.
The right shade of green paint can make a room feel moody and cozy at the same time.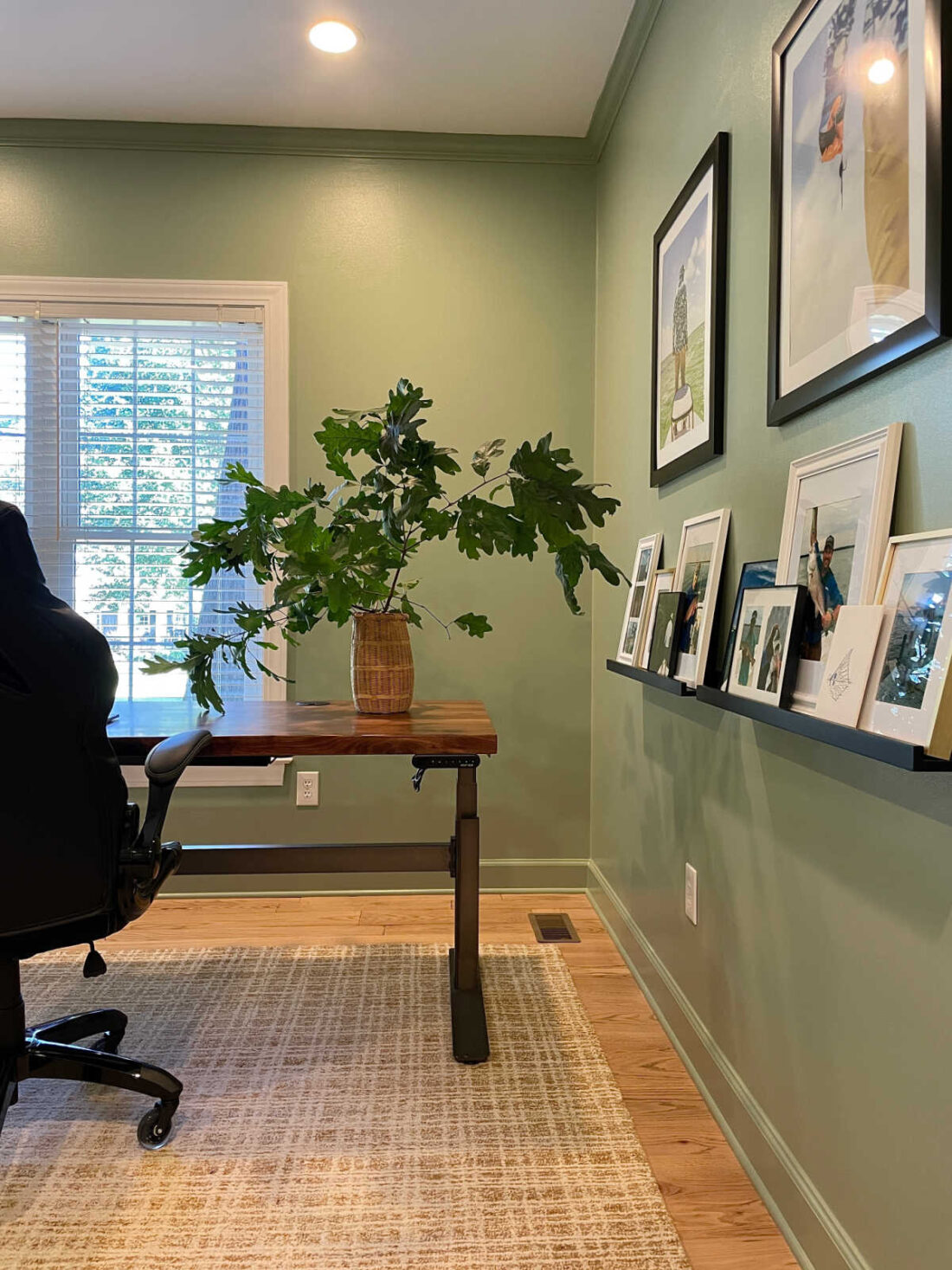 This post may contain affiliate links. Read full disclosure for details.
The paint color changes depending on where in the room you are looking. It also changes through out the day as the sun moves around our house. The slim recessed lights we installed also add a warm glow.
Ray specifically wanted a paint color that reminded him of the coast. Especially the marsh from the South Carolina coast. This photo below of an oyster shell was our inspiration for the color palette.
Coastal Plain paint color is a warmer green shade the could be classified in the sage family.
I love how paint can transform a room!
As an avid DIYer I would highly suggest learning to paint. I paint 99% of our home projects. Learning how to paint a room myself is one of my best skills. Don't miss my paint sheen guide so you make the best decision for your paint finish.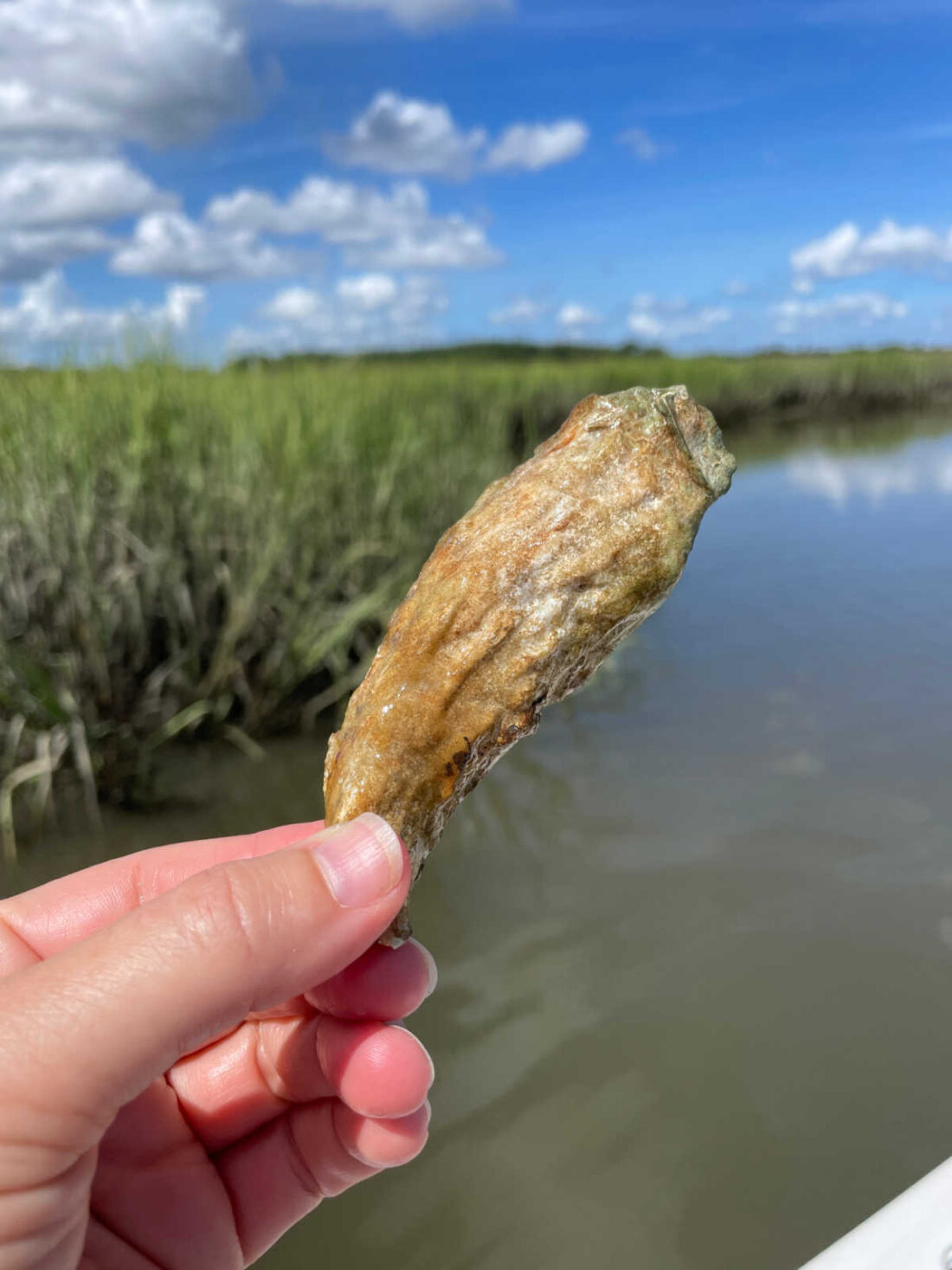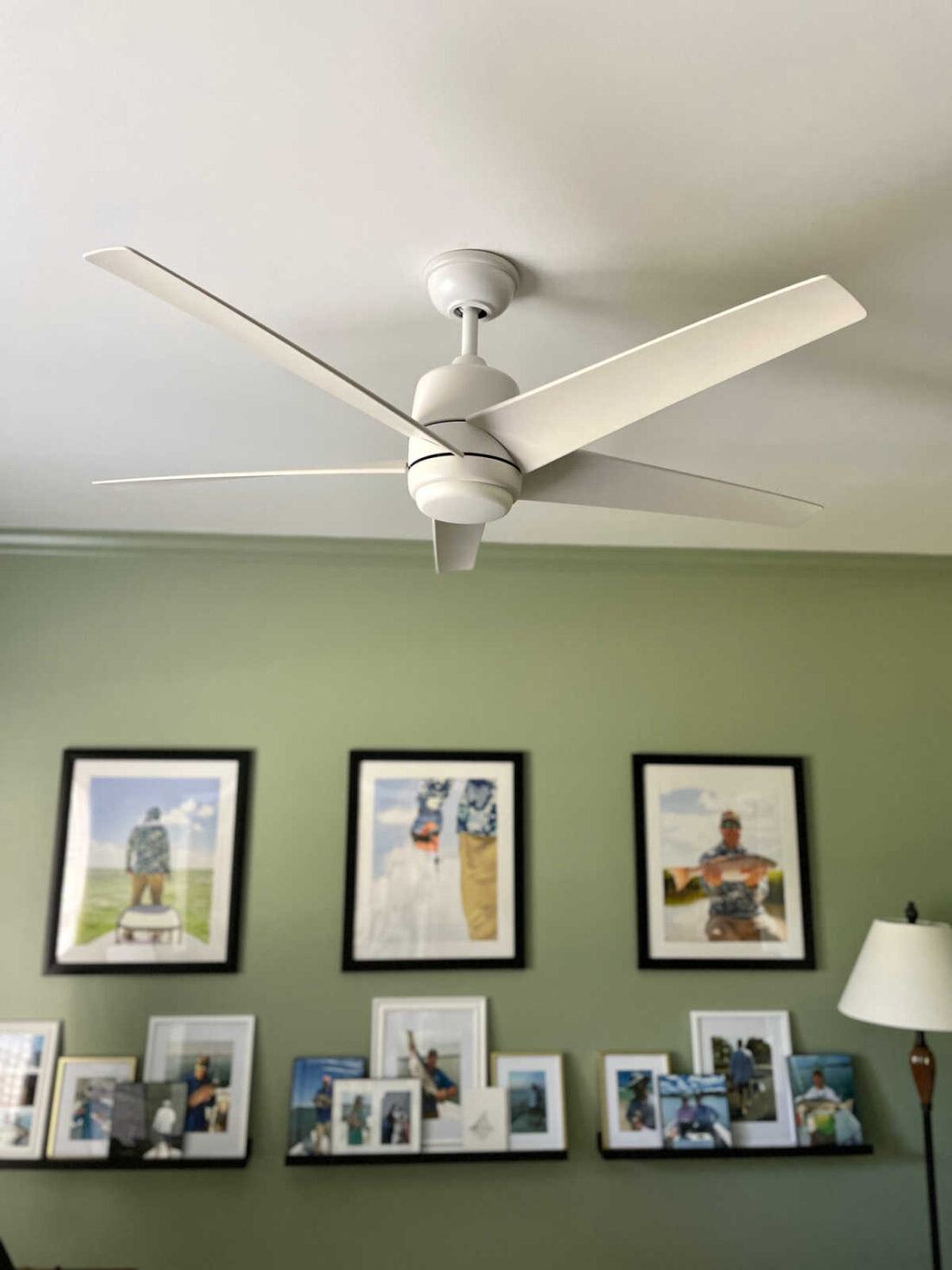 Our entire home paint color palette is getting a few changes. This room is one of them. We started with our daughters bedroom upstairs and bathroom.
A beautiful option to Coastal Plain is the 2022 color of the year by Sherwin Williams Evergreen Fog.
Evergreen fog leans more on the gray side. Since the office was currently mindful gray, Ray didn't want that paint tone.
More sage green paint colors by Sherwin Williams
Willow Tree SW 7741
Cascade Green SW 0066
Clary Sage SW 6178
More paint colors I've used in our home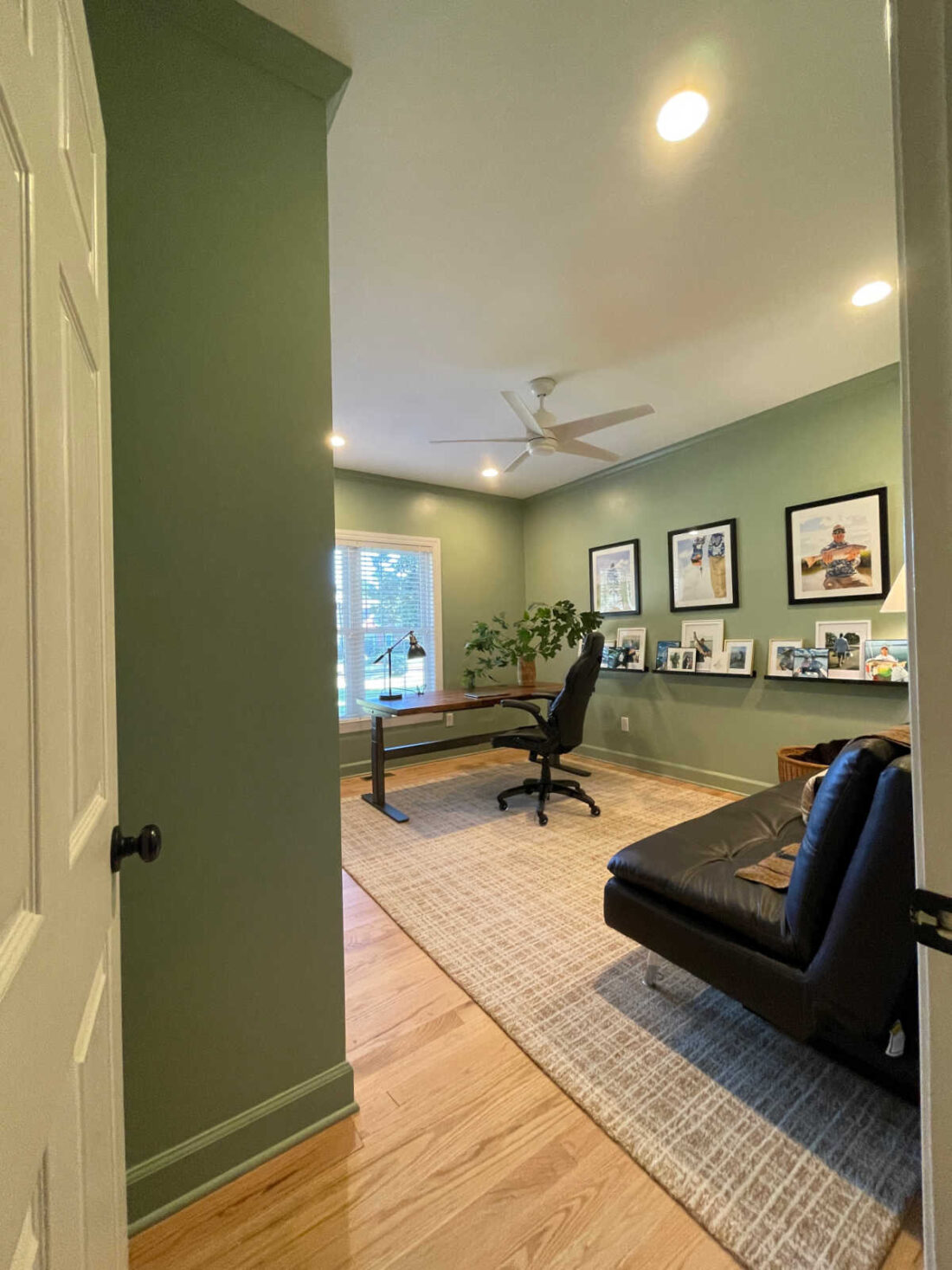 Learning to paint a room top to bottom yourself if the best DIY skill to know. I've been painting rooms in our home for almost 30 years. That is crazy to say but true. It allows me the opportunity to paint at the spur of the moment as well as save tons of money.
You can confidently use this paint color in any room of your home but I have a few rooms I think it would shine in.
Where to use coastal plain
bathroom
front door
painted furniture
office
playroom
I like to use an eggshell finish 90% of the time. This time with the coastal plain I went with satin. I decided to use satin paint because I was painting the trim the same color as the wall. Satin finish is also easier to clean therefore I'd definitely use it in a playroom.
If you are painting a bathroom with a shower or tub be sure to use the appropriate bathroom paint. The steam can and most likely will interfere with the paint that can't endure the heat.
If you're looking to sample paint colors without painting on your wall check out these peel and stick real paint samples.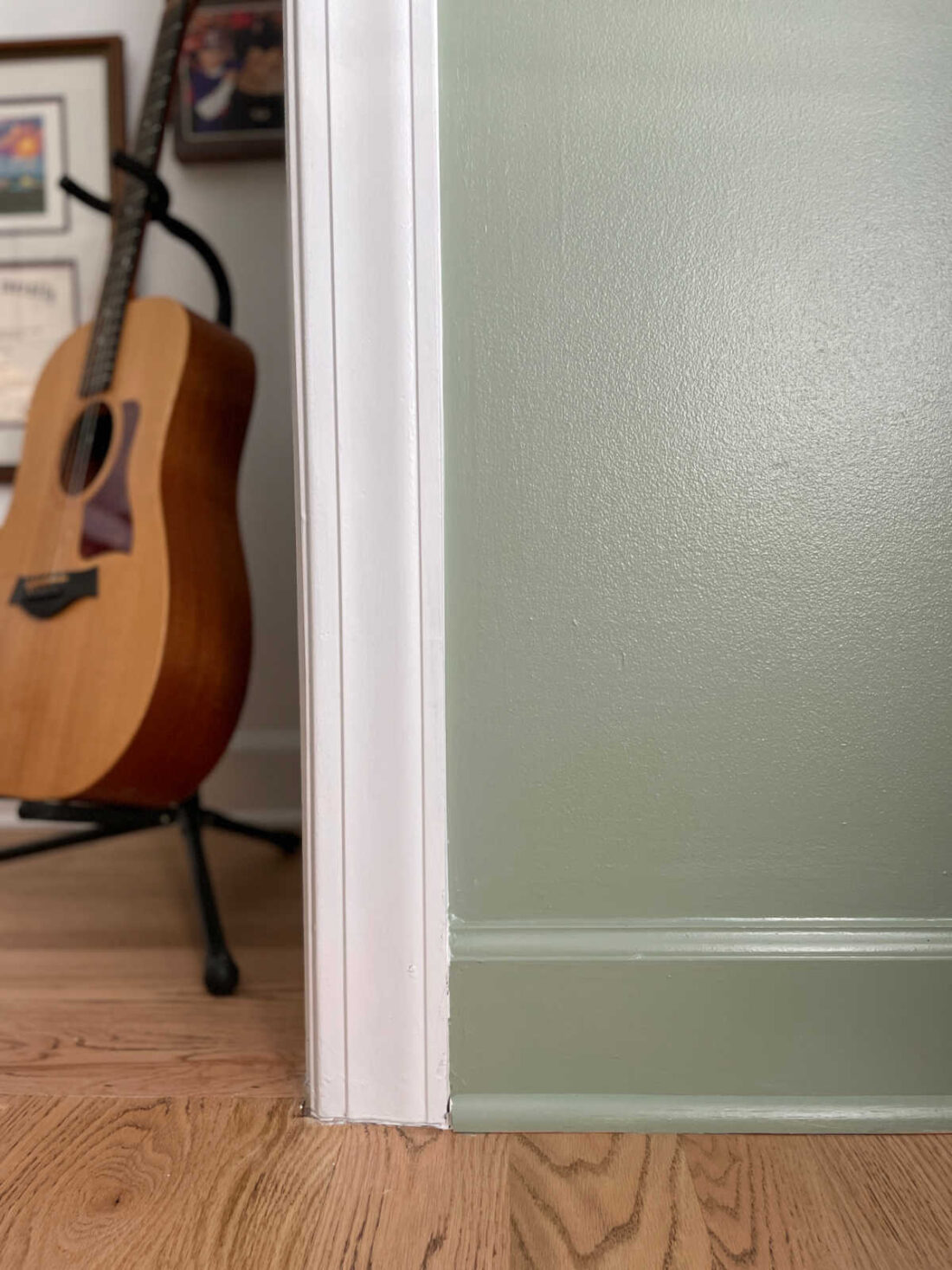 Why use Sherwin Williams coastal plain
cheerful
colorful but muted
earthy
coordinates well with other colors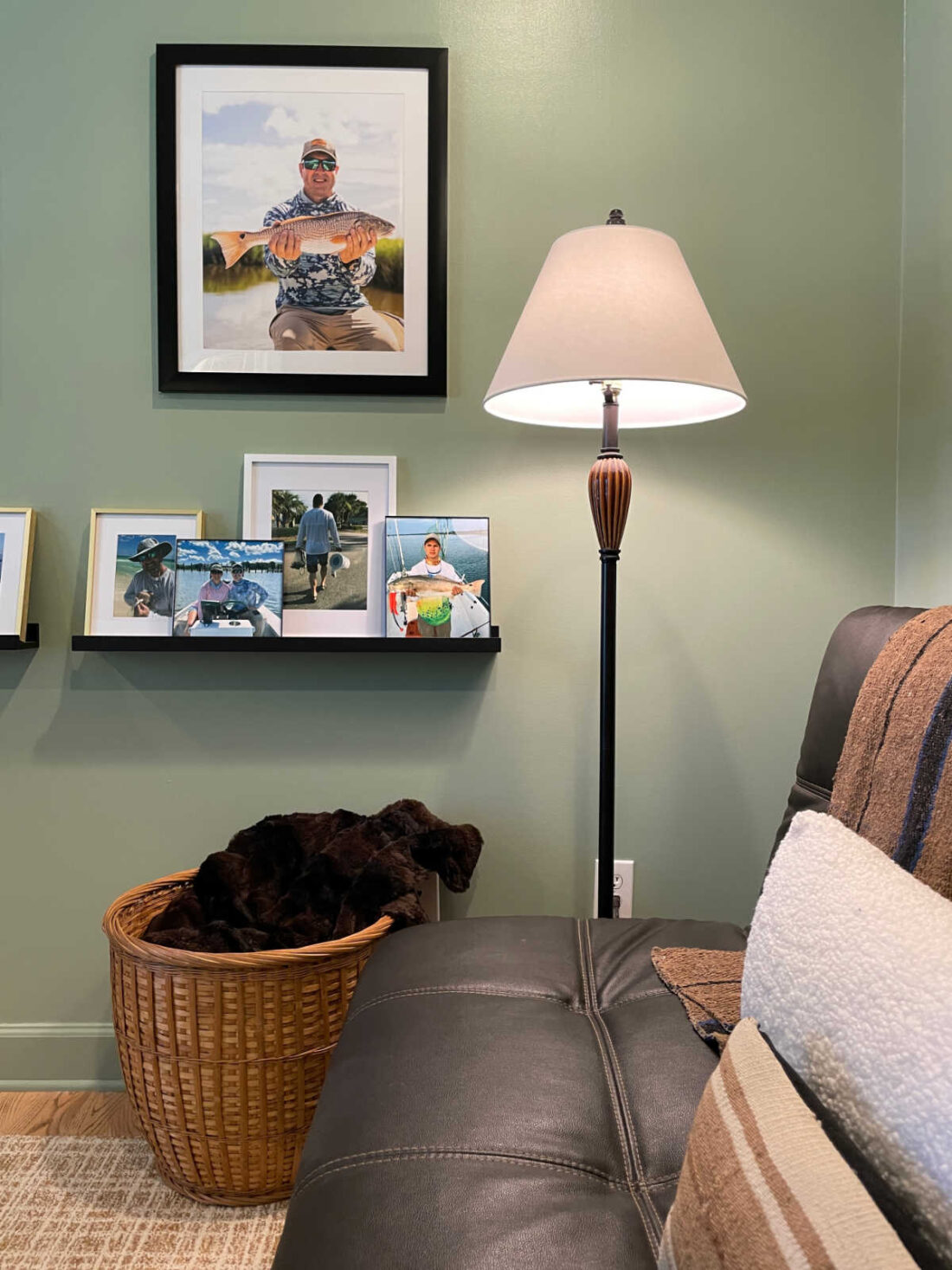 Coastal Plain color details
R: 159 G: 166 B: 148
Hex value: #9fa694
LRV:37
Below I created this photo to show you just how the color looks depending on what you are looking at. The comparison of the paint chip online, my paint deck, and the actual coastal plain in the office makeover.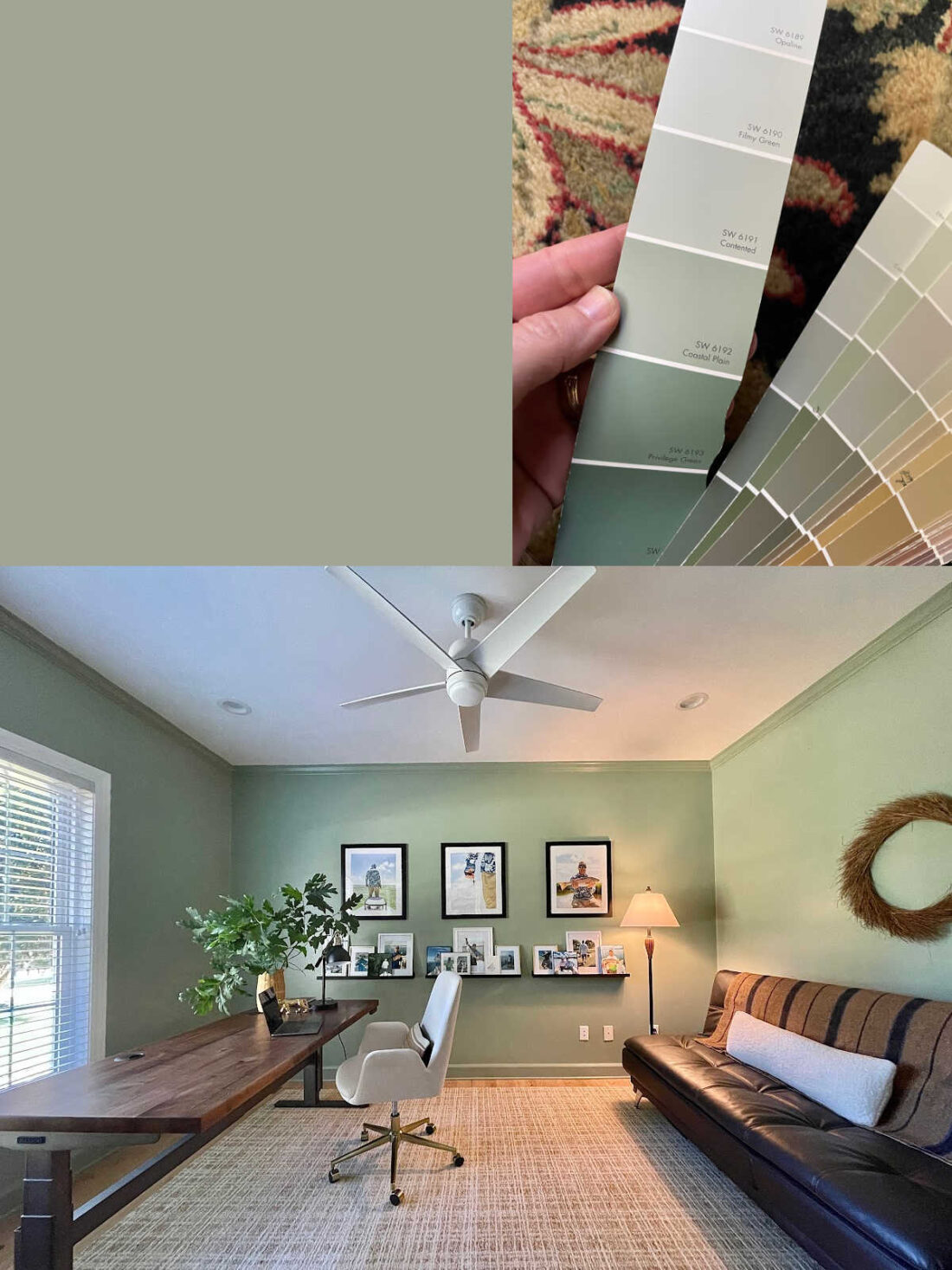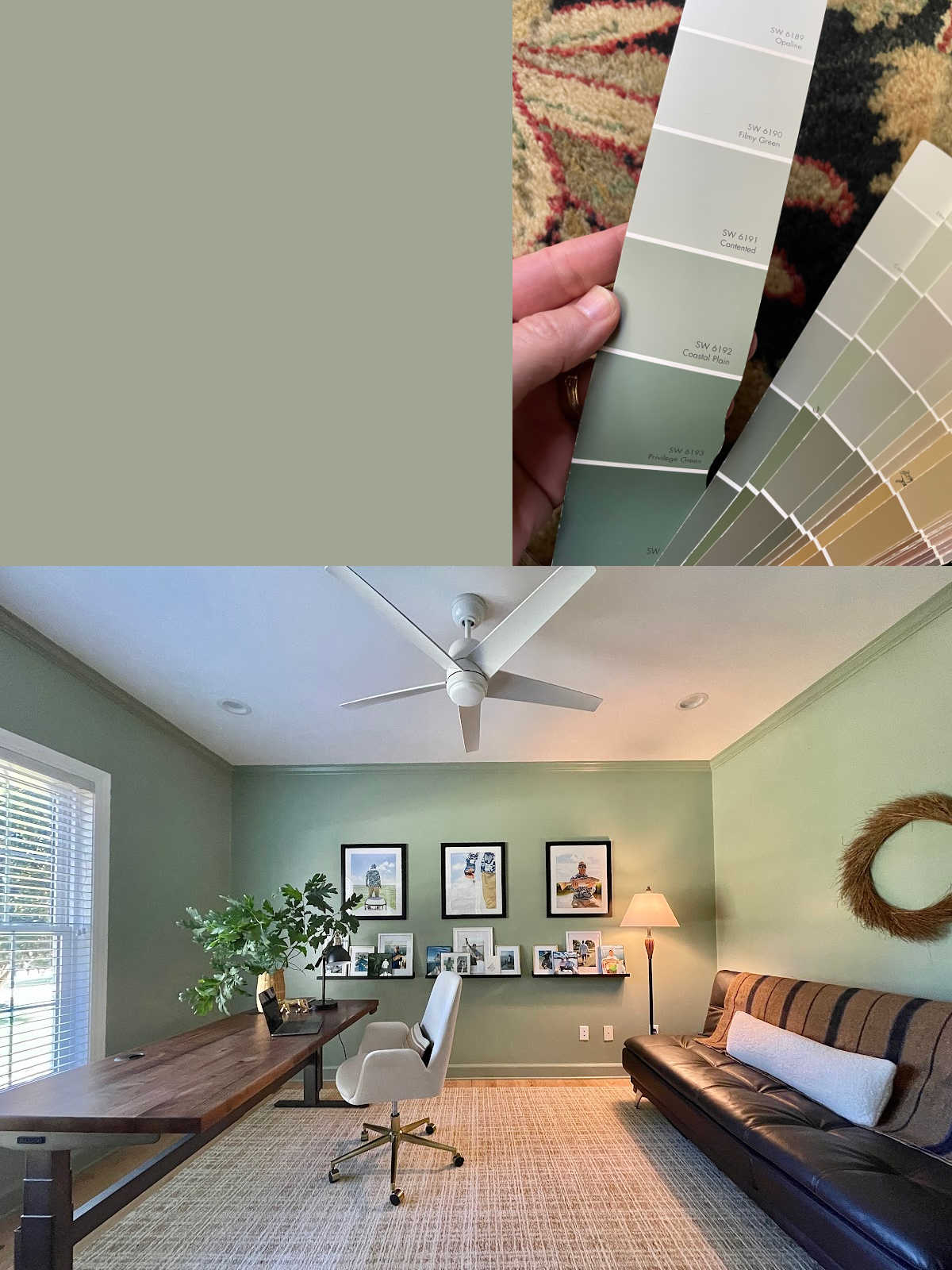 RGB Color Values
RGB is red, green and blue. These paint color values are listed from 0-255 with zero meaning pure black and 255 being white.
Light Reflectance Value
Light reflectance value or LRV as you will see it written when describing paint is the measure of how much light is reflected from or absorbed into a painted surface. On a scale of 0-100, pure white is 100 with pure black being a zero.
You don't need to understand the full details about LRV and RGB to choose a paint color for your home. Knowing the little I shared above will help you tremendously.