Our entire home paint color palette
Creating our entire home paint color palette with moody darks and neutral whites. Blacks, greens and whites create the perfect cozy, peaceful home.
All of the paint colors in our home are Sherwin Williams. You can get the SW paint number and have the color mixed at any home improvement store. I have done this tons of times. There are lots of options out in the world but I always fall back on the colors from SW. Creature of habit.
Sherwin Williams makes great paint but it is on the pricey side. I like the HGTV Home by Sherwin Williams that is sold Lowe's, as well as BEHR Paint + Primer sold at Home Depot.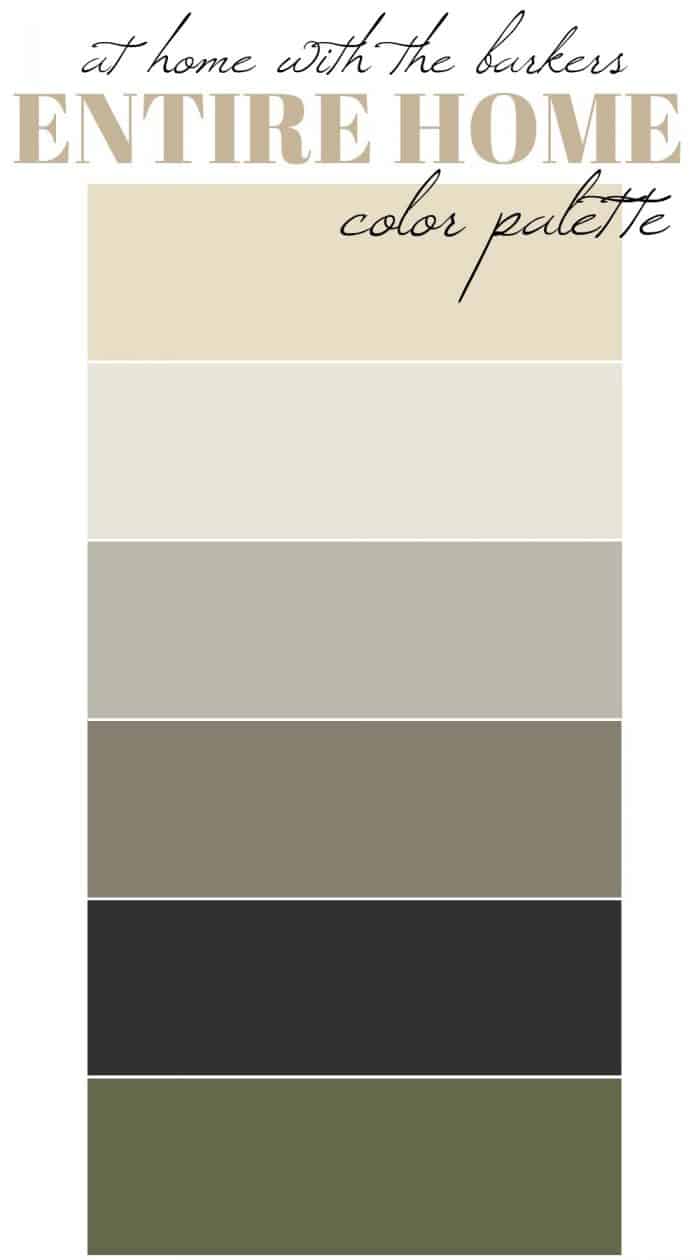 This post contains affiliate links.
Learning to paint a room top to bottom in your home is the best skill a DIYer can have. It will save you tons of money and time. By the time you wait on a professional appointment you could have a new room painted already.
RELATED Do It Yourself painting:
Our entire home paint color palette
Antique White SW 6119
Pearly White SW 7009
Mindful Gray SW 7016
Adaptive Shade SW 7053
Black Magic SW 6991
Oakmoss SW 6180
Before I share all of the rooms with these colors check out my best tips below for having your paint color mixed.
Tips for having paint color matched
If you find a color you love from Sherwin Williams or Benjamin Moore but want to have it mixed a Lowe's or Home Depot, you will need the paint name and the number if possible.
If you have a can of paint with the mixing label still attached you can carry that with you to the paint center. They will use the paint colorant numbers from there.
Make sure you get enough paint mixed all at once to complete the project you are working on. Even with the exact color number from the label the color may be slightly different. This can totally mess up a room. If you are painting different rooms you are fine to get it mixed at different times.
When a room is big and requires multiple gallons of paint it is wise to get a 5 gallon bucket to mix all of the paint together. This will insure consistency in paint color.
Go back to the same brand of paint to have your more paint mixed. The base color used to mix your color will determine if the color matches previous painted spaces.
Our rooms with these colors:
Beverage Bar: no update photos yet on the blog but you can see the space and how it was built.
If you plan the DIY paint route be sure to check out my favorite paint brushes. The Palm Pro and Cut-in angled are both great on the hands. I own all of the brushes and are very happy with them.
PIN IT for later reference and to help me get my post out into the world. There are two photos to choose from below. THANK YOU so much for your support!