This year we are hosting Thanksgiving at our house and I'm really excited. Hosting friends and family is something I love to do. These buffet table food signs are a great way to let everyone know the name of each dish.
We are a big family who loves casual dining. This means no fancy table settings but paper plates instead. I love a beautiful table setting and I do set it up for a few dinners for just the four of us but for a crowd this big I always go casual. Ray and I both have 4 siblings so gatherings are always large. I don't mind it at all though, it's something I very thankful for.
I found the canvas and mini easels at my local Walmart in the craft section. This was a very simple and inexpensive project I completed in one afternoon. The weather has been very mild recently so I was able to spray paint these outside and have them dried in no time.
I grow rosemary in my back yard and I love the way it smells. I clipped off a few pieces for each mini easel and attached it with some yarn. Twine would have been nice too if you want to make it into a bow and have it show. I didn't necessarily want mine to show so I just used yarn I already had. Be sure to tie it in the middle of the leg in order for the rosemary not to be too top heavy.
After I tied the knot I snipped off the longer strings with scissors. Once I placed the canvas on the easel the yarn would be hidden.
If you notice I spray paint my canvas with black spray paint. Then I used white card stock paper to write the menu items on.I then used double stick tape to put it on the canvas. I did this so I would be able to reuse them. You could certainly write directly onto the canvas if you prefer.
I hope my sister in law is reading this…I want your mac and cheese for thanksgiving!
I hope you all know how thankful I am for you and the support you show me here in the little space of the internet. I hope you have a great week!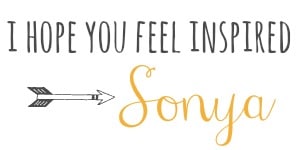 If you are one of those who is starting to add Christmas decor to your home you should check out this post HERE! It is filled with many projects.