5 Elements of a Cozy Casual Dining Table Setting
Learn to create a cozy casual dining table setting to enjoy with friends and family. A table setting you can decorate without worry of formalities.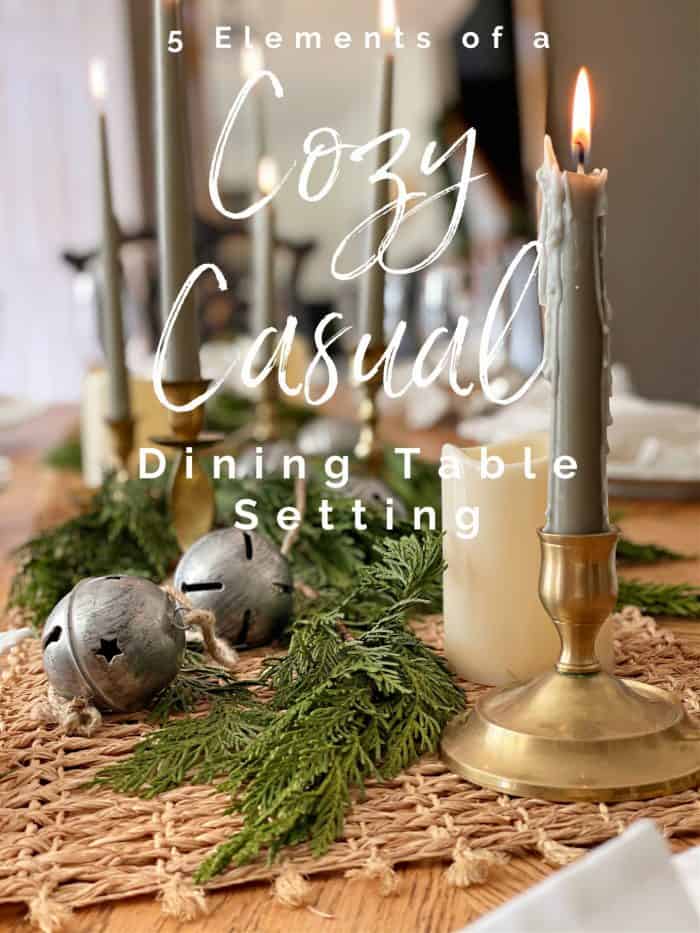 If you have followed me for any amount of time you know I am not a formal person. Casual and cozy are probably the two words used most often used to describe our home. If this is your first visit to the blog, now you also know this about me.
Having a birthday during December is really not ideal but honestly, it's all I know. When you have a December birthday there is always Christmas decorations out.
Ray planned an intimate dinner for me and of course I get to set the table. He is an amazing cook so having a nice table setting to go along with the steak dinner is appropriate. Food signs are a great way to show you guests the food options.
Even so, I still need to make sure the table is not stuffy and formal. That is just not my style. Neutral Christmas decor helps tremendously. Hosting a hassle free dinner is what always the goal.
I set out to make sure of two things with the table setting…
It doesn't look like Christmas dinner.
It feels cozy and casual.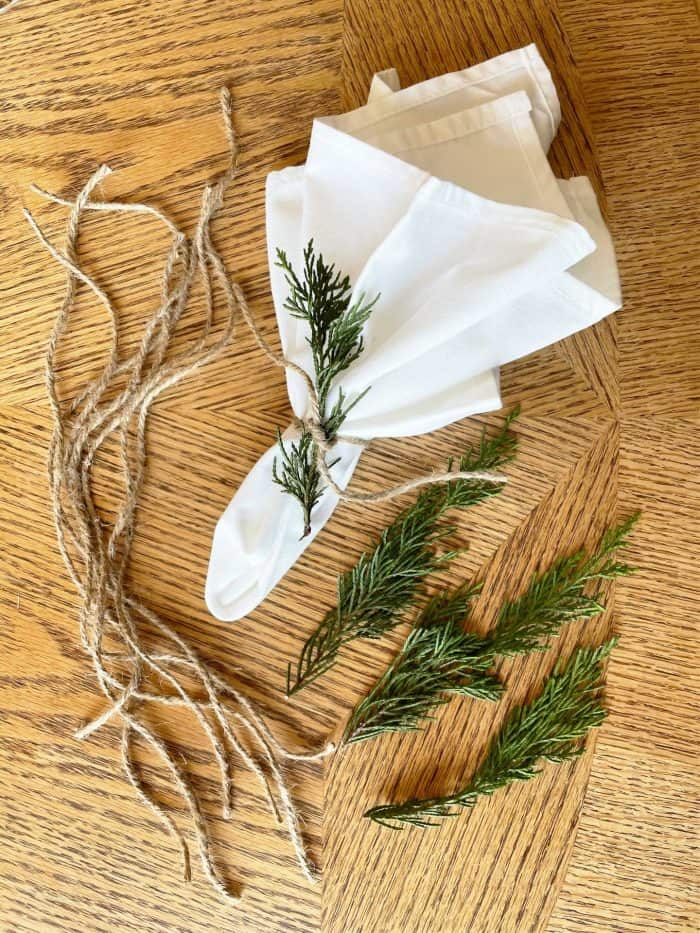 I had fun planning this with my Instagram followers. I added choices in my stories with a poll to vote. Then I created the table with the items that one the vote. Turns out, my followers did really good!
This post contains affiliate links. You can see my disclosure policy here.
I made a video showing how I created the centerpiece. You can watch it a little further down in the post.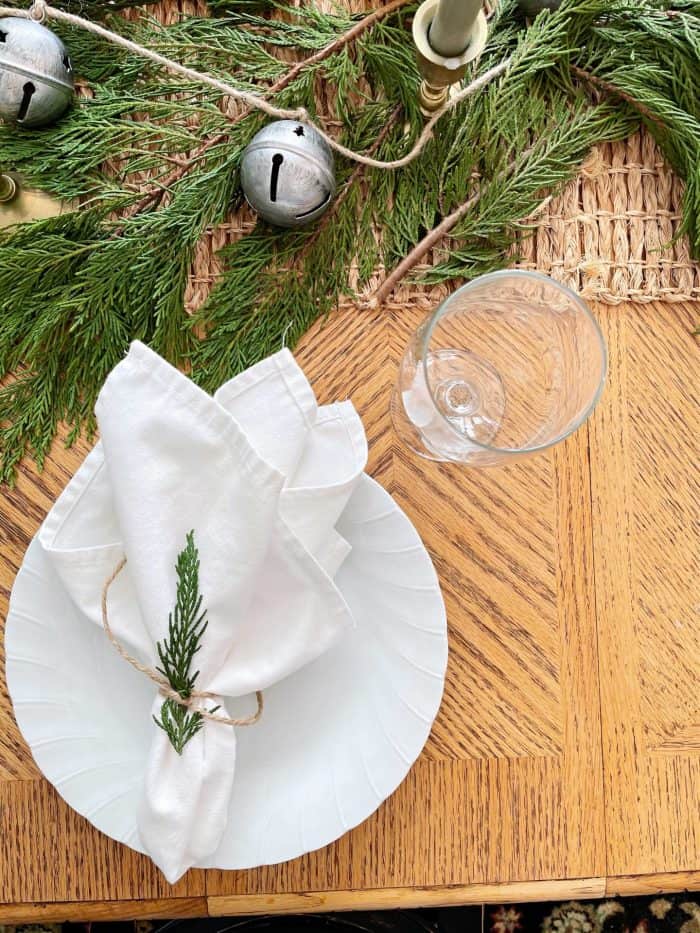 5 Elements of a Cozy Casual Dining Table Setting
simple color palette
organic and earthy materials
utility style napkins
used candles with dripping wax
mixed glassware and silverware

Simple color palette
A simple color palette can go a long way in your decor. It allows for less distractions to the eye and puts people at ease. The white plates are my go to for all settings. They allow the food to be the show really. I bought a set of 20 at a yard sale years ago!
For this cozy casual table setting, white and green are the perfect simplicity for me.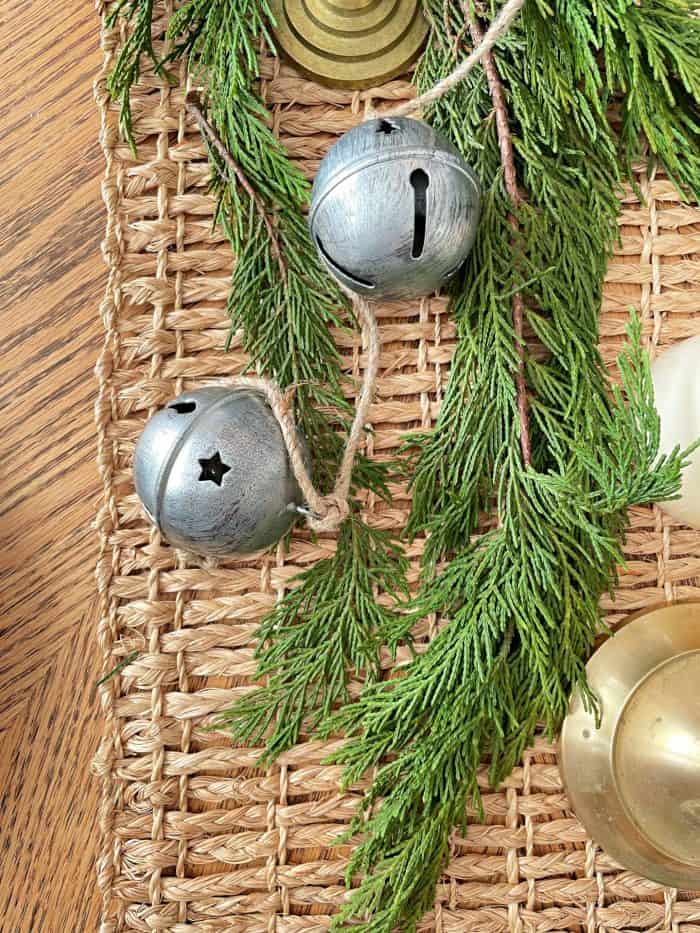 Organic and earthy materials
Nothing says casual like organic and earthy materials. From the fresh clipped greenery, the seagrass, wicker style placemats that I used as a table runner, to the specifically chosen tarnished brass candlesticks, it all plays into that same feeling.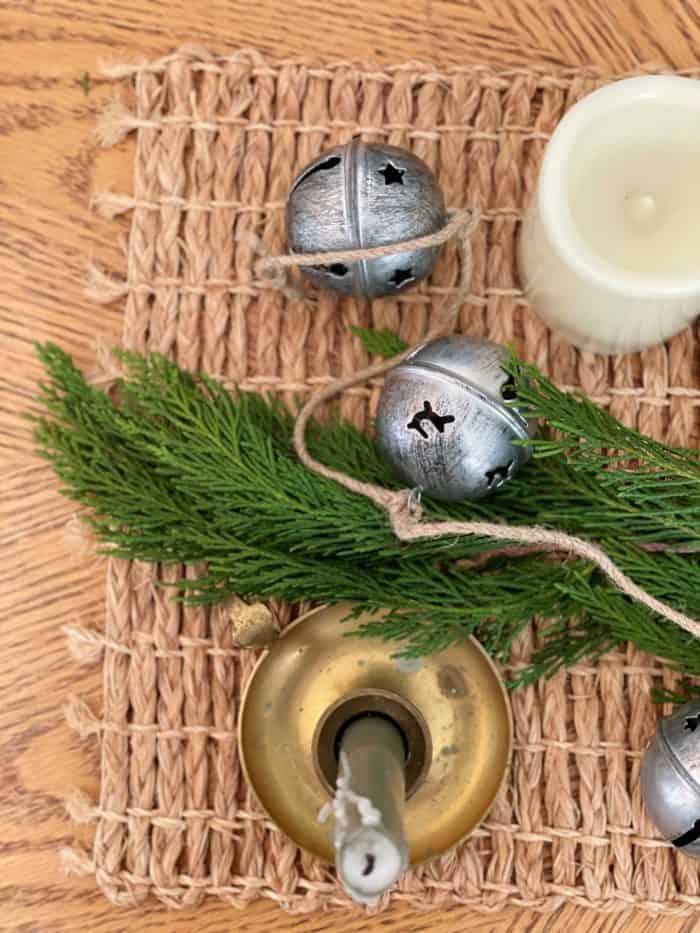 Utility style napkins
No need for formal linens. Use what I call utility style napkins. These are similar to what a restaurant would use and I love that. You and your guest will feel at ease using them. You can try buying these at your local warehouse like Costco or Sam's.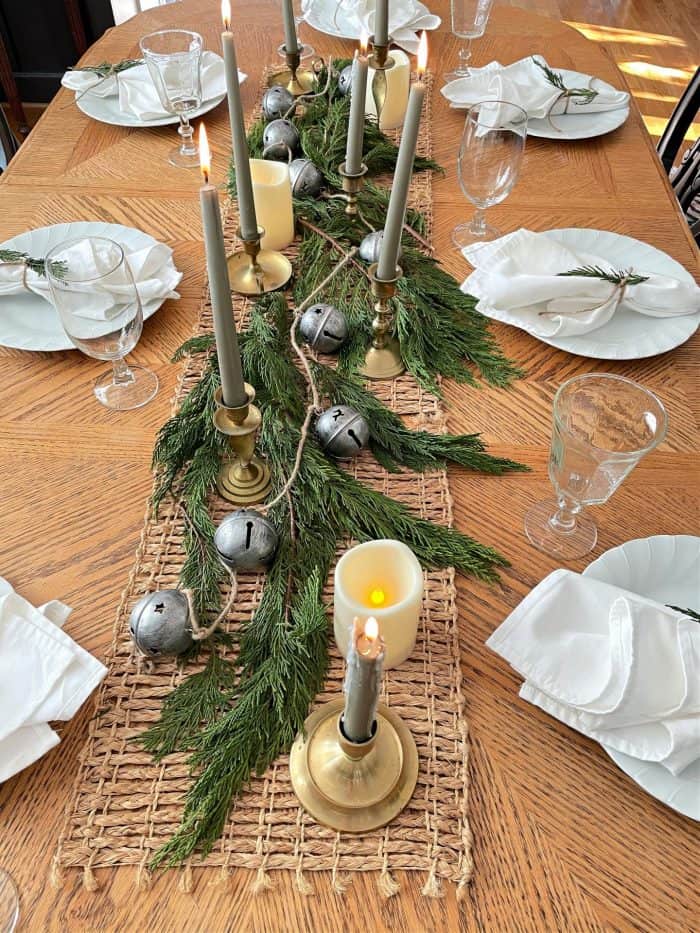 Used candles with dripping wax
This is a little trick that all decorators and designers use so don't overlook it. Burn your candles down some. Hold on the the ones you have used in the past. All of those drips make for an interesting candle. It gives off the casual feeling very well.
This is the perfect way to get rid of the formality and bring in the cozy casual.
Mixed glassware and silverware
This may be one of my favorite parts, mixing the glassware and silverware. It will make your dining table setting look effortlessly pulled together.
Plus, it allows you to use what you have on hand when you don't have a set big enough to serve everyone.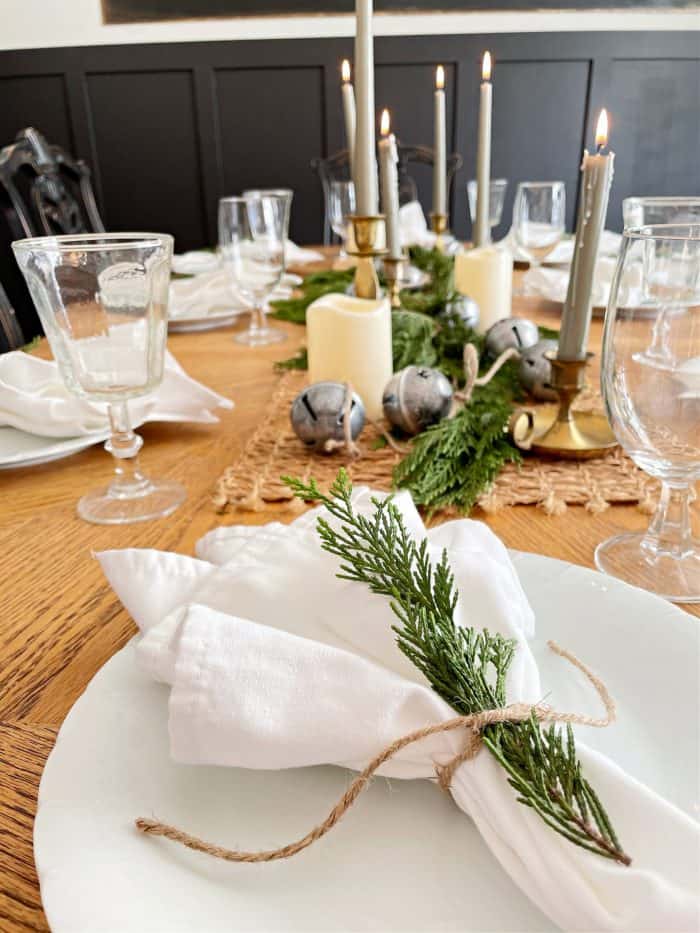 How I styled my cozy casual table
I started my table setting with laying out all of the items I planned to use. As I said above, this was voted on by my followers on Instagram.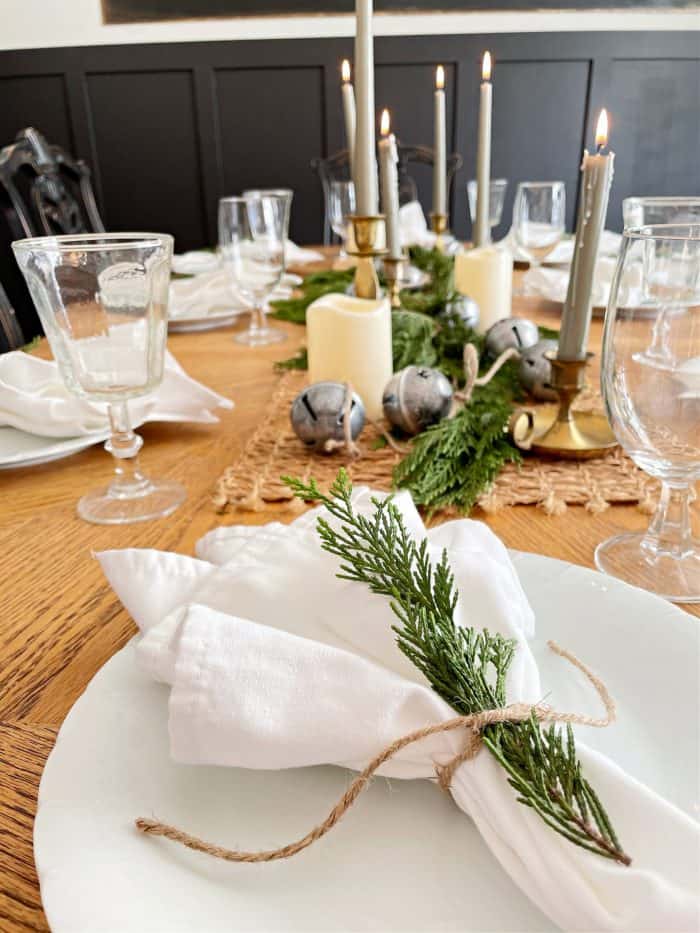 The choices I put out in those polls would all still give the cozy casual feeling I wanted.
The centerpiece table runner is actually 3 placemats lined in a row. Perfect way to create the look you want with things you already own.
Next I placed the candles and candlesticks on the runner spreading them out from end to end on the placemats. Using an odd number is more casual than a precisely spaced candle set. Do you see a theme here? Good! Take your lighter and make sure the wicks are burned. Then you can melt some of the wax down for drips if you have new candles.
The third layer of the table centerpiece is the greenery. This can be done any season of the year. Just clip what ever you like. The vote for my table was for the leyland cypress. Laying the pieces randomly around the candles from end to end.
Lastly, I used my galvanized bell garland (from Walmart last year) as additional decor. I stayed with the simple color palette and natural tone. A string of wood beads would look great here too. Since it is the holidays I added the bells.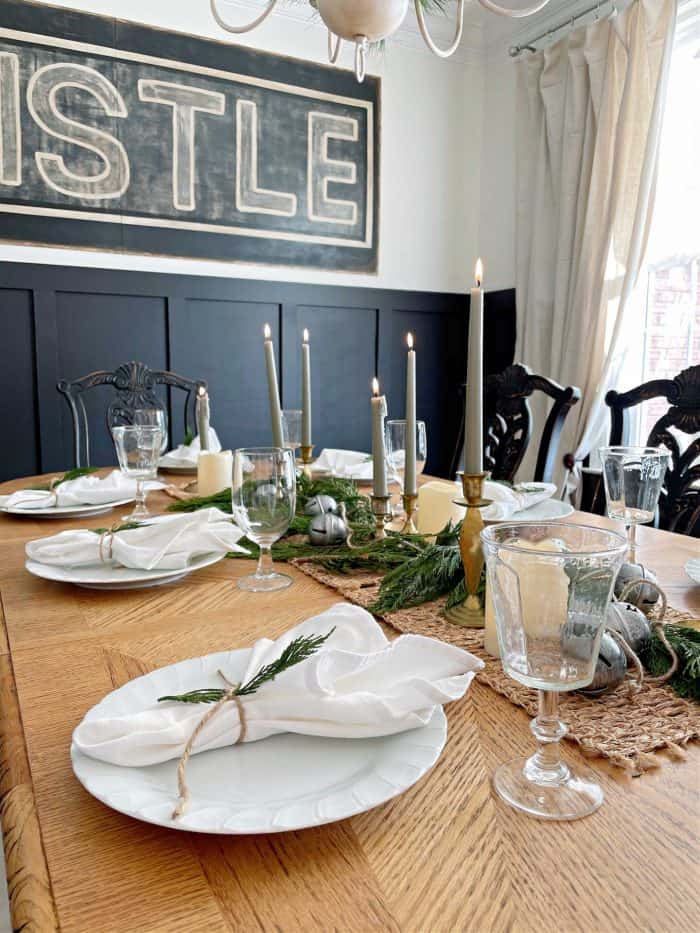 I didn't particularly want my birthday dinner to be a holiday table setting but I also want the table to look like it works with my house. Which, of course, is currently decorated for the holidays. Be sure to see my 2020 Christmas home tour if you haven't already.
Using twine, another organic and earthy element, as napkin holders continues to add to the overall vibe. The way I tied the greenery onto the napkin was simple. Using 16 inch cut piece of twine, tie once. Then lay your greenery stem across the tie. Add an additional tie to knot the twine and greenery together.
One of the reasons I never loved setting a dining table was because I kept trying to follow rules. All of those rules seemed to pin me in a box that I didn't like. Sure, there can be a time and place for a formal setting but it's not for me in most cases.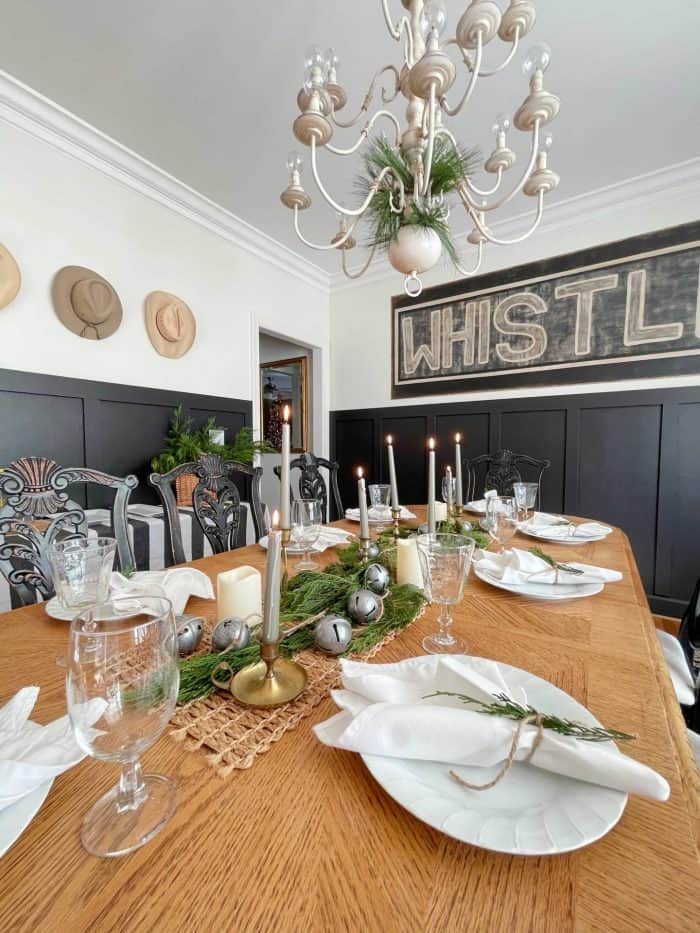 Especially for my own birthday dinner. I like to feel a certain way when I am with people. I'm not a formal person so when I entertain I make sure to create a comfortable atmosphere for everyone.
I hope this gives you some good ideas to create your own cozy casual dining table setting. AND if color is your thing, add in some red berries or a color candlesticks. I just wanted to show you what goes into my table.