2020 Christmas Home Tour Main Living Spaces
2020 Christmas Home Tour including main living spaces. Decorated simple for a classic look in deep reds, greens and muted golden tones. Featuring living room, dining room and foyer.
This post contains affiliate links.
Decorating for Christmas is always a fun time around our house but this year has been somewhat different for me. Not just because it's 2020 and nothing is normal. Mostly because both of our kids are living away at college. Empty nest life takes an adjustment.
I am excited that I did get it all finished. When the Dylan and Sarah Beth are home this week for Thanksgiving it will be nice for them to see.
My goal every year when I decorate is to use 99% of what I already own. If you saw my Walmart Christmas decor haul that I posted last week you will see the few pieces I did buy.
Day 1 of our 2020 Christmas tour includes the living room, foyer and dining room. The next two days will include the rest of the house. There were way too many photos for one blog post.
Living Room Christmas decor
I always start my decor with the Christmas tree. It guides the rest of the decorating around the house. I'm not one to put big trees in every room so I like this one to be special.
Each year I take all of my ornaments out so I can re-imagine how to use them. I do buy a couple of new things if needed but never anything much, just as I said above.
The ornaments get stored away each year by color. This helps me when thinking up a theme for the year. I always use color as my guide. Seeing them visually all laid out in these boxes is helpful.
The year I went all neutral with our Christmas decor almost traumatized my family, lol. OK, that may be an exaggeration but they did say, don't do that again. However, I loved it. The simplicity of the neutral color palette felt so cozy to me.
Cozy was still my goal this year. Using muted browns, gold, deep green with touches of dark red was what I envisioned.
You can always go to my Instagram highlights and watch the behind the scenes details unfold. I struggled at first. I ended up decorating the tree 3 or 4 times until I got it just right.
I love using the faux red berries in the tree. Other than the red on a few of my favorite special ornaments, the berries were the warmth the jewel tones needed.
Three different ribbons used in simple ways created the tree garland details this year. I've reused this ribbon many times.
Living room Christmas accessories
I never move all of my regular decor out and bring in lots of holiday stuff. I prefer clean, simple decor and I stick to that during the holidays as well.
You can see how I did this with our mantel. The antlers, I mounted myself, were already hanging. I removed my other greenery and replaced it with seasonal stems. I grabbed baskets I had in the kitchen for the arrangements.
I will write a post about how I made those. It was so easy.
I did a survey on my Instagram asking if my readers liked to see styled or real life Christmas decor. Guess what?? The real life was the overwhelming winner, 93% to 7%!
So, I wanted to point out, what you see in these photos is exactly how it looks. This cabinet below is the perfect example.
I left the puzzles, games, pencil bowl, etc all stored there. Oh, the top shelf isn't finished. Not sure what to even put up there.
But it looks neat and pretty. It feels homey and we love it.
The pillows on the couch go from the floor and back every day.
It's a fun game no man likes to play. I do love the new cream trellis pillow I added this year. It's cozy pillow and can stay after the holidays.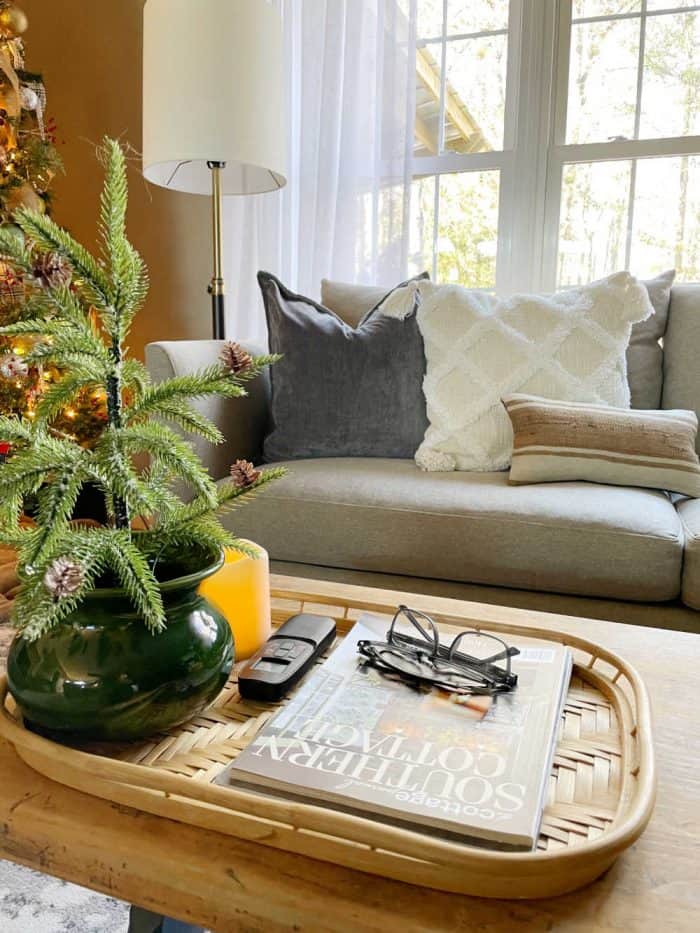 Dining Room Christmas Decor
After the recent dining room makeover I was really excited to add some holiday touches. Right now the room only needed a little. I will add place settings later in the season. We do like to eat some of our holiday meals in there as a family of four.
But for now, it will be puzzle zone. We've moved up to 1000 pieces. We love this brand the best.
The vintage red basket has been around our house for many years. I used the larger one here on the table and the smaller one is hanging on the wall.
Layering in an assortment of red ornaments was a way of keeping the look simple. Tone on tone color palettes can be interesting and beautiful but have a way of giving a nice relaxing feel.
A collection of vintage brass candlesticks add enough elegance for me.
A plaid blanket scarf tossed over a chair is mostly for decor. I dug it out of the closet and it works perfect to add a touch of cozy to the Christmas decor.
2020 Christmas Home Tour Main Living Spaces
Simple
Organic
Traditional
Cozy
I feel like I truly achieved it. Tomorrow I will continue the 2020 Christmas tour with the downstairs bathroom and eating area. Then on Wednesday, bedrooms. You don't want to miss those. My daughters bedroom is so pretty this year.
Be sure to pin your favorite photos to your Christmas Pinterest boards. It helps others see my blog.
Search through the holiday blog posts from years past for much more inspiration and DIY projects.