I'm sure someone out there needs a very last minute gift idea…right?!
One that you can put together for only a few dollars and a few minutes!!  Yep, that kind.
And it includes everyone's favorite Starbucks Hot Cocoa.
OK, so in case you haven't figured it out yet, Walmart sells the individual packets of Starbucks Hot Cocoa.
Shhh, let's keep it our little secret…I mean, we wouldn't want them to sell out.
I have found them in four flavors at my local store.  For these little gift bags I added 3 flavors of the Hot Cocoa along with a snack size bag of marshmallows and a peppermint stick.  Then you just add it to a clear gift bag and tie with a ribbon.
I told you it would only take a few minutes!
Ok, well it depends on how far you live from your local Walmart!
Cinnamon sticks would be great added instead of peppermint…they would smell yummy
and could be used to stir the hot cocoa.
You can see how simple it is, even from the back.  This very last minute gift idea is perfect for anyone.
Teachers, Neighbors, Friends or Office Staff.  It will only cost you around $2.50.
By the way, it's delicious too!  It tastes just like Starbucks Hot Cocoa from the retail store.
My daughter and I love it.  I think I'm getting my husband addicted too!
We've already been enjoying it for a few weeks 😉
Now, you can get all of those gifts finished!
If you are one of those people who finished ALL you gifts weeks ago,
and you don't have anymore gifts to prepare go buy yourself a box of the
Starbucks Hot Cocoa and sit back and enjoy the Holiday Season!
Because if that is indeed you…you deserved it!
Have a great weekend my wonderful readers!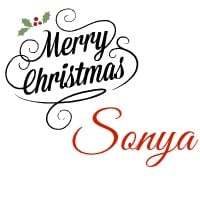 Linking up to Liz Marie Blog